Abstract
Background
Postoperative chemoradiation and perioperative chemotherapy using epirubicin/cisplatin/5-fluorouracil (ECF) represent two standards of care for resectable gastric cancer. In the TOPGEAR (Trial Of Preoperative therapy for Gastric and Esophagogastric junction AdenocaRcinoma) trial, we hypothesized that adding preoperative chemoradiation to perioperative ECF will improve survival; however, the safety and feasibility of preoperative chemoradiation have yet to be determined.
Methods
TOPGEAR is an international phase III trial in which patients with adenocarcinoma of the stomach were randomized to perioperative ECF alone or with preoperative chemoradiation. The ECF-alone group received three preoperative cycles of ECF, while the chemoradiation group received two cycles of preoperative ECF followed by chemoradiation. Both groups received three postoperative cycles of ECF. A planned interim analysis of the first 120 patients was conducted, and was reviewed by the Independent Data Safety Monitoring Committee to assess treatment compliance, toxicity/safety, and response rates.
Results
The proportion of patients who received all cycles of preoperative chemotherapy was 93% (ECF group) and 98% (chemoradiation group), while 65 and 53%, respectively, received all cycles of postoperative chemotherapy. Overall, 92% of patients allocated to preoperative chemoradiation received this treatment. The proportion of patients proceeding to surgery was 90% (ECF group) and 85% (chemoradiation group). Grade 3 or higher surgical complications occurred in 22% of patients in both groups. Furthermore, grade 3 or higher gastrointestinal toxicity occurred in 32% (ECF group) and 30% (chemoradiation group) of patients, while hematologic toxicity occurred in 50 and 52% of patients.
Conclusions
These results demonstrate that preoperative chemoradiation can be safely delivered to the vast majority of patients without a significant increase in treatment toxicity or surgical morbidity.
Access options
Buy single article
Instant access to the full article PDF.
USD 39.95
Price excludes VAT (USA)
Tax calculation will be finalised during checkout.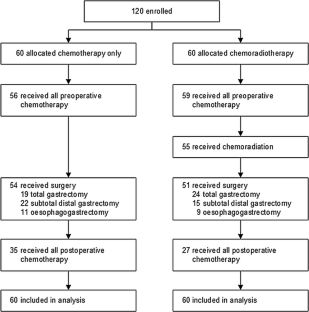 References
Macdonald JS, Smalley SR, Benedetti J, et al. Chemoradiotherapy after surgery compared with surgery alone for adenocarcinoma of the stomach or gastroesophageal junction. N Engl J Med. 2001;345:725–30.

Cunningham D, Allum WH, Stenning SP, et al. Perioperative chemotherapy versus surgery alone for resectable gastroesophageal cancer. N Engl J Med. 2006;355:11–20.

Ajani JA, Mansfield PF, Janjan N, et al. Multi-institutional trial of preoperative chemoradiotherapy in patients with potentially resectable gastric carcinoma. J Clin Oncol. 2004;22:2774–80.

Ajani JA, Winter K, Okawara GS, et al. Phase II trial of preoperative chemoradiation in patients with localized gastric adenocarcinoma (RTOG 9904): quality of combined modality therapy and pathologic response. J Clin Oncol. 2006;24:3953–58.

van Hagen P, Hulshof MCCM, van Lanschot JJB, et al. for the CROSS Group. Preoperative chemoradiotherapy for esophageal or junctional cancer. N Engl J Med. 2012;366:2074–84.

Leong T, Smithers BM, Michael M, et al. TOPGEAR: a randomised phase III trial of perioperative ECF chemotherapy versus preoperative chemoradiation plus perioperative ECF chemotherapy for resectable gastric cancer (an international, intergroup trial of the AGITG/TROG/EORTC/NCIC CTG). BMC Cancer. 2015;15:532.

Stahl M, Walz MK, Stuschke M, et al. Phase III comparison of preoperative chemotherapy compared with chemoradiotherapy in patients with locally advanced adenocarcinoma of the esophagogastric junction. J Clin Oncol. 2009;27:851–6.

Rose BS, Winer EP, Mamon HJ. Perils of the pathologic complete response. J Clin Oncol. 2016;34:3959–62.
Acknowledgement
This work was supported by grants from the National Health and Medical Research Council (1046425), Canadian Institutes of Health Research (CIHR) Grant No. 119445, the Canadian Cancer Society Research Institute (CCSRI) Grant No. 021039, the Health Research Council of New Zealand (HRC) International Investment Opportunities Fund (contract number 09/624), the EORTC Cancer Research Fund, and the Cancer Australia Priority-Driven Collaborative Research Scheme (Project ID 570996). Rhana Pike, from the National Health and Medical Research Council (NHMRC) Clinical Trials Centre, assisted with the manuscript.
Ethics declarations
Disclosures
Florian Lordick has financial activities with the following companies, outside the submitted work: Amgen, Bionten, Boston Biomedical, Boehringer Ingelheim, Ganymed, GSK, Fresenius Biotech, Lilly, MSD, Nordic, Roche, and Taiho.
Trevor Leong, B. Mark Smithers, Karin Haustermans, Michael Michael, Val Gebski, Danielle Miller, John Zalcberg, Alex Boussioutas, Michael Findlay, Rachel L. O'Connell, Jaclyn Verghis, David Willis, Tomas Kron, Melissa Crain, William K. Murray, Carol Swallow, Gail Darling, John Simes, Rebecca Wong have declared no conflicts of interest.
About this article
Cite this article
Leong, T., Smithers, B.M., Haustermans, K. et al. TOPGEAR: A Randomized, Phase III Trial of Perioperative ECF Chemotherapy with or Without Preoperative Chemoradiation for Resectable Gastric Cancer: Interim Results from an International, Intergroup Trial of the AGITG, TROG, EORTC and CCTG. Ann Surg Oncol 24, 2252–2258 (2017). https://doi.org/10.1245/s10434-017-5830-6
Received:

Published:

Issue Date:

DOI: https://doi.org/10.1245/s10434-017-5830-6
Keywords