Abstract
Background
Thyroidectomy and parathyroidectomy are the most commonly performed endocrine operations, and are increasingly being completed on a same-day basis; however, few data exist regarding the outpatient postoperative pain requirement of these patients. We aimed to describe the outpatient narcotic medication needs for patients undergoing thyroid and parathyroid surgery, and to identify predictors of higher requirement.
Method
We examined patients undergoing thyroid and parathyroid surgery at two large academic institutions from 1 January–30 May 2014. Prospective data were collected on pain scores and the oral morphine equivalents (OMEQs) taken by these patients by their postoperative visit.
Results
Overall, 313 adult patients underwent thyroidectomy or parathyroidectomy during the study period; 83% of patients took ten or fewer OMEQs, and 93% took 20 or fewer OMEQs. Patients who took more than ten OMEQs were younger (p < 0.001) and reported significantly higher overall mean pain scores at their postoperative visit (p < 0.001) than patients who took fewer than ten OMEQs. A multivariate model was constructed on pre- and intraoperative factors that may predict use of more than ten OMEQs postoperatively. Age <45 years (p = 0.002), previous narcotic use (p = 0.037), and whether parathyroid or thyroid surgery was performed (p = 0.003) independently predicted the use of more than ten OMEQs after surgery. A subgroup analysis was then performed on thyroidectomy-only patients.
Conclusion
Overall, 93% of patients undergoing thyroidectomy and parathyroidectomy require 20 or fewer OMEQs by their postoperative visit. We therefore recommend these patients be discharged with 20 OMEQs, both to minimize waste and increase patient safety.
Access options
Buy single article
Instant access to the full article PDF.
USD 39.95
Price excludes VAT (USA)
Tax calculation will be finalised during checkout.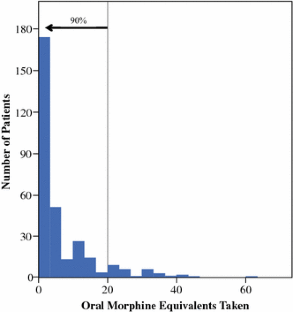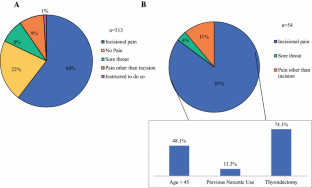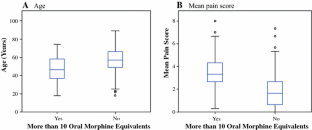 References
Mowschenson PM, Hodin RA. Outpatient thyroid and parathyroid surgery: a prospective study of feasibility, safety, and costs. Surgery. 1995;118(6):1051–3.

Terris DJ, Snyder S, Carneiro-Pla D, et al. American Thyroid Association statement on outpatient thyroidectomy. Thyroid. 2013;23(10):1193–202.

Irvin GL, Sfakianakis G, Yeung L, et al. Ambulatory parathyroidectomy for primary hyperparathyroidism. Arch Surg. 1996;131(10):1074–8.

Flynn MB, Quayyum M, Goldstein RE, et al. Outpatient parathyroid surgery: ten-year experience: is it safe? Am Surg. 2015;81(5):472–7.

Egan RJ, Hopkins JC, Beamish AJ, et al. Randomized clinical trial of intraoperative superficial cervical plexus block versus incisional local anaesthesia in thyroid and parathyroid surgery. Br J Surg. 2013;100(13):1732–8.

Dieudonne N, Gomola A, Bonnichon P, et al. Prevention of postoperative pain after thyroid surgery: a double-blind randomized study of bilateral superficial cervical plexus blocks. Anesth Analg. 2001;92(6):1538–42.

Gozal Y, Shapira SC, Gozal D, et al. Bupivacaine wound infiltration in thyroid surgery reduces postoperative pain and opioid demand. Acta Anaesthesiol Scand. 1994;38(8):813–5.

Herbland A, Cantini O, Reynier P, et al. The bilateral superficial cervical plexus block with 0.75% ropivacaine administered before or after surgery does not prevent postoperative pain after total thyroidectomy. Reg Anesth Pain Med. 2006;31(1):34–9.

Paulozzi LJ, Budnitz DS, Xi Y. Increasing deaths from opioid analgesics in the United States. Pharmacoepidemiol Drug Saf. 2006;15(9):618–27.

Washington State—Agency Medical Directors' Group. Opiod dose calculator 2007–2014. 2010. http://agencymeddirectors.wa.gov/mobile.html.

Svendsen K, Borchgrevink P, Fredheim O, et al. Choosing the unit of measurement counts: the use of oral morphine equivalents in studies of opioid consumption is a useful addition to defined daily doses. Palliat Med. 2011;25(7):725–32.

Hall AJ, Logan JE, Toblin RL, et al. Patterns of abuse among unintentional pharmaceutical overdose fatalities. JAMA. 2008;300(22):2613–20.

Woodcock J. A difficult balance: pain management, drug safety, and the FDA. N Engl J Med. 2009;361(22):2105–7.

Eti Z, Irmak P, Gulluoglu BM, et al. Does bilateral superficial cervical plexus block decrease analgesic requirement after thyroid surgery? Anesth Analg. 2006;102(4):1174–6.

Kissin I. Preemptive analgesia. Anesthesiology. 2000;93(4):1138–43.

Al-Mujadi H, A-Refai AR, Katzarov MG, et al. Preemptive gabapentin reduces postoperative pain and opioid demand following thyroid surgery. Can J Anaesth. 2006;53(3):268–73.

Nilsson U, Unosson M, Rawal N. Stress reduction and analgesia in patients exposed to calming music postoperatively: a randomized controlled trial. Eur J Anaesthesiol. 2005;22(2):96–102.

Watkins AA, Johnson TV, Shrewsberry AB, et al. Ice packs reduce postoperative midline incision pain and narcotic use: a randomized controlled trial. J Am Coll Surg. 2014;219(3):511–17.

White PF. The changing role of non-opioid analgesic techniques in the management of postoperative pain. Anesth Analg. 2005;101(5 Suppl):S5–22.

Rapp SE, Ready LB, Nessly ML. Acute pain management in patients with prior opioid consumption: a case-controlled retrospective review. Pain. 1995;61(2):195–201.
Funding
Irene Lou is currently receiving Grant support from 5T32CA090217-15, and David F. Schneider is currently receiving Grant support from NIH UL1TR000427 and NIH KL2TR000428.
Disclosure
Todd B. Chennell, Sarah Schaefer, Herbert Chen, Rebecca S. Sippel, Courtney Balentine, and Jacob Moalem declare no conflicts of interest.
About this article
Cite this article
Lou, I., Chennell, T.B., Schaefer, S.C. et al. Optimizing Outpatient Pain Management After Thyroid and Parathyroid Surgery: A Two-Institution Experience. Ann Surg Oncol 24, 1951–1957 (2017). https://doi.org/10.1245/s10434-017-5781-y
Received:

Published:

Issue Date:

DOI: https://doi.org/10.1245/s10434-017-5781-y
Keywords