Abstract
Background
Although a well-established causative relationship exists between smoking and several epithelial cancers, the association of smoking with metastatic progression in melanoma is not well studied. We hypothesized that smokers would be at increased risk for melanoma metastasis as assessed by sentinel lymph node (SLN) biopsy.
Methods
Data from the first international Multicenter Selective Lymphadenectomy Trial (MSLT-I) and the screening-phase of the second trial (MSLT-II) were analyzed to determine the association of smoking with clinicopathologic variables and SLN metastasis.
Results
Current smoking was strongly associated with SLN metastasis (p = 0.004), even after adjusting for other predictors of metastasis. Among 4231 patients (1025 in MSLT-I and 3206 in MSLT-II), current or former smoking was also independently associated with ulceration (p < 0.001 and p < 0.001, respectively). Compared with current smoking, never smoking was independently associated with decreased Breslow thickness in multivariate analysis (p = 0.002) and with a 0.25 mm predicted decrease in thickness.
Conclusion
The direct correlation between current smoking and SLN metastasis of primary cutaneous melanoma was independent of its correlation with tumor thickness and ulceration. Smoking cessation should be strongly encouraged among patients with or at risk for melanoma.
Access options
Buy single article
Instant access to the full article PDF.
USD 39.95
Price includes VAT (USA)
Tax calculation will be finalised during checkout.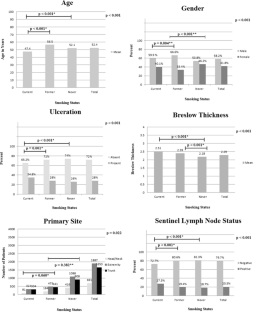 References
1.

Jha P, Peto R. Global effects of smoking, of quitting, and of taxing tobacco. N Engl J Med. 2014;370(1):60–68.

2.

Twombly R. World Health Organization takes on 'tobacco epidemic'. J Natl Cancer Inst. 2002;94(9):644–46.

3.

DeLancey JO, Hannan LM, Gapstur SM, Thun MJ. Cigarette smoking and the risk of incident and fatal melanoma in a large prospective cohort study. Cancer Causes Control. 2011;22(6):937–42.

4.

Freedman DM, Sigurdson A, Doody MM, Rao RS, Linet MS. Risk of melanoma in relation to smoking, alcohol intake, and other factors in a large occupational cohort. Cancer Causes Control. 2003;14(9):847–57.

5.

Song F, Qureshi AA, Gao X, Li T, Han J. Smoking and risk of skin cancer: a prospective analysis and a meta-analysis. Int J Epidemiol. 2012;41(6):1694–705.

6.

Odenbro A, Gillgren P, Bellocco R, Boffetta P, Hakansson N, Adami J. The risk for cutaneous malignant melanoma, melanoma in situ and intraocular malignant melanoma in relation to tobacco use and body mass index. Br J Dermatol. 2007;156(1):99–105.

7.

Henderson MT, Kubo JT, Desai M, et al. Smoking behavior and association of melanoma and nonmelanoma skin cancer in the Women's Health Initiative. J Am Acad Dermatol. 2015;72(1):190–91.

8.

Thompson CA, Zhang ZF, Arah OA. Competing risk bias to explain the inverse relationship between smoking and malignant melanoma. Eur J Epidemiol. 2013;28(7):557–67.

9.

Gritz ER, Dresler C, Sarna L. Smoking, the missing drug interaction in clinical trials: ignoring the obvious. Cancer Epidemiol Biomarkers Prev. 2005;14(10):2287–93.

10.

Shaw HM, Milton GW. Smoking and the development of metastases from malignant melanoma. Int J Cancer. 1981;28(2):153–56.

11.

Morton DL, Thompson JF, Cochran AJ, et al. Final trial report of sentinel-node biopsy versus nodal observation in melanoma. N Engl J Med. 2014;370(7):599–609.

12.

Sitas F, Weber MF, Egger S, Yap S, Chiew M, O'Connell D. Smoking cessation after cancer. J Clin Oncol. 2014;32(32):3593–95.

13.

Goldstein AO, Ripley-Moffitt CE, Pathman DE, Patsakham KM. Tobacco use treatment at the U.S. National Cancer Institute's designated Cancer Centers. Nicotine TobRes. 2013;15(1):52–58.

14.

Bostrom PJ, Alkhateeb S, Trottier G, et al. Sex differences in bladder cancer outcomes among smokers with advanced bladder cancer. BJU Int. 2012;109(1):70–76.

15.

Lynch J, Lal P, Schick U, et al. Multiple cervical lymph node involvement and extra-capsular extension predict for contralateral nodal recurrence after ipsilateral radiotherapy for squamous cell carcinoma of the tonsil. Oral Oncol. 2014;50(9):901–06.

16.

Yoneyama R, Aoshiba K, Furukawa K, et al. Nicotine enhances hepatocyte growth factor-mediated lung cancer cell migration by activating the alpha7 nicotine acetylcholine receptor and phosphoinositide kinase-3-dependent pathway. Oncology Lett. 2016;11(1):673–77.

17.

Warren GW, Singh AK. Nicotine and lung cancer. J Carcinog. 2013;12:1.

18.

Kroeger N, Seligson DB, Klatte T, et al. Clinical, molecular, and genetic correlates of lymphatic spread in clear cell renal cell carcinoma. Eur Urol. 2012;61(5):888–95.

19.

Strope SA, Montie JE. The causal role of cigarette smoking in bladder cancer initiation and progression, and the role of urologists in smoking cessation. J Urol. 2008;180(1):31–37, dicussion 37.

20.

Kumar S, Torres MP, Kaur S, et al. Smoking accelerates pancreatic cancer progression by promoting differentiation of MDSCs and inducing HB-EGF expression in macrophages. Oncogene. 2015;34(16):2052–60.

21.

Hardikar S, Onstad L, Blount PL, Odze RD, Reid BJ, Vaughan TL. The role of tobacco, alcohol, and obesity in neoplastic progression to esophageal adenocarcinoma: a prospective study of Barrett's esophagus. PloS ONE. 2013;8(1):e52192.

22.

Manjer J, Johansson R, Lenner P. Smoking is associated with postmenopausal breast cancer in women with high levels of estrogens. Int J Cancer. 2004;112(2):324–28.

23.

Coleman HG, Bhat S, Johnston BT, McManus D, Gavin AT, Murray LJ. Tobacco smoking increases the risk of high-grade dysplasia and cancer among patients with Barrett's esophagus. Gastroenterology. 2012;142(2):233–40.

24.

Wang W, Han S, Yao Z, et al. A study of epidemiologic and recurrence factors of oral cancer. J Oral Maxillofac Surg. 2012;70(9):2205–10.

25.

Wei EK, Wolin KY, Colditz GA. Time course of risk factors in cancer etiology and progression. J Clin Oncol. 2010;28(26):4052–57.

26.

Vaupel P. Prognostic potential of the pre-therapeutic tumor oxygenation status. Adv Exp Med Biol. 2009;645:241–46.

27.

Husain Z, Huang Y, Seth P, Sukhatme VP. Tumor-derived lactate modifies antitumor immune response: effect on myeloid-derived suppressor cells and NK cells. J Immunol. 2013;191(3):1486–95.

28.

Kalra R, Singh SP, Pena-Philippides JC, Langley RJ, Razani-Boroujerdi S, Sopori ML. Immunosuppressive and anti-inflammatory effects of nicotine administered by patch in an animal model. Clin Diagn Lab Immunol. 2004;11(3):563–68.

29.

Clambey ET, McNamee EN, Westrich JA, et al. Hypoxia-inducible factor-1 alpha-dependent induction of FoxP3 drives regulatory T-cell abundance and function during inflammatory hypoxia of the mucosa. Proc Natl Acad Sci USA. 2012;109(41):E2784–93.

30.

Noman MZ, Desantis G, Janji B, et al. PD-L1 is a novel direct target of HIF-1alpha, and its blockade under hypoxia enhanced MDSC-mediated T cell activation. J Exp Med. 2014;211(5):781–90.

31.

Lu LM, Zavitz CC, Chen B, Kianpour S, Wan Y, Stampfli MR. Cigarette smoke impairs NK cell-dependent tumor immune surveillance. J Immunol. 2007;178(2):936–43.

32.

Hilberink SR, Jacobs JE, van Opstal S, et al. Validation of smoking cessation self-reported by patients with chronic obstructive pulmonary disease. Int J Gen Med. 2011;4:85–90.

33.

Vartiainen E, Seppala T, Lillsunde P, Puska P. Validation of self reported smoking by serum cotinine measurement in a community-based study. J Epidemiol Community Health. 2002;56(3):167–70.

34.

Kessides MC, Wheless L, Hoffman-Bolton J, Clipp S, Alani RM, Alberg AJ. Cigarette smoking and malignant melanoma: a case-control study. J Am Acad Dermatol. 2011;64(1):84–90.

35.

Peters EN, Torres E, Toll BA, et al. Tobacco assessment in actively accruing National Cancer Institute Cooperative Group Program Clinical Trials. J Clin Oncol. 2012;30(23):2869–75.
Acknowledgments
This study was supported by Grants CA189163 and CA29605 from the National Cancer Institute, and by funding from the Amyx Foundation, Inc. Boise, ID, USA; the Borstein Family Foundation, Los Angeles, CA, USA; Dr Miriam and Sheldon G. Adelson Medical Research Foundation, Boston, MA, USA; and the John Wayne Cancer Institute Auxiliary, Santa Monica, CA, USA. Dr Maris S. Jones is the Harold McAlister Charitable Foundation Fellow. The content of this report is solely the responsibility of the authors and does not necessarily represent the official view of the National Cancer Institute or the National Institutes of Health.
About this article
Cite this article
Jones, M.S., Jones, P.C., Stern, S.L. et al. The Impact of Smoking on Sentinel Node Metastasis of Primary Cutaneous Melanoma. Ann Surg Oncol 24, 2089–2094 (2017). https://doi.org/10.1245/s10434-017-5775-9
Received:

Published:

Issue Date:
Keywords
Melanoma

Sentinel Lymph Node

Sentinel Lymph Node Biopsy

Sentinel Lymph Node Positivity

Sentinel Lymph Node Metastasis