Abstract
Background
Surgeons may receive a different diagnosis when a breast biopsy is interpreted by a second pathologist. The extent to which diagnostic agreement by the same pathologist varies at two time points is unknown.
Methods
Pathologists from eight U.S. states independently interpreted 60 breast specimens, one glass slide per case, on two occasions separated by ≥9 months. Reproducibility was assessed by comparing interpretations between the two time points; associations between reproducibility (intraobserver agreement rates); and characteristics of pathologists and cases were determined and also compared with interobserver agreement of baseline interpretations.
Results
Sixty-five percent of invited, responding pathologists were eligible and consented; 49 interpreted glass slides in both study phases, resulting in 2940 interpretations. Intraobserver agreement rates between the two phases were 92% [95% confidence interval (CI) 88–95] for invasive breast cancer, 84% (95% CI 81–87) for ductal carcinoma-in-situ, 53% (95% CI 47–59) for atypia, and 84% (95% CI 81–86) for benign without atypia. When comparing all study participants' case interpretations at baseline, interobserver agreement rates were 89% (95% CI 84–92) for invasive cancer, 79% (95% CI 76–81) for ductal carcinoma-in-situ, 43% (95% CI 41–45) for atypia, and 77% (95% CI 74–79) for benign without atypia.
Conclusions
Interpretive agreement between two time points by the same individual pathologist was low for atypia and was similar to observed rates of agreement for atypia between different pathologists. Physicians and patients should be aware of the diagnostic challenges associated with a breast biopsy diagnosis of atypia when considering treatment and surveillance decisions.
Access options
Buy single article
Instant access to the full article PDF.
US$ 39.95
Tax calculation will be finalised during checkout.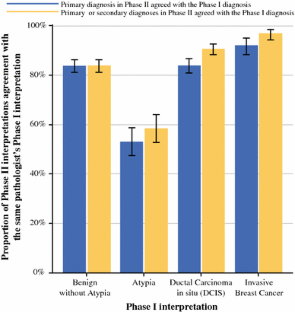 References
1.

Welch HG, Black WC. Overdiagnosis in cancer. J Natl Cancer Inst. 2010;102:605–13.

2.

U.S. Preventive Services Task Force. Screening for breast cancer: U.S. Preventive Services Task Force recommendation statement. Ann Intern Med. 2009;151:716–26.

3.

Page DL, Schuyler PA, Dupont WD, Jensen RA, Plummer WD Jr, Simpson JF. Atypical lobular hyperplasia as a unilateral predictor of breast cancer risk: a retrospective cohort study. Lancet. 2003;361(9352):125–9.

4.

Hartmann LC, Degnim AC, Santen RJ, Dupont WD, Ghosh K. Atypical hyperplasia of the breast—risk assessment and management options. N Engl J Med. 2015;372:78–89.

5.

Tuttle TM, Jarosek S, Habermann EB, et al. Increasing rates of contralateral prophylactic mastectomy among patients with ductal carcinoma in situ. J Clin Oncol. 2009;27:1362–7.

6.

Arrington AK, Jarosek SL, Virnig BA, Habermann EB, Tuttle TM. Patient and surgeon characteristics associated with increased use of contralateral prophylactic mastectomy in patients with breast cancer. Ann Surg Oncol. 2009;16:2697–704.

7.

Rosai J. Borderline epithelial lesions of the breast. Am J Surg. Pathol. 1991;15:209–21.

8.

Schnitt SJ, Connolly JL, Tavassoli FA, et al. Interobserver reproducibility in the diagnosis of ductal proliferative breast-lesions using standardized criteria. Am J Surg Pathol. 1992;16:1133–43.

9.

Wells WA, Carney PA, Eliassen MS, Tosteson AN, Greenberg ER. Statewide study of diagnostic agreement in breast pathology. J Natl Cancer Inst. 1998;90:142–5.

10.

Della Mea V, Puglisi F, Bonzanini M, et al. Fine-needle aspiration cytology of the breast: a preliminary report on telepathology through internet multimedia electronic mail. Mod Pathol. 1997;10:636–41.

11.

Elmore JG, Longton G, Carney PA, et al. Diagnostic concordance among pathologists interpreting breast biopsy specimens. JAMA. 2015;313:1122–32.

12.

Elmore JG, Tosteson AN, Pepe MS, et al. Evaluation of 12 strategies for obtaining second opinions to improve interpretation of breast histopathology: simulation study. BMJ. 2016;353:i3069.

13.

Geller BM, Nelson HD, Carney PA, et al. Second opinion in breast pathology: policy, practice and perception. J Clin Pathol. 2014;67:955–60.

14.

Elmore JG, Harris RP. The harms and benefits of modern screening mammography. BMJ. 2014;348:g3824.

15.

O'Malley FP, Pinder SE, Mulligan AM. Breast pathology. Philadelphia: Elsevier/Saunders; 2011.

16.

Schnitt SJ, Collins LC. Biopsy interpretation of the breast. Philadelphia: Wolters Kluwer Health/Lippincott Williams & Wilkins; 2009.

17.

Jain RK, Mehta R, Dimitrov R, et al. Atypical ductal hyperplasia: interobserver and intraobserver variability. Mod Pathol. 2011;24:917–23.

18.

Onega T, Weaver D, Geller B, et al. Digitized whole slides for breast pathology interpretation: current practices and perceptions. J Digit Imaging. 2014;27:642–8.

19.

National Cancer Institute. Breast Cancer Surveillance Consortium. http://breastscreening.cancer.gov/.

20.

Allison KH, Reisch LM, Carney PA, et al. Understanding diagnostic variability in breast pathology: lessons learned from an expert consensus review panel. Histopathology. 2014;65:240–51.

21.

Esserman LJ, Thompson IM, Reid B, et al. Addressing overdiagnosis and overtreatment in cancer: a prescription for change. Lancet Oncol. 2014;15:e234–42.

22.

Reyes C, Ikpatt OF, Nadji M, Cote RJ. Intra-observer reproducibility of whole slide imaging for the primary diagnosis of breast needle biopsies. J Pathol Inform. 2014;5:5.
Acknowledgments
The authors appreciate the efforts of the pathologists who participated in this study. Supported in part by the National Cancer Institute of the National Institutes of Health (R01 CA140560, U54 CA163303, KO5 CA104699, and R01 CA172343); and by the National Cancer Institute–funded Breast Cancer Surveillance Consortium (HHSN261201100031C). The content is solely the responsibility of the authors and does not necessarily represent the views of the National Cancer Institute or the National Institutes of Health. The collection of cancer and vital status data used in this study was supported in part by several state public health departments and cancer registries throughout the United States. A full description of these sources is available online (http://www.breastscreening.cancer.gov/work/acknowledgement.html).
Disclosure
The authors declare no conflict of interest.
About this article
Cite this article
Jackson, S.L., Frederick, P.D., Pepe, M.S. et al. Diagnostic Reproducibility: What Happens When the Same Pathologist Interprets the Same Breast Biopsy Specimen at Two Points in Time?. Ann Surg Oncol 24, 1234–1241 (2017). https://doi.org/10.1245/s10434-016-5695-0
Received:

Published:

Issue Date:
Keywords
Breast Density

Atypical Ductal Hyperplasia

Agreement Rate

Intraobserver Agreement

Breast Pathology