Abstract
Background
Several studies suggest that young patients may derive less oncologic benefit from surgical resection of cancers compared with older patients. We hypothesized that young patients may have worse outcomes following cytoreductive surgery with hyperthermic intraperitoneal chemoperfusion (CRS/HIPEC) for peritoneal metastases.
Methods
Perioperative and oncologic outcomes in adolescent and young adults (AYA), defined as younger than age 40 years (n = 135), undergoing CRS/HIPEC between 2001 and 2015 were reviewed and compared with middle-aged adults, defined as aged 40–65 years (n = 684).
Results
The two groups were similar with regards to perioperative characteristics except that AYA were more likely to be symptomatic at presentation (65.2 vs. 50.9%, p = 0.003), had lower Charleson comorbidity index (median 6 vs. 8, p < 0.001), were less likely to receive neoadjuvant chemotherapy (32.8 vs. 42.5%, p = 0.042), and had longer operative times (median 543 vs. 493 min, p = 0.010). Postoperative Clavien–Dindo grade 3–4 morbidity was lower in AYA (17 vs. 26%, p = 0.029), and they required fewer reoperations for complications (3.7 vs. 10.4%, p = 0.014). AYA had longer median overall survival (103.6 vs. 73.2 months, p = 0.053). In a multivariate Cox regression analysis, age was an independent predictor of improved overall survival [hazard ratio 0.705; 0.516–0.963, p = 0.028].
Conclusions
Young patients with peritoneal metastases derive similar benefits from CRS/HIPEC as middle-aged patients. Young age should not be a deterrent to consideration of CRS/HIPEC for peritoneal metastases.
Access options
Buy single article
Instant access to the full article PDF.
USD 39.95
Price excludes VAT (USA)
Tax calculation will be finalised during checkout.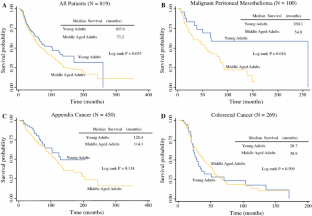 References
Barr RD, Ferrari A, Ries L, Whelan J, Bleyer WA. Cancer in adolescents and young adults: a narrative review of the current status and a view of the future. JAMA Pediatr. 2016;170(5):495–501.

Cancers NCIASoAaYA. http://www.cancer.gov/research/progress/snapshots/adolescent-young-adult. Accessed 13 March 2016.

Smith AW, Seibel NL, Lewis DR, et al. Next steps for adolescent and young adult oncology workshop: an update on progress and recommendations for the future. Cancer. 2016;122(7):988–99.

Bleyer A. Young adult oncology: the patients and their survival challenges. CA Cancer J Clin. 2007;57(4):242–55.

Fu J, Yang J, Tan Y, et al. Young patients (≤35 years old) with colorectal cancer have worse outcomes due to more advanced disease: a 30-year retrospective review. Medicine. 2014;93(23):e135.

Parsons HM, Harlan LC, Lynch CF, et al. Impact of cancer on work and education among adolescent and young adult cancer survivors. J Clin Oncol. 2012;30(19):2393–400.

Parsons HM, Schmidt S, Harlan LC, et al. Young and uninsured: insurance patterns of recently diagnosed adolescent and young adult cancer survivors in the AYA HOPE study. Cancer. 2014;120(15):2352–60.

Singh KE, Taylor TH, Pan CG, Stamos MJ, Zell JA. Colorectal cancer incidence among young adults in California. J Adolesc Young Adult Oncol. 2014;3(4):176–84.

Adolescent and Young Adult Oncology Progress Review Group. Closing the gap: research and care imperatives for adolescents and young adults with cancer. Department of Health and Human Services NI. http://planning.cancer.gov/library/AYAO_PRG_Report_2006_FINAL.pdf.

Tawadros PS, Paquette IM, Hanly AM, Mellgren AF, Rothenberger DA, Madoff RD. Adenocarcinoma of the rectum in patients under age 40 is increasing: impact of signet-ring cell histology. Dis Colon Rectum. 2015;58(5):474–8.

Bleyer A. Adolescents and young adult cancer trial participation: will the national community oncology research program also fail? And what about the rest of us? J Oncol Pract. 2016;12(5):398–402.

Rosenberg AR, Kroon L, Chen L, Li CI, Jones B. Insurance status and risk of cancer mortality among adolescents and young adults. Cancer. 2014;121:1279–86.

Bao P, Bartlett D. Surgical techniques in visceral resection and peritonectomy procedures. Cancer J. 2009;15(3):204–11.

Glehen O, Gilly FN, Boutitie F, et al. Toward curative treatment of peritoneal carcinomatosis from nonovarian origin by cytoreductive surgery combined with perioperative intraperitoneal chemotherapy: a multi-institutional study of 1290 patients. Cancer. 2010;116(24):5608–18.

Levine EA, Stewart JHT, Shen P, Russell GB, Loggie BL, Votanopoulos KI. Intraperitoneal chemotherapy for peritoneal surface malignancy: experience with 1000 patients. J Am Coll Surg. 2014;218(4):573–85.

Verwaal VJ, Bruin S, Boot H, van Slooten G, van Tinteren H. 8-year follow-up of randomized trial: cytoreduction and hyperthermic intraperitoneal chemotherapy versus systemic chemotherapy in patients with peritoneal carcinomatosis of colorectal cancer. Ann Surg Oncol. 2008;15(9):2426–32.

Hayes-Jordan A, Green H, Lin H, et al. Cytoreductive surgery and hyperthermic intraperitoneal chemotherapy (hipec) for children, adolescents, and young adults: the first 50 cases. Ann Surg Oncol. 2015;22:1726–32.

Votanopoulos KI, Newman NA, Russell G, et al. Outcomes of cytoreductive surgery (CRS) with hyperthermic intraperitoneal chemotherapy (HIPEC) in patients older than 70 years; survival benefit at considerable morbidity and mortality. Ann Surg Oncol. 2013;20(11):3497–503.

Pelz JO, Stojadinovic A, Nissan A, Hohenberger W, Esquivel J. Evaluation of a peritoneal surface disease severity score in patients with colon cancer with peritoneal carcinomatosis. J Surg Oncol. 2009;99(1):9–15.

Dindo D, Demartines N, Clavien PA. Classification of surgical complications: a new proposal with evaluation in a cohort of 6336 patients and results of a survey. Ann Surg. 2004;240(2):205–13.

Husain AN, Colby T, Ordonez N, et al. Guidelines for pathologic diagnosis of malignant mesothelioma: 2012 update of the consensus statement from the International Mesothelioma Interest Group. Arch Pathol Lab Med. 2013;137(5):647–67.

Davison JM, Choudry HA, Pingpank JF, et al. Clinicopathologic and molecular analysis of disseminated appendiceal mucinous neoplasms: identification of factors predicting survival and proposed criteria for a three-tiered assessment of tumor grade. Mod Pathol. 2014;27(11):1521–39.

Lewis DR, Seibel NL, Smith AW, Stedman MR. Adolescent and young adult cancer survival. J Natl Cancer Inst Monogr. 2014;2014(49):228–35.

Oyeniyi J, Wu J, Liu D, et al. Treatment of carcinomatosis using cytoreductive surgery and hyperthermic intraperitoneal chemotherapy in adolescents and young adults. Am J Surg. 2015;209(4):610–5.

McKay A, Donaleshen J, Helewa RM, et al. Does young age influence the prognosis of colorectal cancer: a population-based analysis. World J Surg Oncol. 2014;12:370.

Blanke CD, Bot BM, Thomas DM, et al. Impact of young age on treatment efficacy and safety in advanced colorectal cancer: a pooled analysis of patients from nine first-line phase III chemotherapy trials. J Clin Oncol. 2011;29(20):2781–6.

De Divitiis C, Nasti G, Montano M, Fisichella R, Iaffaioli RV, Berretta M. Prognostic and predictive response factors in colorectal cancer patients: between hope and reality. World J Gastroenterol. 2014;20(41):15049–59.

Raman R, Kotapalli V, Adduri R, et al. Evidence for possible non-canonical pathway(s) driven early-onset colorectal cancer in India. Mol Carcinog. 2014;53(Suppl 1):E181–6.

Thomas A, Chen Y, Yu T, Gill A, Prasad V. Distinctive clinical characteristics of malignant mesothelioma in young patients. Oncotarget. 2015;6:16766.

Baumann F, Flores E, Napolitano A, et al. Mesothelioma patients with germline BAP1 mutations have seven-fold improved long-term survival. Carcinogenesis. 2014;2014:bgu227.

Singhi AD, Krasinskas AM, Choudry HA, et al. The prognostic significance of BAP1, NF2, and CDKN2A in malignant peritoneal mesothelioma. Mod Pathol. 2016;29(1):14–24.
Electronic supplementary material
Below is the link to the electronic supplementary material.
About this article
Cite this article
Dhir, M., Ramalingam, L., Shuai, Y. et al. Cytoreductive Surgery and Hyperthermic Intraperitoneal Chemoperfusion in Adolescent and Young Adults with Peritoneal Metastases. Ann Surg Oncol 24, 875–883 (2017). https://doi.org/10.1245/s10434-016-5689-y
Received:

Published:

Issue Date:

DOI: https://doi.org/10.1245/s10434-016-5689-y
Keywords