Abstract
Background
Cirrhosis is a risk factor with nonhepatic surgery, but only three series regarding esophagectomy are reported. The Model for End-Stage Liver Disease (MELD) score has shown benefit in risk evaluation, but there is no experience regarding esophagectomy. This study aimed to compare the outcomes of surgery for esophageal cancer between cirrhotic and noncirrhotic patients and to evaluate whether the MELD score has a prognostic value for risk stratification.
Methods
From the authors' esophageal cancer database, they selected all the patients with concomitant cirrhosis who underwent surgery with curative intent and a matched cohort of patients without cirrhosis. The preoperative data included demographics, medical history, blood work, American Society of Anesthesiologists (ASA) score, Child-Turcotte-Pugh (CTP) score, and MELD score. The operative data included type of surgery, radicality, operative time, and blood loss. The postoperative data included hemoderivatives, 90-day morbidity and mortality rates, lab works, and hospital length of stay. The cirrhotic patients were further divided and analyzed according to a MELD score cutoff of 9.
Results
Of 3445 esophageal cancer patients, 73 cirrhotic patients underwent surgery. Their 90-day morbidity and mortality rates were higher than those for 146 noncirrhotic patients. The cirrhotic patients also had more respiratory events (p = 0.013) and infections (p = 0.005). The anastomotic complications among the cirrhotic patients were significantly more severe (p = 0.046). No difference in 5-year survival rates was registered. Stratification according to the MELD score showed that patients with a MELD score higher than 9 had a significantly worse postoperative course (5-year survival: p = 0.004). The patients with a MELD score of 9 or lower showed an outcome similar to that of the noncirrhotic patients.
Conclusions
Liver cirrhosis is not an absolute contraindication to esophagectomy. The MELD score can be applicable for esophagectomy risk assessment for cirrhotic patients.
We're sorry, something doesn't seem to be working properly.
Please try refreshing the page. If that doesn't work, please contact support so we can address the problem.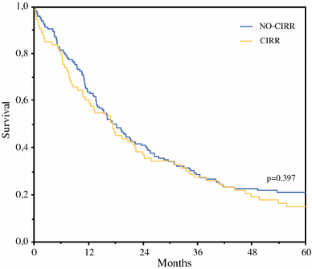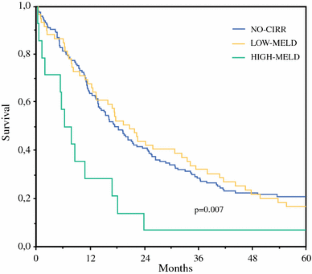 References
1.

Zhang Y. Epidemiology of esophageal cancer. World J Gastroenterol. 2013;19:5598–606.

2.

Ferlay J, Soerjomataram I, Dikshit R, et al. Cancer incidence and mortality worldwide: sources, methods, and major patterns in GLOBOCAN 2012. Int J Cancer. 2015;136:E359–86.

3.

Pennathur A, Gibson MK, Jobe BA, et al. Oesophageal carcinoma. Lancet. 2013;381:400–12.

4.

Blachier M, Leleu H, Peck-Radosavljevic M, et al. The burden of liver disease in Europe: a review of available epidemiological data. J Hepatol. 2013;58:593–608.

5.

Trivin F, Boucher E, Vauléon E, et al. Management of esophageal carcinoma associated with cirrhosis: a retrospective case-control analysis. J Oncol. 2009;2009:173421–5.

6.

Dagnini G, Caldironi MW, Marin G, et al. Laparoscopy in abdominal staging of esophageal-carcinoma: report of 369 cases. Gastrointest Endosc. 1986;32:400–2.

7.

Kalaitzakis E, Gunnarsdottir SA, Josefsson A, et al. Increased risk for malignant neoplasms among patients with cirrhosis. Clin Gastroenterol Hepatol. 2011;9:168–74.

8.

Simmelink AL, Dong R, Nayi V, et al. Perioperative risk assessment and management of cirrhotic patients. J Hepatol Gastroint. 2015;1:1.

9.

Bhangui P, Laurent A, Amathieu R, et al. Assessment of risk for nonhepatic surgery in cirrhotic patients. J Hepatol. 2012;57:874–84.

10.

Sabbagh C, Fuks D, Regimbeau JM. Nonhepatic gastrointestinal surgery in patients with cirrhosis. J Visc Surg. 2014;151:203–11.

11.

Fekete F, Belghiti J, Cherqui D, et al. Results of esophagogastrectomy for carcinoma in cirrhotic patients: a series of 23 consecutive patients. Ann Surg. 1987;206:74–8.

12.

Tachibana M, Kotoh T, Kinugasa S, et al. Esophageal cancer with cirrhosis of the liver: results of esophagectomy in 18 consecutive patients. Ann Surg Oncol. 2000;7:758–63.

13.

Lu M-S, Liu Y-H, Wu Y-C, et al. Is it safe to perform esophagectomy in esophageal cancer patients combined with liver cirrhosis? Interact Cardiovasc Thorac Surg. 2005;4:423–5.

14.

Belghiti J, Cherqui D, Gayet B, et al. Esophagectomy for esophageal cancer in the cirrhotic. Gastroenterol Clin Biol. 1987;11(2BIS):A118–8.

15.

Salerno F, Merli M, Cazzaniga M, et al. MELD score is better than Child–Pugh score in predicting 3-month survival of patients undergoing transjugular intrahepatic portosystemic shunt. J Hepatol. 2002;36:494–500.

16.

Pagliaro L. MELD: the end of Child-Pugh classification? J Hepatol. 2002;36(1):141–142

17.

Northup PG, Wanamaker RC, Lee VD, et al. Model for end-stage liver disease (MELD) predicts nontransplant surgical mortality in patients with cirrhosis. Ann Surg. 2005;242:244.

18.

Neeff H, Mariaskin D, Spangenberg H-C, et al. Perioperative mortality after nonhepatic general surgery in patients with liver cirrhosis: an analysis of 138 operations in the 2000s using Child and MELD scores. J Gastrointest Surg. 2011;15:1–11.

19.

Roayae A, Jibara G, Tabrizian P, et al. The role of hepatic resection in the treatment of hepatocellular cancer. Hepatology. 2015;62:440–51.

20.

Greene FL, Page DL, Fleming ID, et al (eds). AJCC cancer staging manual. 6th ed. Springer, New York, 2002.

21.

Dindo D, Demartines N, Clavien P-A. Classification of surgical complications: a new proposal with evaluation in a cohort of 6336 patients and results of a survey. Ann Surg. 2004;240:205–13.

22.

Low DE, Alderson D, Cecconello I, et al. International consensus on standardization of data collection for complications associated with esophagectomy Esophagectomy Complications Consensus Group (ECCG). Ann Surg. 2015;262:286–94.

23.

Mariette B, Piessen G, Balon JM, et al. Surgery alone in the curative treatment of localised oesophageal carcinoma. Eur J Surg Oncol. 2004;30:869–76.

24.

Bailey SH, Bull DA, Harpole DH, et al. Outcomes after esophagectomy: a ten-year prospective cohort. Ann Thorac Surg. 2003;75:217–22.

25.

Mariette C, Piessen G, Lamblin A, et al. Impact of preoperative radiochemotherapy on postoperative course and survival in patients with locally advanced squamous cell oesophageal carcinoma. Br J Surg. 2006;93:1077–83.

26.

Liverani A, Solinas L, Di Cesare T, et al. Preoperative transjugular portosystemic shunt for oncological gastric surgery in a cirrhotic patient. World J Gastroenterol. 2015;21:997–1000.

27.

Christou L, Pappas G, Falagas ME. Bacterial infection-related morbidity and mortality in cirrhosis. Am J Gastroenterol. 2007;102:1510–7.

28.

Fernández J, Acevedo J. New antibiotic strategies in patients with cirrhosis and bacterial infection. Expert Rev Gastroenterol Hepatol. 2015;9:1495–500.
Acknowledgment
No funding has been obtained or used for this study. All the authors have read and confirmed that they met ICMJE criteria for authorship.
Disclosure
There are no conflicts of interest.
About this article
Cite this article
Valmasoni, M., Pierobon, E.S., De Pasqual, C.A. et al. Esophageal Cancer Surgery for Patients with Concomitant Liver Cirrhosis: A Single-Center Matched-Cohort Study. Ann Surg Oncol 24, 763–769 (2017). https://doi.org/10.1245/s10434-016-5610-8
Received:

Published:

Issue Date:
Keywords
Esophageal Cancer

Liver Cirrhosis

Esophageal Squamous Cell Carcinoma

Portal Hypertension

Cirrhotic Patient