Abstract
Background
The significant global variations in surgical oncology training paradigms can have a detrimental effect on tackling the rising global cancer burden. While some variations in training are essential to account for the differences in types of cancer and biology, the fundamental principles of providing care to a cancer patient remain the same. The development of a global curriculum in surgical oncology with incorporated essential standards could be very useful in building an adequately trained surgical oncology workforce, which in turn could help in tackling the rising global cancer burden.
Materials and Methods
The leaders of the Society of Surgical Oncology and European Society of Surgical Oncology convened a global curriculum committee to develop a global curriculum in surgical oncology.
Results
A global curriculum in surgical oncology was developed to incorporate the required domains considered to be essential in training a surgical oncologist. The curriculum was constructed in a modular fashion to permit flexibility to suit the needs of the different regions of the world. Similarly, recognizing the various sociocultural, financial and cultural influences across the world, the proposed curriculum is aspirational and not mandatory in intent.
Conclusions
A global curriculum was developed which may be considered as a foundational scaffolding for training surgical oncologists worldwide. It is envisioned that this initial global curriculum will provide a flexible and modular scaffolding that can be tailored by individual countries or regions to train surgical oncologists in a way that is appropriate for practice in their local environment.
© 2016 Society of Surgical Oncology and the European Society of Surgical Oncology. Published by SpringerNature. All rights reserved.
Access options
Buy single article
Instant access to the full article PDF.
US$ 39.95
Tax calculation will be finalised during checkout.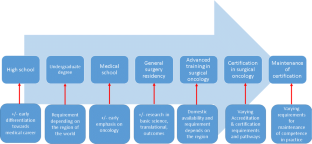 References
1.

Cancer fact sheets. International Agency for Research on Cancer. GLOBOCAN 2012. http://globocan.iarc.fr/Pages/fact_sheets_cancer.aspx. Accessed 19 Dec 2015

2.

Sullivan R, Alatise OI, Anderson BO et al., Global cancer surgery: delivering safe, affordable, and timely cancer surgery. Lancet Oncol. 2015;16(11):1193–224.

3.

Meara JG, Leather AJ, Hagander L et al., Global Surgery 2030: evidence and solutions for achieving health, welfare, and economic development. Lancet. 2015;386(9993):569–624.

4.

Wyld L, Naredi P, Poston G et al., Core curriculum for specialist training in surgical oncology in Europe. Eur J Surg Oncol. 2013;39(Suppl. 1):1–31

5.

Berman RS, Weigel RJ. Training and certification of the surgical oncologist. Chin Clin Oncol. 2014;3(4):45.

6.

Michelassi F. 2010 SSO presidential address: subspecialty certificate in advanced surgical oncology. Ann Surg Oncol. 2010;17(12):3094–103.

7.

Are C, Malik M, Patel A et al., The training and certification of surgical oncologists globally. Ann Surg Oncol. 2015;22(3):710–18.

8.

Wilson JM, Jungner YG. Principles and practice of mass screening for disease. Bol Oficina Sanit Panam. 1968;65(4):281–393.

9.

Croswell JM, Ransohoff DF, Kramer BS. Principles of cancer screening: lessons from history and study design issues. Semin Oncol. 2010;37(3):202–15.

10.

Eisenhauer EA, Therasse P, Bogaerts J et al., New response evaluation criteria in solid tumours: revised RECIST guideline (version 1.1). Eur J Cancer 2009;45(2):228–47.

11.

World Health Organisation (1996) Cancer Pain Relief, 2nd edition. WHO, Geneva

12.

Feldstein ML. Quality-of-life-adjusted survival for comparing cancer treatments. A commentary on TWiST and Q-TWiST. Cancer 1991;67(3):851–4.

13.

Sobin GAW. TNM classification of malignant tumours, 7th edition. UICC, Geneva, 2014.

14.

Hanahan D, Weinberg RA. The hallmarks of cancer. Cell. 2000;100(1):57–70.

15.

Hanahan D, Weinberg RA. Hallmarks of cancer: the next generation. Cell. 2011;144(5):646–74.

16.

Knudson A. Alfred Knudson and his two-hit hypothesis. (Interview by Ezzie Hutchinson). Lancet Oncol. 2001;2(10):642–5.

17.

Are C, Afuh C, Ravipati L et al., Preoperative nomogram to predict risk of perioperative mortality following pancreatic resections for malignancy. J Gastrointest Surg. 2009;13(12):2152–62.

18.

Clavien PA, Barkun J, de Oliveira ML et al., The Clavien-Dindo classification of surgical complications: five-year experience. Ann Surg 2009;250(2):187–96.

19.

Events, C.T.f.t.C.o.A. http://evs.nci.nih.gov/ftp1/CTCAE/CTCAE_4.03_2010-06-14_QuickReference_8.5x11.pdf. 2009.

20.

Brennan MD, Monson V. Professionalism: good for patients and health care organizations. Mayo Clin Proc. 2014;89(5):644–52.

21.

Gockel I, Hakman P, Beardi J et al., New perspectives in laparoscopic simulation: from students' skills lab to stress evaluation. Zentralbl Chir. 2008;133(3):244–9.

22.

Miller GE. The assessment of clinical skills/competence/performance. Acad Med. 1990;65(9 Suppl):S63–7.

23.

Norcini JJ. Work based assessment. BMJ. 2003;326(7392):753–5.

24.

Beard JD. Assessment of surgical skills of trainees in the UK. Ann R Coll Surg Engl. 2008;90(4):282–5.

25.

Beard J, Rowley D, Bussey M et al., Workplace-based assessment: assessing technical skill throughout the continuum of surgical training. ANZ J Surg 2009;79(3):148–53.

26.

van Gijn W, van de Velde CJ, EC members. Improving quality of cancer care through surgical audit. Eur J Surg Oncol. 2010;36(Suppl 1):S23–6.
Conflict of interest
The authors declare that they have no conflict of interest to disclose.
Additional information
This article is published through a collaboration between the Society of Surgical Oncology, and the European Society of Surgical Oncology and is published in the Annals of Surgical Oncology, and the European Journal of Surgical Oncology.
About this article
Cite this article
Are, C., Berman, R.S., Wyld, L. et al. Global Curriculum in Surgical Oncology. Ann Surg Oncol 23, 1782–1795 (2016). https://doi.org/10.1245/s10434-016-5239-7
Received:

Published:

Issue Date:
Keywords
Global Curriculum

Surgical Oncology Training

Global Cancer Burden

Modular Scaffolding

Lymphadenectomy