Abstract
Background
Although the increasing use of bilateral mastectomies is multifaceted, one source of influence may be the media, including coverage of celebrity breast cancer treatment. We examined trends in media reporting that might impact decision making among women with breast cancer.
Methods
We performed searches of two comprehensive online databases for articles from major U.S. print publications mentioning celebrities and terms related to the word "breast" and terms related to cancer treatment. Automated analysis using custom-created dictionaries was used to determine word frequencies over time. An analysis of net media tone was conducted using Lexicoder Sentiment Dictionaries.
Results
Celebrity breast cancer media reports significantly increased since 2004 (p < .05). Dramatic increases in bilateral mastectomy articles occurred in 2008–2009, with an increase in net positive tone. The surgical treatment was significantly more likely to be mentioned when a celebrity had bilateral mastectomies than unilateral mastectomy or breast conservation (44.8 vs 26.1 %, p < .001). The majority (60 %) of articles on celebrities undergoing bilateral mastectomy for cancer had no mention of genetics, family history, or risk.
Conclusions
Media reports of celebrity breast cancer present a bias toward bilateral mastectomies in both frequency and tone. This may sway public opinion, particularly when factors such as risk and genetics are excluded. Surgeons need to work with the media to improve cancer reporting and identify methods to better educate patients prior to surgical consultations.
Access options
Buy single article
Instant access to the full article PDF.
US$ 39.95
Tax calculation will be finalised during checkout.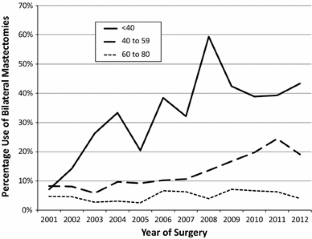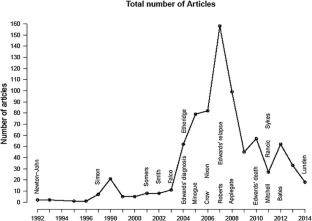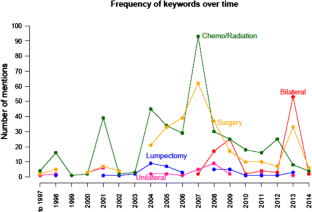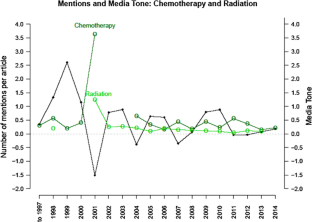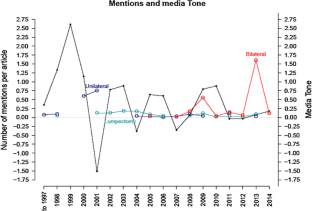 References
1.

Jones NB, Wilson J, Kotur L, Stephens J, Farrar WB, Agnese DM. Contralateral prophylactic mastectomy for unilateral breast cancer: an increasing trend at a single institution. Ann Surg Oncol. 2009;16:2691–6.

2.

King TA, Sakr R, Patil S, Gurevich I, Stempel M, Sampson M, Morrow M. Clinical management factors contribute to the decision for contralateral prophylactic mastectomy. J Clin Oncol. 2011;29:2158–64.

3.

Yao K, Winchester DJ, Czechura T, Huo D. Contralateral prophylactic mastectomy and survival: report from the National Cancer Data Base, 1998–2002. Breast Cancer Res Treat. 2013;142:465–76.

4.

Tuttle TM, Habermann EB, Grund EH, Morris TJ, Virnig BA. Increasing use of contralateral prophylactic mastectomy for breast cancer patients: A trend toward more aggressive surgical treatment. J Clin Oncol. 2007;25:5203–9.

5.

Pesce CE, Leiderbach E, Czechura T, Winchester DJ, Yao K. Changing surgical trends in young patients with early stage breast cancer, 2003 to 2010: A report from the national cancer database. J Am Coll Surg. 2014;219:19–30.

6.

Kurian AW, Lichtensztain DY, Keegan TH, Nelson DO, Clarke CA, Gomez SL. Use of and mortality after bilateral mastectomy compared with other surgical treatments for breast cancer in California, 1998–2011. JAMA. 2014;12:902–14.

7.

Borzekowski DL, Guan Y, Smith KC, Erby LH, Roter DL. The Angelina effect: immediate reach, grasp, and impact of going public. Genet Med. 2014;16:516–21.

8.

Evans DG, Barwell J, Eccles DM, et al. The Angelina Jolie effect: how high celebrity profile can have a major impact on provision of cancer related services. Breast Cancer Res. 2014;16:442.

9.

Noar SM, Althouse BM, Ayers JW, Francis DB, Ribisl KM (2015) Cancer information seeking in the digital age: effects of Angelina Jolie's prophylactic mastectomy announcement. Med Decis Mak 20;35:16–21.

10.

Nierderdeppe J. Beyond knowledge gaps: examining socioeconomic differences in response to cancer news. Human Comm Res. 2008;34:423–47.

11.

R Development Core Team. R: A language and environment for statistical computing. R Foundation for Statistical Computing, Vienna. ISBN: 3-900051-07-0. http://www.R-project.org (2008)

12.

Young L, Soroka S. Lexicoder Sentiment Dictionary. McGill University, Montreal. www.lexicoder.com

13.

Young L, Soroka S. Affective news: the automated coding of sentiment in political texts. Polit Commun. 2012;29:205–31.

14.

Hawley ST, Jagsi R, Morrow M, Janz NK, Hamilton A, Graff JJ, Katz SJ. Social and clinical determinants of contralateral prophylactic mastectomy. JAMA Surg. 2014;149:582–9.

15.

Rosenberg SM, Tracy MS, Meyer ME, et al. Perceptions, knowledge and satisfaction with contralateral prophylactic mastectomy among young women with breast cancer. Ann Intern Med. 2013;159:373–81.

16.

Black WC, Nease RF, Tosteson AN. Perceptions of breast cancer risk and screening effectiveness in women younger than 50 years of age. J Natl Cancer Inst. 1995;87:720–31.

17.

Rakovitch E, Franssen E, Kim J, et al. A comparison of risk perception and psychological morbidity in women with DCIS and early invasive breast cancer. Breast Cancer Res Treat. 2003;77:285–93.

18.

Abbott A, Rueth N, Pappas-Varco S, Kuntz K, Kerr E, Tuttle T. Perceptions of contralateral breast cancer: an overestimation of risk. Ann Surg Oncol. 2011;18:3129–36.

19.

Katz SJ, Morrow M. Contralateral prophylactic mastectomy for breast cancer. Addressing peace of mind. JAMA. 2013;310:793–4.

20.

Henderson L, Kitzinger J. The human drama of genetics: 'hard' and 'soft' media representations of inherited breast cancer. Sociol. Health Ill. 1999;21:560–78.

21.

Peters HP. The interaction of journalists and scientific experts. Media Cult. Soc. 1995;17:31–48.

22.

Silverman SM. Wanda Sykes: I had a double mastectomy. www.people.com, 2011.

23.

Kamenova K, Reshef A, Caulfield T. Angelina Jolie's faulty gene: newspaper coverage of a celebrity's preventive bilateral mastectomy in Canada, the United States, and the United Kingdom. Genet Med. 2014;16:522–8.

24.

Juthe RH, Zaharchuk A, Wang C. Celebrity disclosures and information seeking: the case of Angelina Jolie. Genet Med. 2015;17:545–53.

25.

Chapman S, McLeod K, Wakefield M, Holding S. Impact of news of celebrity illness on breast cancer screening: Kylie Minogue's breast cancer diagnosis. Med J Aust. 2005;183:247–50.

26.

Fisher B, Bauer M, Margolese R, et al. Five-year results of a randomized clinical trial comparing total mastectomy and segmental mastectomy with or without radiation in the treatment of breast cancer. N Engl J Med. 1985;312:665–73.

27.

Du X, Freeman Jr. DH, Syblik DA. What drove changes in the use of breast conserving surgery since the early 1980s? The role of the clinical trial, celebrity action and an NH consensus statement. Breast Cancer Res Treat. 2000;62:71–9.

28.

Nattinger AB, Hoffmann RG, Howell-Petz A, Goodwin JS. Effect of Nancy Reagan's mastectomy on choice of surgery for breast cancer by US women. JAMA. 1998;279:762–6.
About this article
Cite this article
Sabel, M.S., Cin, S.D. Trends in Media Reports of Celebrities' Breast Cancer Treatment Decisions. Ann Surg Oncol 23, 2795–2801 (2016). https://doi.org/10.1245/s10434-016-5202-7
Received:

Published:

Issue Date:
Keywords
Breast Cancer

BRCA Mutation

Breast Cancer Treatment

Media Report

Sentiment Analysis