Abstract
Background
Mixed adeno-neuroendocrine carcinoma (MANEC) is a rare pathologic diagnosis recently defined by the World Health Organization in 2010. Due to poor understanding of MANEC as a clinical entity, there is significant variation in the management of these patients. The purpose of our study was to characterize MANEC to develop evidence-based treatment strategies.
Methods
The Ohio State University patient database was queried for the diagnosis of MANEC and 46 patients were identified. For comparison, the database also was queried for goblet cell carcinoid (GCC) of the appendix, signet ring cell carcinoma, and carcinoid/neuroendocrine tumor of the appendix. Charts were then retrospectively reviewed for clinicopathologic characteristics, patient treatment, and survival data.
Results
The mean age of diagnosis of MANEC was 54 years. Eighty-seven percent of MANEC arose from the appendix, with 28 % of patients undergoing appendectomy and 35 % undergoing right hemicolectomy as their index operation. Immunohistochemical staining was positive for chromogranin (82 %), synaptophysin (97 %), and CD56 (67 %). Sixty-seven percent of patients presented with stage IV disease and 41 % had nodal metastases. Overall survival was 4.1 years, which was statistically significantly different (p ≤ 0.05) compared with carcinoid tumors (13.4 years), GCC (15.4 years), and signet ring carcinoma (2.2 years).
Conclusions
MANEC is a more aggressive clinical entity than both GCC of the appendix and carcinoid/neuroendocrine tumors of the appendix. Based on these findings, we recommend patients with MANEC tumors undergo aggressive multidisciplinary cancer management and close surveillance.
Access options
Buy single article
Instant access to the full article PDF.
USD 39.95
Price includes VAT (USA)
Tax calculation will be finalised during checkout.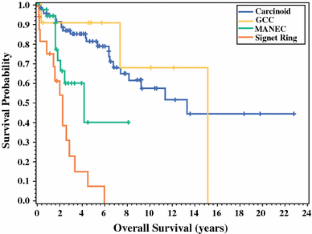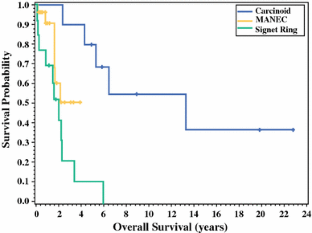 References
1.

Komminoth PA, Capella C, Klimstra DS, Klöppel G, Solcia E, Rindi G. Neuroendocrine neoplasms of the appendix. In: WHO classification of tumours of the digestive system. 4th ed. Lyon: IARC Press; 2010.

2.

Rindi G, Bordi C, La Rosa S, et al. Gastroenteropancreatic (neuro)endocrine neoplasms: the histology report. Dig Liver Dis. 2011;43 Suppl 4:S356–60.

3.

Lewin K. Carcinoid tumors and the mixed (composite) glandular-endocrine cell carcinomas. Am J Surg Pathol. 1987;11 Suppl 1:71–86.

4.

Capella C, La Rosa S, Uccella S, Billo P, Cornaggia M. Mixed endocrine–exocrine tumors of the gastrointestinal tract. Semin Diagn Pathol. 2000;17(2):91–103.

5.

Holt N, Gronbaek H. Goblet cell carcinoids of the appendix. Sci World J. 2013;2013:543696–702.

6.

Roy P, Chetty R. Goblet cell carcinoid tumors of the appendix: an overview. World J Gastrointest Oncol. 2010;2(6):251–8.

7.

La Rosa S, Marando A, Furlan D, Sahnane N, Capella C. Colorectal poorly differentiated neuroendocrine carcinomas and mixed adenoneuroendocrine carcinomas: insights into the diagnostic immunophenotype, assessment of methylation profile, and search for prognostic markers. Am J Surg Pathol. 2012;36(4):601–11.

8.

Power DG, Asmis TR, Tang LH, Brown K, Kemeny NE. High-grade neuroendocrine carcinoma of the colon, long-term survival in advanced disease. Med Oncol. 2011;28 Suppl 1:S169–74.

9.

Shia J, Tang LH, Weiser MR, et al. Is nonsmall cell type high-grade neuroendocrine carcinoma of the tubular gastrointestinal tract a distinct disease entity? Am J Surg Pathol. 2008;32(5):719–31.

10.

La Rosa S, Marando A, Sessa F, Capella C. Mixed adenoneuroendocrine carcinomas (MANECs) of the gastrointestinal tract: an update. Cancers. 2012;4(1):11–30.

11.

Scholzen T, Gerdes J. The Ki-67 protein: from the known and the unknown. J Cell Physiol. 2000;182(3):311–22.

12.

Lowe K, Khithani A, Liu E, et al. Ki-67 labeling: a more sensitive indicator of malignant phenotype than mitotic count or tumor size? J Surg Oncol. 2012;106(6):724–7.

13.

Hamilton SR, Aaltonen LA, (eds.). World Health Organization Classification of Tumours. Pathology and Genetics of Tumours of the Digestive System. Lyon: IARC Press; 2000.

14.

Goede AC, Caplin ME, Winslet MC. Carcinoid tumour of the appendix. Br J Surg. 2003;90(11):1317–22.

15.

Nussbaum DP, Speicher PJ, Gulack BC, et al. Management of 1- to 2-cm carcinoid tumors of the appendix: using the national cancer data base to address controversies in general surgery. J Am Coll Surg. 2015;220(5):894–903.

16.

Mullen JT, Savarese DM. Carcinoid tumors of the appendix: a population-based study. J Surg Oncol. 2011;104(1):41–4.

17.

Benedix F, Reimer A, Gastinger I, et al. Primary appendiceal carcinoma—epidemiology, surgery and survival: results of a German multi-center study. Eur J Surg Oncol. 2010;36(8):763–71.

18.

Moertel CG, Weiland LH, Nagorney DM, Dockerty MB. Carcinoid tumor of the appendix: treatment and prognosis. N Engl J Med. 1987;317(27):1699–701.

19.

Murray SE, Lloyd RV, Sippel RS, Chen H, Oltmann SC. Postoperative surveillance of small appendiceal carcinoid tumors. Am J Surg. 2014;207(3):342–5; discussion 345.

20.

Kulke MH, Shah MH, Benson AB, et al. Neuroendocrine tumors, version 1.2015. J Natl Compr Canc Netw. 2015;13(1):78–108.

21.

McCusker ME, Cote TR, Clegg LX, Sobin LH. Primary malignant neoplasms of the appendix: a population-based study from the surveillance, epidemiology and end-results program, 1973–1998. Cancer. 2002;94(12):3307–12.
Disclosures
The authors have no disclosures.
About this article
Cite this article
Brathwaite, S., Rock, J., Yearsley, M.M. et al. Mixed Adeno-neuroendocrine Carcinoma: An Aggressive Clinical Entity. Ann Surg Oncol 23, 2281–2286 (2016). https://doi.org/10.1245/s10434-016-5179-2
Received:

Published:

Issue Date:
Keywords
Overall Survival

Carcinoid Tumor

Signet Ring Cell Carcinoma

Appendiceal Tumor

Goblet Cell Carcinoid