Abstract
Background
The treatment strategy and benefit of extended lymph node dissection among patients with preoperatively diagnosed paraaortic lymph node metastasis (PALNM) in colon cancer remains highly controversial. In the current study, we analyzed the oncologic outcomes of patients who underwent extraregional lymph node dissection for colon cancer with isolated PALNM.
Methods
From March 2000 to December 2009, the study group included 1082 patients who underwent curative surgery for colonic adenocarcinoma with pathological lymph node metastasis.
Results
Of 1082 patients who underwent curative surgery for colonic carcinoma, 953 (88.1 %) patients underwent regional lymphadenectomy, and 129 (11.9 %) patients underwent paraaortic lymph node dissection. Pathologic examination revealed N1 stage disease in 738 (68.2 %), N2 in 295 (27.3 %), and PALNM in 49 (4.5 %). Five-year overall survival (OS) and disease-free survival (DFS) rate were significantly better in the regional LNM group than in the PALNM group (OS 75.1 vs. 33.9 %, p < 0.001; DFS 66.2 vs. 26.5 %, p < 0.001). Five-year OS and DFS were not significantly different between the PALNM and resectable liver metastasis patients who underwent curative resection (OS 33.9 vs. 38.7 %, p = 0.080; DFS 26.5 vs. 27.6 %, p = 0.604).
Conclusions
PALNM in colon cancer is associated with poorer survival than regional lymph node metastasis and showed comparable survival rates with metastasectomy for liver metastasis. Further studies evaluating the net benefit of upfront chemotherapy compared with initial resection for patients with potentially resectable PALNM are needed.
Access options
Buy single article
Instant access to the full article PDF.
US$ 39.95
Tax calculation will be finalised during checkout.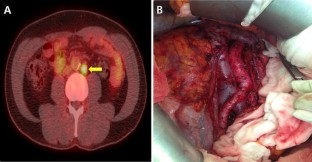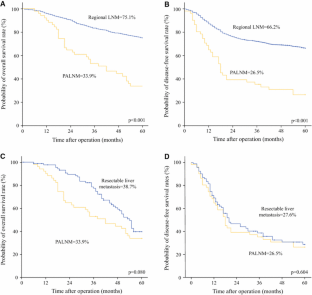 References
1.

Greene FL. The American Joint Committee on Cancer: updating the strategies in cancer staging. Bull Am Coll Surg. 2002;87:13–15.

2.

Leggeri A, Roseano M, Balani A, Turoldo A. Lumboaortic and iliac lymphadenectomy: what is the role today? Dis Colon Rectum. 1994;37:S54–61.

3.

Choi PW, Kim HC, Kim AY, Jung SH, Yu CS, Kim JC. Extensive lymphadenectomy in colorectal cancer with isolated para-aortic lymph node metastasis below the level of renal vessels. J Surg Oncol. 2010;101:66–71.

4.

Hohenberger W, Weber K, Matzel K, Papadopoulos T, Merkel S. Standardized surgery for colonic cancer: complete mesocolic excision and central ligation–technical notes and outcome. Colorectal Dis. 2009;11:354–64; discussion 364–5

5.

Cho MS, Baek SJ, Hur H, Soh Min B, Baik SH, Kyu Kim N. Modified complete mesocolic excision with central vascular ligation for the treatment of right-sided colon cancer: long-term outcomes and prognostic factors. Ann Surg. 2015;261(4):708–15.

6.

Bae SU, Saklani AP, Lim DR, et al. Laparoscopic-assisted versus open complete mesocolic excision and central vascular ligation for right-sided colon cancer. Ann Surg Oncol. 2014;21:2288–94.

7.

Sasako M, Sano T, Yamamoto S, et al. D2 lymphadenectomy alone or with para-aortic nodal dissection for gastric cancer. N Engl J Med. 2008;359:453–62.

8.

Tokunaga M, Ohyama S, Hiki N, Fukunaga T, Aikou S, Yamaguchi T. Can superextended lymph node dissection be justified for gastric cancer with pathologically positive para-aortic lymph nodes? Ann Surg Oncol. 2010;17:2031–6.

9.

Yoshikawa T, Sasako M, Sano T, et al. Stage migration caused by D2 dissection with para-aortic lymphadenectomy for gastric cancer from the results of a prospective randomized controlled trial. Br J Surg. 2006;93:1526–9.

10.

Min BS, Kim JS, Kim NK, et al. Extended lymph node dissection for rectal cancer with radiologically diagnosed extramesenteric lymph node metastasis. Ann Surg Oncol. 2009;16:3271–8.

11.

Liu YL, Wang YH, Yang YM, Li MQ, Jiang SX, Wang XS. The role of para-aortic lymphadenectomy in surgical management of patients with stage N+ rectal cancer below the peritoneal reflection. Cell Biochem Biophys. 2012;62:41–6.

12.

Glass RE, Ritchie JK, Thompson HR, Mann CV. The results of surgical treatment of cancer of the rectum by radical resection and extended abdomino-iliac lymphadenectomy. Br J Surg. 1985;72:599–601.

13.

Minagawa M, Makuuchi M, Torzilli G, et al. Extension of the frontiers of surgical indications in the treatment of liver metastases from colorectal cancer: long-term results. Ann Surg. 2000;231:487–99.

14.

Yan TD, Morris DL. Cytoreductive surgery and perioperative intraperitoneal chemotherapy for isolated colorectal peritoneal carcinomatosis: experimental therapy or standard of care? Ann Surg. 2008;248:829–35.

15.

Covey AM, Brown KT, Jarnagin WR, et al. Combined portal vein embolization and neoadjuvant chemotherapy as a treatment strategy for resectable hepatic colorectal metastases. Ann Surg. 2008;247:451–5.

16.

Blazer DG, 3rd, Kishi Y, Maru DM, et al. Pathologic response to preoperative chemotherapy: a new outcome end point after resection of hepatic colorectal metastases. J Clin Oncol. 2008;26:5344–51.

17.

Nordlinger B, Sorbye H, Glimelius B, et al. Perioperative chemotherapy with FOLFOX4 and surgery versus surgery alone for resectable liver metastases from colorectal cancer (EORTC Intergroup trial 40983): a randomised controlled trial. Lancet. 2008;371:1007–16.

18.

Fernandez FG, Ritter J, Goodwin JW, Linehan DC, Hawkins WG, Strasberg SM. Effect of steatohepatitis associated with irinotecan or oxaliplatin pretreatment on resectability of hepatic colorectal metastases. J Am Coll Surg. 2005;200:845–53.

19.

Rubbia-Brandt L, Audard V, Sartoretti P, et al. Severe hepatic sinusoidal obstruction associated with oxaliplatin-based chemotherapy in patients with metastatic colorectal cancer. Ann Oncol. 2004;15:460–6.
Acknowledgment
This work was supported by the National Research Foundation of Korea (NRF) Grant funded by the Korea Government (MSIP) (No. 2014R1A5A2010008).
Disclosure
The authors have nothing to disclose.
About this article
Cite this article
Bae, S.U., Han, Y.D., Cho, M.S. et al. Oncologic Outcomes of Colon Cancer Patients with Extraregional Lymph Node Metastasis: Comparison of Isolated Paraaortic Lymph Node Metastasis with Resectable Liver Metastasis. Ann Surg Oncol 23, 1562–1568 (2016). https://doi.org/10.1245/s10434-015-5027-9
Received:

Published:

Issue Date:
Keywords
Overall Survival

Oncologic Outcome

Left Renal Vein

Primary Tumor Resection

Lateral Pelvic Lymph Node