Abstract
Background
Age 45 years is used as a cutoff in the staging of well-differentiated thyroid cancer (WDTC) as it represents the median age of most datasets. The aim of this study was to determine a statistically optimized age threshold using a large dataset of patients treated at a comprehensive cancer center.
Methods
Overall, 1807 patients with a median follow-up of 109 months were included in the study. Recursive partitioning was used to determine which American Joint Committee on Cancer (AJCC) variables were most predictive of disease-specific death, and whether a different cutoff for age would be found. From the resulting tree, a new age cutoff was picked and patients were restaged using this new cutoff.
Results
The 10-year disease-specific survival (DSS) by Union for International Cancer Control (AJCC/UICC) stage was 99.6, 100, 96, and 81 % for stages I–IV, respectively. Using recursive partitioning, the presence of distant metastasis was the most powerful predictor of DSS. For M0 patients, age was the next most powerful predictor, with a cutoff of 56 years. For M1 patients, a cutoff at 54 years was most predictive. Having reviewed the analysis, age 55 years was selected as a more robust age cutoff than 45 years. The 10-year DSS by new stage (using age 55 years as the cutoff) was 99.2, 98, 100, and 74 % for stages I–IV, respectively.
Conclusion
A change in age cutoff in the AJCC/UICC staging for WDTC to 55 years would improve the accuracy of the system and appropriately prevent low-risk patients being overstaged and overtreated.
Access options
Buy single article
Instant access to the full article PDF.
US$ 39.95
Tax calculation will be finalised during checkout.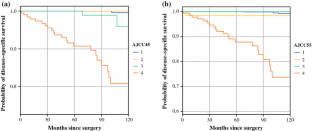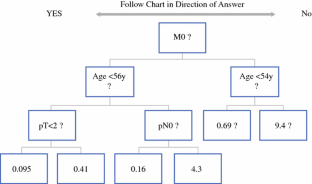 References
1.

Cady B, Rossi R. An expanded view of risk-group definition in differentiated thyroid carcinoma. Surgery. 1988;104(6):947–53.

2.

Shah JP, Loree TR, Dharker D, Strong EW, Begg C, Vlamis V. Prognostic factors in differentiated carcinoma of the thyroid gland. Am J Surg. 1992;164(6):658–61.

3.

Sherman SI, Brierley JD, Sperling M, et al. Prospective multicenter study of thyroiscarcinoma treatment: initial analysis of staging and outcome. National Thyroid Cancer Treatment Cooperative Study Registry Group. Cancer. 1998;83(5):1012–21.

4.

Byar DP, Green SB, Dor P, et al. A prognostic index for thyroid carcinoma. A study of the EORTC Thyroid Cancer Cooperative Group. Eur J Cancer. 1979;15(8):1033–41.

5.

Sugitani I, Kasai N, Fujimoto Y, Yanagisawa A. A novel classification system for patients with PTC: addition of the new variables of large (3 cm or greater) nodal metastases and reclassification during the follow-up period. Surgery. 2004;135(2):139–48.

6.

Randolph G. Surgery of the thyroid and parathyroid glands. 2nd ed. Philadelphia: Elsevier; 2013.

7.

Hay ID, Bergstralh EJ, Goellner JR, Ebersold JR, Grant CS. Predicting outcome in papillary thyroid carcinoma: development of a reliable prognostic scoring system in a cohort of 1779 patients surgically treated at one institution during 1940 through 1989. Surgery. 1993;114(6):1050–57; discussion 1057–1058.

8.

Edge SB, Compton CC. The American Joint Committee on Cancer: the 7th edition of the AJCC cancer staging manual and the future of TNM. Ann Surg Oncol. 2010;17(6):1471–74.

9.

Edge SB, American Joint Committee on Cancer. AJCC cancer staging manual. 7th ed. New York: Springer; 2010.

10.

Nixon IJ, Ganly I, Patel SG, et al. Changing trends in well differentiated thyroid carcinoma over eight decades. Int J Surg. 2012;10(10):618–23.

11.

Haymart MR. Understanding the relationship between age and thyroid cancer. Oncologist. 2009;14(3):216–21.

12.

Oyer SL, Smith VA, Lentsch EJ. Reevaluating the prognostic significance of age in differentiated thyroid cancer. Otolaryngol Head Neck Surg. 2012;147(2):221–26.

13.

Bischoff LA, Curry J, Ahmed I, Pribitkin E, Miller JL. Is above age 45 appropriate for upstaging well-differentiated papillary thyroid cancer? Endocr Pract. 2013;19(6):995–97.

14.

Urken ML, Mechanick JI, Sarlin J, Scherl S, Wenig BM. Pathologic reporting of lymph node metastases in differentiated thyroid cancer: a call to action for the College of American Pathologists. Endocr Pathol. 2014:25(3):214–8.

15.

Terris DJ, Snyder S, Carneiro-Pla D, et al. American thyroid association statement on outpatient thyroidectomy. Thyroid. 2013;23(10):1193–202.

16.

Urken ML, Milas M, Randolph GW, et al. Management of recurrent and persistent metastatic lymph nodes in well-differentiated thyroid cancer: a multifactorial decision-making guide for the Thyroid Cancer Care Collaborative. Head Neck. 2015;37(4):605–14.

17.

Shah JP. Re: Extent of surgery affects papillary thyroid cancer. Ann Surg. 2008;247(6):1082–83; author reply 1083–1084.
Disclosures
Iain J. Nixon, Deborah Kuk, Volkert Wreesmann, Luc Morris, Frank L. Palmer, Ian Ganly, Snehal G. Patel, Bhuvanesh Singh, R. Michael Tuttle, Ashok R. Shaha, Mithat Gönen, and Jatin P. Shah have no disclosures to declare.
Electronic supplementary material
Below is the link to the electronic supplementary material.
About this article
Cite this article
Nixon, I.J., Kuk, D., Wreesmann, V. et al. Defining a Valid Age Cutoff in Staging of Well-Differentiated Thyroid Cancer. Ann Surg Oncol 23, 410–415 (2016). https://doi.org/10.1245/s10434-015-4762-2
Received:

Published:

Issue Date:
Keywords
Thyroid Cancer

Staging System

Recursive Partitioning

Recursive Partitioning Analysis

Memorial Sloan Kettering Cancer Center