Abstract
Background
Cancer patients experience anxiety and depression after diagnosis and during treatment. A wide range of psychological interventions have been proposed to alleviate distress, but the evidence about the perioperative effectiveness of such interventions is not clear. This systematic review examined the effect of preoperative psychological interventions or prehabilitation on the postoperative outcomes of patients undergoing surgery for cancer.
Methods
A systematic review of the published data was performed using Embase, Medline, and PsycInfo for the period from 1946 to February 2014. A total of 951 publications (case series, single case reports, and reviews) were found. Only seven of these studies included patients undergoing an operation for cancer and a preoperative psychological intervention.
Results
Six of the seven studies were randomized controlled trials. Four were conducted with patients who had breast cancer (n = 356). The other studies included patients with gynecologic cancer (n = 30), colorectal cancer (n = 60), and prostate cancer (n = 159). Assessment of the studies showed four to be of good quality, two to be of moderate quality, and one to be of poor quality. Interventions did not affect traditional surgical outcomes (e.g., length of hospital stay, complications, analgesia use, or mortality) but positively affected patients' immunologic function. However, psychological interventions appeared to have an impact on patients' reported outcome measures including psychological outcomes, quality of life, and somatic symptoms.
Conclusion
Available data suggested that preoperative psychological prehabilitation may have a role for cancer patients undergoing surgery. Further evidence is needed to evaluate its role.
This is a preview of subscription content,
to check access.
Access this article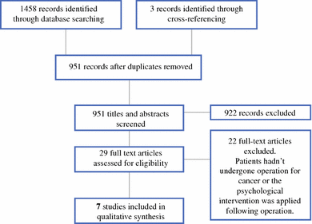 References
Stark D, Kiely M, Smith A, Velikova G, House A, Selby P. Anxiety disorders in cancer patients: their nature, associations, and relation to quality of life. J Clin Oncol. 2002;20:3137–48.

Massie MJ. Prevalence of depression in patients with cancer. J Natl Cancer Inst Monogr. 2004;57–71.

Krebber AM, Buffart LM, Kleijn G et al. Prevalence of depression in cancer patients: a meta-analysis of diagnostic interviews and self-report instruments. Psychooncology 2014;23:121–30.

Mitchell AJ, Chan M, Bhatti H, et al. Prevalence of depression, anxiety, and adjustment disorder in oncological, haematological, and palliative-care settings: a meta-analysis of 94 interview-based studies. Lancet Oncol. 2011;12:160–74.

Vehling S, Koch U, Ladehoff N, et al. Prevalence of affective and anxiety disorders in cancer: systematic literature review and meta-analysis. Psychother Psychosom Med Psychol. 2012;62:249–58.

Newell SA, Sanson-Fisher RW, Savolainen NJ. Systematic review of psychological therapies for cancer patients: overview and recommendations for future research. J Natl Cancer Inst. 2002;94:558–84.

Sheard T, Maguire P. The effect of psychological interventions on anxiety and depression in cancer patients: results of two meta-analyses. Br J Cancer. 1999;80:1770–80.

Lepore SJ, Coyne JC. Psychological interventions for distress in cancer patients: a review of reviews. Ann Behav Med. 2006;32:85–92.

Lehto RH, Cimprich B. Anxiety and directed attention in women awaiting breast cancer surgery. Oncol Nurs Forum. 1999;26:767–72.

Nosarti C, Roberts JV, Crayford T, McKenzie K, David AS. Early psychological adjustment in breast cancer patients: a prospective study. J Psychosom Res. 2002;53:1123–30.

Silver JK, Baima J, Mayer RS. Impairment-driven cancer rehabilitation: an essential component of quality care and survivorship. CA Cancer J Clin. 2013;63:295–317.

Devine EC. Effects of psychoeducational care for adult surgical patients: a meta-analysis of 191 studies. Patient Educ Couns. 1992;19:129–42.

Nelson EA, Dowsey MM, Knowles SR, et al. Systematic review of the efficacy of pre-surgical mind–body-based therapies on postoperative outcome measures. Complement Ther Med. 2013;21:697–711.

Silver JK, Baima J. Cancer prehabilitation: an opportunity to decrease treatment-related morbidity, increase cancer treatment options, and improve physical and psychological health outcomes. Am J Phys Med Rehabil. 2013;92:715–27.

Arthur HM, Daniels C, McKelvie R, Hirsh J, Rush B. Effect of a preoperative intervention on preoperative and postoperative outcomes in low-risk patients awaiting elective coronary artery bypass graft surgery: a randomized, controlled trial. Ann Intern Med. 2000;133:253–62.

Dao TK, Youssef NA, Armsworth M, Wear E, Papathopoulos KN, Gopaldas R. Randomized controlled trial of brief cognitive behavioral intervention for depression and anxiety symptoms preoperatively in patients undergoing coronary artery bypass graft surgery. J Thorac Cardiovasc Surg. 2011;142:e109–15.

Manyande A, Berg S, Gettins D, et al. Preoperative rehearsal of active coping imagery influences subjective and hormonal responses to abdominal surgery. Psychosom Med. 1995;57:177–82.

Broadbent E, Kahokehr A, Booth RJ, et al. A brief relaxation intervention reduces stress and improves surgical wound healing response: a randomised trial. Brain Behav Immun. 2012;26:212–7.

Andersen BL, Farrar WB, Golden-Kreutz D, et al. Stress and immune responses after surgical treatment for regional breast cancer. J Natl Cancer Inst. 1998;90:30–6.

Andersen BL, Farrar WB, Golden-Kreutz DM, et al. Psychological, behavioral, and immune changes after a psychological intervention: a clinical trial. J Clin Oncol. 2004;22:3570–80.

Carlson LE, Speca M, Patel KD, Goodey E. Mindfulness-based stress reduction in relation to quality of life, mood, symptoms of stress, and immune parameters in breast and prostate cancer outpatients. Psychosom Med. 2003;65:571–81.

Witek-Janusek L, Albuquerque K, Chroniak KR, Chroniak C, Durazo-Arvizu R, Mathews HL. Effect of mindfulness based stress reduction on immune function, quality of life, and coping in women newly diagnosed with early stage breast cancer. Brain Behav Immun. 2008;22:969–81.

Andersen BL, Yang HC, Farrar WB, et al. Psychologic intervention improves survival for breast cancer patients: a randomized clinical trial. Cancer. 2008;113:3450–8.

Steel JL, Bress K, Popichak L, et al. A systematic review of randomized controlled trials testing the efficacy of psychosocial interventions for gastrointestinal cancers. J Gastrointest Cancer. 2014;45:181–9.

Kmet LM, Lee RC, Cook LS. Standard quality assessment criteria for evaluating primary research papers from a variety of fields. In: Edition Alberta Heritage Foundation for Medical Research 2004.

Williams PD, Valderrama DM, Gloria MD, et al. Effects of preparation for mastectomy/hysterectomy on women's postoperative self-care behaviors. Int J Nurs Stud. 1988;25:191–206.

Burton MV, Parker RW, Farrell A, et al. A randomized controlled trial of preoperative psychological preparation for mastectomy. Psycho-Oncology. 1995;4:1–19.

Garssen B, Boomsma MF, Meezenbroek Ede J, et al. Stress management training for breast cancer surgery patients. Psychooncology. 2013;22:572–80.

Larson MR, Duberstein PR, Talbot NL, Caldwell C, Moynihan JA. A presurgical psychosocial intervention for breast cancer patients: psychological distress and the immune response. J Psychosom Res. 2000;48:187–94.

Haase O, Schwenk W, Hermann C, Muller JM. Guided imagery and relaxation in conventional colorectal resections: a randomized, controlled, partially blinded trial. Dis Colon Rectum. 2005;48:1955–63.

Parker PA, Pettaway CA, Babaian RJ, et al. The effects of a presurgical stress management intervention for men with prostate cancer undergoing radical prostatectomy. J Clin Oncol. 2009;27:3169–76.

Cohen L, Parker PA, Vence L, et al. Presurgical stress management improves postoperative immune function in men with prostate cancer undergoing radical prostatectomy. Psychosom Med. 2011;73:218–25.

McNair DM, Lorr M, Droppleman LF. Profile of mood states. Educational and Industrial Testing Services, San Diego, 1971.

Tait A, Maguire P, Faulkner A, et al. Improving communication skills. Nurs Times. 1982;78:2181–4.

Litwin MS, Hays RD, Fink A, Ganz PA, Leake B, Brook RH. The UCLA Prostate Cancer Index: development, reliability, and validity of a health-related quality of life measure. Med Care. 1998;36:1002–12.

Antoni MH, Lutgendorf SK, Cole SW, et al. The influence of bio-behavioural factors on tumour biology: pathways and mechanisms. Nat Rev Cancer. 2006;6:240–8.

Christian LM, Graham JE, Padgett DA, Glaser R, Kiecolt-Glaser JK. Stress and wound healing. Neuroimmunomodulation. 2006;13:337–46.

Kiecolt-Glaser JK, Marucha PT, Malarkey WB, Mercado AM, Glaser R. Slowing of wound healing by psychological stress. Lancet. 1995;346:1194–6.

Miller AH, Ancoli-Israel S, Bower JE, Capuron L, Irwin MR. Neuroendocrine-immune mechanisms of behavioral comorbidities in patients with cancer. J Clin Oncol. 2008;26:971–82.

Vileikyte L. Stress and wound healing. Clin Dermatol. 2007;25:49–55.

Luebbert K, Dahme B, Hasenbring M. The effectiveness of relaxation training in reducing treatment-related symptoms and improving emotional adjustment in acute nonsurgical cancer treatment: a meta-analytical review. Psychooncology. 2001;10:490–502.

Redd WH, Montgomery GH, DuHamel KN. Behavioral intervention for cancer treatment side effects. J Natl Cancer Inst. 2001;93:810–23.

Carli F, Zavorsky GS. Optimizing functional exercise capacity in the elderly surgical population. Curr Opin Clin Nutr Metab Care. 2005;8:23–32.

Singh F, Newton RU, Galvao DA, Spry N, Baker MK. A systematic review of presurgical exercise intervention studies with cancer patients. Surg Oncol. 2013;22:92–104.

Carli F, Charlebois P, Stein B, et al. Randomized clinical trial of prehabilitation in colorectal surgery. Br J Surg. 2010;97:1187–97.

Crandall K, Maguire R, Campbell A, Kearney N. Exercise intervention for patients surgically treated for non-small cell lung cancer (NSCLC): a systematic review. Surg Oncol. 2014;23:17–30.

Carli F, Brown R, Kennepohl S. Prehabilitation to enhance postoperative recovery for an octogenarian following robotic-assisted hysterectomy with endometrial cancer. Can J Anaesth. 2012;59:779–84.

Santa Mina D, Clarke H, Ritvo P, et al. Effect of total-body prehabilitation on postoperative outcomes: a systematic review and meta-analysis. Physiotherapy. 2014;100:196–207.

Silver JK. Cancer rehabilitation and prehabilitation may reduce disability and early retirement. Cancer. 2014;120:2072–6.

Gillis C, Li C, Lee L, et al. Prehabilitation versus rehabilitation: a randomized control trial in patients undergoing colorectal resection for cancer. Anesthesiology. 2014;121:937–47.
Acknowledgments
Ioanna Tsimopoulou was supported by Alexander S. Onasis Public Benefit Foundation.
Disclosure
There are no conflicts of interest.
Electronic supplementary material
Below is the link to the electronic supplementary material.
About this article
Cite this article
Tsimopoulou, I., Pasquali, S., Howard, R. et al. Psychological Prehabilitation Before Cancer Surgery: A Systematic Review. Ann Surg Oncol 22, 4117–4123 (2015). https://doi.org/10.1245/s10434-015-4550-z
Received:

Published:

Issue Date:

DOI: https://doi.org/10.1245/s10434-015-4550-z
Keywords