Abstract
Background
This study aimed to evaluate whether the use of preoperative ultrasound (US)-guided wire localization of metastatic axillary lymph nodes (LN) assessed previously by core needle biopsy (CNB) and clip placement in breast cancer patients improves successful surgical removal.
Methods
A retrospective review examined breast cancer patients who underwent US-guided CNB of an axillary LN and biopsy clip placement as well as axillary lymph node dissection (ALND) or sentinel node lymph node biopsy (SLNB) from 1 January 2010 to 30 September 2013. Preoperative needle localization status, neoadjuvant chemotherapy, and type of axillary LN surgery were reviewed. Confirmation that the metastatic LN had been surgically removed was determined on the specimen image, by pathologic report confirmation, or by pre-radiation therapy computed tomography (CT) scan.
Results
Preoperative US-guided needle localization was performed for 68.2 % (73/107) of the patients, with 97.3 % (n = 71) demonstrating confirmation of biopsy clip and LN removal versus 79.4 % (n = 27) of the 34 patients showing no performance of needle localization (p = 0.0043). Subgroup analysis showed a significant difference in removal of metastatic LN between the patients who received neoadjuvant chemotherapy [97 % of LNs removed with wire localization (n = 65/67) vs. 83.3 % of LNs removed without wire localization (n = 20/24; p = 0.04)] and the patients who had ALND, [96.3 % of LNs removed with wire localization (n = 52/54) vs. 77.8 % of LNs removed without wire localization (n = 21/27; p = 0.015)].
Conclusion
US-guided wire localization of metastatic axillary LNs that have had biopsy with clip placement significantly improves the success rate of surgical removal, allowing more accurate staging and decreasing the false-negative rates of SLNB after neoadjuvant therapy.
Access options
Buy single article
Instant access to the full article PDF.
US$ 39.95
Tax calculation will be finalised during checkout.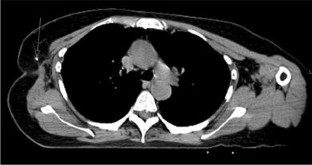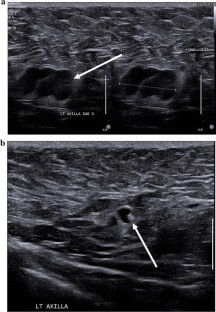 References
1.

Abe H, Schacht D, Sennett CA, Newstead GM, Schmidt RA. Utility of preoperative ultrasound for predicting pN2 or higher stage axillary lymph node involvement in patients with newly diagnosed breast cancer. Am J Roentgenol. 2013;200:696–702.

2.

Abe H, Schmidt RA, Kulkarni K, Sennett CA, Mueller JS, Newstead GM. Axillary lymph nodes suspicious for breast cancer metastasis: sampling with US-guided 14-gauge core-needle biopsy—clinical experience in 100 patients. Radiology. 2009; 250:41–9.

3.

Abe H, Schmidt RA, Sennett CA, Shimauchi A, Newstead GM. US-guided core needle biopsy of axillary lymph nodes in patients with breast cancer: why and how to do it. Radiographics. 2007;27(Suppl 1):S91–9.

4.

Hennessy BT, Hortobagyi GN, Rouzier R, et al. Outcome after pathologic complete eradication of cytologically proven breast cancer axillary node metastases following primary chemotherapy. J Clin Oncol. 2005;23:9304–11.

5.

Schneeweiss A, Chia S, Hickish T, et al. Pertuzumab plus trastuzumab in combination with standard neoadjuvant anthracycline-containing and anthracycline-free chemotherapy regimens in patients with HER2-positive early breast cancer: a randomized phase II cardiac safety study (TRYPHAENA). Ann Oncol. 2013;24:2278–84.

6.

Veronesi U, Paganelli G, Viale G, et al. A randomized comparison of sentinel-node biopsy with routine axillary dissection in breast cancer. N Engl J Med. 2003;349:546–53.

7.

Boughey JC, Suman VJ, Mittendorf EA, et al. Sentinel lymph node surgery after neoadjuvant chemotherapy in patients with node-positive breast cancer: the ACOSOG Z1071 (Alliance) clinical trial. JAMA. 2013;310:1455–61.

8.

Harris PA, Taylor R, Thielke R, Payne J, Gonzalez N, Conde JG. Research electronic data capture (REDCap): a metadata-driven methodology and workflow process for providing translational research informatics support. J Biomed Inform. 2009;42:377–81.

9.

Giuliano AE, Hunt KK, Ballman KV, et al. Axillary dissection vs no axillary dissection in women with invasive breast cancer and sentinel node metastasis: a randomized clinical trial. JAMA. 2011;305:569–75.

10.

Boughey JC, Ballman KV, Symmans WF, McCall LM, Mittendorf EA, Ahrendt GM, Wilke LG, Taback B, Hunt KK. Methods impacting the false negative rate of sentinel lymph node surgery in patients presenting with node positive breast cancer (T0–T4, N1–2) who receive neoadjuvant chemotherapy: results from a prospective trial—ACOSOG Z1071 (Alliance). Poster session presented at San Antonio Breast Cancer Symposium, 9–13 December 2014, San Antonio, TX.
Conflict of interest
There are no conflict of interest.
About this article
Cite this article
Plecha, D., Bai, S., Patterson, H. et al. Improving the Accuracy of Axillary Lymph Node Surgery in Breast Cancer with Ultrasound-Guided Wire Localization of Biopsy Proven Metastatic Lymph Nodes. Ann Surg Oncol 22, 4241–4246 (2015). https://doi.org/10.1245/s10434-015-4527-y
Received:

Published:

Issue Date:
Keywords
Sentinel Node

Sentinel Node Lymph Node Biopsy

Positive Node

Axillary Lymph Node Dissection

Axillary Dissection