Abstract
Purpose
Women with early-stage breast cancer face the complex decision to undergo one of three equally effective oncologic surgical strategies: breast-conservation surgery with radiation (BCS), mastectomy, or mastectomy with breast reconstruction. With comparable oncologic outcomes and survival rates, evaluations of satisfaction with these procedures are needed to facilitate the decision-making process and to optimize long-term health.
Methods
Women recruited from the Army of Women with a history of breast cancer surgery took electronically administered surgery-specific surveys, including the BREAST-Q© and a background survey evaluating patient-, disease-, and procedure-specific factors. Descriptive statistics and regression analysis were used to evaluate the effect of procedure type on breast satisfaction scores.
Results
Overall, 7,619 women completed the questionnaires. Linear regression revealed that women who underwent abdominal flap, or buttock or thigh flap reconstruction reported the highest breast satisfaction score, scoring an average of 5.6 points and 14.4 points higher than BCS, respectively (p < 0.0001 and p = 0.027, respectively). No difference in satisfaction was observed in women who underwent latissimus dorsi flap reconstruction compared with those who underwent BCS. Women who underwent implant reconstruction reported scores 8.6 points lower than BCS (p < 0.0001). Those with mastectomies without reconstruction or complex surgical histories scored, on average, 10 points lower than BCS (p < 0.0001).
Conclusion
Women who underwent autologous tissue reconstruction reported the highest breast satisfaction, while women undergoing mastectomy without reconstruction reported the lowest satisfaction. These findings emphasize the value of patient-reported outcome measures as an important guide to decision making in breast surgery and underscore the importance of multidisciplinary participation early in the surgical decision-making process.
Access options
Buy single article
Instant access to the full article PDF.
USD 39.95
Price includes VAT (USA)
Tax calculation will be finalised during checkout.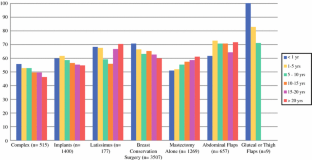 References
1.

Atisha D, Alderman AK, Lowery JC, Kuhn LE, Davis J, Wilkins EG. Prospective analysis of long-term psychosocial outcomes in breast reconstruction: two-year postoperative results from the Michigan Breast Reconstruction Outcomes Study. Ann Surg. 2008;247:1019–28.

2.

Janz NK, Mujahid M, Lantz PM, et al. Population-based study of the relationship of treatment and sociodemographics on quality of life for early stage breast cancer. Qual Life Res. 2005;14:1467–79.

3.

Nicholson RM, Leinster S, Sassoon EM. A comparison of the cosmetic and psychological outcome of breast reconstruction, breast conserving surgery and mastectomy without reconstruction. Breast. 2007;16:396–410.

4.

Sackey H, Sandelin K, Frisell J, Wickman M, Brandberg Y. Ductal carcinoma in situ of the breast. Long-term follow-up of health-related quality of life, emotional reactions and body image. Eur J Surg Oncol. 2010;36:756–62.

5.

Ueda S, Tamaki Y, Yano K, et al. Cosmetic outcome and patient satisfaction after skin-sparing mastectomy for breast cancer with immediate reconstruction of the breast. Surgery. 2008;143:414–25.

6.

Wilkins EG, Cederna PS, Lowery JC, et al. Prospective analysis of psychosocial outcomes in breast reconstruction: one-year postoperative results from the Michigan Breast Reconstruction Outcome Study. Plast Reconstr Surg. 2000;106:1014–25; discussion 1026–1017.

7.

Aaronson N, Alonso J, Burnam A, et al. Assessing health status and quality-of-life instruments: attributes and review criteria. Qual Life Res. 2002;11:193–205.

8.

US Food and Drug Administration. Guidance for industry. Patient-reported outcome measures: use in medical product development to support labeling claims. Silver Spring (MD). 2009. http://www.fda.gov/downloads/Drugs/Guidances/UCM193282.pdf. Accessed 15 Apr 2014.

9.

Atisha DM, Locklear TD, Rogers UA, Rushing CN, Samsa GP, Abernethy AP. Partnering with engaged patients accelerates research. J Surg Oncol. 2014;109:504–5.

10.

Cano SJ, Klassen AF, Scott AM, Cordeiro PG, Pusic AL. The BREAST-Q: further validation in independent clinical samples. Plast Reconstr Surg. 2012;129:293–302.

11.

Cano SJ, Klassen AF, Scott AM, Pusic AL. A closer look at the BREAST-Q©. Clin Plast Surg. 2013;40:287–96.

12.

Cano SJ Klassen AF, Pusic AL. From BREAST-Q© to Q-Score©: using Rasch measurement to better capture breast surgery outcomes. Presented at the Joint International IMEDO TCI + TC7 + TC13 Symposium, 31 Aug–2 Sept 2011, Jena.

13.

Pusic AL, Klassen AF, Scott AM, Klok JA, Cordeiro PG, Cano SJ. Development of a new patient-reported outcome measure for breast surgery: the BREAST-Q. Plast Reconstr Surg. 2009;124:345–53.

14.

Norman GR, Sloan JA, Wyrwich KW. The truly remarkable universality of half a standard deviation: confirmation through another look. Expert Rev Pharmacoecon Outcomes Res. 2004;4:581–5.

15.

Hu ES, Pusic AL, Waljee JF, et al. Patient-reported aesthetic satisfaction with breast reconstruction during the long-term survivorship period. Plast Reconstr Surg. 2009;124:1–8.

16.

McCarthy CM, Klassen AF, Cano SJ, et al. Patient satisfaction with postmastectomy breast reconstruction: a comparison of saline and silicone implants. Cancer. 2010;116:5584–91.

17.

Zhong T, McCarthy C, Min S, et al. Patient satisfaction and health-related quality of life after autologous tissue breast reconstruction: a prospective analysis of early postoperative outcomes. Cancer. 2012;118:1701–9.

18.

Alderman AK, Wilkins EG, Lowery JC, Kim M, Davis JA. Determinants of patient satisfaction in postmastectomy breast reconstruction. Plast Reconstr Surg. 2000;106:769–76.

19.

Eberlein TJ, Crespo LD, Smith BL, Hergrueter CA, Douville L, Eriksson E. Prospective evaluation of immediate reconstruction after mastectomy. Ann Surg. 1993;218:29–36.

20.

Hidalgo DA. Aesthetic refinement in breast reconstruction: complete skin-sparing mastectomy with autogenous tissue transfer. Plast Reconstr Surg. 1998;102:63–70; discussion 71–72.

21.

Kroll SS, Baldwin B. A comparison of outcomes using three different methods of breast reconstruction. Plast Reconstr Surg. 1992;90:455–62.

22.

Kroll SS, Coffey JA Jr, Winn RJ, Schusterman MA. A comparison of factors affecting aesthetic outcomes of TRAM flap breast reconstructions. Plast Reconstr Surg. 1995;96:860–4.

23.

Slavin SA, Schnitt SJ, Duda RB, et al. Skin-sparing mastectomy and immediate reconstruction: oncologic risks and aesthetic results in patients with early-stage breast cancer. Plast Reconstr Surg. 1998;102:49–62.

24.

Hernanz F, Sanchez S, Cerdeira MP, Figuero CR. Long-term results of breast conservation and immediate volume replacement with myocutaneous latissimus dorsi flap. World J Surg Oncol. 2011;9:159.

25.

Lantz PM, Janz NK, Fagerlin A, et al. Satisfaction with surgery outcomes and the decision process in a population-based sample of women with breast cancer. Health Serv Res. 2005;40:745–67.

26.

Tracy MS, Rosenberg SM, Dominici L, Partridge AH. Contralateral prophylactic mastectomy in women with breast cancer: trends, predictors, and areas for future research. Breast Cancer Res Treat. 2013;140(3):447–52.

27.

Tuttle TM, Habermann EB, Grund EH, Morris TJ, Virnig BA. Increasing use of contralateral prophylactic mastectomy for breast cancer patients: a trend toward more aggressive surgical treatment. J Clin Oncol. 2007;25(33):5203–9.

28.

Tuttle TM, Jarosek S, Habermann EB, Arrington A, Abraham A, Morris TJ, et al. Increasing rates of contralateral prophylactic mastectomy among patients with ductal carcinoma in situ. J Clin Oncol. 2009;27(9):1362–7.

29.

Yao K, Stewart AK, Winchester DJ, Winchester DP. Trends in contralateral prophylactic mastectomy for unilateral cancer: a report from the National Cancer Data Base, 1998–2007. Ann Surg Oncol. 2010;17(10):2554–62.

30.

Peralta EA, Ellenhorn JD, Wagman LD, Dagis A, Andersen JS, Chu DZ. Contralateral prophylactic mastectomy improves the outcome of selected patients undergoing mastectomy for breast cancer. Am J Surg. 2000;180(6):439–45.

31.

McLaughlin CC, Lillquist PP, Edge SB. Surveillance of prophylactic mastectomy: trends in use from 1995 to 2005. Cancer. 2009;115(23):5404–12.

32.

American College of Surgeons. National Accreditation Program for Breast Centers. http://napbc-breast.org/standards/standards.html.

33.

Nekhlyudov L, Bower M, Herrinton LJ, Altschuler A, Greene SM, Rolnick S, et al. Women's decision-making roles regarding contralateral prophylacti mastectomy. J Natl Cancer Inst Monogr. 2005;35:55–60.

34.

Gopie JP, Hilhorst MT, Kleijne A, Timman R, Menke-Pluymers MB, Hofer SO, et al. Women's motives to opt for either implant or DIEP flap breast reconstruction. J Plast Reconstr Surg. 2011;124(6): 1781–9.

35.

Lin C, Zhunag Y, Momeni A, Luan J, Chung M, Wright E, et al. Quality of life and patient satisfaction after microsurgical abdominal flap versus staged expander/implant breast reconstruction: a critical study of unilateral immediate breast reconstruction using patient reported outcomes instrument Breast-Q. Breast Cancer Res Treat. 2014;146(1):117–26.

36.

Rosenberg SM, Tracy M, Meyer ME, Sepucha K, Gelber S, Hirschfield Bartek J, et al. (2013) Perceptions, knowledge and satisfaction with contralateral prophylactic mastectomy among young women with breast cancer: a cross-sectional survey. Ann Intern Med.;159(6):373–81.

37.

Hernanz F, Regano S, Redondo-Figuero C, Orallo V, Erasun F, Gomez Fleitas M. Oncoplastic breast-conserving surgery: analysis of quadrantectomy and immediate reconstruction with latissimus dorsi flap. World J Surg. 2007;31:1934–40.

38.

Denewer A, Setit A, Hussein O, Farouk O. Skin-sparing mastectomy with immediate breast reconstruction by a new modification of extended latissimus dorsi myocutaneous flap. World J Surg. 2008;32:2586–92.

39.

Gerber B, Krause A, Dieterich M, Kundt G, Reimer T. The oncological safety of skin sparing mastectomy with conservation of the nipple-areola complex and autologous reconstruction: an extended follow-up study. Ann Surg. 2009;249(3):461–8.
Acknowledgment
We would like to acknowledge the AOW participants for volunteering to take this series of surveys in order to help improve and further our knowledge of outcomes associated with breast cancer care. The authors also acknowledge Andrea Pusic, MD, MPH, and the team of researchers at Memorial Sloan Kettering Cancer Center for providing us with the Breast Q©, and to Donald T. Kirkendall, ELS, for his assistance in the preparation of the manuscript. This study was supported by Grant #235066 from the Plastic Surgery Foundation.
About this article
Cite this article
Atisha, D.M., Rushing, C.N., Samsa, G.P. et al. A National Snapshot of Satisfaction with Breast Cancer Procedures. Ann Surg Oncol 22, 361–369 (2015). https://doi.org/10.1245/s10434-014-4246-9
Received:

Published:

Issue Date:
Keywords
Breast Cancer

Breast Reconstruction

Contralateral Breast

Contralateral Prophylactic Mastectomy

Flap Reconstruction