Abstract
Background
Despite reduced perioperative mortality and routine use of adjuvant therapy following pancreatectomy for pancreatic ductal adenocarcinoma (PDAC), improvement in long-term outcome has been difficult to ascertain. This study compares outcomes in patients undergoing resection for PDAC within a single, high-volume academic institution over two sequential time periods.
Methods
Retrospective review of patients with resected PDAC, in two cohorts: period 1 (P1), 1991–2000; and period 2 (P2), 2001–2010. Univariate and multivariate analyses using the Cox proportional hazards model were performed to determine prognostic factors associated with long-term survival. Survival was evaluated using Kaplan–Meier analyses.
Results
A total of 179 pancreatectomies were performed during P1 and 310 during P2. Perioperative mortality was 6.7 % (12/179) in P1 and 1.6 % (5/310) in P2 (p = 0.003). P2 had a greater number of lymph nodes resected (17 [0–50] vs. 7 [0–31]; p < 0.001), and a higher lymph node positivity rate (69 % [215/310] vs. 58 % [104/179]; p = 0.021) compared with P1. The adjuvant therapy rate was 30 % (53/179) in P1 and 63 % (195/310) in P2 (p < 0.001). By multivariate analysis, node and margin status, tumor grade, adjuvant therapy, and time period of resection were independently associated with overall survival (OS) for both time periods. Median OS was 16 months (95 % confidence interval [CI] 14–20) in P1 and 27 months (95 % CI 24–30) in P2 (p < 0.001).
Conclusions
Factors associated with improved long-term survival remain comparable over time. Short- and long-term survival for patients with resected PDAC has improved over time due to decreased perioperative mortality and increased use of adjuvant therapy, although the proportion of 5-year survivors remains small.
Access options
Buy single article
Instant access to the full article PDF.
US$ 39.95
Tax calculation will be finalised during checkout.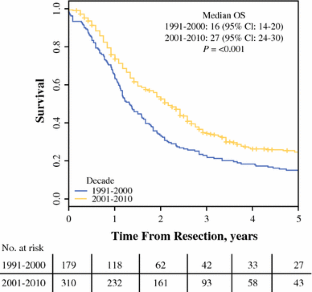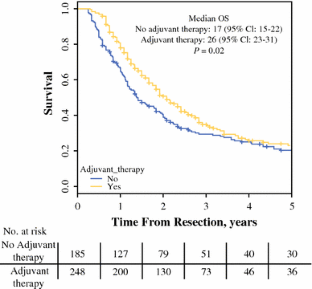 References
1.

Begg CB, Cramer LD, Hoskins WJ, Brennan MF. Impact of hospital volume on operative mortality for major cancer surgery. JAMA. 1998;280:1747–51.

2.

Ghaferi AA, Osborne NH, Birkmeyer JD, Dimick JB. Hospital characteristics associated with failure to rescue from complications after pancreatectomy. J Am Coll Surg. 2010;211:325–30.

3.

Ghaferi AA, Birkmeyer JD, Dimick JB. Variation in hospital mortality associated with inpatient surgery. N Engl J Med. 2009;361:1368–75.

4.

McNulty NJ, Francis IR, Platt JF, Cohan RH, Korobkin M, Gebremariam A. Multi–detector row helical CT of the pancreas: effect of contrast-enhanced multiphasic imaging on enhancement of the pancreas, peripancreatic vasculature, and pancreatic adenocarcinoma. Radiology. 2001;220:97–102.

5.

Callery MP, Chang KJ, Fishman EK, Talamonti MS, William Traverso L, Linehan DC. Pretreatment assessment of resectable and borderline resectable pancreatic cancer: expert consensus statement. Ann Surg Oncol. 2009;16:1727–33.

6.

House MG, Yeo CJ, Cameron JL, et al. Predicting resectability of periampullary cancer with three-dimensional computed tomography. J Gastrointest Surg. 2004;8:280–8.

7.

Neoptolemos JP, Stocken DD, Bassi C, et al. Adjuvant chemotherapy with fluorouracil plus folinic acid vs gemcitabine following pancreatic cancer resection: a randomized controlled trial. JAMA. 2010;304:1073–81.

8.

Oettle H, Post S, Neuhaus P, et al. Adjuvant chemotherapy with gemcitabine vs observation in patients undergoing curative-intent resection of pancreatic cancer: a randomized controlled trial. JAMA. 2007;297:267–77.

9.

Kalser MH, Ellenberg SS. Pancreatic cancer: adjuvant combined radiation and chemotherapy following curative resection. Arch Surg. 1985;120:899–903.

10.

Neoptolemos JP, Stocken DD, Friess H, et al. A randomized trial of chemoradiotherapy and chemotherapy after resection of pancreatic cancer. N Engl J Med. 2004;350:1200–10.

11.

Winter JM, Brennan MF, Tang LH, et al. Survival after resection of pancreatic adenocarcinoma: results from a single institution over three decades. Ann Surg Oncol. 2012;19:169–75.

12.

He J, Ahuja N, Makary MA, et al. 2564 resected periampullary adenocarcinomas at a single institution: trends over three decades. HPB (Oxford). 2014;16:83–90.

13.

Siegel R, Naishadham D, Jemal A. Cancer statistics, 2013. CA Cancer J Clin. 2013;63:11–30.

14.

Riall TS, Nealon WH, Goodwin JS, Zhang D, Kuo YF, Townsend CM Jr, et al. Pancreatic cancer in the general population: Improvements in survival over the last decade. J Gastrointest Surg. 2006;10:1212–23; discussion 1223-1214.

15.

Sohal DP, Walsh RM, Ramanathan RK, Khorana AA. Pancreatic adenocarcinoma: treating a systemic disease with systemic therapy. J Natl Cancer Inst. 2014;106:dju011.

16.

Oettle H, Neuhaus P, Hochhaus A, et al. Adjuvant chemotherapy with gemcitabine and long-term outcomes among patients with resected pancreatic cancer: the CONKO-001 randomized trial. JAMA. 2013;310:1473–81.

17.

Conroy T, Desseigne F, Ychou M, et al. FOLFIRINOX versus gemcitabine for metastatic pancreatic cancer. N Engl J Med. 2011;364:1817–25.

18.

Von Hoff DD, Ervin T, Arena FP, et al. Increased survival in pancreatic cancer with nab-paclitaxel plus gemcitabine. N Engl J Med. 2013;369:1691–03.

19.

Yu XJ. Nab-paclitaxel combined with gemcitabine as adjuvant therapy for pancreatic cancer after curative resection (No) [ClinicalTrials.gov identifier NCT02023021]. US National Institutes of Health, ClinicalTrials.gov. http://www.clinicaltrials.gov.

20.

UNICANCER. Trial comparing adjuvant chemotherapy with gemcitabine versus mFolfirinox to treat resected pancreatic adenocarcinoma. [ClinicalTrials.gov identifier NCT01526135]. US National Institutes of Health, ClinicalTrials.gov. http://www.clinicaltrials.gov.

21.

Kim EJ, Ben-Josef E, Herman JM, et al. A multi-institutional phase 2 study of neoadjuvant gemcitabine and oxaliplatin with radiation therapy in patients with pancreatic cancer. Cancer. 2013;119:2692–700.

22.

Barugola G, Partelli S, Crippa S, Capelli P, D'Onofrio M, Pederzoli P, et al. Outcomes after resection of locally advanced or borderline resectable pancreatic cancer after neoadjuvant therapy. Am J Surg. 2012;203:,132–39.

23.

Katz MH, Marsh R, Herman JM et al. Borderline resectable pancreatic cancer: need for standardization and methods for optimal clinical trial design. Ann Surg Oncol. 2013;20:2787–95.

24.

Leone F, Gatti M, Massucco P, et al. Induction gemcitabine and oxaliplatin therapy followed by a twice-weekly infusion of gemcitabine and concurrent external-beam radiation for neoadjuvant treatment of locally advanced pancreatic cancer: a single institutional experience. Cancer. 2013;119:277–84.

25.

Edge SB, Byrd DR, Compton CC, et al. Exocrine and endocrine pancreas. AJCC cancer staging manual. 7th ed. New York: Springer; 2010:241–49.

26.

Sobin LG, Wittekind C. TNM classification of malignant tumours. 7th ed. Oxford: Wiley; 2010.

27.

Mills M. Introducing survival and event history analysis. 2011:81–93.

28.

Simons JP, Ng SC, McDade TP, Zhou Z, Earle CC, Tseng JF. Progress for resectable pancreatic [corrected] cancer? A population-based assessment of US practices. Cancer. 2010;116:1681–90.

29.

Langer B. Role of volume outcome data in assuring quality in HPB surgery. HPB (Oxford). 2007;9:330–4.

30.

Marcaccio M, LB, Rumble B, Hunter A; Expert Panel on HPB Surgical Oncology. Hepatic, pancreatic and biliary tract (HPB) surgical oncology standards. 2006. http://www.cancercare.on.ca. Accessed 2 Oct 2014.

31.

Simunovic M, Urbach D, Major D, et al. Assessing the volume-outcome hypothesis and region-level quality improvement interventions: pancreas cancer surgery in two Canadian provinces. Ann Surg Oncol. 2010;17:2537–44.

32.

Sohn TA, Yeo CJ, Cameron JL, et al. Resected adenocarcinoma of the pancreas-616 patients: results, outcomes, and prognostic indicators. J Gastrointest Surg. 2000;4:567–79.

33.

Tomlinson JS, Jain S, Bentrem DJ, et al. Accuracy of staging node-negative pancreas cancer: a potential quality measure. Arch Surg. 2007;142:767–74; discussion 773-764.

34.

Slidell MB, Chang DC, Cameron JL, et al. Impact of total lymph node count and lymph node ratio on staging and survival after pancreatectomy for pancreatic adenocarcinoma: a large, population-based analysis. Ann Surg Oncol. 2008;15:165–74.

35.

Riediger H, Keck T, Wellner U, zur Hausen A, Adam U, Hopt UT, et al. The lymph node ratio is the strongest prognostic factor after resection of pancreatic cancer. J Gastrointest Surg. 2009;13:1337–44.

36.

Neoptolemos JP, Dunn JA, Stocken DD, et al. Adjuvant chemoradiotherapy and chemotherapy in resectable pancreatic cancer: a randomised controlled trial. Lancet. 2001;358:1576–85.

37.

Lim JE, Chien MW, Earle CC. Prognostic factors following curative resection for pancreatic adenocarcinoma: a population-based, linked database analysis of 396 patients. Ann Surg. 2003;237:74–85.

38.

Valle JW, Palmer D, Jackson R, et al. Optimal duration and timing of adjuvant chemotherapy after definitive surgery for ductal adenocarcinoma of the pancreas: ongoing lessons from the ESPAC-3 study. J Clin Oncol. 2014;32:504–12.
Disclosure
Pablo E. Serrano, Sean P. Cleary, Neesha Dhani, Peter T.W. Kim, Paul D. Greig, Kenneth Leung, Carol-Anne Moulton, Steven Gallinger, and Alice C. Wei have no conflicts of interest to disclose for this study. We attest that we have herein disclosed any and all financial or other relationships that could be construed as a conflict of interest and that all sources of financial support for this study have been disclosed.
Electronic supplementary material
Below is the link to the electronic supplementary material.
About this article
Cite this article
Serrano, P.E., Cleary, S.P., Dhani, N. et al. Improved Long-Term Outcomes After Resection of Pancreatic Adenocarcinoma: A Comparison Between Two Time Periods. Ann Surg Oncol 22, 1160–1167 (2015). https://doi.org/10.1245/s10434-014-4196-2
Received:

Published:

Issue Date:
Keywords
Overall Survival

Adjuvant Therapy

Distal Pancreatectomy

Pancreatic Ductal Adenocarcinoma

Survival Estimate