Abstract
Background
Adjuvant chemotherapy improves survival in patients with gastric cancer. However, the relationship between the timing of adjuvant chemotherapy and survival has not been investigated.
Methods
Patients with D2-resected stage 2 and 3 gastric cancer that received adjuvant chemotherapy from 2005 to 2011 at Yonsei University Health System were included. The patients were grouped according to intervals between surgery and adjuvant chemotherapy.
Results
Among 840 patients, the interval from surgery to the start of adjuvant therapy was less than 4 weeks in 337 (40.1 %) patients (early group), 4–8 weeks in 467 (55.6 %) patients (intermediate group), and more than 8 weeks in 36 (4.3 %) patients (late group). The 5-year RFS was 55.7 % in the early group, 54.4 % in the intermediate group, and 43.6 % in the late group (p = 0.076). The corresponding 5-year OS rates were 63.4, 62.8, and 51.7 % (p = 0.037).
Conclusions
There is insufficient evidence to suggest starting adjuvant chemotherapy within 4 weeks after surgery for patients with D2 resected stage 2 and 3 gastric cancer. However, delayed treatment of adjuvant chemotherapy after 8 weeks showed worse survival outcomes than early and intermediate treatment initiation, suggesting that adjuvant chemotherapy should be considered start within 8 weeks after radical resection.
Access options
Buy single article
Instant access to the full article PDF.
USD 39.95
Price includes VAT (USA)
Tax calculation will be finalised during checkout.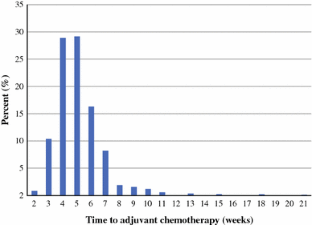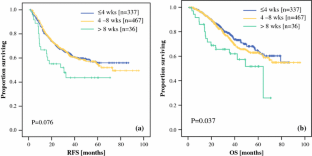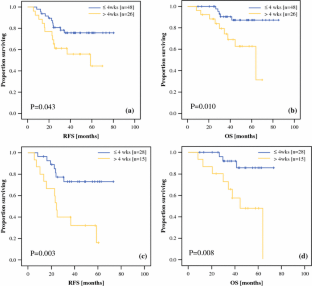 References
1.

Jemal A, Bray F, Center MM, Ferlay J, Ward E, Forman D. Global cancer statistics. CA Cancer J Clin. 2011;61:69–90.

2.

Gunderson LL. Gastric cancer: patterns of relapse after surgical resection. Semin Radiat Oncol. 2002;12:150–61.

3.

D'Angelica M, Gonen M, Brennan MF, Turnbull AD, Bains M, Karpeh MS. Patterns of initial recurrence in completely resected gastric adenocarcinoma. Ann Surg. 2004;240:808–16.

4.

Macdonald JS, Smalley SR, Benedetti J, et al. Chemoradiotherapy after surgery compared with surgery alone for adenocarcinoma of the stomach or gastroesophageal junction. N Engl J Med. 2001;345:725–30.

5.

Cunningham D, Allum WH, Stenning SP, et al. Perioperative chemotherapy versus surgery alone for resectable gastroesophageal cancer. N Engl J Med. 2006;355:11–20.

6.

Sakuramoto S, Sasako M, Yamaguchi T, et al. Adjuvant chemotherapy for gastric cancer with S-1, an oral fluoropyrimidine. N Engl J Med. 2007;357:1810–20.

7.

Bang YJ, Kim YW, Yang HK, et al. Adjuvant capecitabine and oxaliplatin for gastric cancer after D2 gastrectomy (CLASSIC): a phase 3 open-label, randomised controlled trial. Lancet. 2012;379:315–21.

8.

Songun I, Putter H, Kranenbarg EM, Sasako M, van de Velde CJ. Surgical treatment of gastric cancer: 15-year follow-up results of the randomised nationwide Dutch D1D2 trial. Lancet Oncol. 2010;11:439–49.

9.

Huscher CG, Mingoli A, Sgarzini G, et al. Laparoscopic versus open subtotal gastrectomy for distal gastric cancer: five-year results of a randomized prospective trial. Ann Surg. 2005;241:232-7.

10.

Vinuela EF, Gonen M, Brennan MF, Coit DG, Strong VE. Laparoscopic versus open distal gastrectomy for gastric cancer: a meta-analysis of randomized controlled trials and high-quality nonrandomized studies. Ann Surg. 2012;255:446–56.

11.

Kim HH, Hyung WJ, Cho GS, et al. Morbidity and mortality of laparoscopic gastrectomy versus open gastrectomy for gastric cancer: an interim report: a phase III multicenter, prospective, randomized Trial (KLASS Trial). Ann Surg. 2010;251:417–20.

12.

Pronzato P, Campora E, Amoroso D, et al. Impact of administration-related factors on outcome of adjuvant chemotherapy for primary breast cancer. Am J Clin Oncol. 1989;12:481–5.

13.

Colleoni M, Bonetti M, Coates AS, The International Breast Cancer Study Group, et al. Early start of adjuvant chemotherapy may improve treatment outcome for premenopausal breast cancer patients with tumors not expressing estrogen receptors. J Clin Oncol. 2000;18:584–90.

14.

Washington K. 7th edition of the AJCC cancer staging manual: stomach. Ann Surg Oncol. 2010;17:3077–9.

15.

Des Guetz G, Nicolas P, Perret GY, Morere JF, Uzzan B. Does delaying adjuvant chemotherapy after curative surgery for colorectal cancer impair survival? A meta-analysis. Eur J Cancer. 2010;46:1049–55.

16.

Frindel E, Malaise EP, Alpen E, Tubiana M. Kinetics of cell proliferation of an experimental tumor. Cancer Res. 1967;27:1122–31.

17.

Tokunaga M, Tanizawa Y, Bando E, Kawamura T, Terashima M. Poor survival rate in patients with postoperative intra-abdominal infectious complications following curative gastrectomy for gastric cancer. Ann Surg Oncol. 2013;20:1575–83.

18.

Li QG, Li P, Tang D, Chen J, Wang DR. Impact of postoperative complications on long-term survival after radical resection for gastric cancer. World J Gastroenterol. 2013;19:4060–5.

19.

Wheeler SB, Carpenter WR, Peppercorn J, Schenck AP, Weinberger M, Biddle AK. Predictors of timing of adjuvant chemotherapy in older women with hormone receptor-negative, stages II-III breast cancer. Breast Cancer Res Treat. 2012;131:207–16.

20.

Dogan L, Gulcelik MA, Karaman N, Ozaslan C, Reis E. Oncoplastic surgery in surgical treatment of breast cancer: is the timing of adjuvant treatment affected? Clin Breast Cancer. 2013;13:202–5.

21.

Di Costanzo F, Gasperoni S, Manzione L, et al. Adjuvant chemotherapy in completely resected gastric cancer: a randomized phase III trial conducted by GOIRC. J Natl Cancer Inst. 2008;100:388–98.

22.

Bajetta E, Buzzoni R, Mariani L, et al. Adjuvant chemotherapy in gastric cancer: 5-year results of a randomised study by the Italian Trials in Medical Oncology (ITMO) Group. Ann Oncol. 2002;13:299–307.
Acknowledgment
Dr. S.Y. Rha's research was supported by the Public Welfare & Safety Research Program through the National Research Foundation of Korea (NRF) funded by the Ministry of Science, ICT & Future Planning (2010-0020841). Dr. M. Jung's research was supported by a grant from the Korea Healthcare technology R&D Project, Ministry for Health, Welfare & Family Affairs, Republic of Korea (A101232). We thank Han Na Park (Cancer Metastasis Research Center, Yonsei University College of Medicine) for her help with data collection. Hyung Soon Park, MD and Minkyu Jung, MD, contributed equally to this work as first authors.
Disclosure
None.
Additional information
Hyung Soon Park and Minkyu Jung have contributed equally to this work as first authors.
About this article
Cite this article
Park, H.S., Jung, M., Kim, H.S. et al. Proper Timing of Adjuvant Chemotherapy Affects Survival in Patients with Stage 2 and 3 Gastric Cancer. Ann Surg Oncol 22, 224–231 (2015). https://doi.org/10.1245/s10434-014-3949-2
Received:

Published:

Issue Date:
Keywords
Advanced gastric cancer

Timing of adjuvant chemotherapy

Survival