Abstract
Background
Granulomatous mastitis is an uncommon chronic inflammatory breast condition that is characterized by granulomatous inflammation. Granulomatous mastitis presents a challenging clinical scenario, because it can mimic carcinoma. The etiology and optimal treatment remain unclear. We report our experience with granulomatous mastitis patients who presented to our clinic within the past 2 years and describe their response to our treatment modalities.
Methods
Our clinic records were reviewed for the diagnosis of granulomatous mastitis. Charts were used to collect clinical data, patients were reinter viewed, and physicians completed detailed reports on their management of these cases. All cases were diagnosed with granulomatous mastitis based on histological findings and by ruling out other etiologies.
Results
Twenty-four patients were identified. The mean age was 34 years. Fifty-three percent of our patients emigrated from Mexico. Most patients were treated with prednisone and/or methotrexate with overall response rate greater than 80 %. Cases that failed to improve were treated with other modalities, including antituberculosis drugs.
Conclusions
Granulomatous mastitis remains a difficult entity to diagnose and to treat. The clinical course of patients often is prolonged. Exclusion of other causes of granulomatous conditions is essential before initiating anti-inflammatory treatment.
Access options
Buy single article
Instant access to the full article PDF.
US$ 39.95
Tax calculation will be finalised during checkout.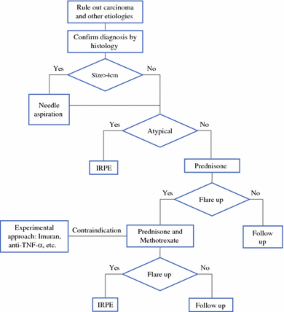 References
1.

Jorgensen MB, Nielsen DM. Diagnosis and treatment of granulomatous mastitis. Am J Med. 1992;93:97–101.

2.

Lalonde L, Tran-Thanh D, El Khoury M, David J, Labelle M, Patocskai E, Trop I. Chronic granulomatous mastitis: Imaging, pathology and management. Eur J Radiol. 2013;82:165–75.

3.

Kok KY, Telisinghe PU. Granulomatous mastitis: presentation, treatment and outcome in 43 patients. Surgeon. 2012;8:197–201.

4.

Boufettal H, Essodegui F, Noun M, Hermas A, Samouh N. Idiopathic granulomatous mastitis: a report of twenty cases. Diagn Interv Imaging. 2012;93:586–96.

5.

Imoto S, Kitaya T, Kodama T, Hasebe T, Mukai K. Idiopathic granulomatous mastitis: Case report and review of the literature. Jpn J Clin Oncol. 1997;27274–7.

6.

Going JJ, Anderson TJ, Wilkinson S, Chetty U. Granulomatous lobular mastitis. J Clin Pathol. 1987;40:535–40.

7.

Fletcher A, Magrath IM, Riddell RH, Talbot IC. Granulomatous mastitis: a report of seven cases. J Clin Pathol. 1982;35:941–5.

8.

Hugon-Rodin J, Plu-Bureau G, Hugol D, Gompel A. Management of granulomatous mastitis: a series of 14 patients. Gynecol Endocrinol. 2012;28:921–4.

9.

Van Casteren C, Jacquemyn Y, Himpe E, Verslegers I. Idiopathic ganulomatous mastitis. BMJ Case Reports. 2012:006187.

10.

Diesing D, Axt-Fliedner R, Hornung D, Weiss JM, Diedrich K, Friedrich M. Granulomatous mastitis. Arch Gynecol Obstet. 2004;269:233–6.

11.

Na Seo HR, Na KY, Yim HE, Kim TH, Kang DK, Oh KK, Kang SY, An YS, Chun M, Kim W, Park RW, Jung YS, Kim KS. Differential diagnosis in idiopathic granulomatous mastitis and tuberculous mastitis. J Breast Cancer. 2012;15:111–8.

12.

DeHertogh DA, Rossof AH, Harris AA, Economou SG. Prednisone management of granulomatous mastitis. N Engl J Med. 1980;303:779–800.

13.

Akbulut S, Yilmaz D, Bakir S. Methotrexate in the management of idiopathic granulomatous mastitis: Review of 108 published cases and report of four cases. Breast J. 2011;17:661–8.

14.

Gurleyik G, Aktekin A, Aker F, Karagulle H, Saglam A. Medical and surgical treatment of idiopathic granulomatous lobular mastitis: A benign inflammatory disease mimicking invasive carcinoma. J Breast Cancer. 2012;15:119–23.

15.

Kayahan M, Kadioglu H, Muslumanoglu M. Management of patients with granulomatous mastitis: Analysis of 31 cases. Breast Care. 2012;7:226–30.

16.

Néel A, Hello M, Cottereau A, Graveleau J, DeFaucal P, Costedoat-Chalumeau N, Rondeau-Lutz N, Lavigne C, Chiche L, Hachulla E, Seiberras S, Cabane J, Tournemaine N, Hamidou M. Long-term outcome in idiopathic granulomatous mastitis: a western multicenter study. QJM. 2013;106:433–441.
About this article
Cite this article
Joseph, KA., Luu, X. & Mor, A. Granulomatous Mastitis: A New York Public Hospital Experience. Ann Surg Oncol 21, 4159–4163 (2014). https://doi.org/10.1245/s10434-014-3895-z
Received:

Published:

Issue Date:
Keywords
Sarcoidosis

Tramadol

Giant Cell Arteritis

Multinucleated Giant Cell

Breast Mass