Abstract
Background
Surgeon experience has been shown to influence outcomes for many types of cancer. The factors that patients consider when selecting a hospital or surgeon for cancer treatment remain poorly defined.
Methods
All patients with a cancer diagnosis seeking treatment at a surgical clinic at Johns Hopkins Hospital were asked to participate. A survey utilizing a best–worst scaling methodology was constructed to elicit the importance of various factors when selecting a cancer surgeon. Attributes were grouped into four categories: surgeon reputation, surgeon qualifications, hospital-related factors, and nonclinical factors.
Results
Two hundred fourteen patients with a cancer diagnosis participated in the study (82.0 % response rate). Patients placed the highest value on physician qualifications and hospital-related factors. Specifically, surgeon case-specific experience (coefficient 2.56, SE 0.06) and the receipt of specialized training by the surgeon (coefficient 2.32, SE 0.06) ranked highest (both P < 0.001). Among hospital-related factors, hospital case-specific volume (coefficient 1.32, SE 0.06; P < 0.001) was most important. The lowest rated factors were parking availability (coefficient −2.81, SE 0.06) and home-to-clinic distance (coefficient −2.12, SE 0.06) (both P < 0.001). The majority of patients reported their ideal surgeon to have at least 6 years of experience (n = 143, 68.1 %) and to have performed their specific procedure at least 50 times (n = 156, 75.3 %).
Conclusions
Patients consider several factors when choosing a cancer surgeon. Surgeon qualifications and hospital-related factors appear to be most influential in their decision. Easier and more widespread dissemination of surgeon and hospital cancer data such as case volume may be useful for patients.
This is a preview of subscription content,
to check access.
Access this article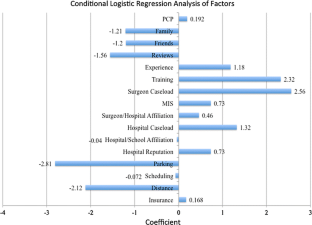 Similar content being viewed by others
References
Siegel R, Naishadham D, Jemal A. Cancer statistics, 2013. CA Cancer J Clin. 2013;63:11–30.

National Cancer Intelligence Network. Major surgical resections, England, 2004–2006. 2011. Available at: http://www.ncin.org.uk/view?rid=540.

Hyder O, Dodson RM, Nathan H, Schneider EB, Weiss MJ, Cameron JL, et al. Influence of patient, physician, and hospital factors on 30-day readmission following pancreatoduodenectomy in the United States. JAMA Surg. 2013;148:1095–102.

Kim CG, Jo S, Kim JS. Impact of surgical volume on nationwide hospital mortality after pancreaticoduodenectomy. World J Gastroenterol. 2012;18:4175–81.

Nathan H, Cameron JL, Choti MA, Schulick RD, Pawlik TM. The volume–outcomes effect in hepato-pancreato-biliary surgery: hospital versus surgeon contributions and specificity of the relationship. J Am Coll Surg. 2009;208:528–38.

de Groot IB, Otten W, Smeets HJ, Marang-van de Mheen PJ, CHOICE-2 Study Group. Is the impact of hospital performance data greater in patients who have compared hospitals? BMC Health Serv Res. 2011;11:214.

Dijs-Elsinga J, Otten W, Versluijs MM, Smeets HJ, Kievit J, Vree R, et al. Choosing a hospital for surgery: the importance of information on quality of care. Med Decis Making. 2010;30:544–55.

Marang-van de Mheen PJ, Dijs-Elsinga J, Otten W, Versluijs M, Smeets HJ, Vree R, et al. The relative importance of quality of care information when choosing a hospital for surgical treatment: a hospital choice experiment. Med Decis Making. 2011;31:816–27.

Bornstein BH, Marcus D, Cassidy W. Choosing a doctor: an exploratory study of factors influencing patients' choice of a primary care doctor. J Eval Clin Pract. 2000;6:255–62.

McGlone TA, Butler ES, McGlone VL. Factors influencing consumers' selection of a primary care physician. Health Mark Q. 2002;19:21–37.

Bozic KJ, Kaufman D, Chan VC, Caminiti S, Lewis C. Factors that influence provider selection for elective total joint arthroplasty. Clin Orthop Relat Res. 2013;471:1865–72.

Schwartz LM, Woloshin S, Birkmeyer JD. How do elderly patients decide where to go for major surgery? Telephone interview survey. BMJ. 2005;331(7520):821.

Wilson CT, Woloshin S, Schwartz LM. Choosing where to have major surgery: who makes the decision? Arch Surg. 2007;142:242–6.

Mavis B, Vasilenko P, Schnuth R, Marshall J, Jeffs MC. Female patients' preferences related to interpersonal communications, clinical competence, and gender when selecting a physician. Acad Med. 2005;80:1159–65.

Street AP, Street DJ. Combinatorics of experimental design. New York: Clarendon Press; 1987.

Patient Centered Outcomes Research Institute. Mission and vision. http://www.pcori.org/about-us/mission-and-vision/. Accessed 1 Apr 2014.

Hanauer DA, Zheng K, Singer DC, Gebremariam A, Davis MM. Public awareness, perception, and use of online physician rating sites. JAMA. 2014;311:734–5.

Flynn TN, Louviere JJ, Peters TJ, Coast J. Best–worst scaling: what it can do for health care research and how to do it. J Health Econ. 2007;26:171–89.

Severin F, Schmidtke J, Muhlbacher A, Rogowski WH. Eliciting preferences for priority setting in genetic testing: a pilot study comparing best–worst scaling and discrete-choice experiments. Eur J Hum Genet. 2013;21:1202–8.

Hillner BE, Smith TJ, Desch CE. Hospital and physician volume or specialization and outcomes in cancer treatment: importance in quality of cancer care. J Clin Oncol. 2000;18:2327–40.

Mukamel DB, Mushlin AI. Quality of care information makes a difference: an analysis of market share and price changes after publication of the New York State Cardiac Surgery Mortality Reports. Med Care. 1998;36:945–54.

Romano PS, Zhou H. Do well-publicized risk-adjusted outcomes reports affect hospital volume? Med Care. 2004;42:367–77.

Schneider EC, Epstein AM. Influence of cardiac-surgery performance reports on referral practices and access to care. A survey of cardiovascular specialists. N Engl J Med. 1996;335:251–6.

Schneider EC, Epstein AM. Use of public performance reports: a survey of patients undergoing cardiac surgery. JAMA. 1998;279:1638–42.

Victoor A, Delnoij DM, Friele RD, Rademakers JJ. Determinants of patient choice of healthcare providers: a scoping review. BMC Health Serv Res. 2012;12:272.
Acknowledgments
Aslam Ejaz was supported in part by the Eleanor B. Pillsbury Foundation for surgical research.
Disclosure
The authors declare no conflict of interest.
About this article
Cite this article
Ejaz, A., Spolverato, G., Bridges, J.F. et al. Choosing a Cancer Surgeon: Analyzing Factors in Patient Decision Making Using a Best–Worst Scaling Methodology. Ann Surg Oncol 21, 3732–3738 (2014). https://doi.org/10.1245/s10434-014-3819-y
Received:

Published:

Issue Date:

DOI: https://doi.org/10.1245/s10434-014-3819-y
Keywords