Abstract
Background
Treatment delay, or the time lapse between diagnosis and surgery, may have a detrimental effect on cancer outcomes. This study assesses the effect of treatment delay on cancer-related outcomes in a large, continuous series of surgically treated colon cancer patients.
Methods
All surgical colon cancer cases at our center from 2004 through 2011 were reviewed. Patients who underwent preoperative chemotherapy, emergency admissions, palliative cases, and incidental and postoperative diagnoses were excluded. Treatment delay was correlated with outcomes in univariate and multivariate regression and proportional hazards models.
Results
In 769 included patients, for every treatment-delay quartile increase, odds of death decreased by an odds ratio (OR) of 0.78 (p = 0.001), and metastatic recurrence by OR 0.78 (p = 0.013). Shorter survival duration had a hazard ratio (HR) of 0.81 (p = 0.001) and shorter disease-free survival HR 0.72 (p < 0.001). Multivariate regression adjusting for baseline staging greatly reduces these ratios, and makes them non-significant. Similar patterns were shown in high-risk subsets, including stage III disease, ethnic minorities, patients with positive margins, and extramural vascular invasion.
Conclusions
The inverse relation between treatment delay and survival and recurrence reflected adequate prioritization of advanced and high-risk cases and concurrently showed that, matched for stage and risk categories, treatment delay was not associated with worse cancer outcomes for patients with colon cancer. A reasonable delay between diagnosis and subsequent surgery is not detrimental to patient outcomes and permits more flexibility in scheduling and justifies allowing time to complete proper preoperative evaluation and staging, improving the quality and safety of resection and treatment.
Access options
Buy single article
Instant access to the full article PDF.
USD 39.95
Price includes VAT (USA)
Tax calculation will be finalised during checkout.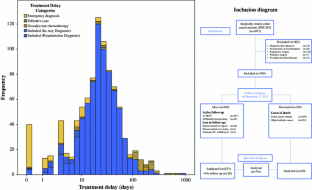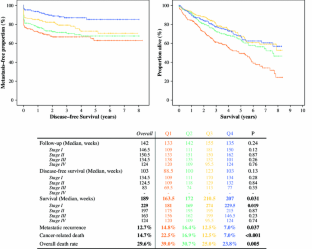 References
1.

Brú A, Albertos S, Luis Subiza J, García-Asenjo JL, Brú I. The universal dynamics of tumor growth. Biophys J. 2003;85(5):2948–61.

2.

Retsky MW, Swartzendruber DE, Wardwell RH, Bame PD. Is Gompertzian or exponential kinetics a valid description of individual human cancer growth? Med Hypotheses. 1990;33(2):95–106.

3.

Shen Y, Huang X. Nonparametric estimation of asymptomatic duration from a randomized prospective cancer screening trial. Biometrics. 2005;61(4):992–9.

4.

McLaughlin JM, Anderson RT, Ferketich AK, Seiber EE, Balkrishnan R, Paskett ED. Effect on survival of longer intervals between confirmed diagnosis and treatment initiation among low-income women with breast cancer. J Clin Oncol. 2012;30(36):4493–500.

5.

Sun M, Abdollah F, Hansen J, et al. Is a treatment delay in radical prostatectomy safe in individuals with low-risk prostate cancer? J Sex Med. 2012;9(11):2961–9.

6.

Yun YH, Kim YA, Min YH, et al. The influence of hospital volume and surgical treatment delay on long-term survival after cancer surgery. Ann Oncol. 2012;23(10):2731–7.

7.

Aragoneses FG, Moreno N, Leon P, Fontan EG, Folque E; Bronchogenic Carcinoma Cooperative Group of the Spanish Society of Pneumology and Thoracic Surgery (GCCB-S). Influence of delays on survival in the surgical treatment of bronchogenic carcinoma. Lung Cancer. 2002;36(1):59–63.

8.

Eshuis WJ, van der Gaag NA, Rauws EAJ, et al. Therapeutic delay and survival after surgery for cancer of the pancreatic head with or without preoperative biliary drainage. Ann Surg. 2010;252(5):840–9.

9.

Iversen LH, Antonsen S, Laurberg S, Lautrup MD. Therapeutic delay reduces survival of rectal cancer but not of colonic cancer. Br J Surg. 2009;96(10):1183–9.

10.

Langenbach MR, Schmidt J, Neumann J, Zirngibl H. Delay in treatment of colorectal cancer: multifactorial problem. World J Surg. 2003;27(3):304–8.

11.

Ristvedt SL, Birnbaum EH, Dietz DW, Fleshman JW, Kodner IJ, Read TE. Delayed treatment for rectal cancer. Dis Colon Rectum. 2005;48(9):1736–41.

12.

Hamilton SR. The adenoma-adenocarcinoma sequence in the large bowel: variations on a theme. J Cell Biochem Suppl. 1992;16G:41–6.

13.

Muto T, Bussey HJ, Morson BC. The evolution of cancer of the colon and rectum. Cancer. 1975;36(6):2251–70.

14.

Minsky BD, Mies C, Rich TA, Recht A, Chaffey JT. Potentially curative surgery of colon cancer: the influence of blood vessel invasion. J Clin Oncol. 1988;6(1):119–27.

15.

Adams SV, Ahnen DJ, Baron JA, et al. Survival after inflammatory bowel disease-associated colorectal cancer in the Colon Cancer Family Registry. World J Gastroenterol. 2013;19(21):3241–8.

16.

Li M, Li JY, Zhao AL, Gu J. Colorectal cancer or colon and rectal cancer? Clinicopathological comparison between colonic and rectal carcinomas. Oncology. 2007;73(1–2):52–7.

17.

Ward EE, Jemal AA, Cokkinides VV, et al. Cancer disparities by race/ethnicity and socioeconomic status. CA Cancer J Clin. 2004;54(2):78–93.

18.

Charlson ME, Pompei P, Ales KL, MacKenzie CR. A new method of classifying prognostic comorbidity in longitudinal studies: development and validation. J Chronic Dis. 1987;40(5):373–83.
About this article
Cite this article
Amri, R., Bordeianou, L.G., Sylla, P. et al. Treatment Delay in Surgically-Treated Colon Cancer: Does It Affect Outcomes?. Ann Surg Oncol 21, 3909–3916 (2014). https://doi.org/10.1245/s10434-014-3800-9
Received:

Published:

Issue Date:
Keywords
Colon Cancer

Inflammatory Bowel Disease

Treatment Delay

Colon Cancer Patient

Metastatic Recurrence