Abstract
Background
Several reports in the literature suggest a difference in outcome between melanoma patients with macroscopic (clinically palpable) nodal disease from an unknown primary (MUP) and a known primary (MKP). The purpose of this study was to compare the outcomes for MUP and MKP patients after therapeutic lymph node dissection (TLND) for macroscopic nodal disease.
Methods
From a large, prospective, single-institution database, the details of melanoma patients who first presented with macroscopic nodal disease and underwent TLND between 1971 and 2010 were extracted and analyzed.
Results
There were 287 MUP patients and 264 MKP patients who fulfilled the study selection criteria. MUP patients had better disease-free, distant metastasis-free, and melanoma-specific survival after their TLND than MKP patients (all p < 0.001). Extranodal melanoma extension, >3 positive lymph nodes, and administration of adjuvant radiotherapy were all independent predictors of reduced disease-free and melanoma-specific survival (all p < 0.05). MUP patients also had a better prognosis than MKP patients whose primary melanoma had regression (p = 0.001).
Conclusions
The occurrence and improved outcome of MUP patients may be due to immune-induced total regression of the primary tumor and better immunologic prevention or control of distant metastatic disease. Alternatively, in some MUP patients, melanoma may not be metastatic but may originate de novo from nevus cells in lymph nodes, with the more favorable prognosis attributable to their primary nodal origin and complete surgical resection.
Access options
Buy single article
Instant access to the full article PDF.
US$ 39.95
Tax calculation will be finalised during checkout.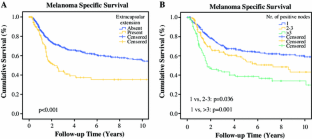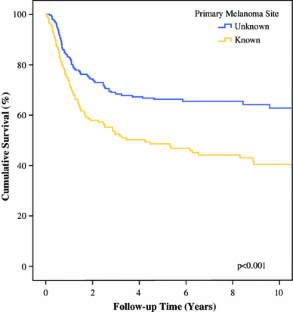 References
1.

Chang AE, Karnell LH, Menck HR. The National Cancer Data Base report on cutaneous and noncutaneous melanoma: a summary of 84,836 cases from the past decade. The American College of Surgeons Commission on Cancer and the American Cancer Society. Cancer. 1998;83:1664–78.

2.

Anbari KK, Schuchter LM, Bucky LP, et al. Melanoma of unknown primary site: presentation, treatment, and prognosis—a single institution study. University of Pennsylvania Pigmented Lesion Study Group. Cancer. 1997;79:1816–21.

3.

Baab GH, McBride CM. Malignant melanoma: the patient with an unknown site of primary origin. Arch Surg. 1975;110:896–900.

4.

Chang P, Knapper WH. Metastatic melanoma of unknown primary. Cancer. 1982;49:1106–11.

5.

Dasgupta T, Bowden L, Berg JW. Malignant melanoma of unknown primary origin. Surg Gynecol Obstet. 1963;117:341–5.

6.

Katz KA, Jonasch E, Hodi FS, et al. Melanoma of unknown primary: experience at Massachusetts General Hospital and Dana-Farber Cancer Institute. Melanoma Res. 2005;15:77–82.

7.

Schlagenhauff B, Stroebel W, Ellwanger U, et al. Metastatic melanoma of unknown primary origin shows prognostic similarities to regional metastatic melanoma: recommendations for initial staging examinations. Cancer. 1997;80:60–5.

8.

Wong JH, Cagle LA, Morton DL. Surgical treatment of lymph nodes with metastatic melanoma from unknown primary site. Arch Surg. 1987;122:1380–3.

9.

Kamposioras K, Pentheroudakis G, Pectasides D, et al. Malignant melanoma of unknown primary site. To make the long story short. A systematic review of the literature. Crit Rev Oncol Hematol. 2010;78:112–26.

10.

McCarthy WH, Shaw HM, Milton GW. Spontaneous regression of metastatic malignant melanoma. Clin Oncol. 1978;4:203–7.

11.

Shaw HM, McCarthy SW, McCarthy WH, et al. Thin regressing malignant melanoma: significance of concurrent regional lymph node metastases. Histopathology. 1989;15:257–65.

12.

Reintgen DS, McCarty KS, Woodard B, et al. Metastatic malignant melanoma with an unknown primary. Surg Gynecol Obstet. 1983;156:335–40.

13.

Morton DL, Thompson JF, Cochran AJ, et al. Sentinel-node biopsy or nodal observation in melanoma. N Engl J Med. 2006;355:1307–17.

14.

Cormier JN, Xing Y, Feng L, et al. Metastatic melanoma to lymph nodes in patients with unknown primary sites. Cancer. 2006;106:2012–20.

15.

Lee CC, Faries MB, Wanek LA, et al. Improved survival after lymphadenectomy for nodal metastasis from an unknown primary melanoma. J Clin Oncol. 2008;26:535–41.

16.

Prens SP, van der Ploeg AP, van Akkooi AC, et al. Outcome after therapeutic lymph node dissection in patients with unknown primary melanoma site. Ann Surg Oncol. 2011;18:3586–92.

17.

Rutkowski P, Nowecki ZI, Dziewirski W, et al. Melanoma without a detectable primary site with metastases to lymph nodes. Dermatol Surg. 2010;36:868–76.

18.

Norman J, Cruse CW, Wells KE, et al. Metastatic melanoma with an unknown primary. Ann Plast Surg. 1992;28:81–4.

19.

Vijuk G, Coates AS. Survival of patients with visceral metastatic melanoma from an occult primary lesion: a retrospective matched cohort study. Ann Oncol. 1998;9:419–22.

20.

de Wilt JH, Farmer SE, Scolyer RA, et al. Isolated melanoma in the lung where there is no known primary site: metastatic disease or primary lung tumour? Melanoma Res. 2005;15:531–7.

21.

Murali R, Doubrovsky A, Watson GF, et al. Diagnosis of metastatic melanoma by fine-needle biopsy: analysis of 2,204 cases. Am J Clin Pathol. 2007;127:385–97.

22.

Doubrovsky A, Scolyer RA, Murali R, et al. Diagnostic accuracy of fine needle biopsy for metastatic melanoma and its implications for patient management. Ann Surg Oncol. 2008;15:323–32.

23.

Spillane AJ, Cheung BL, Stretch JR, et al. Proposed quality standards for regional lymph node dissections in patients with melanoma. Ann Surg. 2009;249:473–80.

24.

Spillane AJ, Cheung BL, Winstanley J, et al. Lymph node ratio provides prognostic information in addition to AJCC N stage in patients with melanoma, even if quality of surgery is standardized. Ann Surg. 2011;253:109–15.

25.

Xing Y, Badgwell BD, Ross MI, et al. Lymph node ratio predicts disease-specific survival in melanoma patients. Cancer. 2009;115:2505–13.

26.

Shenoy BV, Fort L III, Benjamin SP. Malignant melanoma primary in lymph node. The case of the missing link. Am J Surg Pathol. 1987;11:140–6.

27.

Smith JL Jr, Stehlin JS Jr. Spontaneous regression of primary malignant melanomas with regional metastases. Cancer. 1965;18:1399–415.

28.

Koomen ER, de Vries E, van Kempen LC, et al. Epidemiology of extracutaneous melanoma in the Netherlands. Cancer Epidemiol Biomarkers Prev. 2010;19:1453–9.

29.

Tos T, Klyver H, Drzewiecki KT. Extensive screening for primary tumor is redundant in melanoma of unknown primary. J Surg Oncol. 2011;104:724–7.

30.

Giuliano AE, Cochran AJ, Morton DL. Melanoma from unknown primary site and amelanotic melanoma. Semin Oncol. 1982;9:442–7.

31.

Everson TC. Spontaneous regression of cancer. Ann N Y Acad Sci. 1964;114:721–35.

32.

Kalialis LV, Drzewiecki KT, Klyver H. Spontaneous regression of metastases from melanoma: review of the literature. Melanoma Res. 2009;19:275–82.

33.

Emanuel PO, Mannion M, Phelps RG. Complete regression of primary malignant melanoma. Am J Dermatopathol. 2008;30:178–81.

34.

Hsueh EC, Gupta RK, Yee R, et al. Does endogenous immune response determine the outcome of surgical therapy for metastatic melanoma? Ann Surg Oncol. 2000;7:232–8.
Conflict of Interest
A. P. T. van der Ploeg was supported by the European Organization for Research and Treatment of Cancer during a Research Fellowship at Melanoma Institute Australia. R. A. Scolyer is a Cancer Institute New South Wales Research Fellow. For the remaining authors, none was declared.
Additional information
Augustinus P. T. van der Ploeg and Lauren E. Haydu are equal first authors.
Electronic Supplementary Material
Below is the link to the electronic supplementary material.
Supplementary Fig. 3 Melanoma-specific survival for unknown primary versus known primary with regression versus known primary without regression (TIFF 959 kb)
About this article
Cite this article
van der Ploeg, A.P.T., Haydu, L.E., Spillane, A.J. et al. Melanoma Patients with an Unknown Primary Tumor Site Have a Better Outcome than Those with a Known Primary Following Therapeutic Lymph Node Dissection for Macroscopic (Clinically Palpable) Nodal Disease. Ann Surg Oncol 21, 3108–3116 (2014). https://doi.org/10.1245/s10434-014-3679-5
Received:

Published:

Issue Date:
Keywords
Melanoma

Adjuvant Radiotherapy

Melanoma Patient

Primary Melanoma

Nevus Cell