Abstract
Background
Circulating factors in patients with gastric/gastroesophageal junction (GEJ) cancers may promote tumor progression and metastasis and may be targeted for therapy.
Methods
Serum levels of ligands—vascular endothelial growth factor A (VEGF-A), fibroblast growth factor 2 (FGF2), epidermal growth factor (EGF), hepatocyte growth factor (HGF)—from four targetable pathways were measured before surgery, and levels were correlated to clinicopathologic characteristics and overall survival (OS).
Results
In 147 patients who underwent potentially curative resection for gastric/GEJ adenocarcinoma, VEGF-A levels were higher in patients with R1 versus R0 resection (p = 0.037). High EGF levels were associated with poorly differentiated tumors (p = 0.02). Elevated FGF2 levels were found in Lauren diffuse-type tumors (p = 0.017) and tumors with seven or more metastatic nodes (N3) (p < 0.042). Patients with advanced-staged tumors had higher HGF levels (p = 0.012). At a median follow-up of 35 months, 46 patients (31 %) had died. Increased VEGF and HGF levels were correlated with decreased OS (p = 0.009 and 0.005). An adjusted total value (ATV) of all factors was better than any single factor in stratifying patients into good and poor prognosis groups (5-year OS 84.1 vs. 53.9 %, p = 0.005). By multivariate analysis, serum VEGF-A and ATV were significant independent prognostic factors (along with T and N category) for OS (p = 0.028 and 0.013, respectively).
Conclusions
In patients undergoing resection for gastric and GEJ cancer, high levels of angiogenic and growth factors are associated with unfavorable tumor characteristics and poorer overall survival. Thus levels of these factors can help delineate tumor biology and stratify prognosis.
Access options
Buy single article
Instant access to the full article PDF.
USD 39.95
Price excludes VAT (USA)
Tax calculation will be finalised during checkout.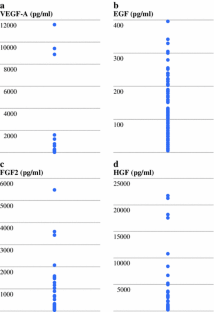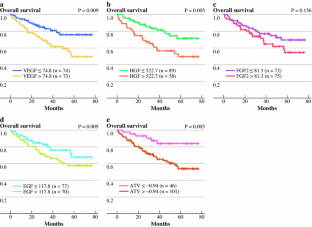 References
Jemal A, Bray F, Center MM, Ferlay J, Ward E, Forman D. Global cancer statistics. CA Cancer J Clin. 2011;61:69–90.

Deng N, Goh LK, Wang H, et al. A comprehensive survey of genomic alterations in gastric cancer reveals systematic patterns of molecular exclusivity and co-occurrence among distinct therapeutic targets. Gut. 2012;61:673–84.

Janjigian YY, Kelsen DP. Genomic dysregulation in gastric tumors. J Surg Oncol. 2013;107:237–42.

De VF, Giuliani F, Silvestris N, et al. Current status of targeted therapies in advanced gastric cancer. Expert Opin Ther Targets. 2012;16(Suppl 2):S29–34.

Pietrantonio F, De BF, Da P, et al. A review on biomarkers for prediction of treatment outcome in gastric cancer. Anticancer Res. 2013;33:1257–66.

AJCC cancer staging manual. 7th edn. New York: Springer; 2010.

Wang J, Dang P, Raut CP, et al. Comparison of a lymph node ratio-based staging system with the 7th AJCC system for gastric cancer: analysis of 18,043 patients from the SEER database. Ann Surg. 2012;255:478–85.

Kattan MW, Karpeh MS, Mazumdar M, Brennan MF. Postoperative nomogram for disease-specific survival after an R0 resection for gastric carcinoma. J Clin Oncol. 2003;21:3647–50.

Oakman C, Santarpia L, Di LA. Breast cancer assessment tools and optimizing adjuvant therapy. Nat Rev Clin Oncol. 2010;7:725–32.

Li M, Liu F, Sun P, et al. Correlations between serum levels of vascular endothelial growth factor and endostatin with clinical pathological characteristics of patients with gastrointestinal cancers. Hepatogastroenterology. 2012;59:1865–8.

Katoh M, Katoh M. FGF signaling network in the gastrointestinal tract (review). Int J Oncol. 2006;29:163–8.

Cecchi F, Rabe DC, Bottaro DP. Targeting the HGF/Met signaling pathway in cancer therapy. Expert Opin Ther Targets. 2012;16:553–72.

Bang YJ, Van CE, Feyereislova A, et al. Trastuzumab in combination with chemotherapy versus chemotherapy alone for treatment of HER2-positive advanced gastric or gastro-oesophageal junction cancer (ToGA): a phase 3, open-label, randomised controlled trial. Lancet. 2010;376:687–97.

Ohtsu A, Shah MA, Van CE, et al. Bevacizumab in combination with chemotherapy as first-line therapy in advanced gastric cancer: a randomized, double-blind, placebo-controlled phase III study. J Clin Oncol. 2011;29:3968–76.

Van CE, de HS, Kang YK, et al. Bevacizumab in combination with chemotherapy as first-line therapy in advanced gastric cancer: a biomarker evaluation from the AVAGAST randomized phase III trial. J Clin Oncol. 2012;30:2119–27.

Lordick F, Kang YK, Chung HC, et al. Capecitabine and cisplatin with or without cetuximab for patients with previously untreated advanced gastric cancer (EXPAND): a randomised, open-label phase 3 trial. Lancet Oncol. 2013;14:490–9.

Waddell T, Chau I, Cunningham D, et al. Epirubicin, oxaliplatin, and capecitabine with or without panitumumab for patients with previously untreated advanced oesophagogastric cancer (REAL3): a randomised, open-label phase 3 trial. Lancet Oncol. 2013;14:481–9.
Electronic Supplementary Material
Below is the link to the electronic supplementary material.
Area under the receiver operating characteristic curve (AUC) of circulating factors (TIFF 99 kb)
About this article
Cite this article
Park, D.J., Yoon, C., Thomas, N. et al. Prognostic Significance of Targetable Angiogenic and Growth Factors in Patients Undergoing Resection for Gastric and Gastroesophageal Junction Cancers. Ann Surg Oncol 21, 1130–1137 (2014). https://doi.org/10.1245/s10434-013-3429-0
Received:

Published:

Issue Date:

DOI: https://doi.org/10.1245/s10434-013-3429-0
Keywords