Abstract
Background and Purpose
The objective of this study was to determine the success rate and complications of using the percutaneous approach of the external jugular vein (EJV) for placement of a totally implantable venous-access port (TIVAP) with a preoperative estimate of the detailed anatomical orientation of the cervical venous plexus using computed tomography venography (CT-V).
Methods
A prospective cohort study of 45 patients in whom placement of a TIVAP was attempted via the right EJV was conducted. The preoperative anatomical estimation of the cervical venous plexus was performed with CT-V using a Multidetector Helical 16-section CT. The angulation between the right EJV and the right subclavian vein, anterior jugular vein, transverse cervical vein, and suprascapular vein was estimated.
Results
CT-V success was achieved in 45 of 45 patients (100 %). A plexus of veins under the clavicle was most commonly responsible for the insertion of the central venous catheter. The EJV approach resulted in a successful cannulation rate of 93 %. No initial complications of pneumothorax or carotid artery puncture occurred during insertion procedures. Late complications occurred in three patients. These included one port erosion (2 %), one catheter occlusion (2 %), and one wound hematoma (2 %). Catheter-related infections were observed in one patient (2 %).
Conclusions
The percutaneous EJV approach with CT-V guidance is an optional method for patients with multiple central venous cannulations, those in hemodialysis, or those with long catheter indwelling periods.
This is a preview of subscription content, log in to check access.
Access options
Buy single article
Instant access to the full article PDF.
US$ 39.95
Price includes VAT for USA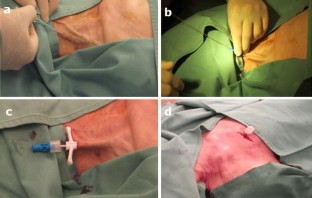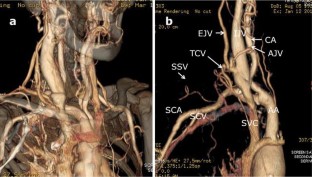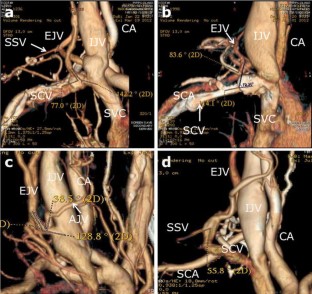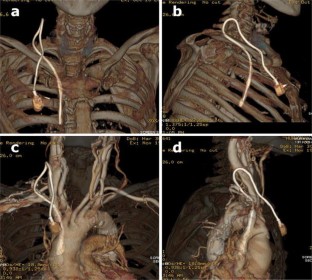 References
1.

Gorman RC, Buzby GP. Difficult access problems. Surg Oncol Clin North Am. 1995;4:453–472.

2.

Bermard RW, Stahl WM. Subclavian vein catheterizations: a prospective study. I: non-infectious complications. Ann Surg. 1971;173:184–190.

3.

Mansfield PF, Hohn DC, Forange BD, Gregurich MA, Ota DM. Complications and failures of subclavian-vein catheterization. N Engl J Med. 1994;29:1735–1738.

4.

Trerotola SO. You are asked to place a dialysis access catheter in a patient. What is your preferred access site, and why? J Vasc Interv Radiol. 1997;8:75–76.

5.

Macdonald S, Watt AJB, McNally D, Edwards RD, Moss JG. Comparison of technical success and outcome of tunneled catheters inserted via the jugular and subclavian approach. J Vasc Interv Radiol. 2000;11:225–231.

6.

Schillinger F, Schillinger D, Montagnac R, Milcent T. Post catheterization vein stenosis in haemodialysis: comparative angiographic study of 50 subclavian and 50 internal jugular access. Nephrol Dial Transplant. 1991;6:722–7124.

7.

Moss AH, McLaughlin MM, Lempert KD, Holley JL. Use of a silicone catheter with a Dacron cuff for dialysis short-term vascular access. Am J Kidney Dis. 1988;12;492–489.

8.

Trerotola SO, Kuhn-Fulton J, Johnson MS, Shah H, Ambrosius WT, Kneebone PH. Tunneled infusion catheters: increased incidence of symptomatic venous thrombosis after subclavian versus internal jugular venous access. Radiology. 2000;217:89–93.

9.

Susan NW: Unconventional venous access. Tech Vas Interv Radiol. 2001;5:114–120.

10.

Cho SK, Shin SW, Do YS, Park KB, Choo SW, Choo IW. Use of the right external jugular vein as the preferred access site when the right internal jugular vein is not usable. J Vasc Interv Radiol. 2006;17:823–829.

11.

Povoski SP. External jugular vein cutdown approach for chronic indwelling central venous access in cancer patients: a potentially useful alternative. World J Surg Oncol. 2004;2:7–11.

12.

Di Carlo I, Barbagallo F, Toro A, Sofia M, Lombard R, Cordio S. External jugular vein cutdown approach, as a useful alternative, support the choice of cephalic vein for totally implantable access device placement. Ann Surg Oncol. 2005;12:570–573.

13.

Malatinsky J, Kadlic T, Majek M, Samel M. Misplacement and loop formation of central venous catheters. Acta Anaesth Scand. 1976;20:237–247.

14.

Blitt CD, Wright WA, Petty WC, Webster TA. Central venous catheterization via the external jugular vein. JAMA. 1974;229:817–818.

15.

Deshpande KS, Hatem C, Ulrich HL, et al. The incidence of infectious complications of central venous catherters at the subclavian, internal jugular, and femoral sites in an intensive care unit population. Critical Care Med. 2005;33:13–22.

16.

Lenhard DC, Pietsch H, Sieber MA, Ernst R, Lengsfeld P, Ellinghaus P, Jost G. The osmolality of nonionic, iodinated contrast agents as an important factor for renal safety. Invest Radiol. 2012;47:503–510.

17.

Davidson C, Stacul F, McCullough PA, Tumlin J, Adam A, Lameire N, et al. Contrast medium use. Am J Cardiol. 2006;98:42K–58K.

18.

Heye S, Maleux G, Claes K, Kuypers D, Oyen R. Stenosis detection in native hemodialysis fistulas with MDCT angiography. Am J Roentgenol. 2009;192;1079–1084.

19.

Gordon AC, Saliken JC, Johns D, Owen R, Gray RR. US-guided puncture of the internal jugular vein: complications and anatomic considerations. J Vasc Interv Radiol. 1998;9:333–338.

20.

Shih YC, Chien HL, Hao MC, Huan MH, Jyh CY. A safe and effective method to implantable access port in patients with synchronous bilateral mastectomies: modified femoral vein approach. J Surg Oncol. 2008;98:197–199.
Conflict of interest
None of authors have identified any conflicts of interest.
About this article
Cite this article
Kato, K., Taniguchi, M., Iwasaki, Y. et al. Computed Tomography (CT) Venography Using a Multidetector CT Prior to the Percutaneous External Jugular Vein Approach for an Implantable Venous-Access Port. Ann Surg Oncol 21, 1391–1397 (2014). https://doi.org/10.1245/s10434-013-3405-8
Received:

Published:

Issue Date:
Keywords
Internal Jugular Vein

External Jugular Vein

Central Venous Access

Compute Tomography Venography

Successful Cannulation Rate