Abstract
Background
The correct positioning of ultrasound-guided, peripherally inserted central catheters (UGPICCs) is essential to avoid multiple complications. We describe for the first time a retrospective study to evaluate a novel and easy transabdominal ultrasound-guided approach, so-called "Marano index," to place the UGPICCs tip correctly, making oncological surgeons able to obtain a high successful initial placement rate without postinsertion chest radiography.
Methods
We examined the placement of UGPICCs applying, in 53 patients, the "Marano index." The tip catheter location was controlled by postprocedural chest radiography. Sensitivity, positive predictive value, and accuracy of index application also were calculated and compared with radiographic findings.
Results
The ultrasonographic-guided insertion was successful in all patients (100 %). The identification of catheter inside the inferior vena cava was registered in 50 patients (94.3 %), and in all cases it was clear the precise catheter placement, after Marano index application, with the real tip position and the concordance between postprocedural radiography in 100 % of cases. The overall accuracy of this novel empirical-ultrasonographical index was 94 %, with positive predictive value of 94 % and sensitivity of 100 %.
Conclusions
This technique, once validated in a larger cohort, would allow the insertion of UGPICC without radiologic confirmation in selected patients with an adequate ultrasound body habitus. This would avoid unneeded radiation exposure from chest X-rays and would potentially save cost and time. This strategy provides only minimal deviation from the current practice and it is hence technically easy to learn and perform accurately with basic training by digestive oncological surgeons.
This is a preview of subscription content, log in to check access.
Access options
Buy single article
Instant access to the full article PDF.
US$ 39.95
Price includes VAT for USA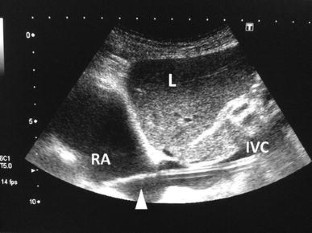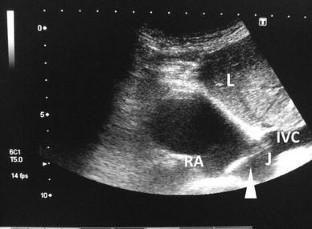 References
1.

Pittiruti M, Hamilton H, Biffi R, MacFie J, Pertkiewicz M. The european society for clinical nutrition and metabolism ESPEN. ESPEN Guidelines on parenteral nutrition: central venous catheters (access, care, diagnosis and therapy of complications). Clin Nutr. 2009;28(4):365–77.

2.

Ahn DH, Illum HB, Wang DH, Sharma A, Dowell JE. Upper extremity venous thrombosis in patients with cancer with peripherally inserted central venous catheters: a retrospective analysis of risk factors. J Oncol Pract. 2013;9(1):e8–12.

3.

Saber W, Moua T, Williams EC, et al. Risk factors for catheter-related thrombosis (CRT) in cancer patients: a patient-level data (IPD) meta-analysis of clinical trials and prospective studies. J Thromb Haemost. 2011;9(2):312–9.

4.

Keyes LE, Frazee BW, Snoey ER, Simon BC, Christy D. Ultrasound-guided brachial and basilic vein cannulation in emergency department patients with difficult intravenous access. Ann Emerg Med. 1999;34(6):711–4.

5.

Miyagaki H, Nakajima K, Hara J, et al. Performance comparison of peripherally inserted central venous catheters in gastrointestinal surgery: a randomized controlled trial. Clin Nutr. 2012;31(1):48–52.

6.

Ryder MA. Peripheral access options. Surg Oncol Clin N Am. 1995;4(3):395–427.

7.

Rose JS, Norbutas CM. A randomized controlled trial comparing one-operator versus two-operator technique in ultrasound-guided basilic vein cannulation. J Emerg Med. 2008;35(4):431–5.

8.

Gallieni M, Cozzolino M. Uncomplicated central vein catheterization of high-risk patients with real time ultrasound guidance. Int J Artif Organs. 1995;18:117–21.

9.

Tian G, Zhu Y, Qi L, Guo F, Xu H. Efficacy of multifaceted interventions in reducing complications of peripherally inserted central catheter in adult oncology patients. Support Care Cancer. 2010;18:1293–8.

10.

Ng PK, Ault MJ, Ellrodt AG, Maldonado L. Peripherally inserted central catheters in general medicine. Mayo Clin Proc. 1997;72:225–33.

11.

Yip C, Rotstein C. Hickman catheter-related infections in patients with cancer. Int J Antimicrob Agents. 1998;10(3):181–9.

12.

Harako ME, Nguyen TH, Cohen AJ. Optimizing the patient positioning for PICC line tip determination. Emerg Radiol. 2004;10(4):186–9.

13.

Smith B, Neuharth RM, Hendrix MA, McDonnall D, Michaels AD. Intravenous electrocardiographic guidance for placement of peripherally inserted central catheters. J Electrocardiol. 2010;43(3):274–8.

14.

Matsushima K, Frankel HL. Bedside ultrasound can safely eliminate the need for chest radiographs after central venous catheter placement: CVC sono in the surgical ICU (SICU). J Surg Res. 2010;163(1):155–61.

15.

Pikwer A, Bååth L, Davidson B, Perstoft I, Akeson J. The incidence and risk of central venous catheter malpositioning: a prospective cohort study in 1619 patients. Anaesth Intensive Care. 2008;36:30–7.

16.

Ng PK, Ault MJ, Maldonado LS. Peripherally inserted central catheters in the intensive care unit. J Intensive Care Med. 1996;11:49–54.

17.

Hind D, Calvert N, McWilliams R, Davidson A, Paisley S, Beverley C, Thomas S. Ultrasonic locating devices for central venous cannulation: meta-analysis. BMJ. 2003;327:361.

18.

Collier PE, Blocker SH, Graff DM, Doyle P. Cardiac tamponade from central venous catheters. Am J Surg. 1998;176(2):212–4.

19.

Parigi GB, Verga G. Accurate placement of central venous catheters in pediatric patients using endocavitary electrocardiography: reassessment of a personal technique. J Pediatr Surg. 1997;32(8):1226–8.

20.

Ender J, Erdoes G, Krohmer E, Olthoff D. Transesophageal echocardiography for verification of the position of the electrocardiographically-placed central venous catheter. J Cardiothorac Vasc Anesth. 2009;23(4):457–61.

21.

Rath GP, Bithal PK, Toshniwal GR, Prabhakar H, Dash HH. Saline flush test for bedside detection of misplaced subclavian vein catheter into ipsilateral internal jugular vein. Br J Anaesth. 2009;102(4):499–502.

22.

Ryu HG, Bahk JH, Kim JT, Lee HJ. Bedside prediction of the central venous catheter insertion depth. Br J Anaesth. 2007;98(2):225–7.

23.

Ambesh SP, Pandey JC, Dubey PK. Internal jugular vein occlusion test for rapid diagnosis of misplaced subclavian vein catheter into the internal jugular vein. Anesthesiology. 2001;95(6):1377–9.

24.

Andrews RT, Bova DA, Venbrux AC. How much guidewire is too much? Direct measurement of the distance from subclavian and internal jugular vein access sites to the superior vena cava-atrial junction during central venous catheter placement. Crit Care Med. 2000;28(1):138–42.

25.

Melamed R, Sprenkle MD, Ulstad VK, Herzog CA, Leatherman JW. Assessment of left ventricular function by intensivists using hand-held echocardiography. Chest. 2009;135(6):1416–20.

26.

Gunst M, Ghaemmaghami V, Sperry J, Robinson M, O'Keeffe T, Friese R, Frankel H. Accuracy of cardiac function and volume status estimates using the bedside echocardiographic assessment in trauma/critical care. J Trauma. 2008;65(3):509–16.

27.

Lichtenstein DA, Menu Y. A bedside ultrasound sign ruling out pneumothorax in the critically ill. Lung sliding. Chest. 1995;108(5):1345–8.

28.

Stawicki SP, Braslow BM, Panebianco NL, Kirkpatrick JN, Gracias VH, Hayden GE, Dean AJ. Intensivist use of hand-carried ultrasonography to measure IVC collapsibility in estimating intravascular volume status: correlations with CVP. J Am Coll Surg. 2009;209(1):55–61.

29.

Khouzam RN, Minderman D, D'Cruz IA. Echocardiography of the superior vena cava. Clin Cardiol. 2005; 28(8):362–6.

30.

Hsu JH, Wang CK, Chu KS, Cheng KI, Chuang HY, Jaw TS, Wu JR. Comparison of radiographic landmarks and the echocardiographic SVC/RA junction in the positioning of long-term central venous catheters. Acta Anaesthesiol Scand. 2006;50(6):731–5.

31.

Lee JH, Bahk JH, Ryu HG, Jung CW, Jeon Y. Comparison of the bedside central venous catheter placement techniques: landmark vs electrocardiogram guidance. Br J Anaesth. 2009; 102(5):662-6.

32.

Jeon Y, Ryu HG, Yoon SZ, Kim JH, Bahk JH. Transesophageal echocardiographic evaluation of ECG-guided central venous catheter placement. Can J Anaesth. 2006;53(10):978–83.

33.

D'Oronzio U, Senn O, Biaggi P, Gruner C, Jenni R, Tanner FC, Greutmann M. Right heart assessment by echocardiography: gender and body size matters. J Am Soc Echocardiogr. 2012; 25(12):1251–8. doi: 10.1016/j.echo.2012.08.013.

34.

Kwon TD, Kim KH, Ryu HG, Jung CW, Goo JM, Bahk JH. Intra- and extra-pericardial lengths of the superior vena cava in vivo: implication for the positioning of central venous catheters. Anaesth Intensive Care. 2005;33(3):384–7.

35.

Kidney DD, Deutsch LS. Misplaced central venous catheters: venous anatomy, clinical significance, and treatment options. Radiologist. 1998;5:119–26.

36.

Bailey SH, Shapiro SB, Mone MC, Saffle JR, Morris SE, Barton RG. Is immediate chest radiograph necessary after central venous catheter placement in a surgical intensive care unit? Am J Surg. 2000;180:517–21.

37.

Fisher KL, Leung AN. Radiographic appearance of central venous catheters. AJR Am J Roentgenol. 1996;166:329–37.

38.

Currarino G. Migration of jugular or subclavian venous catheters into inferior tributaries of the brachiocephalic veins or into the azygos vein, with possible complications. Pediatr Radiol. 1996;26:439–49.

39.

Rasuli P, Hammond DI, Peterkin IR. Spontaneous intrajugular migration of long term central venous access catheters. Radiology. 1992;182:822–4.

40.

Legler D, Nugent M. Doppler localization of the internal jugular vein facilitates central venous cannulation. Anesthesiology. 1984;60:481–2.

41.

Vesely TM. Central venous catheter tip position: a continuing controversy. J Vasc Interv Radiol. 2003;14:527–34.

42.

Scott WL. Central venous catheters: an overview of Food and Drug Administration activities. Surg Oncol Clin N Am. 1995;4:377–92.

43.

National Kidney Foundation. NKF-K/DOQI clinical practice guidelines for vascular access: update 2000. Am J Kidney Dis. 2001;37(1 suppl 1):S137–83.

44.

National Association of Vascular Access Networks. Tip Location: NAVAN Position Statement. J Vasc Access Devices. 1998;3:8–10.

45.

Barber JM, Booth DM, King DM, Chakraverty S. A nurse led peripherally inserted central catheter line insertion service is effective with radiological support. Clin Radiol. 2002;57:352–4.

46.

Fricke BL, Racadio JM, Duckworth T, Donnelly LF, Tamer RM, Johnson ND. Placement of peripherally inserted central catheters without fluoroscopy in children: initial catheter tip position. Radiology. 2005;234(3):887–92.

47.

Hellerstein HK, Pritchard WH, Lewis RL. Recording of intracavity potentials through a single lumen, saline filled cardiac catheter. Proc Soc Exp Med. 1949;71(1):58-60.
Disclosure
All authors have no conflicts of interest or financial ties to disclose.
About this article
Cite this article
Marano, L., Izzo, G., Esposito, G. et al. Peripherally Inserted Central Catheter Tip Position: A Novel Empirical-Ultrasonographical Index in a Modern Surgical Oncology Department. Ann Surg Oncol 21, 656–661 (2014). https://doi.org/10.1245/s10434-013-3391-x
Received:

Published:

Issue Date:
Keywords
Inferior Vena Cava

Superior Vena Cava

Right Atrium

Central Catheter

Central Venous Access