Abstract
Background
In patients with isolated peritoneal carcinomatosis (PC) of gastrointestinal cancer, hyperthermic intraperitoneal chemotherapy (HIPEC) represents a promising treatment option integrated into multimodal concepts. Heat shock proteins (HSP) seem to play a major role in cellular stress during HIPEC therapy. We analyzed differentially hyperthermic conditions and HSPs responsible for cell stress–mediated repair mechanisms in tumor tissues from patients who underwent HIPEC therapy and in an in vitro hyperthermic model.
Methods
Tumor tissues from our patient cohort with isolated PC were selected for further analysis when representative material was available before and after HIPEC therapy. To further dissect the role of HSPs under conditions of hyperthermia, gene and protein expression was additionally determined, together with cellular apoptosis and proliferation in human HT-29 colon cancer cells.
Results
Differently up-regulated HSP70/72 and HSP90 gene and protein expression was found in all investigated patient tumors. In vitro studies confirmed observations from clinical tumor analysis as underlying HSP-mediated cell stress mechanisms. Moreover, results from proliferation and apoptosis assays combined with differentiated HSP expression analysis demonstrated the relevance of preselecting specific target temperatures to achieve optimal toxic effects on remaining tumor cells in vivo.
Conclusions
Therapeutic approaches like HIPEC to achieve antiproliferative and apoptosis-inducing cellular effects in patients with PC are negatively influenced by highly conserved HSP mechanisms in tumor cells. This study shows for the first time that specific hyperthermic conditions are necessary to be established to achieve optimal toxic effects on tumor cells during HIPEC therapy, a finding that opens potentially new therapeutic strategies.
Access options
Buy single article
Instant access to the full article PDF.
US$ 39.95
Tax calculation will be finalised during checkout.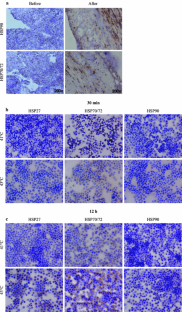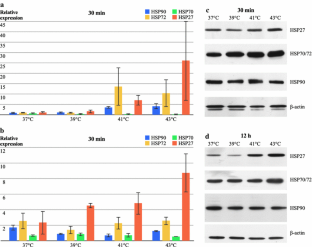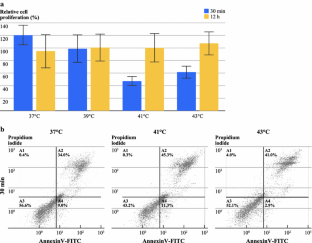 References
1.

Yang XJ, Li Y, Al-shammaa Hassan AH, et al. Cytoreductive surgery plus hyperthermic intraperitoneal chemotherapy improves survival in selected patients with peritoneal carcinomatosis from abdominal and pelvic malignancies: results of 21 cases. Ann Surg Oncol. 2009;16:345–51.

2.

Hioki M, Gotohda N, Konishi M, Nakagohri T, Takahashi S, Kinoshita T. Predictive factors improving survival after gastrectomy in gastric cancer patients with peritoneal carcinomatosis. World J Surg. 2010;34:555–62.

3.

Bouquet W, Boterberg T, Ceelen W, et al. In vitro cytotoxicity of paclitaxel/beta-cyclodextrin complexes for HIPEC. Int J Pharm. 2009;367:148–54.

4.

Spiliotis JD. Peritoneal carcinomatosis cytoreductive surgery and HIPEC: a ray of hope for cure. Hepatogastroenterology. 2010;57:1173–7.

5.

Verwaal VJ, van Ruth S, de Bree E, et al. Randomized trial of cytoreduction and hyperthermic intraperitoneal chemotherapy versus systemic chemotherapy and palliative surgery in patients with peritoneal carcinomatosis of colorectal cancer. J Clin Oncol. 2003;21:3737–43.

6.

Suo T, Mahteme H, Qin XY. Hyperthermic intraperitoneal chemotherapy for gastric and colorectal cancer in Mainland China. World J Gastroenterol. 2011;17:1071–5.

7.

Sugarbaker PH. Laboratory and clinical basis for hyperthermia as a component of intracavitary chemotherapy. Int J Hyperthermia. 2007;23:431–42.

8.

Mahteme H, Hansson J, Berglund A, et al. Improved survival in patients with peritoneal metastases from colorectal cancer: a preliminary study. Br J Cancer. 2004;90:403–7.

9.

Multhoff G. Activation of natural killer cells by heat shock protein 70. Int J Hyperthermia. 2002;18:576–85.

10.

Shah A, Unger E, Bain MD, et al. Cytokine and adhesion molecule expression in primary human endothelial cells stimulated with fever-range hyperthermia. Int J Hyperthermia. 2002;18:534–51.

11.

Lanneau D, Brunet M, Frisan E, Solary E, Fontenay M, Garrido C. Heat shock proteins: essential proteins for apoptosis regulation. J Cell Mol Med. 2008;12:743–61.

12.

Franklin TB, Krueger-Naug AM, Clarke DB, Arrigo AP, Currie RW. The role of heat shock proteins Hsp70 and Hsp27 in cellular protection of the central nervous system. Int J Hyperthermia. 2005;21:379–92.

13.

Latchman DS. HSP27 and cell survival in neurones. Int J Hyperthermia. 2005;21:393–402.

14.

van 't Veer LJ, Dai H, van de Vijver MJ, et al. Gene expression profiling predicts clinical outcome of breast cancer. Nature. 2002;415:530–6.

15.

Ciocca DR, Calderwood SK. Heat shock proteins in cancer: diagnostic, prognostic, predictive, and treatment implications. Cell Stress Chaperones. 2005;10:86–103.

16.

Gyrd-Hansen M, Nylandsted J, Jaattela M. Heat shock protein 70 promotes cancer cell viability by safeguarding lysosomal integrity. Cell Cycle. 2004;3:1484–5.

17.

Vargas-Roig LM, Gago FE, Tello O, Aznar JC, Ciocca DR. Heat shock protein expression and drug resistance in breast cancer patients treated with induction chemotherapy. Int J Cancer. 1998;79:468–75.

18.

Young JC, Moarefi I, Hartl FU. Hsp90: a specialized but essential protein-folding tool. J Cell Biol. 2001;154:267–73.

19.

Cashin PH, Graf W, Nygren P, Mahteme H. Intraoperative hyperthermic versus postoperative normothermic intraperitoneal chemotherapy for colonic peritoneal carcinomatosis: a case-control study. Ann Oncol. 2012;23:647–52.

20.

Klaver YL, Hendriks T, Lomme RM, Rutten HJ, Bleichrodt RP, de Hingh IH. Intraoperative hyperthermic intraperitoneal chemotherapy after cytoreductive surgery for peritoneal carcinomatosis in an experimental model. Br J Surg. 2010;97:1874–80.

21.

Klaver YL, Hendriks T, Lomme RM, Rutten HJ, Bleichrodt RP, de Hingh IH. Hyperthermia and intraperitoneal chemotherapy for the treatment of peritoneal carcinomatosis: an experimental study. Ann Surg. 2011;254:125–30.

22.

Mahalingam D, Swords R, Carew JS, Nawrocki ST, Bhalla K, Giles FJ. Targeting HSP90 for cancer therapy. Br J Cancer. 2009;100:1523–9.

23.

Nylandsted J, Brand K, Jaattela M. Heat shock protein 70 is required for the survival of cancer cells. Ann N Y Acad Sci. 2000;926:122–5.

24.

Whitesell L, Lindquist SL. HSP90 and the chaperoning of cancer. Nat Rev Cancer. 2005;5:761–72.

25.

Noonan E, Giardina C, Hightower L. Hsp70B' and Hsp72 form a complex in stressed human colon cells and each contributes to cytoprotection. Exp Cell Res. 2008;314:2468–76.

26.

Rohde M, Daugaard M, Jensen MH, Helin K, Nylandsted J, Jaattela M. Members of the heat-shock protein 70 family promote cancer cell growth by distinct mechanisms. Genes Dev. 2005;19:570–82.

27.

Dudeja V, Mujumdar N, Phillips P, et al. Heat shock protein 70 inhibits apoptosis in cancer cells through simultaneous and independent mechanisms. Gastroenterology. 2009;136:1772–82.

28.

Powers MV, Clarke PA, Workman P. Dual targeting of HSC70 and HSP72 inhibits HSP90 function and induces tumor-specific apoptosis. Cancer Cell. 2008;14:250–62.

29.

Doshi BM, Hightower LE, Lee J. The role of Hsp27 and actin in the regulation of movement in human cancer cells responding to heat shock. Cell Stress Chaperones. 2009;14:445–57.

30.

Chen F, Rezavi R, Wang CC, Harrison LE. Proteasome inhibition potentiates the cytotoxic effects of hyperthermia in HT-29 colon cancer cells through inhibition of heat shock protein 27. Oncology. 2007;73:98–103.

31.

Yu Z, Zhi J, Peng X, Zhong X, Xu A. Clinical significance of HSP27 expression in colorectal cancer. Mol Med Report. 2010;3:953–8.

32.

Garrido C, Brunet M, Didelot C, Zermati Y, Schmitt E, Kroemer G. Heat shock proteins 27 and 70: anti-apoptotic proteins with tumorigenic properties. Cell Cycle. 2006;5:2592–601.

33.

Moser C, Lang SA, Kainz S, et al. Blocking heat shock protein-90 inhibits the invasive properties and hepatic growth of human colon cancer cells and improves the efficacy of oxaliplatin in p53-deficient colon cancer tumors in vivo. Mol Cancer Ther. 2007;6:2868–78.

34.

Cui X, Yu ZY, Wang W, Zheng YQ, Liu W, Li LX. Co-inhibition of HSP70/HSP90 synergistically sensitizes nasopharyngeal carcinoma cells to thermotherapy. Integr Cancer Ther. 2012;11:61–7.

35.

Guo F, Rocha K, Bali P, et al. Abrogation of heat shock protein 70 induction as a strategy to increase antileukemia activity of heat shock protein 90 inhibitor 17-allylamino-demethoxy geldanamycin. Cancer Res. 2005;65:10536–44.

36.

Oba M, Yano S, Shuto T, Suico MA, Eguma A, Kai H. IFN-gamma down-regulates Hsp27 and enhances hyperthermia-induced tumor cell death in vitro and tumor suppression in vivo. Int J Oncol. 2008;32:1317–24.
Acknowledgment
This work was supported by funding from ART (Arbeitsgemeinschaft für Regionale Tumortherapie e.V.). The authors thank Mariola Dragan, Sabine Mueller, and Ingrid Strauss for their technical support.
Disclosure
The authors declare no disclosures.
About this article
Cite this article
Pelz, J.O.W., Vetterlein, M., Grimmig, T. et al. Hyperthermic Intraperitoneal Chemotherapy in Patients with Peritoneal Carcinomatosis: Role of Heat Shock Proteins and Dissecting Effects of Hyperthermia. Ann Surg Oncol 20, 1105–1113 (2013). https://doi.org/10.1245/s10434-012-2784-6
Received:

Published:

Issue Date:
Keywords
Heat Shock Protein

Peritoneal Carcinomatosis

HSP27 Inhibition

Hyperthermic Intraperitoneal Chemotherapy

Heat Shock Protein Expression