Abstract
Background
Postoperative delirium is a common complication after major surgery and is characterized by acute confusion with fluctuating consciousness. The aim of this study was to investigate the incidence and risk factors of postoperative delirium in patients with esophageal cancer.
Methods
We conducted a retrospective cohort analysis of 306 consecutive patients who had undergone an esophagectomy at Keio University Hospital from January 1998 to December 2009. All data were assessed by psychiatrists, and delirium was diagnosed according to criteria of the Diagnostic and Statistical Manual Disorder, fourth edition. Univariate and multivariate analyses were performed.
Results
Postoperative delirium developed in 153 (50.0 %) of 306 patients. One hundred fourteen (37.3 %) of the 306 patients required psychoactive medication for symptoms associated with delirium. Univariate analyses showed that older age, male gender, additional flunitrazepam for sedation in intensive care unit (ICU) after surgery, longer periods of time under mechanical ventilation after surgery, longer ICU stays, occurrence of postoperative complications, and longer hospital stays were significantly associated with postoperative delirium. Multivariate analysis revealed that development of delirium was linked to older age, additional flunitrazepam in ICU, and occurrence of postoperative complication.
Conclusions
The development of postoperative delirium in patients with esophageal cancer is a problem that cannot be ignored. Our results suggest that the risk of developing delirium is associated with older age, use of flunitrazepam in ICU, and postoperative complications.
This is a preview of subscription content, log in to check access.
Access options
Buy single article
Instant access to the full article PDF.
US$ 39.95
Price includes VAT for USA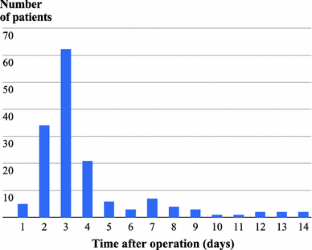 References
1.

Ando N, Ozawa S, Kitagawa Y, Shinozawa Y, Kitajima M. Improvement in the results of surgical treatment of advanced squamous esophageal carcinoma during 15 consecutive years. Ann Surg. 2000;232:225–32.

2.

American Psychiatric Association. Diagnostic and statistical manual of mental disorders. 4th edition. Washington, DC: American Psychiatric Association; 1994.

3.

Lipowski ZJ. Transient cognitive disorders (delirium, acute confusional states) in the elderly. Am J Psychiatry. 1983;140:1426–36.

4.

Edlund A, Lundström M, Lundstom G, Hedquvist B, Gustafson Y. Clinical profile of delirium in patients treated for femoral neck fractures. Dement Geriatr Cogn Disord. 1999;10:325–9.

5.

Francis J, Martin D, Kapoor WN. A prospective study of delirium in hospitalized elderly. JAMA. 1990;263:1097–101.

6.

Inouye SK, van Dyck CH, Alessi CA, Balkin S, Siegal AP, Horwiz RI. Clarifying confusion: the confusion assessment method. A new method for detection of delirium. Ann Intern Med. 1991;113:941–8.

7.

Marcantonio ER, Goldman L, Mangione CM, et al. A clinical prediction rule for delirium after elective noncardiac surgery. JAMA. 1994;271:134–9.

8.

Hammeke TA, Hastings JE. Neuropsychologic alterations after cardiac operation. J Thorac Cardiovasc Surg. 1988;96:326–31.

9.

Smith LW, Dimsdale JE. Postcardiotomy delirium: conclusions after 25 years? Am J Psychiatry. 1989;146:452–8.

10.

Dyer CB, Ashton CM, Teasdale TA. Postoperative delirium. A review of 80 primary data-collection studies. Arch Intern Med. 1995;155:461–5.

11.

Rudolph JL, Babikian VL, Birjiniuk V, et al. Atherosclerosis is associated with delirium after coronary artery bypass graft surgery. J Am Geriatr Soc. 2005;53:462–6.

12.

Parikh SS, Chung F. Postoperative delirium in the elderly. Anesth Analg. 1995;80:1223–2.

13.

Bucerious J, Gummert JF, Borger MA, et al. Predictors of delirium after cardiac surgery delirium: effect of beating-heart (off-pump) surgery. J Thorac Cardiovasc Surg. 2004;127:57–64.

14.

Rothenhäusler HB, Grieser B, Nollert G, Reichart B, Schelling G, Kapfhammer HP. Psychiatric and psychosocial outcome of cardiac surgery with cardiopulmonary bypass: a prospective 12-month follow-up study. Gen Hosp Psychiatry. 2005;27:18–28.

15.

Low DE, Kunz S, Schmbre D, et al. Esophagectomy—it's not just about mortality anymore: standardized perioperative clinical pathways improve outcome in patients with esophageal cancer. J Gastrointest Surg. 2007;11:1395–402.

16.

Isohata N, Naritaka Y, Shimakawa T, et al. Esophageal cancer surgery in elderly patients 80 years of age or older. Ann Cancer Res Ther. 2010;18:50–3.

17.

Chang YL, Tsai YF, Lin PJ, Chen MC, Liu CY. Prevalence and risk factors for postoperative delirium in a cardiovascular intensive care unit. Am J Crit Care. 2008;17:567–75.

18.

Brouquet A, Cudennec T, Benoist S, et al. Impaired mobility, ASA status and administration of tramadol are risk factors for postoperative delirium in patients aged 75 years or more after major abdominal surgery. Ann Surg. 2010;251:759–65.

19.

Tei M, Ikeda M, Haragush N, et al. Risk factors for postoperative delirium in elderly patients with colorectal cancer. Surg Endosc. 2010;24:2135–9.

20.

Lee KH, Ha YC, Lee YK, Kang H, Koo KH. Frequency, risk factors, and prognosis of prolonged delirium in elderly patients after hip fracture surgery. Clin Orthop Relat Res. 2011;469:2612–20.

21.

Colapinto ND. Is age alone a contraindication to major cancer surgery? Can J Surg. 1985;28:323–6.

22.

Barlow AP, Zarifa Z, Shillito RG, Crumpin MK, Edwards E, McCarthy JM. Surgery in a geriatric population. Ann R Coll Surg Engl. 1989;71:110–4.

23.

Riker RR, Shehabi Y, Bokesch PM, et al. Dexmedetomidine vs midazolam for sedation of critically ill patients: a randomized trial. JAMA. 2009;301:489–99.

24.

Maldonado JR, Wysong A, van der Starre PJ, Block T, Miller C, Reitz BA. Dexmedetomidine and the reduction of postoperative delirium after cardiac surgery. Psychosomatics. 2009;50:206–17.

25.

Lonergan E, Britton AM, Luxenberg J, Wyller T. Antipsychotics for delirium. Cochrane Database Syst Rev. 2007;CD005594.

26.

Saeki H, Ishimura H, Higashi H, et al. Postoperative management using intensive patient-controlled epidural analgesia and early rehabilitation after an esophagectomy. Surg Today. 2009;39:476–80.

27.

Larsen KA, Kelly SE, Stern TA, et al. Administration of olanzapine to prevent postoperative delirium in elderly joint-replacement patients: a randomized, controlled trial. Psychosomatics. 2010;51:409–18.

28.

Schrader SL, Wellik KE, Demaerschalk BM, Caselli RJ, Woodruff BK, Wingerchuk DM. Adjunctive haloperidol prophylaxis reduced postoperative delirium severity and duration in at-risk elderly patients. Neurologist. 2008;14:134–7.

29.

Ono H, Taguchi T, Kido Y, Fujino Y, Doki Y. The usefulness of bright light therapy for patients after oesophagectomy. Intens Crit Care Nurs. 2011;27:158–66.
About this article
Cite this article
Takeuchi, M., Takeuchi, H., Fujisawa, D. et al. Incidence and Risk Factors of Postoperative Delirium in Patients with Esophageal Cancer. Ann Surg Oncol 19, 3963–3970 (2012). https://doi.org/10.1245/s10434-012-2432-1
Received:

Published:

Issue Date:
Keywords
Esophageal Cancer

Intensive Care Unit Stay

Dexmedetomidine

Flunitrazepam

Postoperative Delirium