Abstract
Background
There has been an increasing trend toward contralateral prophylactic mastectomy (CPM) in the management of breast cancer (BCa). This study's objective was to compare clinicopathologic characteristics of BCa patients who elected CPM to those who elected unilateral total mastectomy (UTM) and to determine whether CPM improved survival.
Methods
Comparison was performed on 355 patients with stage 0–III BCa matched by age and stage who underwent mastectomy from 1995 to 2008: 177 patients had CPM; 178 patients had UTM. Clinicopathological characteristics and survival outcomes were analyzed.
Results
Women who underwent preoperative MRI were twice as likely to have CPM (40.9 vs. 19.7%, P < 0.001). MRI identified additional suspicious foci in 45% CPM and 19% UTM. Patients with history of previous breast biopsies, family history, or BRCA mutation were more likely to choose CPM than UTM (40.1 vs. 24%, P = 0.001; 64.3 vs. 41.4%, P < 0.001; 20.3 vs. 6.5%, P = 0.04, respectively). CPM patients elected nipple preservation (26 vs. 5.2%, P < 0.001) and immediate reconstruction more often (92.2 vs. 73.5%, P < 0.001); UTM patients were more likely to have attempted breast conservation prior to mastectomy (52.8 vs. 39.5%, P = 0.01). CPM identified occult BCa in 11 patients (6.6%), and three UTM patients (1.7%) developed contralateral BCa. With median follow-up of 61 months, by univariable/multivariable analyses, CPM did not improve overall, disease-free, or distant metastases-free survival.
Conclusion
Factors that may influence choice of CPM included preoperative MRI, history of prior breast biopsies, immediate reconstruction, nipple preservation, family history, and BRCA status. Those who chose CPM did not have improved survival.
Access options
Buy single article
Instant access to the full article PDF.
US$ 39.95
Tax calculation will be finalised during checkout.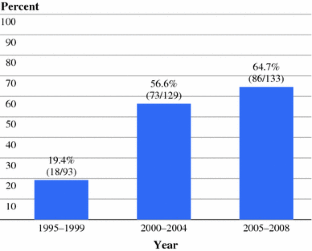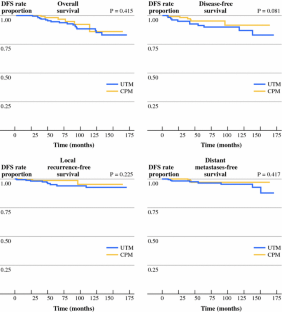 References
1.

Peto J, Mack TM. High constant incidence in twins and other relatives of women with breast cancer. Nat Genet. 2000;26:411–4.

2.

Healey EA, Cook EF, Orav EJ, Schnitt SJ, Connolly JL, Harris JR. Contralateral breast cancer: clinical characteristics and impact on prognosis. J Clin Oncol. 1993;11:1545–52.

3.

Rosen PP, Groshen S, Kinne DW, Hellman S. Contralateral breast carcinoma: an assessment of risk and prognosis in stage I (T1N0M0) and stage II (T1N1M0) patients with 20-year follow-up. Surgery. 1989;106:904–10.

4.

Kollias J, Ellis IO, Elston CW, Blamey RW. Clinical and histological predictors of contralateral breast cancer. Eur J Surg Oncol. 1999;25:584–9.

5.

Nichols HB, Berrington de Gonzalez A, Lacey JV Jr, Rosenberg PS, Anderson WF. Declining incidence of contralateral breast cancer in the United States from 1975 to 2006. J Clin Oncol. 2011;29:1564–9.

6.

McGuire KP, Santillan AA, Kaur P, Meade T, Parbhoo J, Mathias M, et al. Are mastectomies on the rise? A 13-year trend analysis of the selection of mastectomy versus breast conservation therapy in 5865 patients. Ann Surg Oncol. 2009;16:2682–90.

7.

Jones NB, Wilson J, Kotur L, Stephens J, Farrar WB, Agnese DM. Contralateral prophylactic mastectomy for unilateral breast cancer: an increasing trend at a single institution. Patient and surgeon characteristics associated with increased use of contralateral prophylactic mastectomy in patients with breast cancer. Ann Surg Oncol. 2009;16:2691–6.

8.

Arrington AK, Jarosek SL, Virnig BA, Habermann EB, Tuttle TM. Patient and surgeon characteristics associated with increased use of contralateral prophylactic mastectomy in patients with breast cancer. Ann Surg Oncol. 2009;16:2697–704.

9.

Lostumbo L, Carbine NE, Wallace J. Prophylactic mastectomy for the prevention of breast cancer. Cochrane Database Syst Rev. 2010;(11):CD002748.

10.

Lee JS, Grant CS, Donohue JH, Crotty TB, Harmsen WS, Ilstrup DM. Arguments against routine contralateral mastectomy or undirected biopsy for invasive lobular breast cancer. Surgery. 1995;118:640–7; discussion 647–8.

11.

Goldflam K, Hunt KK, Gershenwald JE, Singletary SE, Mirza N, Kuerer HM, et al. Contralateral prophylactic mastectomy. Predictors of significant histologic findings. Cancer. 2004;101:1977–86.

12.

Babiera GV, Lowy AM, Davidson BS, Singletary SE. The role of contralateral prophylactic mastectomy in invasive lobular carcinoma. Breast J. 1997;3:2–6.

13.

Peralta EA, Ellenhorn JD, Wagman LD, Dagis A, Andersen JS, Chu DZ. Contralateral prophylactic mastectomy improves the outcome of selected patients undergoing mastectomy for breast cancer. Am J Surg. 2000;180:439–45.

14.

Herrinton LJ, Barlow WE, Yu O, Geiger AM, Elmore JG, Barton MB, et al. Efficacy of prophylactic mastectomy in women with unilateral breast cancer: a cancer research network project. J Clin Oncol. 2005;23:4275–86.

15.

van Sprundel TC, Schmidt MK, Rookus MA, Brohet R, van Asperen CJ, Rutgers EJ, et al. Risk reduction of contralateral breast cancer and survival after contralateral prophylactic mastectomy in BRCA1 or BRCA2 mutation carriers. Br J Cancer. 2005;93:287–92.

16.

Bedrosian I, Hu CY, Chang GJ. Population-based study of contralateral prophylactic mastectomy and survival outcomes of breast cancer patients. J Natl Cancer Inst. 2010;102:401–9.

17.

Stucky CC, Gray RJ, Wasif N, Dueck AC, Pockaj BA. Increase in contralateral prophylactic mastectomy: echoes of a bygone era? Surgical trends for unilateral breast cancer. Ann Surg Oncol. 2010;17 Suppl 3:330–7.

18.

Yao K, Stewart AK, Winchester DJ, Winchester DP. Trends in contralateral prophylactic mastectomy for unilateral cancer: a report from the National Cancer Data Base, 1998–2007. Ann Surg Oncol. 2010;17:2554–62.

19.

McLaughlin CC, Lillquist PP, Edge SB, Surveillance of prophylactic mastectomy: trends in use from 1995 through 2005. Cancer. 2009;115:5404–12.

20.

Tuttle TM, Jarosek S, Habermann EB, Arrington A, Abraham A, Morris TJ, et al. Increasing rates of contralateral prophylactic mastectomy among patients with ductal carcinoma in situ. J Clin Oncol. 2009;27:1362–7.

21.

Tuttle TM, Habermann EB, Grund EH, Morris TJ, Virnig BA. Increasing use of contralateral prophylactic mastectomy for breast cancer patients: a trend toward more aggressive surgical treatment. J Clin Oncol. 2007;25:5203–9.

22.

Hoover DJ, Paragi PR, Santoro E, Schafer S, Chamberlain RS. Prophylactic mastectomy in high risk patients: a practice-based review of the indications. Do we follow guidelines? Breast Dis. 2010;31:19–27.

23.

Damle S, Teal CB, Lenert JJ, Marshall EC, Pan Q, McSwain AP. Mastectomy and contralateral prophylactic mastectomy rates: an institutional review. Ann Surg Oncol. 2011;18:1356–63.

24.

Yi M, Hunt KK, Arun BK, Bedrosian I, Barrera AG, Do KA, et al. Factors affecting the decision of breast cancer patients to undergo contralateral prophylactic mastectomy. Cancer Prev Res (Phila). 2010;3:1026–34.

25.

Metcalfe KA, Lubinski J, Ghadirian P, Lynch H, Kim-Sing C, Frieman E, et al. Predictors of contralateral prophylactic mastectomy in women with a BRCA1 or BRCA2 mutation: the Hereditary Breast Cancer Clinical Study Group. J Clin Oncol. 2008;26:1093–7.

26.

Sorbero ME, Dick AW, Beckjord EB, Ahrendt G. Diagnostic breast magnetic resonance imaging and contralateral prophylactic mastectomy. Ann Surg Oncol. 2009;16:1597–605.

27.

King TA, Sakr R, Patil S, Gurevich I, Stempel M, Sampson M, et al. Clinical management factors contribute to the decision for contralateral prophylactic mastectomy. J Clin Oncol. 2011;29:2158–64.

28.

Quan G, Pommier SJ, Pommier RF. Incidence and outcomes of contralateral breast cancers. Am J Surg. 2008;195:645–50; discussion 650.

29.

Boughey JC, Hoskin TL, Degnim AC, Sellers TA, Johnson JL, Kasner MJ, et al. Contralateral prophylactic mastectomy is associated with a survival advantage in high-risk women with a personal history of breast cancer. Ann Surg Oncol. 2010;17:2702–9.
Additional information
Alice Chung and Kelly Huynh are co-first-authors of this manuscript.
About this article
Cite this article
Chung, A., Huynh, K., Lawrence, C. et al. Comparison of Patient Characteristics and Outcomes of Contralateral Prophylactic Mastectomy and Unilateral Total Mastectomy in Breast Cancer Patients. Ann Surg Oncol 19, 2600–2606 (2012). https://doi.org/10.1245/s10434-012-2299-1
Received:

Published:

Issue Date:
Keywords
Breast Cancer

Contralateral Breast Cancer

Contralateral Prophylactic Mastectomy

Ipsilateral Breast Tumor Recurrence

Unilateral Breast Cancer