Abstract
Purpose and Methods
Most patients who harbor a genetic mutation for hereditary breast cancer have not been identified, despite the availability of genetic testing. Developing an effective approach to the identification of high-risk individuals is the key to preventing and/or providing early diagnosis of cancer in this patient population. This educational review addresses these issues.
Results and Discussion
Using data available on the internet, and making assumptions regarding the types and results of genetic testing, we have estimated the number of mutation carriers in the country and the number who have been tested and identified as such. Overall, our ability to fund and more effectively manage carriers is weak. A technological solution is discussed.
Access options
Buy single article
Instant access to the full article PDF.
USD 39.95
Price excludes VAT (USA)
Tax calculation will be finalised during checkout.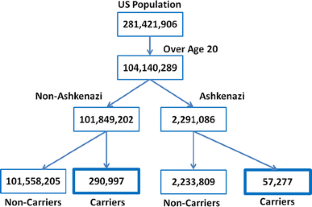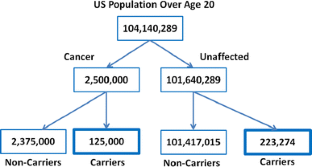 References
Scheuner MT, Yoon PW, Khoury MJ. Contribution of Mendelian disorders to common chronic disease: opportunities for recognition, intervention, and prevention. Am J Med Gen. 2004;125C:50–65.

Crane RM, Raymond B. Fulfilling the potential of clinical information systems. Permanente J. 2003;7:62–7.

Ford D, Easton DF, Stratton M, et al. Genetic heterogeneity and penetrance analysis of the BRCA1 and BRCA2 genes in breast cancer families. The Breast Cancer Linkage Consortium. Am J Hum Genet. 1998;62:676–89.

Wideroff L, Vadaparampil ST, Greene, MH, et al. Hereditary breast/ovarian and colorectal cancer genetics knowledge in a national sample of US physicians. J Med Genet. 2005;42:749–55.

Euhus DM. Understanding mathematical models for breast cancer risk assessment and counseling. Breast J. 2001;7:224–32.

Parmigiani G, Berry DA, Aguilar O. Determining carrier probabilities for breast cancer-susceptibility genes BRCA1 and BRCA2. Am J Hum Genet. 1998;62:145–58.

Antoniou AC, Cunningham AP, Peto J, et al. The BOADICEA model of genetic susceptibility to breast and ovarian cancers: updates and extensions. Br J Cancer. 2008;98:1457–66.

Tyrer J, Duffy SW, Cuzick J. A breast cancer prediction model incorporating familial and personal risk factors. Stat Med. 2004;23:1111–30.

Myriad Genetics Inc. Myriad for professionals. BRCA1 and BRCA2 prevalence tables. https://www.myriadpro.com/bracanalysis-prevalence-tables.

Statement of the American Society of Clinical Oncology: genetic testing for cancer susceptibility, adopted on February 20, 1996. J Clin Oncol. 1996;14:1730–6.

Roa BB, Boyd AA, Volcik K, Richards CS. Ashkenazi Jewish population frequencies for common mutations in BRCA1 and BRCA2. Nat Genet. 1996;14:185–7.

Palomaki GE, McClain MR, Steinort K, Sifri R, LoPresti L, Haddow JE. Screen-positive rates and agreement among six family history screening protocols for breast/ovarian cancer in a population-based cohort of 21- to 55-year-old women. Genet Med. 2006;8:161–8.

Risch HA, McLaughlin JR, Cole DEC, et al. Prevalence and penetrance of germline BRCA1 and BRCA2 mutations in a population series of 649 women with ovarian cancer. Am J Hum Genet. 2001;68:700–10.

US Census Bureau. http://factfinder.census.gov/servlet/QTTable?_bm=y&-geo_id=01000US&-qr_name=DEC_2000_SF1_U_QTP1&-ds_name=DEC_2000_SF1_U.

Kurian AW, Sigal BM, Plevritis SK. Survival analysis of cancer risk reduction strategies for BRCA1/2 mutation carriers. J Clin Oncol. 2009;28:222–31.

American Cancer Society. Breast cancer overview. How many women get breast cancer? http://www.cancer.org/cancer/breastcancer/overviewguide/breast-cancer-overview-key-statistics.

Myriad Genetics Inc annual reports (10-K) and quarterly reports (10-Q). http://www.getfilings.com/comp/k0000899923.html.

Levy DE, Garber JE, Shields AE. Guidelines for genetic risk assessment of hereditary breast and ovarian cancer: early disagreements and low utilization. J Gen Intern Med. 2009;24:822–8.

Feero WG, Bigley MB, Brinner KM, et al. New standards and enhanced utility for family health history information in the electronic health record: an update from the American health information community's family health history multi-stakeholder workgroup. J Am Med Inform Assoc. 2008;15:723–8.

Health level seven international. ANSI approved standards. http://www.hl7.org/implement/standards/ansiapproved.cfm.

http://www.hughesriskapps.com. Accessed December 2010

Claus EB, Risch N, Thompson WD. Autosomal dominant inheritance of early-onset breast cancer. Implications for risk prediction. Cancer. 1994;73:643–51.

Gail MH, Brinton LA, Byar DP, et al. Projecting individualized probabilities of developing breast cancer for white females who are being examined annually. J Natl Cancer Inst. 1989;81:1879–86.
Author disclosures: Dr. Hughes gives educational lectures for Myriad genetics, and is one of the originators of HughesRiskApps, a freeware software package that evaluates risk and may eventually generate modest revenues. Dr. Drohan, Dr. Roche, and Dr. Cusack have nothing to disclose.
Additional information
Acknowledgment: This educational review is part of a series, "Risk Assessment and Genetic Testing for Hereditary Breast Cancer," which has been supported by an educational grant from Myriad Genetics.
About this article
Cite this article
Drohan, B., Roche, C.A., Cusack, J.C. et al. Hereditary Breast and Ovarian Cancer and Other Hereditary Syndromes: Using Technology to Identify Carriers. Ann Surg Oncol 19, 1732–1737 (2012). https://doi.org/10.1245/s10434-012-2257-y
Received:

Published:

Issue Date:

DOI: https://doi.org/10.1245/s10434-012-2257-y
Keywords
Mutation Carriers

Healthcare Information Technology Standards Panel

Full Gene Sequencing

Hereditary Breast-ovarian Cancer

PenRad