Abstract
Background
Lower extremity lymphedema (LEL) is a serious complication caused by lymphadenectomy in patients with gynecologic malignancies. In this study, we evaluated the effect of preserving the circumflex iliac lymph nodes (CILNs), i.e., the most caudal external iliac lymph nodes, for the prevention and reduction of LEL by comparing two groups of patients, one in which CILN were removed and the other in which CILNs were preserved.
Methods
We retrospectively reviewed 329 patients with gynecologic malignancies who had undergone abdominal complete systematic pelvic and para-aortic lymphadenectomy. The patients were divided into nonpreserved (n = 189) and preserved (n = 140) groups, depending on whether CILNs were removed. Primary outcome measures included the incidence and severity of LEL.
Results
The incidence of LEL was significantly lower in the preserved group than in the nonpreserved group (P < 0.0001). The frequency of LEL was also significantly lower in the preserved group than in the nonpreserved group regardless of the range of pelvic and para-aortic lymphadenectomy (P < 0.0001). LEL in the overwhelming majority of cases in the preserved group was mild, and no patients experienced severe LEL. Further, the incidence of cellulitis was 0% in the preserved group, while it was 12.7% in the nonpreserved group (P < 0.0001). Lymphoscintigraphy revealed collateral pathways from the preserved CILN along the iliac and large abdominal vessels.
Conclusions
This method of lymph node preservation is a simple and extremely effective approach for preventing/reducing LEL after pelvic and para-aortic lymphadenectomy for patients with gynecologic malignancies.
Access options
Buy single article
Instant access to the full article PDF.
USD 39.95
Price excludes VAT (USA)
Tax calculation will be finalised during checkout.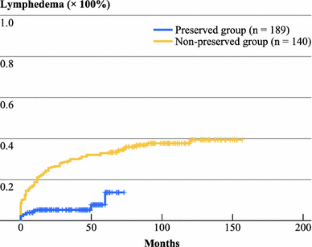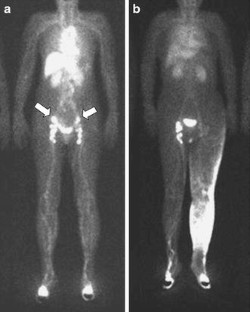 References
Warren AG, Brorson H, Borud LJ, Slavin SA. Lymphedema: a comprehensive review. Ann Plast Surg. 2007;59:464–72.

Abu-Rustum NR, Barakat RR. Observations on the role of circumflex iliac node resection and the etiology of lower extremity lymphedema following pelvic lymphadenectomy for gynecologic malignancy. Gynecol Oncol. 2007;106:4–5.

Standring S. Gray's anatomy: the anatomical basis of clinical practice. 39th ed. New York: Elsevier Churchill Livingstone; 2005.

Sakuragi N, Satoh C, Takeda N, et al. Incidence and distribution pattern of pelvic and paraaortic lymph node metastasis in stage IB, IIA and IIB cervical carcinoma treated with radical hysterectomy. Cancer. 1999;85:1547–54.

Tsumura N, Sakuragi N, Hareyama H, et al. The distribution pattern and risk factors of pelvic and paraaortic lymph node metastasis in epithelial ovarian carcinoma. Int J Cancer. 1998;79:526–30.

International Society of Lymphology. The diagnosis and treatment of peripheral lymphedema. Consensus document of the International Society of Lymphlogy. Lymphology. 2003;36:84-91.

Abu-Rustum NR, Alektiar K, Iasonos A, et al. The incidence of symptomatic lower-extremity lymphedema following treatment of uterine corpus malignancies: a 12-year experience at Memorial Sloan-Ketterring Cancer Center. Gynecol Oncol. 2006;103:714–8.

Bergmark K, Avall-Lundqvist E, Dickman PW, Henningsohn L, Steineck G. Lymphedema and bladder-emptying difficulties after radical hysterectomy for early cervical cancer and among population controls. Int J Gynecol Cancer. 2006;16:1130–9.

Tada H, Teramukai S, Fukushima M, Sasaki H. Risk factors for lower limb lymphedema after lymph node dissection in patients with ovarian and uterine carcinoma. BMC Cancer. 2009;9:1–6.

Tanaka T, Ohki N, Kojima A, et al. Radiotherapy negates the effect of retroperitoneal non closure for prevention of the legs following pelvic lymphadenectomy for gynecological malignancies: an analysis from a questionnaire survey. Int J Gynecol Cancer. 2007;17:460–4.

Soisson AP, Soper JT, Clarke-Pearson DL, Berchuck A, Montana G, Creasman WT. Adjuvant radiotherapy following radical hysterectomy for patients with stage IB and IIA cervical cancer. Gynecol Oncol. 1990;37:390–5.

Chatani M, Nose T, Masaki N, Inoue T. Adjuvant radiotherapy after radical hysterectomy of the cervical cancer. Prognostic factors and complications. Strahlenther Onkol. 1998;174:504–9.

Manchana T, Sirisabya N, Lertkhachonsuk R, et al. Long term complications after radical hysterectomy with pelvic lymphadenectomy. J Med Assoc Thai. 2009;92:451–6.

Mortimer PS. American Cancer Society Lymphedema Workshop: the pathophysiology of lymphedema. Cancer. 1998;83:2798–802.

Lea JS, Sheet EE, Duska LR, Miller DS, Schorge JO. Early-stage cervical adenocarcinoma treated by surgical intent: the role of para-aortic lymph node dissection. Gynecol Oncol. 2002;84:285–8.

Kim SM, Choi HS, Byun JS. Overall 5-year survival rate and prognostic factors in patients with stage IB and IIA cervical cancer treated by radical hysterectomy and pelvic lymph node dissection. Int J Gynecol Cancer. 2000;10:305–12.

Rob L, Strmad P, Robova H, et al. Study of lymphatic mapping and sentinel node identification in early stage cervical cancer. Gynecol Oncol. 2005;98:281–8.

Mohan DS, Samuels MA, Selim MA, Shalodi AD, Ellis RJ, Yun HJ. Long-term outcomes of therapeutic pelvic lymphadenectomy for stage I endometrial adenocarcinoma. Gynecol Oncol. 1998;70:165–71.

Cho H, Kim YT, Kim JH. Accuracy of preoperative tests in clinical stage I endometrial cancer: the importance of lymphadenectomy. Acta Obstet Gynecol. 2010;89:175–81.

Lo KWK, Cheung TH, Yu MY, Yim SF, Chung TK. The value of pelvic and para-aortic lymphadenectomy in endometrial cancer to avoid unnecessary radiotherapy. Int J Gynecol Cancer. 2003;13:863–9.

Panici PB, Maggioni A, Hacker N, et al. Systematic aortic and pelvic lymphadenectomy versus resection of bulky nodes only in optimally debulked advanced ovarian cancer: a randomized clinical trial. J Natl Cancer Inst. 2005;97:560–6.

Onda T, Yoshikawa H, Mizutani K, et al. Treatment of node-positive endometrial cancer with complete node resection, chemotherapy and radiation therapy. Int J Cancer. 1997;75:1836–41.

Füller J, Guderian D, Köhler C, Schneider A, Wendt TG. Lymph edema of the lower extremities after lymphadenectomy and radiotherapy for cervical cancer. Strahlenther Onkol. 2008;184:206–11.

Clouse ME. Clinical lymphography. In: Taveras JM, Wood EH, editors. Golden's diagnostic radiology. Baltimore: Williams and Wilkins; 1977. p. 14–60.

Pecking AP, Albérini JL, Wartski M, Edeline V, Cluzan RV. Relationship between lymphoscintigraphy and clinical findings in lower limb lymphedema (LO): toward a comprehensive staging. Lymphology. 2008;41:1–10.

Hirahatake K, Hareyama H, Sakuragi N, Nishiya M, Makinoda S, Fujimoto S. A clinical and pathologic study on para-aortic lymph node metastasis in endometrial carcinoma. J Surg Oncol. 1997;65:82–7.

Takeshima N, Hirai Y, Umayahara K, Fujiwara K, Takizawa K, Hasumi K. Lymph node metastasis in ovarian cancer: difference between serous and non-serous primary tumor. Gynecol Oncol. 2005;99:427–31.

Brennan MJ, Miller LT. American Cancer Society Lymphedema Workshop: overview of treatment options and review of the current role and use of compression garments, intermittent pumps, and exercise in the management of lymphedema. Cancer. 1998;83:2821–7.

Narushima M, Mihara M, Yamamoto Y, Iida T, Koshima I, Mundinger GS. The intravascular stenting method for treatment of extremity lymphedema with multiconfiguration lymphaticovenous anastomoses. Plast Reconstr Surg. 2010;125:935–43.

Assouad J, Becker C, Hidden G, Riquet M. The cutaneo-lymph node flap of the superficial circumflex artery. Surg Radiol Anat. 2002;24:87–90.

Patsner B, Hackett TE. Use of the omental J-flap for prevention of postoperative complications following radical abdominal hysterectomy: report of 140 cases and literature review. Gynecol Oncol. 1997;65:405–7.

Logmans A, Kruyt RH, de Bruin HG, Cox PH, Pillary M, Trimbos JB. Lymphedema and lymphocysts following lymphadenectomy may be prevented by omentoplasty: a pilot study. Gynecol Oncol. 1999;75:323–7.
About this article
Cite this article
Hareyama, H., Ito, K., Hada, K. et al. Reduction/Prevention of Lower Extremity Lymphedema after Pelvic and Para-aortic Lymphadenectomy for Patients with Gynecologic Malignancies. Ann Surg Oncol 19, 268–273 (2012). https://doi.org/10.1245/s10434-011-1863-4
Received:

Published:

Issue Date:

DOI: https://doi.org/10.1245/s10434-011-1863-4
Keywords