Abstract
Purpose
Previous studies have suggested that primary hyperparathyroidism (pHPT) with only normal parathyroid hormone (PTH) levels is a milder, less symptomatic form of pHPT. This study investigates symptoms, laboratory values, imaging, and outcomes of sporadic pHPT patients with normal PTH values.
Methods
We reviewed our prospectively collected database of 861 patients with sporadic pHPT who underwent parathyroidectomy between December 1999 and June 2010. Patients with only normal PTH values for 6 months before surgery were compared to a randomized control group of sporadic pHPT patients with elevated PTH, matched 1:2 for age and gender.
Results
Fifty-eight (7%) patients had only normal PTH values within 6 months of surgery. The mean PTH was 55.1 pg/ml in the normal PTH group and 151.3 pg/ml in the control group (n = 116). There was no difference in preoperative calcium values, subjective symptoms, bone health, or the frequency of single-gland disease (SGD; 88% vs. 91%) between the two groups, but the normal PTH group had higher preoperative vitamin D values (30.8 vs. 21.4 ng/ml; P < 0.001), smaller adenomas (405 vs. 978 mg, P < 0.001), and more frequently underwent bilateral neck exploration (57% vs. 49%). There was a trend toward lower sensitivity of preoperative imaging in the normal PTH group.
Conclusions
Patients with pHPT and either elevated or normal PTH levels present with similar symptoms and calcium levels. The majority of patients with normal PTH have SGD, although adenomas are smaller. This may explain why patients with normal PTH values have less sensitive imaging and more frequently require four-gland exploration.
This is a preview of subscription content, log in to check access.
Access options
Buy single article
Instant access to the full article PDF.
US$ 39.95
Tax calculation will be finalised during checkout.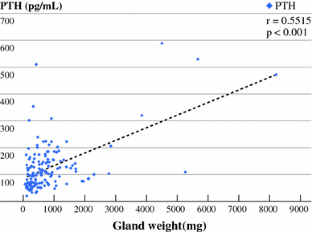 References
1.

Younes NA, Shafagoj Y, Khatib F, Ababneh M. Laboratory screening for hyperparathyroidism. Clin Chim Acta. 2005;353:1–12.

2.

Bergenfelz A, Lindblom P, Lindergard B, Valdemarsson S, Westerdahl J. Preoperative normal level of parathyroid hormone signifies an early and mild form of primary hyperparathyroidism. World J Surg. 2003;27:481–5.

3.

Carneiro-Pla DM, Irvin GL III, Chen H. Consequences of parathyroidectomy in patients with "mild" sporadic primary hyperparathyroidism. Surgery. 2007;142:795–9; discussion 799.e1–2.

4.

Glendenning P, Gutteridge DH, Retallack RW, Stuckey BGA, Kermode DG, Kent GN. High prevalence of normal total calcium and intact PTH in 60 patients with proven primary hyperparathyroidism: a challenge to current diagnostic criteria. Aust N Z J Med. 1998;28:173–8.

5.

Mischis-Troussard C, Goudet P, Verges B, Cougard P, Tavernier C, Maillefert JF. Primary hyperparathyroidism with normal serum intact parathyroid hormone levels. QJM. 2000;93:365–7.

6.

Gulcelik NE, Bozkurt F, Tezel GG, Kaynaroglu V, Erbas T. Normal parathyroid hormone levels in a diabetic patient with parathyroid adenoma. Endocrine. 2009;35:147–50.

7.

Silverberg SJ, Lewiecki EM, Mosekilde L, Peacock M, Rubin MR. Presentation of asymptomatic primary hyperparathyroidism: proceedings of the third international workshop. J Clin Endocrinol Metab. 2009;94:351–65.

8.

Souberbielle JC, Maury E, Friedlander G, Cormier C. Vitamin D and primary hyperparathyroidism (PHPT). J Steroid Biochem Mol Biol. 2010;121:199–203.

9.

Bartsch D, Nies C, Hasse C, Willuhn J, Rothmund M. Clinical and surgical aspects of double adenoma in patients with primary hyperparathyroidism. Br J Surg. 1995;82:926–9.

10.

Williams JG, Wheeler MH, Aston JP, Brown RC, Woodhead JS. The relationship between adenoma weight and intact (1–84) parathyroid hormone level in primary hyperparathyroidism. Am J Surg. 1992;163:301–4.

11.

Gough IR, Thompson NW, Eckhauser FE. The value to the surgeon of parathyroid hormone assays in primary hyperparathyroidism. Aust N Z J Surg. 1988;58:381–6.

12.

Almquist M, Bergenfelz A, Martensson H, Thier M, Nordenstrom E. Changing biochemical presentation of primary hyperparathyroidism. Langenbecks Arch Surg. 2010;395:925–8.

13.

Grant CS, Thompson G, Farley D, van Heerden J. Primary hyperparathyroidism surgical management since the introduction of minimally invasive parathyroidectomy: Mayo Clinic experience. Arch Surg. 2005;140:472–8; discussion 478–9.

14.

Irvin GL III, Carneiro DM, Solorzano CC. Progress in the operative management of sporadic primary hyperparathyroidism over 34 years. Ann Surg. 2004;239:704–8; discussion 708–11.

15.

Udelsman R, Lin Z, Donovan P. The superiority of minimally invasive parathyroidectomy based on 1650 consecutive patients with primary hyperparathyroidism. Ann Surg. 2011;253:585–91.
Conflict of interest
All authors have no commercial interests or financial support to disclose.
About this article
Cite this article
Amin, A.L., Wang, T.S., Wade, T.J. et al. Normal PTH Levels in Primary Hyperparathyroidism: Still the Same Disease?. Ann Surg Oncol 18, 3437–3442 (2011). https://doi.org/10.1245/s10434-011-1744-x
Received:

Published:

Issue Date:
Keywords
Primary Hyperparathyroidism

Bilateral Neck Exploration

Baseline IOPTH

Abnormal Parathyroid Gland

Sporadic pHPT