Purpose
To determine the role of radiofrequency ablation (RFA) in patients with inoperable symptomatic recurrent thyroid cancers.
Materials and Methods
Eleven patients with 16 symptomatic recurrent thyroid cancers but ineligible for surgery were prospectively enrolled and underwent ultrasound-guided RFA with local anesthesia in 16 sessions. The mean tumor volume and diameter were 9 ml (range 0.1–34 ml) and 2.9 cm (range 0.7–4.8 cm), respectively. Patients had dysphagia, hoarseness, dyspnea, or a protruding mass due to recurrent tumors. Tumor volume was calculated from follow-up ultrasound, and symptoms were assessed after RFA.
Results
Of 16 sessions, tumor ablation was complete in 6, incomplete in 9, and failed in 1. Incomplete or failed ablation was due to intolerable pain, severe calcified lesion, or tumor encasement of major vessels. Of 15 treated lesions, 13 decreased in volume. Regrowth of treated tumors was observed in 2 lesions. The mean volume reduction was 50.9% (range −9.4 to 96.8%). There were gains for symptom relief for 7 patients (63.6%) with protruding masses (n = 6) and discomfort due to tracheal compression (n = 1). The mean follow-up was 6 months (1–14 months). There were no major complications except a patient with skin burn.
Conclusion
RFA is feasible and safe, and can improve symptoms in the short term.
This is a preview of subscription content, log in to check access.
Access options
Buy single article
Instant access to the full article PDF.
US$ 39.95
Price includes VAT for USA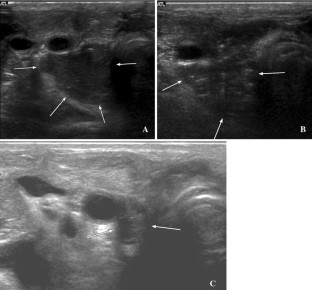 References
1.

Landis SH, Murray T, Bolden S, Wingo PA. Cancer statistics. CA Cancer J Clin. 1999;49:8–31, 1.

2.

Loh KC, Greenspan FS, Gee L, Miller TR, Yeo PP. Pathological tumor–node–metastasis (pTNM) staging for papillary and follicular thyroid carcinomas: a retrospective analysis of 700 patients. J Clin Endocrinol Metab. 1997;82:3553–62.

3.

Samaan NA, Schultz PN, Hickey RC, Goepfert H, Haynie TP, Johnston DA, et al. The results of various modalities of treatment of well differentiated thyroid carcinomas: a retrospective review of 1599 patients. J Clin Endocrinol Metab. 1992;75:714–20.

4.

Lencioni R, Cioni D, Crocetti L, Bartolozzi C. Percutaneous ablation of hepatocellular carcinoma: state-of-the-art. Liver Transpl. 2004;10:S91–7.

5.

Dupuy DE, Monchik JM, Decrea C, Pisharodi L. Radiofrequency ablation of regional recurrence from well-differentiated thyroid malignancy. Surgery. 2001;130:971–7.

6.

Gazelle GS, Goldberg SN, Solbiati L, Livraghi T. Tumor ablation with radio-frequency energy. Radiology. 2000;217:633–46.

7.

Gervais DA, McGovern FJ, Wood BJ, Goldberg SN, McDougal WS, Mueller PR. Radio-frequency ablation of renal cell carcinoma: early clinical experience. Radiology. 2000;217:665–72.

8.

Dupuy DE, Goldberg SN. Image-guided radiofrequency tumor ablation: challenges and opportunities—part II. J Vasc Interv Radiol. 2001;12:1135–48.

9.

Jin GY, Han YM, Lee YS, Lee YC. Radiofrequency ablation using a monopolar wet electrode for the treatment of inoperable non–small cell lung cancer: a preliminary report. Korean J Radiol. 2008;9:140–7.

10.

Albisinni U, Ciminari R, Malaguti C, Rimondi E. Radiofrequency ablation of osteoid osteoma with cooled probes and impedance-control energy delivery. AJR Am J Roentgenol. 2007;188:W578; author reply W9.

11.

Monchik JM, Donatini G, Iannuccilli J, Dupuy DE. Radiofrequency ablation and percutaneous ethanol injection treatment for recurrent local and distant well-differentiated thyroid carcinoma. Ann Surg. 2006;244:296–304.

12.

Jeong WK, Baek JH, Rhim H, Kim YS, Kwak MS, Jeong HJ, et al. Radiofrequency ablation of benign thyroid nodules: safety and imaging follow-up in 236 patients. Eur Radiol. 2008;18:1244–50.

13.

Baek JH, Jeong HJ, Kim YS, Kwak MS, Lee D. Radiofrequency ablation for an autonomously functioning thyroid nodule. Thyroid. 2008;18:675–6.

14.

Mazzaferri EL, Young RL. Papillary thyroid carcinoma: a 10 year follow-up report of the impact of therapy in 576 patients. Am J Med. 1981;70:511–8.

15.

Esnaola NF, Cantor SB, Sherman SI, Lee JE, Evans DB. Optimal treatment strategy in patients with papillary thyroid cancer: a decision analysis. Surgery. 2001;130:921–30.

16.

Farahati J, Reiners C, Stuschke M, Muller SP, Stuben G, Sauerwein W, et al. Differentiated thyroid cancer. Impact of adjuvant external radiotherapy in patients with perithyroidal tumor infiltration (stage pT4). Cancer. 1996;77:172–80.

17.

Rubino C, de Vathaire F, Dottorini ME, Hall P, Schvartz C, Couette JE, et al. Second primary malignancies in thyroid cancer patients. Br J Cancer. 2003;89:1638–44.

18.

Tubiana M, Haddad E, Schlumberger M, Hill C, Rougier P, Sarrazin D. External radiotherapy in thyroid cancers. Cancer. 1985;55:2062–71.

19.

Brierley JD, Tsang RW. External beam radiation therapy for thyroid cancer. Endocrinol Metab Clin North Am. 2008;37:497–509, xi.
Acknowledgment
Supported by a grant from the IN-SUNG Foundation for Medical Research, Korea.
About this article
Cite this article
Park, K.W., Shin, J.H., Han, B. et al. Inoperable Symptomatic Recurrent Thyroid Cancers: Preliminary Result of Radiofrequency Ablation. Ann Surg Oncol 18, 2564–2568 (2011). https://doi.org/10.1245/s10434-011-1619-1
Received:

Published:

Issue Date:
Keywords
Papillary Thyroid Carcinoma

Follicular Thyroid Carcinoma

Thyroglobulin Level

Tracheal Compression

Intolerable Pain