Abstract
Background
Complete surgical removal of biliary tract cancer (BTC) offers the only chance of cure; however, long-term survival remains very limited because of frequent recurrence after surgery. The purpose of our study was to evaluate whether the preoperative serum carbohydrate antigen (CA) 19-9 level could predict recurrence after curative resection of BTC.
Methods
We performed a retrospective review of the medical records of patients who were diagnosed with BTC and underwent curative resection. The optimal cutoff value for the preoperative serum level of CA 19-9 that predicted recurrence was determined by a ROC curve. Preoperative and postoperative risk factors for recurrence were evaluated using log-rank test.
Results
A total of 101 patients were eligible for this study. The optimal cutoff value of preoperative serum CA 19-9 level to predict recurrence was 55 U/mL. Forty-five patients (44.6%) experienced recurrence after curative resection with a median follow-up period of 28.4 months. Recurrence occurred in 33 (61.1%) of 54 patients with CA 19-9 levels ≥55 U/mL compared with only 12 (25.5%) of 47 patients with CA 19-9 levels <55 U/mL. The recurrence rate was significantly higher in patients with baseline CA 19-9 serum levels ≥55 U/mL (hazard ratio, 3.282; 95% confidence interval, 1.684–6.395; P < 0.001).
Conclusions
Elevated preoperative serum CA 19-9 was associated with a high risk of recurrence after curative resection of BTC. Different treatment plans might be needed for patients with BTC and high serum levels of CA 19-9.
This is a preview of subscription content,
to check access.
Access this article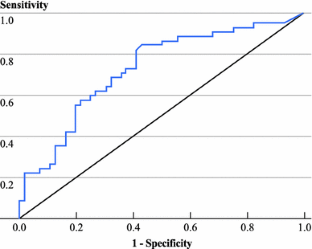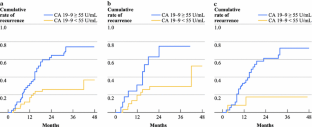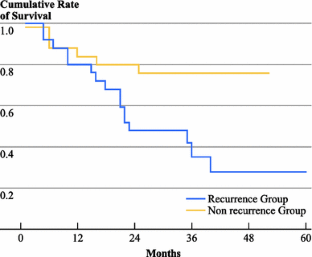 Similar content being viewed by others
References
Nehls O, Gregor M, Klump B. Serum and bile markers for cholangiocarcinoma. Semin Liver Dis. 2004;24:139–54.

Korea MoHaWRo. Annual report of national cancer Information Center 2006–2007. 2008.

Khan SA, Davidson BR, Goldin R, et al. Guidelines for the diagnosis and treatment of cholangiocarcinoma: consensus document. Gut. 2002;51(Suppl 6):VI1–9.

Nakeeb A, Pitt HA, Sohn TA, et al. Cholangiocarcinoma. A spectrum of intrahepatic, perihilar, and distal tumors. Ann Surg. 1996;224:463–73.

Burke EC, Jarnagin WR, Hochwald SN, Pisters PW, Fong Y, Blumgart LH. Hilar Cholangiocarcinoma: patterns of spread, the importance of hepatic resection for curative operation, and a presurgical clinical staging system. Ann Surg. 1998;228:385–94.

Park S, Park YS, Chung JB, et al. Patterns and relevant factors of tumor recurrence for extrahepatic bile duct carcinoma after radical resection. Hepatogastroenterology. 2004;51:1612–8.

Kobayashi A, Miwa S, Nakata T, Miyagawa S. Disease recurrence patterns after R0 resection of hilar cholangiocarcinoma. Br J Surg. 2010;97:56–64.

Glenn J, Steinberg WM, Kurtzman SH, Steinberg SM, Sindelar WF. Evaluation of the utility of a radioimmunoassay for serum CA 19-9 levels in patients before and after treatment of carcinoma of the pancreas. J Clin Oncol. 1988;6:462–8.

Sperti C, Pasquali C, Catalini S, Cappellazzo F, Bonadimani B, Behboo R, Pedrazzoli S. CA 19-9 as a prognostic index after resection for pancreatic cancer. J Surg Oncol. 1993;52:137–41.

Kang CM, Kim JY, Choi GH, Kim KS, Choi JS, Lee WJ, Kim BR. The use of adjusted preoperative CA 19-9 to predict the recurrence of resectable pancreatic cancer. J Surg Res. 2007;140:31–5.

Bonney GK, Craven RA, Prasad R, Melcher AF, Selby PJ, Banks RE. Circulating markers of biliary malignancy: opportunities in proteomics? Lancet Oncol. 2008;9:149–58.

Marrelli D, Caruso S, Pedrazzani C, et al. CA19-9 serum levels in obstructive jaundice: clinical value in benign and malignant conditions. Am J Surg. 2009;198:333–9.

Jarnagin WR, Ruo L, Little SA, et al. Patterns of initial disease recurrence after resection of gallbladder carcinoma and hilar cholangiocarcinoma: implications for adjuvant therapeutic strategies. Cancer. 2003;98:1689–700.

Kayahara M, Nagakawa T, Nagakawara H, Kitagawa H, Ohta T. Prognostic factors for gallbladder cancer in Japan. Ann Surg. 2008;248:807–14.

Oh D, Lim do H, Heo JS, et al. The role of adjuvant radiotherapy in microscopic tumor control after extrahepatic bile duct cancer surgery. Am J Clin Oncol. 2007;30:21–5.

Hong SM, Cho H, Lee OJ, Ro JY. The number of metastatic lymph nodes in extrahepatic bile duct carcinoma as a prognostic factor. Am J Surg Pathol. 2005;29:1177–83.

Sakamoto Y, Kosuge T, Shimada K, et al. Prognostic factors of surgical resection in middle and distal bile duct cancer: an analysis of 55 patients concerning the significance of ductal and radial margins. Surgery. 2005;137:396–402.

Kobayashi S, Ngano H, Marubashi S, et al. Multidetector computed tomography for preoperative prediction of postsurgical prognosis of patients with extrahepatic biliary cancer. J Surg Oncol. 2010;101:376–83.

Miwa S, Miyagawa S, Kobayashi A, et al. Predictive factors for intrahepatic cholangiocarcinoma recurrence in the liver following surgery. J Gastroenterol. 2006;41:893–900.

Harder J, Kummer O, Olschewski M, Otto F, Blum HE, Opitz O. Prognostic relevance of carbohydrate antigen 19-9 levels in patients with advanced biliary tract cancer. Cancer Epidemiol Biomarkers Prev. 2007;16:2097–100.

Mann DV, Edwards R, Ho S, Lau WY, Glazer G. Elevated tumour marker CA19-9: clinical interpretation and influence of obstructive jaundice. Eur J Surg Oncol. 2000;26:474–9.

Hatzaras I, Schmidt C, Muscarella P, Melvin WS, Ellison EC, Bloomston M. Elevated CA 19-9 portends poor prognosis in patients undergoing resection of biliary malignancies. HPB (Oxford). 2010;12(2):134–8.

Yoon J, Higuchi H, Werneburg NW, Kaufmann SH, Gores GJ. Bile acids induce cyclooxygenase-2 expression via the epidermal growth factor receptor in a human cholangiocarcinoma cell line. Gastroenterology. 2002;122:985–93.

Sirica AE, Lai GH, Zhang Z. Biliary cancer growth factor pathways, cyclo-oxygenase-2 and potential therapeutic strategies. J Gastroenterol Hepatol. 2001;16:363–72.

Anderson C, Kim R. Adjuvant therapy for resected extrahepatic cholangiocarcinoma: a review of the literature and future directions. Cancer Treat Rev. 2009;35:322–7.
Conflict of interest
None of the authors have any conflict of interest to disclose.
About this article
Cite this article
Chung, M.J., Lee, K.J., Bang, S. et al. Preoperative Serum CA 19-9 Level as a Predictive Factor for Recurrence after Curative Resection in Biliary Tract Cancer. Ann Surg Oncol 18, 1651–1656 (2011). https://doi.org/10.1245/s10434-010-1529-7
Received:

Published:

Issue Date:

DOI: https://doi.org/10.1245/s10434-010-1529-7
Keywords