Abstract
Background
Recurrent parotid pleomorphic adenoma surgery increases the risk of facial nerve injury, and there is also a risk of ulterior recurrence.
Methods
Postoperative results from 62 consecutive patients operated for recurrent pleomorphic adenoma were analyzed. It was the first recurrence for 49 patients (79%), the second or more for 13 patients (21%).
Results
Total parotidectomy was performed in 69.4% of cases. Skin resection was performed in 47 patients (75.8%). Resection of a facial nerve branch was performed in seven patients (11.3%). Pathologic examination findings revealed carcinoma ex pleomorphic adenoma in 10/62 cases (16.1%) and microscopic multinodular disease in 39 patients (62.9%). Nine patients had preoperative facial palsy, 95% had postoperative facial paralysis ≥grade II (House–Brackmann scale), and 11.3% still had ≥grade III facial palsy after 1 year. Six patients developed another recurrence after our intervention (9.68%). Moreover, carcinoma was discovered after a new intervention in 40% of these patients. Initial partial parotid surgery [hazard ratio (HR) = 8.477, P = 0.008], microscopic multinodular recurrent disease (HR = 11.717, P = 0.005), and ≥1 recurrence number (HR = 10.608, P = 0.01) were associated with increased risk of ulterior recurrence.
Conclusion
Surgery is recommended in pleomorphic adenoma recurrence because of the high rate of carcinoma ex pleomorphic adenoma (16.1%). Nevertheless, a definitive facial paralysis ≥grade III rate of 11.3% is reported after multiple nerve dissection. New recurrence after surgery is less frequent if the initial treatment for pleomorphic adenoma is total parotidectomy.
Access options
Buy single article
Instant access to the full article PDF.
US$ 39.95
Tax calculation will be finalised during checkout.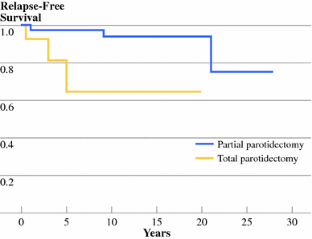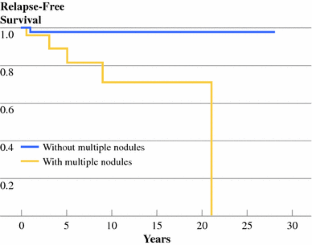 References
1.

Woods JE, Chong GC, Beahrs OH. Experience with 1,360 primary parotid tumors. Am J Surg. 1975;130:460–2.

2.

Donovan DT, Conley JJ. Capsular significance in parotid tumor surgery: reality and myths of lateral lobectomy. Laryngoscope. 1984;94:324–9.

3.

Spiro RH. Salivary neoplasms: overview of a 35-year experience with 2,807 patients. Head Neck Surg. 1986;8:177–84.

4.

Naeim F, Forsberg MI, Waisman J, et al. Mixed tumors of the salivary glands. Growth pattern and recurrence. Arch Pathol Lab Med. 1976;100:271–5.

5.

Krolls SO, Boyers RC. Mixed tumors of salivary glands. Long-term follow-up. Cancer. 1972;30:276–81.

6.

Eneroth CM. Histological and clinical aspects of parotid tumours. Acta Otolaryngol. 1964;188:suppl 191:1–99.

7.

Carew JF, Spiro RH, Singh B, et al. Treatment of recurrent pleomorphic adenomas of the parotid gland. Otolaryngol Head Neck Surg. 1999;121:539–42.

8.

Makeieff M, Venail F, Cartier C, et al. Continuous facial nerve monitoring during pleomorphic adenoma recurrence surgery. Laryngoscope. 2005;115:1310–4.

9.

Leverstein H, Tiwari RM, Snow GB, et al. The surgical management of recurrent or residual pleomorphic adenomas of the parotid gland. Analysis and results in 40 patients. Eur Arch Otorhinolaryngol. 1997;254:313–7.

10.

Witt RL. The significance of the margin in parotid surgery for pleomorphic adenoma. Laryngoscope. 2002;112:2141–54.

11.

Bradley PJ. Pleomorphic salivary adenoma of the parotid gland: which operation to perform? Curr Opin Otolaryngol Head Neck Surg. 2004;12:69–70.

12.

Wittekindt C, Streubel K, Arnold G, et al. Recurrent pleomorphic adenoma of the parotid gland: analysis of 108 consecutive patients. Head Neck. 2007;29:822–8.

13.

Zbaren P, Stauffer E. Pleomorphic adenoma of the parotid gland: histopathologic analysis of the capsular characteristics of 218 tumors. Head Neck. 2007;29:751–7.

14.

Maran AG, Mackenzie IJ, Stanley RE. Recurrent pleomorphic adenomas of the parotid gland. Arch Otolaryngol. 1984;110:167–71.

15.

Glas AS, Vermey A, Hollema H, et al. Surgical treatment of recurrent pleomorphic adenoma of the parotid gland: a clinical analysis of 52 patients. Head Neck. 2001;23:311–6.

16.

Marchese-Ragona R, De Filippis C, Marioni G, et al. Treatment of complications of parotid gland surgery. Acta Otorhinolaryngol Ital. 2005;25:174–8.

17.

Jackson SR, Roland NJ, Clarke RW, et al. Recurrent pleomorphic adenoma. J Laryngol Otol. 1993;107:546–9.

18.

Douglas JG, Einck J, Austin-Seymour M, et al. Neutron radiotherapy for recurrent pleomorphic adenomas of major salivary glands. Head Neck. 2001;23:1037–42.

19.

Phillips PP, Olsen KD. Recurrent pleomorphic adenoma of the parotid gland: report of 126 cases and a review of the literature. Ann Otol Rhinol Laryngol. 1995;104:100–4.

20.

Suh MW, Hah JH, Kwon SK, et al. Clinical manifestations of recurrent parotid pleomorphic adenoma. Clin Exp Otorhinolaryngol. 2009;2:193–7.
Acknowledgment
The authors stated that they do not have any commercial interest in the subject of this study and the source of any financial or material support.
About this article
Cite this article
Makeieff, M., Pelliccia, P., Letois, F. et al. Recurrent Pleomorphic Adenoma: Results of Surgical Treatment. Ann Surg Oncol 17, 3308–3313 (2010). https://doi.org/10.1245/s10434-010-1173-2
Received:

Published:

Issue Date:
Keywords
Facial Nerve

Pleomorphic Adenoma

Facial Nerve Function

Facial Paralysis

Salivary Gland Tissue