Abstract
Background
Curative resection has been shown to be one of the key factors influencing survival of pancreatic ductal adenocarcinoma (PDAC) patients. Although general guidelines for the processing of pancreatic specimens have been established, there is currently no widely accepted standardized protocol for pathological examination, especially with respect to resection margins.
Methods
Here we present a single-center experience with 111 consecutive macroscopic complete pancreatic head resections for PDAC carried out between 2005 and 2006 by using standardized pathological processing and reporting. The pancreatic transection margin, as well as the bile duct and stomach/duodenum margins and the circumferential soft tissue margins (medial, anterior surface, superior, and posterior), were inked and analyzed. R1 was defined as a distance of the tumor from the resection margin of ≤1 mm.
Results
One hundred eighty-eight consecutive macroscopic complete pancreatic head resections carried out for PDAC without a standardized protocol between 2002 and 2004 were used as a control group. The R1 rate for resections carried out with the standardized protocol was 76%. The medial (68%) and the posterior (47%) margins were most commonly involved, and in 32% of the cases, more than one margin was affected. The R1 resection rate in the period without standardized pathological reporting was 14%.
Conclusions
This study highlights the importance of pathological reporting and suggests that tumor growth patterns and thorough examination but not surgical technique determine R1 resection rates in PDAC.
Access options
Buy single article
Instant access to the full article PDF.
USD 39.95
Price excludes VAT (USA)
Tax calculation will be finalised during checkout.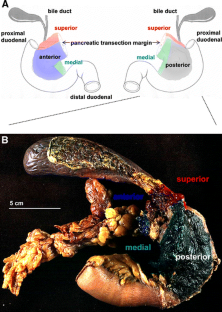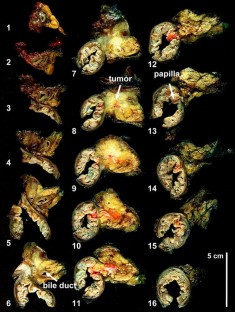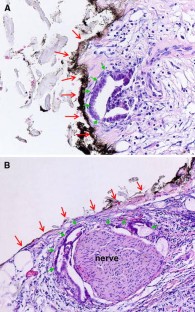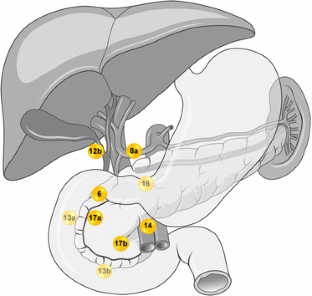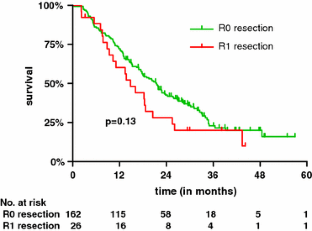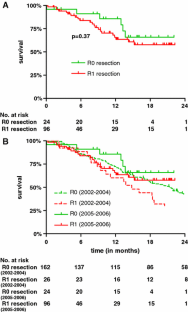 References
Jemal A, Siegel R, Ward E, et al. Cancer statistics, 2007. CA Cancer J Clin 2007;57:43–66

Richter A, Niedergethmann M, Sturm JW, et al. Long-term results of partial pancreaticoduodenectomy for ductal adenocarcinoma of the pancreatic head: 25-year experience. World J Surg 2003;27:324–9

Wagner M, Redaelli C, Lietz M, et al. Curative resection is the single most important factor determining outcome in patients with pancreatic adenocarcinoma. Br J Surg 2004;91:586–94

Winter JM, Cameron JL, Campbell KA, et al. 1423 pancreaticoduodenectomies for pancreatic cancer: a single-institution experience. J Gastrointest Surg 2006;10:1199–210

Kleeff J, Michalski CW, Friess H, et al. Surgical treatment of pancreatic cancer: the role of adjuvant and multimodal therapies. Eur J Surg Oncol 2007;33:817–23

Neoptolemos JP, Stocken DD, Friess H, et al. A randomized trial of chemoradiotherapy and chemotherapy after resection of pancreatic cancer. N Engl J Med 2004;350:1200–10

Oettle H, Post S, Neuhaus P, et al. Adjuvant chemotherapy with gemcitabine vs observation in patients undergoing curative-intent resection of pancreatic cancer: a randomized controlled trial. JAMA 2007;297:267–77

Kleeff J, Reiser C, Hinz U, et al. Surgery for recurrent pancreatic ductal adenocarcinoma. Ann Surg 2007;245:566–72

Kayahara M, Nagakawa T, Ueno K, et al. An evaluation of radical resection for pancreatic cancer based on the mode of recurrence as determined by autopsy and diagnostic imaging. Cancer 1993;72:2118–23

Kurahara H, Takao S, Maemura K, et al. Impact of lymph node micrometastasis in patients with pancreatic head cancer. World J Surg 2007;31:483–90

Howard TJ, Krug JE, Yu J, et al. A margin-negative R0 resection accomplished with minimal postoperative complications is the surgeon's contribution to long-term survival in pancreatic cancer. J Gastrointest Surg 2006;10:1338–45

Jarufe NP, Coldham C, Mayer AD, et al. Favourable prognostic factors in a large UK experience of adenocarcinoma of the head of the pancreas and periampullary region. Dig Surg 2004;21:202–9

Sohn TA, Yeo CJ, Cameron JL, et al. Should pancreaticoduodenectomy be performed in octogenarians? J Gastrointest Surg 1998;2:207–16

Willett CG, Lewandrowski K, Warshaw AL, et al. Resection margins in carcinoma of the head of the pancreas. Implications for radiation therapy. Ann Surg 1993;217:144–8

Yeo CJ, Cameron JL, Lillemoe KD, et al. Pancreaticoduodenectomy for cancer of the head of the pancreas. 201 patients. Ann Surg 1995;221:721–31

Hishinuma S, Ogata Y, Tomikawa M, et al. Patterns of recurrence after curative resection of pancreatic cancer, based on autopsy findings. J Gastrointest Surg 2006;10:511–8

Luttges J, Zamboni G, Kloppel G Recommendation for the examination of pancreaticoduodenectomy specimens removed from patients with carcinoma of the exocrine pancreas. A proposal for a standardized pathological staging of pancreaticoduodenectomy specimens including a checklist. Dig Surg 1999;16:291–6

Verbeke CS, Leitch D, Menon KV, et al. Redefining the R1 resection in pancreatic cancer. Br J Surg 2006;93:1232–7

Michalski CW, Kleeff J, Wente MN, et al. Systematic review and meta-analysis of standard and extended lymphadenectomy in pancreaticoduodenectomy for pancreatic cancer. Br J Surg 2007;94:265–73

Pedrazzoli S, Beger HG, Obertop H, et al. A surgical and pathological based classification of resective treatment of pancreatic cancer. Summary of an international workshop on surgical procedures in pancreatic cancer. Dig Surg 1999;16:337–45

Japan Pancreas Society. Classification of Pancreatic Carcinoma. 2nd English ed. Tokyo: Kanehara, 2003

Klöppel G, Hruban RH, Longnecker DS, et al. Ductal adenocarcinoma of the pancreas. In: Hamilton SR, Aaltonen LA, eds. WHO Classification of Tumours: Pathology and Genetics of Tumours of the Digestive System. Lyon: IARC Press, 2000:221–30

Sobin KH, Wittekind C TNM Classification of Malignant Tumors. 6th ed. New York: Wiley-Liss, 2002

Allema JH, Reinders ME, van Gulik TM, et al. Prognostic factors for survival after pancreaticoduodenectomy for patients with carcinoma of the pancreatic head region. Cancer 1995;75:2069–76

Nakao A, Takeda S, Sakai M, et al. Extended radical resection versus standard resection for pancreatic cancer: the rationale for extended radical resection. Pancreas 2004;28:289–92

Kawarada Y [New classification of pancreatic carcinoma—Japan Pancreas Society]. Nippon Shokakibyo Gakkai Zasshi 2003;100:974–80

Luttges J, Vogel I, Menke M, et al. The retroperitoneal resection margin and vessel involvement are important factors determining survival after pancreaticoduodenectomy for ductal adenocarcinoma of the head of the pancreas. Virchows Arch 1998;433:237–42

Matsuno S, Egawa S, Fukuyama S, et al. Pancreatic Cancer Registry in Japan: 20 years of experience. Pancreas 2004;28:219–30

Staley CA, Cleary KR, Abbruzzese JL, et al. The need for standardized pathologic staging of pancreaticoduodenectomy specimens. Pancreas 1996;12:373–80

Diener MK, Knaebel HP, Heukaufer C, et al. A systematic review and meta-analysis of pylorus-preserving versus classical pancreaticoduodenectomy for surgical treatment of periampullary and pancreatic carcinoma. Ann Surg 2007;245:187–200

Greene FL, Page DL, Fleming ID, et al. AJCC Cancer Staging Manual. 6th ed. New York: Springer-Verlag, 2002

Autschbach F The pathological assessment of total mesorectal excision: what are the relevant resection margins? Recent Results Cancer Res 2005;165:30–9

Nagakawa T, Nagamori M, Futakami F, et al. Results of extensive surgery for pancreatic carcinoma. Cancer 1996;77:640–5

Tsuchiya R, Noda T, Harada N, et al. Collective review of small carcinomas of the pancreas. Ann Surg 1986;203:77–81

Verbeke CS. Resection margins and R1 rates in pancreatic cancer—are we there yet? Histopathology 13 Dec 2007 [Epub ahead of print]

Stocken DD, Buchler MW, Dervenis C, et al. Meta-analysis of randomised adjuvant therapy trials for pancreatic cancer. Br J Cancer 2005;92:1372–81
Acknowledgments
The standardized protocol for the sectioning of PD specimens was conceived together with F. Campbell (Department of Pathology, University of Liverpool, United Kingdom) and C. S. Verbeke (Department of Histopathology, University of Leeds, United Kingdom). J. P. Neoptolemos (Division of Surgery and Oncology, University of Liverpool, United Kingdom) and all the members of the European Study Group for Pancreatic Cancer steering committee (http://www.liv.ac.uk/surgery/research/espac.htm) contributed with useful suggestions to the development of the protocol. The authors thank V. Vukovic for technical assistance.
Additional information
Presented at the 5th International Postgraduate Course Frontiers in HPB Diseases, Athens, Greece, March 2007; at the EHPBA meeting 2007, Verona, Italy, June 2007; and at the 16th Billroth Symposium, Binz, Germany, October 2007.
About this article
Cite this article
Esposito, I., Kleeff, J., Bergmann, F. et al. Most Pancreatic Cancer Resections are R1 Resections. Ann Surg Oncol 15, 1651–1660 (2008). https://doi.org/10.1245/s10434-008-9839-8
Received:

Revised:

Accepted:

Published:

Issue Date:

DOI: https://doi.org/10.1245/s10434-008-9839-8
Keywords
Pancreatic cancer

Margins

Local recurrence

Survival

Pathology reporting