Abstract
Background
Conflicting results from previous studies on gastric adenocarcinoma (GC) in young patients have led to controversy surrounding the prognosis for young GC patients.
Methods
The authors studied 6954 patients with GC who received curative resections. They were classified into three groups: those aged 40 years or less ("young," 12.7%); those aged 41–65 years ("middle-aged," 66.7%); and those aged more than 65 years ("elderly," 20.6%). Clinicopathologic characteristics and overall survival rates were analyzed.
Results
Young patients were predominately female and had tumors that were histologically undifferentiated. However, in regard to T4 invasion, N3 lymph node metastasis, and TNM stage IV, the characteristics of the tumors of young patients were similar to those of middle-aged and elderly patients. Overall survival rate was significantly better in young patients than middle-aged patients (P = .018) and elderly patients (P < .001). Stratified by TNM stage, young patients showed better overall survival at stage I than middle-aged patients, and at stages I, II, and IIIa than elderly patients. Multivariate analysis indicated that age was an independent prognostic factor (as well as gender, operation type, depth of invasion, and lymph node status).
Conclusions
The predominance of female cases and tumors that were histologically undifferentiated were distinctive characteristics in young patients. Young patients could gain a survival benefit after curative resection with stage I disease.
Access options
Buy single article
Instant access to the full article PDF.
USD 39.95
Price includes VAT (USA)
Tax calculation will be finalised during checkout.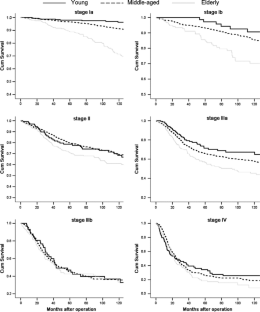 References
1.

Parkin DM, Bray F, Ferlay J, et al. Global cancer statistics, 2002. CA Cancer J Clin 2005; 55:74–108

2.

Lee HJ, Yang HK, Ahn YO. Gastric cancer in Korea. Gastric Cancer 2002; 5:177–82

3.

Kunisaki C, Akiyama H, Nomura M, et al. Clinicopathological features of gastric carcinoma in younger and middle-aged patients: a comparative study. J Gastrointest Surg 2006; 10:1023–32

4.

Koea JB, Karpeh MS, Brennan MF. Gastric cancer in young patients: demographic, clinicopathological, and prognostic factors in 92 patients. Ann Surg Oncol 2000; 7:346–51

5.

Theuer CP, Kurosaki T, Taylor TH, et al. Unique features of gastric carcinoma in the young: a population-based analysis. Cancer 1998; 83:25–33

6.

Katai H, Sasako M, Sano T, et al. Gastric carcinoma in young adults. Jpn J Clin Oncol 1996; 26:139–43

7.

Ramos-De la Medina A, Salgado-Nesme N, Torres-Villalobos G, et al. Clinicopathologic characteristics of gastric cancer in a young patient population. J Gastrointest Surg 2004; 8:240–4

8.

Theuer CP, de Virgilio C, Keese G, et al. Gastric adenocarcinoma in patients 40 years of age or younger. Am J Surg 1996; 172:473–6; discussion 476–7

9.

Medina-Franco H, Heslin MJ, Cortes-Gonzalez R: Clinicopathological characteristics of gastric carcinoma in young and elderly patients: a comparative study. Ann Surg Oncol 2000; 7:515–9

10.

Matley PJ, Dent DM, Madden MV, et al. Gastric carcinoma in young adults. Ann Surg 1988; 208:593–6

11.

Bloss RS, Miller TA, Copeland EM. Carcinoma of the stomach in the young adult. Surg Gynecol Obstet 1980; 150:883–6

12.

Fujimoto S, Takahashi M, Ohkubo H, et al. Comparative clinicopathologic features of early gastric cancer in young and older patients. Surgery 1994; 115:516–20

13.

Santoro R, Carboni F, Lepiane P, et al. Clinicopathological features and prognosis of gastric cancer in young European adults. Br J Surg 2007; 94:737–42

14.

Nakamura K, Ueyama T, Yao T, et al. Pathology and prognosis of gastric carcinoma. Findings in 10,000 patients who underwent primary gastrectomy. Cancer 1992; 70:1030–7

15.

Siewert JR, Bottcher K, Stein HJ, et al. Relevant prognostic factors in gastric cancer: ten-year results of the German Gastric Cancer Study. Ann Surg 1998; 228:449–61

16.

Llanos O, Butte JM, Crovari F, et al. Survival of young patients after gastrectomy for gastric cancer. World J Surg 2006; 30:17–20

17.

Eguchi T, Fujii M, Takayama T. Mortality for gastric cancer in elderly patients. J Surg Oncol 2003; 84:132–6

18.

Japanese Gastric Cancer Association. Japanese Classification of Gastric Carcinoma—2nd English edition. Gastric Cancer 1998; 1:10–24

19.

Hosokawa O, Tsuda S, Kidani E, et al. Diagnosis of gastric cancer up to three years after negative upper gastrointestinal endoscopy. Endoscopy 1998; 30:669–74

20.

Korean Gastric Cancer Association. Nationwide Gastric Cancer Report in Korea. J Korean Gastric Cancer Assoc 2002; 2:105–114

21.

Maconi G, Kurihara H, Panizzo V, et al. Gastric cancer in young patients with no alarm symptoms: focus on delay in diagnosis, stage of neoplasm and survival. Scand J Gastroenterol 2003; 38:1249–55

22.

Boldys H, Marek TA, Wanczura P, et al. Even young patients with no alarm symptoms should undergo endoscopy for earlier diagnosis of gastric cancer. Endoscopy 2003; 35:61–7
Additional information
Ji Fu Lai and Sungsoo Kim contribute equally to this work.
About this article
Cite this article
Lai, J.F., Kim, S., Li, C. et al. Clinicopathologic Characteristics and Prognosis for Young Gastric Adenocarcinoma Patients after Curative Resection. Ann Surg Oncol 15, 1464–1469 (2008). https://doi.org/10.1245/s10434-008-9809-1
Received:

Revised:

Accepted:

Published:

Issue Date:
Keywords
Gastric carcinoma

Young age

Curative resection

Overall survival