Abstract
Salvage surgery of recurrent or persistent anal cancer following radiotherapy is often followed by perineal wound complications. We examined survival and perineal wound complications in anal cancer salvage surgery during a 10-year period with primary perineal reconstruction predominantly performed using vertical rectus abdominis myocutaneous (VRAM) flap. Between 1997 and 2006, 49 patients underwent anal cancer salvage surgery. Of these, 48 had primary reconstruction with VRAM. Overall survival was computed by the Kaplan–Meier method and mortality rate ratios (MRRs) by Cox regression. One patient (2%) died within 30 days postoperatively. Postoperative complications necessitated reoperation in eight (16%) patients. We found no major perineal wound infections. Major perineal wound breakdown occurred in the only patient in whom VRAM was not used. Five-year survival was 61% [95% confidence interval (CI) 43–75%]. Free resection margins (R0) were obtained in 78% of patients, with 5-year survival of 75% (95% CI 53–87%). Involved margins, microscopically only (R1) or macroscopically (R2), strongly predicted an adverse outcome [age-adjusted 2-year MRRs (95% CI) R1 vs. R0 = 4.1 (0.7–23.6), R2 vs. R0 = 10.9 (2.2–54.2)]. We conclude that anal cancer salvage surgery can yield long-time survival but obtaining free margins is critical. A low rate of perineal complications is achievable by primary perineal reconstruction using VRAM flap.
This is a preview of subscription content, log in to check access.
Access options
Buy single article
Instant access to the full article PDF.
US$ 39.95
Tax calculation will be finalised during checkout.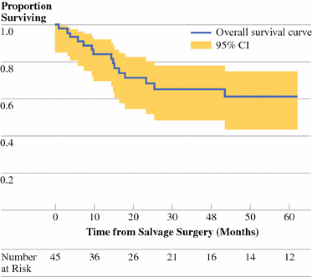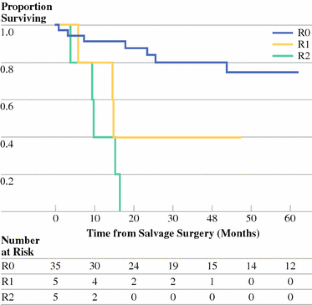 References
1.

Frisch M, Melbye M, Moller H. Trends in incidence of anal cancer in Denmark. BMJ. 1993;306:419–22.

2.

UKCCCR Anal Cancer Trial Working Party. UK Co-ordinating Committee on Cancer Research. Epidermoid anal cancer: results from the UKCCCR randomised trial of radiotherapy alone versus radiotherapy, 5-fluorouracil, and mitomycin. Lancet. 1996;348:1049–54.

3.

Bartelink H, Roelofsen F, Eschwege F, et al. Concomitant radiotherapy and chemotherapy is superior to radiotherapy alone in the treatment of locally advanced anal cancer: results of a phase III randomized trial of the European Organization for Research and Treatment of Cancer Radiotherapy and Gastrointestinal Cooperative Groups. J Clin Oncol. 1997;15:2040–9.

4.

Renehan AG, Saunders MP, Schofield PF, O'Dwyer ST. Patterns of local disease failure and outcome after salvage surgery in patients with anal cancer. Br J Surg. 2005;92:605–14.

5.

Rousseau DL Jr, Thomas CR Jr, Petrelli NJ, Kahlenberg MS. Squamous cell carcinoma of the anal canal. Surg Oncol. 2005;14:121–32.

6.

Ellenhorn JD, Enker WE, Quan SH. Salvage abdominoperineal resection following combined chemotherapy and radiotherapy for epidermoid carcinoma of the anus. Ann Surg Oncol. 1994;1:105–10.

7.

Pocard M, Tiret E, Nugent K, Dehni N, Parc R. Results of salvage abdominoperineal resection for anal cancer after radiotherapy. Dis Colon Rectum. 1998;41:1488–93.

8.

Allal AS, Laurencet FM, Reymond MA, Kurtz JM, Marti MC. Effectiveness of surgical salvage therapy for patients with locally uncontrolled anal carcinoma after sphincter-conserving treatment. Cancer. 1999;86:405–9.

9.

Smith AJ, Whelan P, Cummings BJ, Stern HS. Management of persistent or locally recurrent epidermoid cancer of the anal canal with abdominoperineal resection. Acta Oncol. 2001;40:34–6.

10.

van der Wal BC, Cleffken BI, Gulec B, Kaufman HS, Choti MA. Results of salvage abdominoperineal resection for recurrent anal carcinoma following combined chemoradiation therapy. J Gastrointest Surg. 2001;5:383–7.

11.

Nilsson PJ, Svensson C, Goldman S, Glimelius B. Salvage abdominoperineal resection in anal epidermoid cancer. Br J Surg. 2002;89:1425–9.

12.

Akbari RP, Paty PB, Guillem JG, et al. Oncologic outcomes of salvage surgery for epidermoid carcinoma of the anus initially managed with combined modality therapy. Dis Colon Rectum. 2004;47:1136–44.

13.

Bai YK, Cao WL, Gao JD, Liang J, Shao YF. Surgical salvage therapy of anal canal cancer. World J Gastroenterol. 2004;10:424–6.

14.

Ferenschild FT, Vermaas M, Hofer SO, Verhoef C, Eggermont AM, de Wilt JH. Salvage abdominoperineal resection and perineal wound healing in local recurrent or persistent anal cancer. World J Surg. 2005;29:1452–7.

15.

Ghouti L, Houvenaeghel G, Moutardier V, et al. Salvage abdominoperineal resection after failure of conservative treatment in anal epidermoid cancer. Dis Colon Rectum. 2005;48:16–22.

16.

Mullen JT, Rodriguez-Bigas MA, Chang GJ, Barcenas CH, Crane CH, Skibber JM, et al. Results of surgical salvage after failed chemoradiation therapy for epidermoid carcinoma of the anal canal. Ann Surg Oncol. 2007;14:478–83.

17.

Schiller DE, Cummings BJ, Rai S, et al. Outcomes of salvage surgery for squamous cell carcinoma of the anal canal. Ann Surg Oncol. 2007;14:2780–9.

18.

Papaconstantinou HT, Bullard KM, Rothenberger DA, Madoff RD. Salvage abdominoperineal resection after failed Nigro protocol: modest success, major morbidity. Colorectal Dis. 2006;8:124–9.

19.

Friedman J, Dinh T, Potochny J. Reconstruction of the perineum. Semin Surg Oncol. 2000;19:282–93.

20.

Tei TM, Stolzenburg T, Buntzen S, Laurberg S, Kjeldsen H. Use of transpelvic rectus abdominis musculocutaneous flap for anal cancer salvage surgery. Br J Surg. 2003;90:575–80.

21.

Carlson JW, Carter JR, Saltzman AK, Carson LF, Fowler JM, Twiggs LB. Gynecologic reconstruction with a rectus abdominis myocutaneous flap: an update. Gynecol Oncol. 1996;61:364–8.

22.

Smith HO, Genesen MC, Runowicz CD, Goldberg GL. The rectus abdominis myocutaneous flap: modifications, complications, and sexual function. Cancer. 1998;83:510–20.

23.

D'Souza DN, Pera M, Nelson H, Finical SJ, Tran NV. Vaginal reconstruction following resection of primary locally advanced and recurrent colorectal malignancies. Arch Surg. 2003;138:1340–3.

24.

Bakx R, van Lanschot JJ, Zoetmulder FA. Inferiorly based rectus abdominis myocutaneous flaps in surgical oncology: indications, technique, and experience in 37 patients. J Surg Oncol. 2004;85:93–7.

25.

Buchel EW, Finical S, Johnson C. Pelvic reconstruction using vertical rectus abdominis musculocutaneous flaps. Ann Plast Surg. 2004;52:22–6.

26.

Bell SW, Dehni N, Chaouat M, Lifante JC, Parc R, Tiret E. Primary rectus abdominis myocutaneous flap for repair of perineal and vaginal defects after extended abdominoperineal resection. Br J Surg. 2005;92:482–6.

27.

Chessin DB, Hartley J, Cohen AM, et al. Rectus flap reconstruction decreases perineal wound complications after pelvic chemoradiation and surgery: a cohort study. Ann Surg Oncol. 2005;12:104–10.

28.

Houvenaeghel G, Ghouti L, Moutardier V, Buttarelli M, Lelong B, Delpero JR. Rectus abdominis myocutaneous flap in radical oncopelvic surgery: a safe and useful procedure. Eur J Surg Oncol. 2005;31:1185–90.

29.

Soper JT, Secord AA, Havrilesky LJ, Berchuck A, Clarke-Pearson DL. Comparison of gracilis and rectus abdominis myocutaneous flap neovaginal reconstruction performed during radical pelvic surgery: flap-specific morbidity. Int J Gynecol Cancer. 2007;17:298–303.

30.

de Haas WG, Miller MJ, Temple WJ, Kroll SS, Schusterman MA, Reece GP, et al. Perineal wound closure with the rectus abdominis musculocutaneous flap after tumor ablation. Ann Surg Oncol. 1995;2:400–6.

31.

McAllister E, Wells K, Chaet M, Norman J, Cruse W. Perineal reconstruction after surgical extirpation of pelvic malignancies using the transpelvic transverse rectus abdominal myocutaneous flap. Ann Surg Oncol. 1994;1:164–8.

32.

Radice E, Nelson H, Mercill S, Farouk R, Petty P, Gunderson L. Primary myocutaneous flap closure following resection of locally advanced pelvic malignancies. Br J Surg. 1999;86:349–54.

33.

Casey WJ III, Tran NV, Petty PM, Stulak JM, Woods JE. A comparison of 99 consecutive vaginal reconstructions: an outcome study. Ann Plast Surg. 2004;52:27–30.

34.

Anal Canal. In: L.H.Sobin, Ch.Wittekind, editors. UICC, International Union Against Cancer, TNM classification of malignant tumours. 6th ed. New York: Wiley–Liss; 2002. p. 77–80.

35.

Pedersen CB, Gotzsche H, Moller JO, Mortensen PB. The Danish Civil Registration System. A cohort of eight million persons. Dan Med Bull. 2006;53:441–9.

36.

Hill J, Meadows H, Haboubi N, Talbot IC, Northover JM. Pathological staging of epidermoid anal carcinoma for the new era. Colorectal Dis. 2003;5:206–13.

37.

Suzuki K, Gunderson LL, Devine RM, et al. Intraoperative irradiation after palliative surgery for locally recurrent rectal cancer. Cancer. 1995;75:939–52.

38.

Larsen SG, Wiig JN, Dueland S, Giercksky KE. Prognostic factors after preoperative irradiation and surgery for locally advanced rectal cancer. Eur J Surg Oncol. in press 2007. doi:10.1016/j.ejso.2007.05.012.

39.

Lindegaard JC, Rasmussen PC, Tanderup K, Nielsen SK, Kjeldsen H, Langkilde NC, et al. Interstitial PDR brachytherapy in locally inoperable primary or recurrent rectal cancer. Radiother Oncol. 2005;75:Supplement 1 S20 [Abstract].

40.

Alektiar KM, Zelefsky MJ, Paty PB, Guillem J, Saltz LB, Cohen AM, et al. High-dose-rate intraoperative brachytherapy for recurrent colorectal cancer. Int J Radiat Oncol Biol Phys. 2000;48:219–26.

41.

Tibbs MK. Wound healing following radiation therapy: a review. Radiother Oncol. 1997;42:99–106.

42.

Christian CK, Kwaan MR, Betensky RA, Breen EM, Zinner MJ, Bleday R. Risk factors for perineal wound complications following abdominoperineal resection. Dis Colon Rectum. 2005;48:43–8.

43.

Butler CE, Rodriguez-Bigas MA. Pelvic reconstruction after abdominoperineal resection: is it worthwhile? Ann Surg Oncol. 2005;12:91–4.

44.

Helton WS, Fisichella PM, Berger R, Horgan S, Espat NJ, Abcarian H. Short-term outcomes with small intestinal submucosa for ventral abdominal hernia. Arch Surg. 2005;140:549–60.

45.

Patton JH, Jr., Berry S, Kralovich KA. Use of human acellular dermal matrix in complex and contaminated abdominal wall reconstructions. Am J Surg. 2007;193:360–3.
Acknowledgements
This work has received financial support from the Danish Cancer Society.
About this article
Cite this article
Sunesen, K.G., Buntzen, S., Tei, T. et al. Perineal Healing and Survival After Anal Cancer Salvage Surgery: 10-Year Experience with Primary Perineal Reconstruction Using the Vertical Rectus Abdominis Myocutaneous (VRAM) Flap. Ann Surg Oncol 16, 68–77 (2009). https://doi.org/10.1245/s10434-008-0208-4
Received:

Revised:

Accepted:

Published:

Issue Date:
Keywords
Anal Cancer

Parastomal Hernia

Perineal Wound

Perineal Hernia

Vertical Rectus Abdominis Myocutaneous