Abstract
Background
Sentinel lymph node biopsy (SLNB) is prognostically useful in patients with cutaneous melanoma with Breslow thickness >1 mm. The objective of this study was to determine whether sentinel node histology has similar prognostic importance in patients with thin melanomas (≤1 mm).
Methods
This was a retrospective study of patients who underwent SLNB for clinically localized melanoma at Indiana University Medical Center between 1994 and 2003. SLNB results and traditional melanoma prognostic indicators were studied in univariate log-rank tests.
Results
One hundred eighty-four patients with melanomas ≤1 mm thick underwent SLNB. SLNB was tumor positive in 12 patients (6.5%). Univariate analysis of SLNB results revealed that Breslow thickness, Clark level of invasion, and mitotic index were associated with SLNB status. Tumor positivity was observed at different rates in tumor thickness subsets: <.75 mm, 2.3%; and .75 to 1.0 mm, 10.2% (P = .0372). Disease-free survival and overall survival were significantly associated with SLNB results in melanomas ≤1 mm (log-rank test: P < .0001 and P = .0125, respectively) at a median follow-up of 26.3 months.
Conclusions
SLNB histology in melanomas ≤1.0 mm deep is a significant predictor of outcome. SLNB should be considered for selected patients with melanomas .75 to 1.0 mm.
Access options
Buy single article
Instant access to the full article PDF.
USD 39.95
Price excludes VAT (USA)
Tax calculation will be finalised during checkout.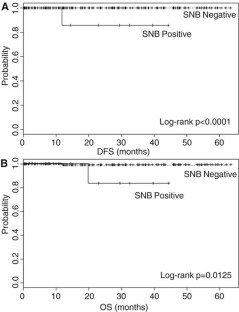 References
Lipsker DM, Hedelin G, Heid E, et al. Striking increase of thin melanomas contrasts with stable incidence of thick melanomas. Arch Dermatol 1999; 135:1451–6

Balch CM, Buzaid AC, Soong SJ, et al. Final version of the American Joint Committee on Cancer staging system for cutaneous melanoma. J Clin Oncol 2001; 19:3635–48

Woods JE, Soule EH, Creagan ET. Metastasis and death in patients with thin melanomas (< 0.76 mm). Ann Surg 1983; 198:63–4

Mansson-Brahme E, Carstensen J, Erhardt K, et al. Prognostic factors in thin cutaneous malignant melanoma. Cancer 1994; 73:2324–32

Slingluff CL, Vollmer RT, Reintgen DS, et al. Lethal "thin" malignant melanoma: identifying patients at risk. Ann Surg 1988; 208:150–61

Naruns PL, Nizze JA, Cochran AJ, et al. Recurrence potential of thin primary melanomas. Cancer 1986; 57:545–8

Corsetti RL, Allen HM, Wanebo HJ. Thin ≤1 mm level III and IV melanomas are higher risk lesions for regional failure and warrant sentinel lymph node biopsy. Ann Surg Oncol 2000; 7:456–60

Guitart J, Lowe L, Piepkorn M, et al. Histological characteristics of metastasizing thin melanomas: a case-control study of 43 cases. Arch Dermatol 2002; 138:603–8

Bedrosian I, Faries MB, Guerry D, et al. Incidence of sentinel node metastases in patients with thin primary melanoma (≤1 mm) with vertical growth phase. Ann Surg Oncol 2000; 7:262–7

Oliveira Filho RS, Ferreira LM, Biasi LJ, et al. Vertical growth phase and positive sentinel node in thin melanoma. Braz J Med Biol Res 2003; 36:347–50

Wagner JD, Gordon MS, Chuang TY, et al. Predicting sentinel and residual lymph node basin disease after sentinel lymph node biopsy for melanoma. Cancer 2000; 89:453–62

Gershenwald JE, Thompson W, Mansfield PF, et al. Multi-institutional melanoma lymphatic mapping experience: the prognostic value of sentinel lymph node status in 612 stage I or II melanoma patients. J Clin Oncol 1999; 17:976–83

Wagner JD, Ranieri J, Evdokimow DZ, et al. Patterns of initial recurrence and prognosis after sentinel lymph node biopsy and selective lymphadenectomy for melanoma. Plast Reconstr Surg 2003; 112:486–97

Lowe JB, Hurst E, Moley JF, et al. Sentinel lymph node biopsy in patients with thin melanoma. Arch Dermatol 2003; 139:617–21

Muller MG, Leeuwen PA, vanDiest PJ, et al. No indication for performing sentinel node biopsy in melanoma patients with a Breslow thickness of less than 0.9 mm. Melanoma Res 2001; 11:303–7

Morton DL, Wen DR, Wong JH, et al. Technical details of intra-operative lymphatic mapping for early stage melanoma. Arch Surg 1992; 127:392–9

Jacobs IA, Chang CK, DasGupta TK, et al. Role of sentinel lymph node biopsy in patients with thin (< 1 mm) primary melanoma. Ann Surg Oncol 2003; 10:558–61

Nahabedian MY, Tufaro AP, Manson PN. Sentinel lymph node biopsy for the T1 (thin) melanoma: is it necessary? Ann Plast Surg 2003; 50:601–6

Schmid-Wendtner MH, Baumert J, Schmidt M, et al. Prognostic index for cutaneous melanoma: an analysis after follow-up of 2715 patients. Melanoma Res 2001; 11:619–26

Azzola MF, Shaw HM, Thompson JF, et al. Tumor mitotic index is a more powerful prognostic indicator than ulceration in patients with primary cutaneous melanoma: an analysis of 3661 patients from a single center. Cancer 2003; 97:1488–98

Kesmodel SB, Karakousis GC, Botbyl JP, et al. Mitotic rate as a predictor for sentinel lymph node positivity in patients with thin melanomas. Ann Surg Oncol 2005; 12:449–58

Balch CM, Soong SJ, Gershenwald JE, et al. Prognostic factors analysis of 17,600 melanoma patients: validation of the American Joint Committee on Cancer melanoma staging system. J Clin Oncol 2001; 19:3622–34

Finley JW, Gibbs JF, Rodriguez LM, et al. Pathologic and clinical features influencing outcome of thin melanoma: correlation with newly proposed staging system. Am Surg 2000; 66:527–31

Agnese DM, Abdessalam SF, Burak WE, et al. Cost-effectiveness of sentinel lymph node biopsy in thin melanomas. Surgery 2003; 134:542–7
About this article
Cite this article
Ranieri, J.M., Wagner, J.D., Wenck, S. et al. The Prognostic Importance of Sentinel Lymph Node Biopsy in Thin Melanoma. Ann Surg Oncol 13, 927–932 (2006). https://doi.org/10.1245/ASO.2006.04.023
Received:

Accepted:

Published:

Issue Date:

DOI: https://doi.org/10.1245/ASO.2006.04.023
Keywords
Melanoma

Metastases

Sentinel lymph node

Prognosis

Tumor thickness

Breslow level