Abstract
Background
Trastuzumab, an anti-HER2/neu monoclonal antibody, is thought to promote HER2/neu receptor internalization and/or turnover. This study was designed to investigate the kinetics of trastuzumab treatment on tumor cells with varying levels of HER2/neu expression and to determine the effect of trastuzumab on HER2/neu-specific cytotoxic T lymphocyte–mediated lysis.
Methods
Three cell lines with varying levels of HER2/neu expression were incubated with varying doses of trastuzumab at multiple time points. Trastuzumab binding and HER2/neu expression were determined. Peripheral blood mononuclear cells from three HLA-A2+ healthy donors and four E75 peptide–vaccinated patients were stimulated with HER2/neu-derived peptides and tested in standard chromium release cytotoxicity assays with HER2/neu+ tumor cells pretreated with trastuzumab.
Results
Treatment of tumor cells with 10 μg/mL of trastuzumab in an overnight incubation resulted in saturation of cell-surface HER2/neu receptors. At higher doses, trastuzumab staining and HER2/neu expression decreased in a time-dependent manner. Pretreatment of tumor cells with trastuzumab resulted in increases in specific cytotoxicity by peptide-stimulated cytotoxic T lymphocytes from HLA-A2+ donors over untreated cells by an average of 5.6% and 15.3% (P = .0002) for doses of 10 and 50 μg/mL, respectively. In similar experiments involving peripheral blood mononuclear cells obtained from immunized patients, the average specific cytotoxicity for untreated cells was 34.2% ± 1.3% vs. 40.6% ± 2.5% (P = .035) and 40.7% ± 1.6% (P = .0005) for those treated with 10 and 50 μg/mL, respectively.
Conclusions
Our data suggest that pretreatment of breast cancer cells with trastuzumab induces turnover of the HER2/neu protein and enhanced killing by HER2/neu peptide–stimulated CTLs. This increased lysis occurs regardless of the degree of HER2/neu expression and seems more pronounced in vaccinated patients. These findings support further investigation into the use of combination immunotherapy with trastuzumab and HER2/neu peptide–based vaccines.
This is a preview of subscription content, log in to check access.
Access options
Buy single article
Instant access to the full article PDF.
US$ 39.95
Price includes VAT for USA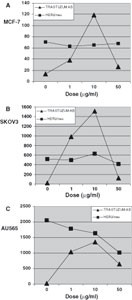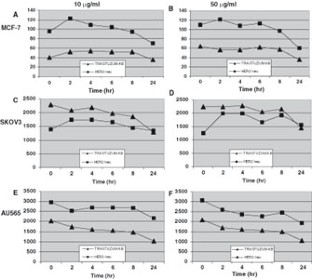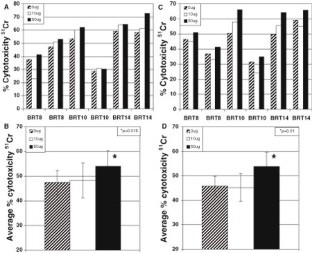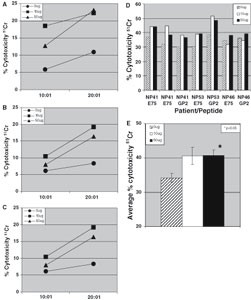 References
1.

Lemoine NR, Staddon S, Dickson C, Barnes DM, Gullick WJ. Absence of activating transmembrane mutations in the c-erbB-2 proto-oncogene in human breast cancer. Oncogene 1990;5:237–9

2.

Natali PG, Nicotra MR, Bigotti A, et al. Expression of the p185 encoded by HER2 oncogene in normal and transformed human tissues. Int J Cancer 1990;45:457–61

3.

Slamon DJ, Clark GM, Wong SG, et al. Human breast cancer: correlation of relapse and survival with amplification of the HER-2/neu oncogene. Science 1987;235:177–82.

4.

Disis ML, Grabstein KH, Sleath PR, Cheever MA. Generation of immunity to the HER-2/neu oncogenic protein in patients with breast and ovarian cancer using a peptide-based vaccine. Clin Cancer Res 1999;5:1289–97

5.

Disis ML, Schiffman K. Cancer vaccines targeting the HER-2/neu oncogenic protein. Semin Oncol 2001;28:12–20

6.

Anderson BW, Peoples GE, Murray JL, Gillogly MA, Gershenson DM, Ioannides CG. Peptide priming of cytolytic activity to HER-2 epitope 369-377 in healthy individuals. Clin Cancer Res 2000;6:4192–200

7.

Ioannides CG, Fisk B, Fan D, Biddison WE, Wharton JT, O'Brian CA. Cytotoxic T cells isolated from ovarian malignant ascites recognize a peptide derived from the HER2/neu proto-oncogene. Cell Immunol 1993;151:225–34

8.

Yoshino I, Goedegebuure PS, Peoples GE, et al. HER2/neu-derived peptide(s) are shared antigens among human non-small cell lung cancer and ovarian cancer. Cancer Res 1994;54:3387–90

9.

Disis ML, Smith JW, Murphy AE, Chen W, Cheever MA. In vitro generation of human cytolytic T cells specific for peptide derived from the HER-2/neu protooncogene protein. Cancer Res 1994;54:1071–6

10.

Linehan DC, Goedegebuure PS, Peoples GE, Rogers SO, Eberlein T. Tumor-specific and HLA-A2 restricted cytolysis by tumor-associated lymphocytes in human metastatic breast cancer. J Immunol 1995;155:4486–91

11.

Woll MM, Hueman MT, Ryan GB, et al. Preclinical testing of a peptide-based, HER2/neu vaccine for prostate cancer. Int J Oncol 2004;25:1769–80

12.

Fisk B, Blevins TL, Wharton JT. Identification of an immunodominant peptide of the HER-2/neu proto-oncogene recognized by ovarian tumor specific CTL lines. J Exp Med 1995;181:2709–17

13.

Peoples GE, Goedegebuure PS, Smith R, Linehan DC, Yoshino I, Eberlein TJ. Breast and ovarian cancer-specific cytotoxic T lymphocytes recognize the same HER2/neu-derived peptide. Proc Natl Acad Sci USA 1995;92:432–6

14.

Zaks TZ, Rosenberg SA. Immunization with a peptide epitope (P369-377) from HER-2/neu leads to peptide-specific cytotoxic T lymphocytes that fail to recognize HER-2/neu+ tumors. Cancer Res 1998;58:4902–8.

15.

Knutson KL, Schiffman K, Cheever MA, Disis ML. Immunization of cancer patients with HER-2/neu, HLA-A2 peptide, p369-377, results in short-lived peptide-specific immunity. Clin Cancer Res 2002;8:1014–8

16.

Murray JL, Gillogly ME, Przepiorka D, et al. Toxicity, immunogenicity, and induction of E75-specific tumor lytic CTLs by HER-2 peptide E74 (369-377) combined with granulocyte macrophage colony-stimulating factor in HLA-A2+ patients with metastatic breast and ovarian cancer. Clin Cancer Res 2002;8:3407–18

17.

Brossart P, Wirths S, Stuhler G, Reichardt VL, Kanz L, Brugger W. Induction of cytotoxic T-lymphocyte responses in vivo after vaccinations with peptide-pulsed dendritic cells. Blood 2000;96:3102–8

18.

Kono K, Takahashi A, Sugai H, et al. Dendritic cells pulsed with HER-2/neu-derived peptides can induce specific T-cell responses in patients with gastric cancer. Clin Cancer Res 2002;8:3394–400

19.

Disis ML, Gooley TA, Rinn K, et al. Generation of T-cell immunity to the HER-2/neu peptide-based vaccines. J Clin Oncol 2002;20:2624–32

20.

Kono K, Halapi E, Hising C, et al. Mechanisms of escape from CD8+ T cell clones specific for the HER-2/neu proto-oncogene expressed in ovarian carcinomas: related and unrelated to decreased MHC class I expression. Int J Cancer 1997;70:112–9

21.

Maeurer MJ, Gollin SM, Martin D, et al. Tumor escape from immune recognition: lethal recurrent melanoma in a patients associated with downregulation of the peptide transporter protein TAP-1 and loss of expression of the immunodominant MART-1/Melan-A antigen. J Clin Invest 1996;98:1633–41

22.

Castilleja A, Ward NE, O'Brian CA, et al. Accelerated HER-2 degradation enhances ovarian tumor recognition by CTL: implications for tumor immunogenicity. Mol Cell Biochem 2001;217:21–33

23.

Sliwkowski MX, Lofgren JA, Lewis GD, Hotaling TE, Fendly BM, Fox JA. Nonclinical studies addressing the mechanism of action of trastuzumab (Herceptin). Semin Oncol 1999;26:60–70

24.

Baselga J, Tripathy D, Mendelsohn J, et al. Phase II study of weekly intravenous recombinant humanized anti-p185 HER2 monoclonal antibody in patients with HER2/neu-overexpressing metastatic breast cancer. J Clin Oncol 1996;14:737–44

25.

Slamon DJ, Leyland-Jones B, Shak S, et al. Use of chemotherapy plus a monoclonal antibody against HER2 for metastatic breast cancer that overexpresses HER2. N Engl J Med 2001;344:783–92

26.

Drebin JA, Link VC, Stern DF, Winberg RA, Greene M. Down-modulation of an oncogene protein product and reversion of the transformed phenotype by monoclonal antibodies. Cell 1985;41:697–706

27.

Hurwitz E, Stancovski I, Sela M, Yarden Y. Suppression and promotion of tumor growth by monoclonal antibodies to ErbB-2 differentially correlate with cellular uptake. Proc Natl Acad Sci USA 1995;92:3352–7

28.

Klapper LN, Waterman H, Sela M, Yarden Y. Tumor-inhibitory antibodies to HER-2/erbB-2 may act by recruiting c-cbl and enhancing ubiquitination of HER-2. Cancer Res 2000;60:3384–8

29.

Meyer zum Buschenfelde C, Hermann C, Schmidt B, Peschel C, Bernhard H. Antihuman epidermal growth factor receptor 2 (HER2) monoclonal antibody trastuzumab enhances cytolytic activity of class I-restricted HER2-specific T lymphocytes against HER2-overexpressing tumor cells. Cancer Res 2002;62:2244–7

30.

Clynes RS, Towers TL, Presta LG, Ravetch JV. Inhibitory Fc receptors modulate in vivo cytotoxicity against tumor targets. Nat Med 2000;6:443–6

31.

Gennari R, Menard S, Fagnoni F, et al. Pilot study of the mechanism of action of preoperative trastuzumab in patients with primary operable breast tumors overexpressing HER2. Clin Cancer Res 2004;10:5650–5

32.

Lee TD. Distribution of HLA antigens in North American Caucasians, North American Blacks and Orientals. In: Lee J, ed. The HLA System. Secaucus, NJ: Springer-Verlag, 1990

33.

Brown RE, Bernath AM, Lewis GO. HER-2/neu protein-receptor-positive breast carcinoma: an immunologic perspective. Ann Clin Lab Sci 2000;30:249–58

34.

Schubert U, Anton LC, Gibbs J, Norbury CC, Yewdell JW, Bennick JR. Rapid degradation of a large fraction of newly synthesized proteins by proteasomes. Nature 2000;404:770–3

35.

Woll MM, Fisher CM, Ryan GB, et al. Direct measurement of peptide-specific CD8+ T cells using HLA-A2:Ig dimer for monitoring the in vivo immune response to a HER2/neu vaccine in breast and prostate cancer patients. J Clin Immunol 2004;24:449–61
Acknowledgements
Supported by funds from the Department of Defense to the Henry M. Jackson Foundation for the Advancement of Military Medicine (Rockville, MD) for the Clinical Breast Care Project, by the United States Army Medical Research and Materiel Command, and by the Department of Clinical Investigation at the Walter Reed Army Medical Center. The authors thank Diane Papay and Stacy O'Neill of the Clinical Breast Care Project, who provided excellent patient care and administration of the clinical trial. We also thank the staff of the Clinical Breast Care Project Immunology & Research Center for their clinical and administrative assistance.
Additional information
The opinions or assertions contained herein are the private views of the authors and are not to be construed as official or reflecting the views of the Department of the Army or the Department of Defense.
About this article
Cite this article
Mittendorf, E.A., Storrer, C.E., Shriver, C.D. et al. Investigating the Combination of Trastuzumab and HER2/neu Peptide Vaccines for the Treatment of Breast Cancer. Ann Surg Oncol 13, 1085–1098 (2006). https://doi.org/10.1245/ASO.2006.03.069
Received:

Accepted:

Published:

Issue Date:
Keywords
Breast cancer

HER2/neu

Immunotherapy

Trastuzumab

Peptide vaccine