Abstract
Background
Effective mentoring is especially critical in the training of surgeons. The practice of surgery in the 21st century is changing rapidly at every level, requiring a more complex approach to mentoring young surgeons.
Methods
This article draws on the author's own experiences in mentoring surgeons at a large tertiary care cancer treatment center and on published reports of successful mentoring strategies at other institutions.
Results
Besides clinical and surgical skills, surgical trainees must acquire a broad range of technical, interpersonal, administrative, and research skills. The 21st century brings special demands, including changing treatment patterns, increased diversity in trainees and in patient populations, restrictions on how we train our students, increased concerns about patient privacy, and an aging population. Besides the classic mentor/mentee relationship, different models of mentoring, including mosaic mentoring and collaborative mentoring, are being used to address these issues. Successful mentoring programs occur in institutions that maintain a culture that actively supports mentoring.
Conclusions
New approaches to mentoring can successfully meet the diverse needs of surgical trainees in the 21st century.
Access options
Buy single article
Instant access to the full article PDF.
US$ 39.95
Tax calculation will be finalised during checkout.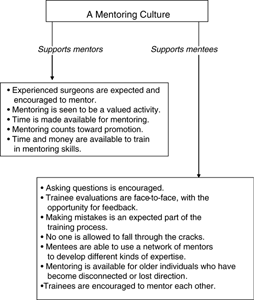 References
1.

Souba WW. Mentoring young academic surgeons, our most precious asset. J Surg Res 1999;82:113–20

2.

Neumayer L. Mentoring: the VA experience. Am J Surg 2003;186:417–9

3.

Connor MP, Bynoe AG, Redfern N, Pokora J, Clarke J. Developing senior doctors as mentors: a form of continuing professional development. Report of an initiative to develop a network of senior doctors as mentors: 1994-1999. Med Educ 2000;34:747–53

4.

Tosteson DC. Learning in medicine. N Engl J Med 1979;301:690–4

5.

Liang TJ. Odysseus's lament: death of mentor. Gastroenterology 2000;119:1429

6.

Allen J. Perfectionism: a prescription for distress. Houston Med J 2003;July:10

7.

Shanafelt T, Adejei A, Meyskens FL. When your favorite patient relapses: physician grief and well-being in the practice of oncology. J Clin Oncol 2003;21:2616–9

8.

Gilewski T. The art of medicine: teaching oncology fellows about the end of life. Crit Rev Oncol Hematol 2001;40:105–13

9.

Ramirez AJ, Graham J, Richards MA, et al. Burnout and psychiatric disorder among cancer clinicians. Br J Cancer 1995;71:1263–9

10.

Whippen DA, Canellos GP. Burnout syndrome in the practice of oncology: results of a random survey of 1,000 oncologists. J Clin Oncol 1991;9:1916–20

11.

Kash KM, Holland JC, Breithart W, et al. Stress and burnout in oncology. Oncology 2000;14:1621–33

12.

Colletti LM, Mulholland MW, Sonnad SS. Perceived obstacles to career success for women in academic surgery. Arch Surg 2000;135:972–7

13.

Yedidia MJ, Bickel J. Why aren't there more women leaders in academic medicine? The views of clinical department chairs. Acad Med 2001;76:453–65

14.

Fried LP, Francomano CA, MacDonald SM, et al. Career development for women in academic medicine: multiple interventions in a department of medicine. JAMA 1996;276:898–905

15.

Adler NE. Women mentors needed in academic medicine (editorial). West J Med 1991;154:468–9

16.

Morahan PS. Career obstacles for women in medicine. Med Educ 2001;35:97–8

17.

Association of American Medical Colleges. Specialty choice, intended practice location, and ethnic identity: career plans of the 1996 graduating medical school class. AAMC Fact Sheet 1997;1:11. Available at: http://www.aamc.org

18.

Smedley BD, Stith AY, Nelson AR, eds. Unequal Treatment: Confronting Racial and Ethnic Disparities in Health Care. Washington, DC: National Academy of Sciences, 2003

19.

Newman LA, Pollock RE, Johnson-Thompson MC. Increasing the pool of academically oriented African-American medical and surgical oncologists. Cancer 2003;97(1 Suppl):329–34

20.

Blackwell JE. Networking and Mentoring: A Study of Cross-Generational Experiences of Blacks in Graduate and Professional Schools. Atlanta: Southern Education Foundation, 1983

21.

Johnson JC, Jayadevappa R, Taylor L, Askew A, Williams B, Johnson B. Extending the pipeline for minority physicians: a comprehensive program for minority faculty development. Acad Med 1998;73:237–44

22.

Johnson JC, Williams B, Jayadevappa R. Mentoring program for minority faculty at the University of Pennsylvania School of Medicine. Acad Med 1999;74:376–9

23.

Payer L. Medicine and Culture. New York: Penguin Press, 1988

24.

US Census Bureau. 2002 Data Profiles. Available at: http://www.census.gov/acs/www/Products/Ranking/2002/R03T040.htm

25.

Hall ET. The Silent Language. Garden City, NY: Doubleday, 1959

26.

Hall ET. The Hidden Dimension. Garden City, NY: Doubleday, 1966

27.

Hall ET. Beyond Culture. Garden City, NY: Doubleday, 1976

28.

Diab SG, Elledge RM, Clark GM. Tumor characteristics and clinical outcome of elderly women with breast cancer. J Natl Cancer Inst 2000;92:550–6

29.

Vlastos G, Mirza NQ, Meric F, et al. Breast conservation therapy as a treatment option for the elderly. The M. D. Anderson experience. Cancer 2001;92:1092–100

30.

Pololi LH, Knight SM, Dennis K, Frankel RM. Helping medical school faculty realize their dreams: an innovative collaborative mentoring program. Acad Med 2002;77:377–84

31.

Center C, Davis M, Detre T, et al. Confronting depression and suicide in physicians: a consensus statement. JAMA 2003;289:3161–6

32.

Setness PA. Culturally competent healthcare: meeting the challenges can improve outcomes and enrich patient care. Postgrad Med 1998;103:38. Available at: http://www.postgradmed.com/issues/1998/02_98/edfeb98.htm. [accessed August 30, 2005]
About this article
Cite this article
Singletary, S.E. Mentoring Surgeons for the 21st Century. Ann Surg Oncol 12, 848–860 (2005). https://doi.org/10.1245/ASO.2005.04.035
Received:

Accepted:

Published:

Issue Date:
Keywords
Mentors

Surgery

Mosaic mentoring

Leadership

21st century