This is a preview of subscription content, log in to check access.
Access options
Buy single article
Instant unlimited access to the full article PDF.
US$ 39.95
Price includes VAT for USA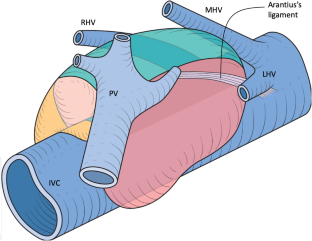 References
1.

Takayama T, Makuuchi M, Kogure K. Relevant hepatobiliary anatomy. In: Conrad C, Gayet B (eds). Laparoscopic liver, pancreas and biliary surgery, 1st edn. Wiley, Hoboken, 2017.

2.

Ogiso S, Nomi T, Araki K, et al. Laparoscopy-specific surgical concepts for hepatectomy based on the laparoscopic caudal view: a key to Reboot Surgeons' minds. Ann Surg Oncol. 2015;22(3):327–333.

3.

Vega EA, Kutlu OC, Joechle K, De La Cruz N, Ko D, Conrad C. Preoperative prognosticators of safe laparoscopic hepatocellular carcinoma resection in advanced cirrhosis: a propensity score matching population-based analysis of 1799 western patients. J Gastrointest Surg. 2019;23(6):1157–1165.

4.

Kutlu OC, Chan JA, Aloia TA, et al. Comparative effectiveness of first-line radiofrequency ablation versus surgical resection and transplantation for patients with early hepatocellular carcinoma. Cancer 2017;123(10):1817–1827.

5.

Vega EA, Nicolaescu DC, Salehi O, et al. Laparoscopic segment 1 with partial IVC resection in advanced cirrhosis: how to do it safely. Ann Surg Oncol. Epub 17 Dec 2019. https://doi.org/10.1245/s10434-019-08122-z.

6.

Conrad C, Fusaglia M, Peterhans M, Lu H, Weber S, Gayet B. Augmented reality navigation surgery facilitates laparoscopic rescue of failed portal vein embolization. J Am Coll Surg. 2016;223(4):e31–34.
Ethics declarations
Disclosure
Eduardo A. Vega and Claudius Conrad report no conflicts of interest.
Additional information
Publisher's Note
Springer Nature remains neutral with regard to jurisdictional claims in published maps and institutional affiliations.
ASO Author Reflections is a brief invited commentary on the article "Laparoscopic Segment 1 with Partial IVC Resection in Advanced Cirrhosis: How to Do It Safely". Ann Surg Oncol. Epub 17 Dec 2019. https://doi.org/10.1245/s10434-019-08122-z
About this article
Cite this article
Vega, E.A., Conrad, C. ASO Author Reflections: Laparoscopic Caudate Resection in Advanced Cirrhosis: Are We Transferring the Pain from the Patient to the Surgeon?. Ann Surg Oncol (2020). https://doi.org/10.1245/s10434-020-08204-3