Abstract
Background
Fibrolamellar hepatocellular carcinoma (FLC) is a rare variant of hepatocellular carcinoma (HCC), with most clinical data stemming from single-institution series. The variability in the literature lends support for analysis using a large national dataset. In doing so, we sought to (1) define the characteristics and outcomes of patients with FLC; (2) determine factors associated with survival in patients undergoing resection; and (3) compare the overall survival (OS) of patients with FLC with a matched group of patients with HCC.
Methods
The National Cancer Database was queried for patients with FLC, and their clinicopathologic features were recorded. Univariate and multivariate analyses were performed to delineate factors associated with survival.
Results
Between 2004 and 2015, 496 patients were diagnosed with FLC, 229 of whom underwent a curative resection. The median OS for patients with FLC undergoing curative resection was 78.5 months. Factors associated with abbreviated OS in this surgical cohort include multiple tumors [hazard ratio (HR) 3.15, p = 0.025], positive regional lymph nodes (HR 2.83, p = 0.023), and elevated serum α-fetoprotein (AFP; HR 2.81, p = 0.034). When the OS of patients with FLC was compared with a matched group of patients with HCC, no difference was detected (p = 0.748); however, patients with FLC and elevated AFP had abbreviated OS compared with patients with HCC and elevated AFP (43 vs. 82 months, p ≤ 0.001).
Conclusions
Elevations in serum AFP occur more frequently than previously documented for patients with FLC and are associated with abbreviated OS. AFP levels may help guide the decision for operative intervention in patients with FLC.
This is a preview of subscription content, log in to check access.
Access options
Buy single article
Instant unlimited access to the full article PDF.
US$ 39.95
Price includes VAT for USA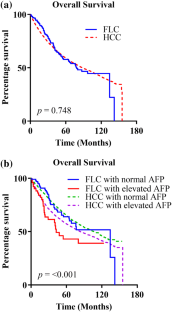 References
1.

Edmondson HA. Differential diagnosis of tumors and tumor-like lesions of liver in infancy and childhood. AMA J Dis Child. 1956;91(2):168–86.

2.

Craig JR, Peters RL, Edmondson HA, et al. Fibrolamellar carcinoma of the liver: a tumor of adolescents and young adults with distinctive clinico-pathologic features. Cancer. 1980;46(2):372–79.

3.

Mavros MN, Mayo SC, Hyder O, et al. A systematic review: treatment and prognosis of patients with fibrolamellar hepatocellular carcinoma. J Am Coll Surg. 2012;215(6):820–30.

4.

Lafaro KJ, Pawlik TM. Fibrolamellar hepatocellular carcinoma: current clinical perspectives. J Hepatocell Carcinoma. 2015;2:151–57.

5.

Groeschl RT, Miura JT, Wong RK, et al. Multi-institutional analysis of recurrence and survival after hepatectomy for fibrolamellar carcinoma. J Surg Oncol. 2014;110(4):412–15.

6.

El-Serag HB, Davila JA. Is fibrolamellar carcinoma different from hepatocellular carcinoma? A US population-based study. Hepatology. 2004;39(3):798–03.

7.

Mayo SC, Mavros MN, Nathan H, et al. Treatment and prognosis of patients with fibrolamellar hepatocellular carcinoma: a national perspective. J Am Coll Surg. 2014;218(2):196–05.

8.

Kaplan EL, Meier P. Nonparametric Estimation from Incomplete Observations. J Am Stat Assoc. 1958;53(282):457–81.

9.

Cox DR. Regression models and life-tables. J R Stat Soc Ser B (Methodol). 1972;34(2):187–20.

10.

Ang CS, Kelley RK, Choti MA, et al. Clinicopathologic characteristics and survival outcomes of patients with fibrolamellar carcinoma: data from the fibrolamellar carcinoma consortium. Gastrointest Cancer Res. 2013;6(1):3–9.

11.

Yamashita S, Vauthey JN, Kaseb AO, et al. Prognosis of fibrolamellar carcinoma compared to non-cirrhotic conventional hepatocellular carcinoma. J Gastrointest Surg. 2016;20(10):1725–731.

12.

Chakrabarti S, Tella SH, Kommalapati A, et al. Clinicopathological features and outcomes of fibrolamellar hepatocellular carcinoma. J Gastrointest Oncol. 2019;10(3):554–561.

13.

Darcy DG, Malek MM, Kobos R, et al. Prognostic factors in fibrolamellar hepatocellular carcinoma in young people. J Pediatr Surg. 2015;50(1):153–56.

14.

Kaseb AO, Shama M, Sahin IH, et al. Prognostic indicators and treatment outcome in 94 cases of fibrolamellar hepatocellular carcinoma. Oncology. 2013;85(4):197–03.

15.

Silva JP, Gorman RA, Berger NG, et al. The prognostic utility of baseline alpha-fetoprotein for hepatocellular carcinoma patients. J Surg Oncol. 2017;116(7):831–40.

16.

Blank S, Wang Q, Fiel MI, et al. Assessing prognostic significance of preoperative alpha-fetoprotein in hepatitis B-associated hepatocellular carcinoma: normal is not the new normal. Ann Surg Oncol. 2014;21(3):986–94.
Ethics declarations
Disclosures
James D. McDonald, Shreya Gupta, Mackenzie L. Shindorf, Lauren A. Gamble, Samantha M. Ruff, Justin Drake, Theo Heller, Jim Y. Wan, Paxton V. Dickson, Evan S. Glazer, Jeremy L. Davis, Jeremiah L. Deneve, Jonathan M. Hernandez declare no conflicts of interest.
Additional information
Publisher's Note
Springer Nature remains neutral with regard to jurisdictional claims in published maps and institutional affiliations.
About this article
Cite this article
McDonald, J.D., Gupta, S., Shindorf, M.L. et al. Elevated Serum α-Fetoprotein is Associated with Abbreviated Survival for Patients with Fibrolamellar Hepatocellular Carcinoma Who Undergo a Curative Resection. Ann Surg Oncol (2020) doi:10.1245/s10434-019-08178-x