Abstract
Background
Injury to the thoracic duct (TD) is the most common complication after a left lateral neck dissection, and it carries a high degree of morbidity. Currently, no routine diagnostic imaging is used to assist with TD identification intraoperatively. This report describes the first clinical experience with lymphangiography using indocyanine green (ICG) during lateral neck dissections.
Methods
In six patients undergoing left lateral neck dissection (levels 2–4) for either thyroid cancer or melanoma, 2.5–5 mg of ICG was injected in the dorsum of the left foot 15 min before imaging. Intraoperative imaging was performed with a hand-held near infrared (NIR) camera (Hamamatsu, PDE-Neo, Hamamatsu City, Japan).
Results
In five patients, the TD was visualized using NIR fluorescence, with a time of 15–90 min from injection to identification. Imaging was optimized by positioning the camera at the angle of the mandible and pointing into the space below the clavicle. No adverse reactions from the ICG injection occurred, and the time required for imaging was 5–10 min. No intraoperative TD injury was identified, and no chyle leak occurred postoperatively. For the one patient in whom the TD was not identified, it is unclear whether this was related to the timing of the injection or to duct obliteration from a prior dissection.
Conclusion
This is the first described application of ICG lymphangiography to identify the thoracic duct during left lateral neck dissection. Identification of TD with ICG is technically feasible, simple to perform with NIR imaging, and safe, making it a potential important adjunct for the surgeon.
This is a preview of subscription content, log in to check access.
Access options
Buy single article
Instant unlimited access to the full article PDF.
US$ 39.95
Price includes VAT for USA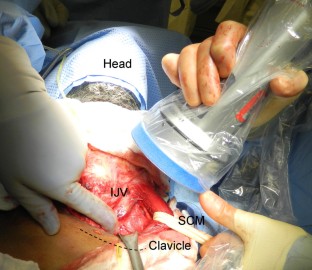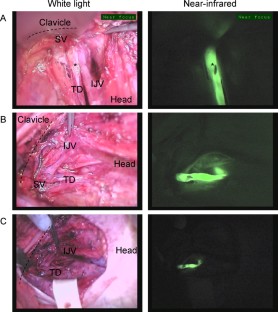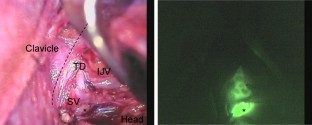 References
1.

de Gier HH, Balm AJ, Bruning PF, Gregor RT, Hilgers FJ. Systematic approach to the treatment of chylous leakage after neck dissection. Head Neck. 1996;18:347–51.

2.

Scorza LB, Goldstein BJ, Mahraj RP. Modern management of chylous leak following head and neck surgery: a discussion of percutaneous lymphangiography-guided cannulation and embolization of the thoracic duct. Otolaryngol Clin N Am. 2008;41:1231–40, xi.

3.

Roh JL, Yoon YH, Park CI. Chyle leakage in patients undergoing thyroidectomy plus central neck dissection for differentiated papillary thyroid carcinoma. Ann Surg Oncol. 2008;15:2576–80.

4.

Nussenbaum B, Liu JH, Sinard RJ. Systematic management of chyle fistula: the Southwestern experience and review of the literature. Otolaryngol Head Neck Surg. 2000;122:31–8.

5.

Brennan PA, Blythe JN, Herd MK, Habib A, Anand R. The contemporary management of chyle leak following cervical thoracic duct damage. Br J Oral Maxillofac Surg. 2012;50:197–201.

6.

Swanson MS, Hudson RL, Bhandari N, Sinha UK, Maceri DR, Kokot N. Use of octreotide for the management of chyle fistula following neck dissection. JAMA Otolaryngol Head Neck Surg. 2015;141:723–7.

7.

Smoke A, Delegge MH. Chyle leaks: consensus on management? Nutr Clin Pract. 2008;23:529–32.

8.

Campisi CC, Boccardo F, Piazza C, Campisi C. Evolution of chylous fistula management after neck dissection. Curr Opin Otolaryngol Head Neck Surg. 2013;21:150–6.

9.

Zelken JA, Tufaro AP. Current trends and emerging future of indocyanine green usage in surgery and oncology: an update. Ann Surg Oncol. 2015;22(Suppl 3):S1271–83.

10.

Chang DW, Suami H, Skoracki R. A prospective analysis of 100 consecutive lymphovenous bypass cases for treatment of extremity lymphedema. Plast Reconstr Surg. 2013;132:1305–14.

11.

Araki K, Mizokami D, Tomifuji M, et al. Novel indocyanine green-phytate colloid technique for sentinel node detection in head and neck: mouse study. Otolaryngol Head Neck Surg. 2014;151:279–85.

12.

Boni L, David G, Dionigi G, Rausei S, Cassinotti E, Fingerhut A. Indocyanine green-enhanced fluorescence to assess bowel perfusion during laparoscopic colorectal resection. Surg Endosc. 2016;30:2736–42.

13.

van der Vorst JR, Schaafsma BE, Hutteman M, et al. Near-infrared fluorescence-guided resection of colorectal liver metastases. Cancer. 2013;119:3411–8.

14.

Papadia A, Imboden S, Siegenthaler F, et al. Laparoscopic indocyanine green sentinel lymph node mapping in endometrial cancer. Ann Surg Oncol. 2016;23:2206–11.

15.

Kamiya K, Unno N, Konno H. Intraoperative indocyanine green fluorescence lymphography, a novel imaging technique to detect a chyle fistula after an esophagectomy: report of a case. Surg Today. 2009;39:421–4.

16.

Matsutani T, Hirakata A, Nomura T, et al. Transabdominal approach for chylorrhea after esophagectomy by using fluorescence navigation with indocyanine green. Case Rep Surg. 2014;2014:464017.

17.

Papadia A, Imboden S, Mohr S, Lanz S, Nirgianakis K, Mueller MD. Indocyanine green fluorescence imaging in the surgical management of an iatrogenic lymphatic fistula: description of a surgical technique. J Minim Invasive Gynecol. 2015;22:1304–6.

18.

D'Souza AV, Lin H, Henderson ER, Samkoe KS, Pogue BW. Review of fluorescence-guided surgery systems: identification of key performance capabilities beyond indocyanine green imaging. J Biomed Optics. 2016;21:80901.

19.

Ogata F, Narushima M, Mihara M, Azuma R, Morimoto Y, Koshima I. Intraoperative lymphography using indocyanine green dye for near-infrared fluorescence labeling in lymphedema. Ann Plast Surg. 2007;59:180–4.

20.

Papadia A, Imboden S, Gasparri ML, Siegenthaler F, Fink A, Mueller MD. Endometrial and cervical cancer patients with multiple sentinel lymph nodes at laparoscopic ICG mapping: how many are enough? J Cancer Res Clin Oncol. 2016;142:1831–6.

21.

Ashitate Y, Tanaka E, Stockdale A, Choi HS, Frangioni JV. Near-infrared fluorescence imaging of thoracic duct anatomy and function in open surgery and video-assisted thoracic surgery. J Thorac Cardiovasc Surg. 2011;142:31–38.

22.

Cernea CR, Hojaij FC, De Carlucci D Jr, et al. Abdominal compression: a new intraoperative maneuver to detect chyle fistulas during left neck dissections that include level IV. Head Neck. 2012;34:1570–3.

23.

Itkin M, Kucharczuk JC, Kwak A, Trerotola SO, Kaiser LR. Nonoperative thoracic duct embolization for traumatic thoracic duct leak: experience in 109 patients. J Thorac Cardiovasc Surg. 2010;139:584–9. (discussion 589–90).

24.

Sachs PB, Zelch MG, Rice TW, Geisinger MA, Risius B, Lammert GK. Diagnosis and localization of laceration of the thoracic duct: usefulness of lymphangiography and CT. AJR Am J Roentgenol. 1991;157:703–5.

25.

Schaafsma BE, Mieog JS, Hutteman M, et al. The clinical use of indocyanine green as a near-infrared fluorescent contrast agent for image-guided oncologic surgery. J Surg Oncol. 2011;104:323–32.
Ethics declarations
Disclosure
The authors declare that they have no conflict of interest.
Electronic Supplementary Material
Below is the link to the electronic supplementary material.
VIDEO S1 Near-infrared imaging of the thoracic duct in patient 4. Live action of the images from Fig. 2 is shown. (WMV 11800 kb)
VIDEO S2 Near-infrared imaging of the thoracic duct in patient 5. Live action of the images from Fig. 3 is shown. (WMV 17741 kb)
About this article
Cite this article
Chakedis, J., Shirley, L.A., Terando, A.M. et al. Identification of the Thoracic Duct Using Indocyanine Green During Cervical Lymphadenectomy. Ann Surg Oncol 25, 3711–3717 (2018). https://doi.org/10.1245/s10434-018-6690-4
Received:

Published:

Issue Date: