Abstract
Background
A new hybrid technique for single-axillary-incision endoscopic-assisted nipple-sparing mastectomy (E-NSM) was introduced. Preliminary results are reported.
Methods
Patients who received single-axillary-incision E-NSM from August 2013 to August 2017 were searched from a single institution. Data were analyzed to determine the effectiveness and oncologic safety of single-axillary-incision E-NSM. Patient-oriented cosmetic outcome report was also obtained.
Results
During the study period, a total of 50 E-NSM with single-incision procedures were performed in 41 female patients with breast cancer, including 11 (26.8%) patients with bilateral disease. Their mean age was 45.3 ± 8.4 years. The mean size of tumors encountered during the 50 single-incision E-NSM procedures was 2.3 ± 1.8 (0.1–7.3) cm for invasive tumors and 2.6 ± 1.7 (0.2–5.7) cm for carcinoma in situ lesions. Six (12%) of those tumors were multifocal/multicentric. Lymph node metastasis was found during 12% of the procedures. Forty-five (90%) received immediate breast reconstruction with gel implant. Mean operating time was 244.3 ± 82.8 min. The overall complication rate was 6%, and no total nipple necrosis or implant loss was observed. No locoregional recurrence or distant metastasis was found during mean follow-up of 21.6 months. About 94.4% of patients were satisfied with the postoperative scar location and wound length. All patients who responded would choose the same operation again.
Conclusions
The proposed single-axillary-incision endoscopic hybrid technique for nipple-sparing mastectomy was a safe procedure with low morbidity and associated with high patient satisfaction.
This is a preview of subscription content, log in to check access.
Access options
Buy single article
Instant unlimited access to the full article PDF.
US$ 39.95
Price includes VAT for USA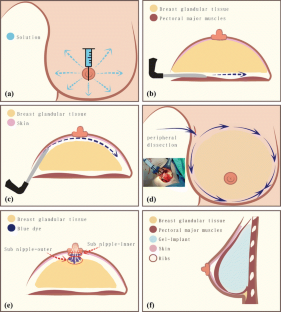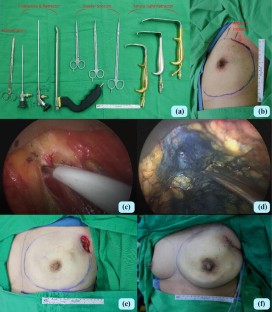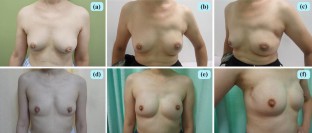 References
1.

Cense HA, Rutgers EJ, Lopes Cardozo M, Van Lanschot JJ. Nipple-sparing mastectomy in breast cancer: a viable option? Eur J Surg Oncol. 2001, 27(6):521–526.

2.

Petit JY, Veronesi U, Luini A, Orecchia R, Rey PC, Martella S, Didier F, De Lorenzi F, Rietjens M, Garusi C, et al. When mastectomy becomes inevitable: the nipple-sparing approach. Breast. 2005, 14(6):527–531.

3.

Petit JY, Veronesi U, Orecchia R, Rey P, Martella S, Didier F, Viale G, Veronesi P, Luini A, Galimberti V, et al. Nipple sparing mastectomy with nipple areola intraoperative radiotherapy: one thousand and one cases of a five years experience at the European Institute of Oncology of Milan (EIO). Breast Cancer Res Treat. 2009, 117(2):333–338.

4.

Petit JY, Veronesi U, Rey P, Rotmensz N, Botteri E, Rietjens M, Garusi C, De Lorenzi F, Martella S, Bosco R, et al. Nipple-sparing mastectomy: risk of nipple-areolar recurrences in a series of 579 cases. Breast Cancer Res Treat. 2009, 114(1):97–101.

5.

Crowe JP, Jr., Kim JA, Yetman R, Banbury J, Patrick RJ, Baynes D. Nipple-sparing mastectomy: technique and results of 54 procedures. Arch Surg. 2004, 139(2):148–150.

6.

Carlson GW, Chu CK, Moyer HR, Duggal C, Losken A. Predictors of nipple ischemia after nipple sparing mastectomy. Breast. J 2014, 20(1):69–73.

7.

Endara M, Chen D, Verma K, Nahabedian MY, Spear SL. Breast reconstruction following nipple-sparing mastectomy: a systematic review of the literature with pooled analysis. Plast Reconstr Surg. 2013, 132(5):1043–1054.

8.

Lai HW, Chen ST, Chen DR, Chen SL, Chang TW, Kuo SJ, Kuo YL, Hung CS. Current trends in and indications for endoscopy-assisted breast surgery for breast cancer: results from a six-year study conducted by the Taiwan Endoscopic Breast Surgery Cooperative Group. PLoS ONE. 2016, 11(3):e0150310.

9.

Lai HW, Wu HS, Chuang KL, Chen DR, Chang TW, Kuo SJ, Chen ST, Kuo YL. Endoscopy-assisted total mastectomy followed by immediate pedicled transverse rectus abdominis musculocutaneous (TRAM) flap reconstruction: preliminary results of 48 patients. Surg Innov. 2015, 22(4):382–389.

10.

Chirappapha P, Petit JY, Rietjens M, De Lorenzi F, Garusi C, Martella S, Barbieri B, Gottardi A, Andrea M, Giuseppe L, et al. Nipple sparing mastectomy: does breast morphological factor related to necrotic complications? Plastic Reconst Surg Global Open. 2014, 2(1):e99.

11.

Lai HW, Lin HY, Chen SL, Chen ST, Chen DR, Kuo SJ. Endoscopy-assisted surgery for the management of benign breast tumors: technique, learning curve, and patient-reported outcome from preliminary 323 procedures. World J Surg Oncol. 2017, 15(1):19.

12.

Lee EK, Kook SH, Park YL, Bae WG. Endoscopy-assisted breast-conserving surgery for early breast cancer. World J Surg. 2006, 30(6):957–964.

13.

Nakajima H, Fujiwara I, Mizuta N, Sakaguchi K, Hachimine Y. Video-assisted skin-sparing breast-conserving surgery for breast cancer and immediate reconstruction with autologous tissue. Ann Surg. 2009, 249(1):91–96.

14.

Sakamoto N, Fukuma E, Higa K, Ozaki S, Sakamoto M, Abe S, Kurihara T, Tozaki M. Early results of an endoscopic nipple-sparing mastectomy for breast cancer. Ann Surg Oncol. 2009, 16(12):3406–3413.

15.

Leff DR, Vashisht R, Yongue G, Keshtgar M, Yang GZ, Darzi A. Endoscopic breast surgery: where are we now and what might the future hold for video-assisted breast surgery? Breast Cancer Res Treat. 2011, 125(3):607–625.

16.

Tamaki Y, Sakita I, Miyoshi Y, Sekimoto M, Takiguchi S, Monden M, Noguchi S. Transareolar endoscopy-assisted partial mastectomy: a preliminary report of six cases. Surg Laparosc Endosc Percutan Tech 2001, 11(6):356–362.

17.

Fan LJ, Jiang J, Yang XH, Zhang Y, Li XG, Chen XC, Zhong L. A prospective study comparing endoscopic subcutaneous mastectomy plus immediate reconstruction with implants and breast conserving surgery for breast cancer. Chin Med J (Engl). 2009, 122(24):2945–2950.

18.

Kitamura K, Ishida M, Inoue H, Kinoshita J, Hashizume M, Sugimachi K. Early results of an endoscope-assisted subcutaneous mastectomy and reconstruction for breast cancer. Surgery. 2002, 131(1 Suppl):S324–S329.

19.

Ho WS, Ying SY, Chan AC. Endoscopic-assisted subcutaneous mastectomy and axillary dissection with immediate mammary prosthesis reconstruction for early breast cancer. Surg Endosc. 2002, 16(2):302–306.

20.

Tukenmez M, Ozden BC, Agcaoglu O, Kecer M, Ozmen V, Muslumanoglu M, Igci A. Videoendoscopic single-port nipple-sparing mastectomy and immediate reconstruction. J Laparoendosc Adv Surg Tech A. 2014, 24(2):77–82.

21.

Nakajima H, Sakaguchi K, Mizuta N, Hachimine T, Ohe S, Sawai K. Video-assisted total glandectomy and immediate reconstruction for breast cancer. Biomed Pharmacother. 2002, 56 Suppl 1:205s–208s.

22.

Ito K, Kanai T, Gomi K, Watanabe T, Ito T, Komatsu A, Fujita T, Amano J. Endoscopic-assisted skin-sparing mastectomy combined with sentinel node biopsy. ANZ J Surg. 2008, 78(10):894–898.

23.

Toesca A, Peradze N, Galimberti V, Manconi A, Intra M, Gentilini O, Sances D, Negri D, Veronesi G, Rietjens M, et al. Robotic nipple-sparing mastectomy and immediate breast reconstruction with implant: first report of surgical technique. Ann Surg. 2017, 266(2):e28–e30.

24.

Toesca A, Peradze N, Manconi A, Galimberti V, Intra M, Colleoni M, Bonanni B, Curigliano G, Rietjens M, Viale G, et al. Robotic nipple-sparing mastectomy for the treatment of breast cancer: Feasibility and safety study. Breast. 2017, 31:51–56.

25.

Houssami N, Turner R, Morrow M: Preoperative magnetic resonance imaging in breast cancer: meta-analysis of surgical outcomes. Ann Surg. 2013, 257(2):249–255.

26.

Chan SE, Liao CY, Wang TY, Chen ST, Chen DR, Lin YJ, Chen CJ, Wu HK, Chen SL, Kuo SJ, et al. The diagnostic utility of preoperative breast magnetic resonance imaging (MRI) and/or intraoperative sub-nipple biopsy in nipple-sparing mastectomy. Eur J Surg Oncol. 2017, 43(1):76–84.

27.

Goldhirsch A, Wood WC, Coates AS, Gelber RD, Thurlimann B, Senn HJ. Strategies for subtypes–dealing with the diversity of breast cancer: highlights of the St. Gallen International Expert Consensus on the Primary Therapy of Early Breast Cancer 2011. Ann Oncol. 2011, 22(8):1736–1747.

28.

NCCN Clinical Practice Guidelines in Oncology-Breast Cancer. http://www.nccn.org/professionals/physician_gls/PDF/breast.pdf.

29.

Ingram D. Is it time for breast cancer surgeons to embrace endoscopic-assisted mastectomy? ANZ J Surg. 2008, 78(10):837–838.

30.

Jensen JA, Orringer JS, Giuliano AE. Nipple-sparing mastectomy in 99 patients with a mean follow-up of 5 years. Ann Surg Oncol. 2011, 18(6):1665–1670.

31.

Algaithy ZK, Petit JY, Lohsiriwat V, Maisonneuve P, Rey PC, Baros N, Lai H, Mulas P, Barbalho DM, Veronesi P, et al. Nipple sparing mastectomy: can we predict the factors predisposing to necrosis? Eur J Surg Oncol. 2012, 38(2):125–129.
Acknowledgment
This study was funded by the Ministry of Science and Technology of Taiwan (no. 104-2314-B-371-006-MY3). This study was also sponsored by research funding provided by Changhua Christian Hospital (105-CCH-IRP-032 and 105-CCH-PRJ-003). The authors would like to thank Yun-Ting Chang, Shu-Hsin Pai, and Shun-Ing Tsai for assistance with this study.
Disclosures
There are no conflicts of interest in this study. None of the authors has a financial interest in any of the products, devices, or drugs mentioned in this manuscript. Drs. Lai HW, Lin SL, Kuok KM, Chen SL, Lin YL, Chen DR, and Kuo SJ have no conflicts of interests or financial ties to disclose.
Electronic supplementary material
Below is the link to the electronic supplementary material.
Supplementary material 1 (MP4 32848 kb)
About this article
Cite this article
Lai, H., Lin, S., Chen, S. et al. Single-Axillary-Incision Endoscopic-Assisted Hybrid Technique for Nipple-Sparing Mastectomy: Technique, Preliminary Results, and Patient-Reported Cosmetic Outcome from Preliminary 50 Procedures. Ann Surg Oncol 25, 1340–1349 (2018). https://doi.org/10.1245/s10434-018-6383-z
Received:

Published:

Issue Date: