Abstract
Background
Cancer registries are used to report cancer care trends and outcomes. Information from these data sets is utilized to craft practice guidelines and management recommendations. Limited knowledge is available regarding the quality of the data contained within registries. We sought to determine the accuracy of a single variable, 'surgery of the primary site', in the Tennessee Cancer Registry (TCR).
Methods
A retrospective review of the TCR thyroid database was performed. Hospital facilities were classified as either Commission on Cancer (CoC) or non-CoC accredited. Certified Tumor Registrars at the TCR reviewed the abstracted text and/or telephoned the reporting facility staff to confirm the definitive thyroid procedure.
Results
A total of 921 thyroid cancer cases, diagnosed/treated at TN facilities during 2004–2011, were coded with thyroid lobectomy (TL). Overall, 369 (40 %) were incorrectly coded, of which 247(67 %) were changed to total thyroidectomy. The majority of cases (80 %) were reported by CoC facilities. When compared by facility type, 42 % of records submitted from CoC facilities contained incorrect codes for the variable 'surgery of the primary site' TL compared with 34 % of records submitted by non-CoC facilities (p = 0.047).
Conclusion
In this study of the TCR, 40 % of records contained inaccurate coding of the variable 'surgery of the primary site'. Upon validation, 27 % of all records were changed from TL to total thyroidectomy. The rate of incorrect coding was higher in CoC reporting facilities than in non-CoC facilities. Using text-to-code re-abstraction audits and facility contact these discrepancies can be validated and corrected to improve data quality.
This is a preview of subscription content, log in to check access.
Access options
Buy single article
Instant access to the full article PDF.
US$ 39.95
Price includes VAT for USA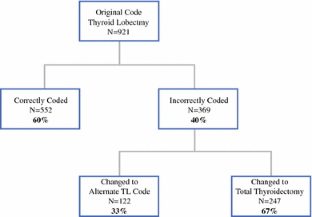 References
1.

American College of Surgeons. Commission on Cancer: Cancer Program Standards (2016 edition). https://www.facs.org/quality-programs/cancer/coc/standards.

2.

Haugen BR, Alexander EK, Bible KC, Doherty GM, Mandel SJ, Nikiforov YE, et al. 2015 American Thyroid Association management guidelines for adult patients with thyroid nodules and differentiated thyroid cancer: The American Thyroid Association Guidelines Task Force on Thyroid Nodules and Differentiated Thyroid Cancer. Thyroid. 2016;26(1):1–133.

3.

Kiernan CM, Parikh AA, Parks LL, Solorzano CC. Use of radioiodine after thyroid lobectomy in patients with differentiated thyroid cancer: does it change outcomes? J Am Coll Surg. 2015;220(4):617–25.

4.

Goffredo P, Thomas SM, Adam MA, Sosa JA, Roman SA. Impact of timeliness of resection and thyroidectomy margin status on survival for patients with anaplastic thyroid cancer: an analysis of 335 cases. Ann Surg Oncol. 2015;22(13):4166–74.

5.

Shaha AR. Anaplastic thyroid cancer: large database, cautious interpretations. Ann Surg Oncol. 2015;22(13):4113–4.

6.

Adam MA, Pura J, Goffredo P, Dinan MA, Hyslop T, Reed SD, et al. Impact of extent of surgery on survival for papillary thyroid cancer patients younger than 45 years. J Clin Endocrinol Metab. 2015;100(1):115–21.

7.

Adam MA, Pura J, Gu L, Dinan MA, Tyler DS, Reed SD, et al. Extent of surgery for papillary thyroid cancer is not associated with survival: an analysis of 61,775 patients. Ann Surg. 2014;260(4):601–5; discussion 5–7.

8.

Bilimoria KY, Bentrem DJ, Linn JG, Freel A, Yeh JJ, Stewart AK, et al. Utilization of total thyroidectomy for papillary thyroid cancer in the United States. Surgery. 2007;142(6):906–13; discussion 913.e1-2.

9.

Haymart MR, Banerjee M, Stewart AK, Koenig RJ, Birkmeyer JD, Griggs JJ. Use of radioactive iodine for thyroid cancer. JAMA. 2011;306(7):721–8.

10.

Hundahl SA, Fleming ID, Fremgen AM, Menck HR. A National Cancer Data Base report on 53,856 cases of thyroid carcinoma treated in the U.S., 1985–1995 [see comments]. Cancer. 1998;83(12):2638–48.

11.

Mendelsohn AH, Elashoff DA, Abemayor E, St John MA. Surgery for papillary thyroid carcinoma: is lobectomy enough? Arch Otolaryngol Head Neck Surg. 2010;136(11):1055–61.

12.

Roman S, Lin R, Sosa JA. Prognosis of medullary thyroid carcinoma: demographic, clinical, and pathologic predictors of survival in 1252 cases. Cancer. 2006;107(9):2134–42.

13.

North American Association of Central Cancer Registries. Standards for Cancer Registries Volume II: Data Standards and Data Dictionary. Record Layout Version 13, 17th ed. https://www.naaccr.org/Applications/ContentReader/Archive/13/Chap01.html.

14.

Shaha AR. The National Cancer Data Base Report on thyroid carcinoma: reflections of practice patterns. Cancer. 1998;83(12):2434–6.

15.

Shaha AR. Extent of surgery for papillary thyroid carcinoma: the debate continues. Comment on "surgery for papillary thyroid carcinoma". Arch Otolaryngol Head Neck Surg. 2010;136(11):1061–3.

16.

Commission on Cancer. Facility Oncology Registry Data Standards. Chicago: American College of Surgeons; 2016.

17.

Cooper GS, Virnig B, Klabunde CN, Schussler N, Freeman J, Warren JL. Use of SEER-Medicare data for measuring cancer surgery. Med Care. 2002;40(8 Suppl):IV-43–IV-8.
Funding
Colleen M. Kiernan received salary support from National Institutes of Health (NIH) T32 Surgical Oncology Training Grant (#5T3CA106183-08).
About this article
Cite this article
Kiernan, C.M., Whiteside, M.A. & Solorzano, C.C. Cancer Registries: Can We Improve the Quality of Thyroid Cancer Data?. Ann Surg Oncol 24, 1202–1207 (2017). https://doi.org/10.1245/s10434-016-5612-6
Received:

Published:

Issue Date:
Keywords
Thyroid Cancer

Total Thyroidectomy

Differentiate Thyroid Cancer

Medullary Thyroid Cancer

Anaplastic Thyroid Cancer