Abstract
Background
Despite diffusion of laparoscopic hepatectomy, the acquisition of necessary skills is not easy for open liver surgeons. Concepts and techniques have totally changed in laparoscopic hepatectomy compared with open hepatectomy, which is an underlying cause of a technical hurdle in laparoscopic hepatectomy. This study aimed to illustrate laparoscopy-specific concepts and techniques for hepatectomy.
Methods
Video footages of laparoscopic and open hepatectomies stored in the Institut Mutualiste Montsouris and Kyoto University were reviewed to define the differences in surgical view, surgical concept, and technical details, using left lateral sectionectomy (LLS) and right hepatectomy (RH) as representative examples.
Results
By comparison with open LLS and RH, laparoscopy-specific procedures were identified with regard to surgical view, parenchymal transection, available landmarks, and vascular dissection. By laparoscopy, the surgical field was constantly viewed and accessed from the caudal side to the cranial side. Similarly, the parenchyma was divided, and intrahepatic vessels were dissected in the same direction. Laparoscopy-specific landmarks were identified for both LLS and RH, behind the liver.
Conclusions
The concepts and techniques in laparoscopic hepatectomy are totally different from those of open hepatectomy because of the different surgical views. Understanding the laparoscopy-specific concepts and techniques would facilitate safe and efficient execution of laparoscopic hepatectomy.
This is a preview of subscription content, log in to check access.
Access options
Buy single article
Instant unlimited access to the full article PDF.
US$ 39.95
Price includes VAT for USA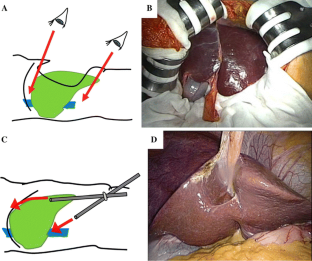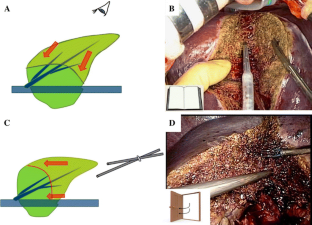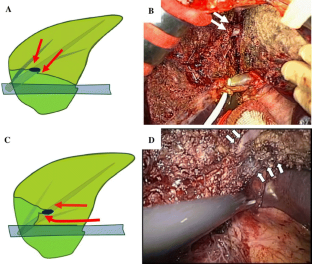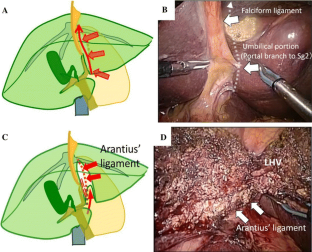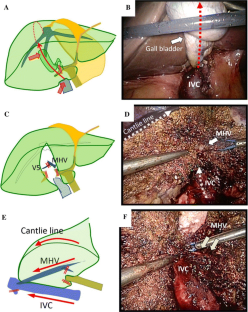 References
1.

Buell JF, Cherqui D, Geller DA, et al. The international position on laparoscopic liver surgery: The Louisville Statement, 2008. Ann Surg. 2009;250:825–830.

2.

Edwin B, Nordin A, Kazaryan AM. Laparoscopic liver surgery: new frontiers. Scand J Surg. 2011;100:54–65.

3.

Nguyen KT, Gamblin TC, Geller DA. World review of laparoscopic liver resection–2,804 patients. Ann Surg. 2009;250:831–841.

4.

Dagher I, Gayet B, Tzanis D, et al. International experience for laparoscopic major liver resection. J Hepatobiliary Pancreat Sci. 2014;21:732–736.

5.

Soubrane O, Schwarz L, Cauchy F, et al. A conceptual technique for laparoscopic right hepatectomy based on facts and oncologic principles: the caudal approach. Ann Surg. 2014. doi:10.1097/SLA.0000000000000737.

6.

Wakabayashi G, Cherqui D, Geller DA, et al. Laparoscopic hepatectomy is theoretically better than open hepatectomy: preparing for the 2nd International Consensus Conference on Laparoscopic Liver Resection. J Hepatobiliary Pancreat Sci. 2014;21:723–731.

7.

Ishizawa T, Gumbs AA, Kokudo N, Gayet B. Laparoscopic segmentectomy of the liver: from segment I to VIII. Ann Surg. 2012;256:959–964.

8.

Liu CL, Fan ST, Cheung ST, et al. Anterior approach versus conventional approach right hepatic resection for large hepatocellular carcinoma: a prospective randomized controlled study. Ann Surg. 2006;244:194–203.

9.

Nomi T, Fuks D, Agrawal A, et al. Totally laparoscopic right hepatectomy combined with resection of the inferior vena cava by anterior approach. Ann Surg Oncol. 2015;22:851

10.

Belghiti J, Guevara OA, Noun R, et al. Liver hanging maneuver: a safe approach to right hepatectomy without liver mobilization. J Am Coll Surg. 2001;193:109–111.

11.

Kim SH, Park SJ, Lee SA, et al. Various liver resections using hanging maneuver by three glisson's pedicles and three hepatic veins. Ann Surg. 2007;245:201–205.

12.

Araki K, Conrad C, Ogiso S, et al. Intraoperative ultrasonography of laparoscopic hepatectomy: key technique for safe liver transection. J Am Coll Surg. 2014;218:e37–41.

13.

Sato H SY, Yamasaki S, Shimada K, Takayama T, Makuuchi M, Kosuge T. Thoracoabdominal approaches versus inverted T incision for posterior segmentectomy in hepatocellular carcinoma. Hepatogastroenterology. 2000;47:504–506.

14.

Gumbs AA, Gayet B. Video: the lateral laparoscopic approach to lesions in the posterior segments. J Gastrointest Surg. 2008;12:1154.

15.

Ogiso S, Conrad C, Araki K, et al. Laparoscopic transabdominal with transdiaphragmatic access improves resection of difficult posterosuperior liver lesions. Ann Surg. 2015. doi:10.1097/SLA.0000000000001015.
Disclosure
None declared.
Electronic supplementary material
Below is the link to the electronic supplementary material.
Supplementary material 1 (MPG 3492 kb)
Supplementary material 2 (MPG 3594 kb)
About this article
Cite this article
Ogiso, S., Nomi, T., Araki, K. et al. Laparoscopy-Specific Surgical Concepts for Hepatectomy Based on the Laparoscopic Caudal View: A Key to Reboot Surgeons' Minds. Ann Surg Oncol 22, 327–333 (2015). https://doi.org/10.1245/s10434-015-4661-6
Received:

Published:

Issue Date:
Keywords
Middle Hepatic Vein

Parenchymal Transection

Laparoscopic Hepatectomy

Left Hepatic Vein

Left Lateral Sectionectomy