Abstract
Purpose
Observational analysis of percutaneous repositioning of displaced port-catheters in patients with dysfunctional central-venous port-systems.
Methods
A total of 1061 patients with dysfunctional venous pectoral port-systems were referred for port-angiography. Dislocated port-catheters were identified in 37 (3.5 %) patients (11 males, mean age 58.1 ± 7.2 [range 48–69] years; 26 females, 57.0 ± 13.5 [range 24–75] years) 3.9 ± 6.6 months (range 1 day–26 months) after port-implantation. Percutaneous repositioning in all patients was performed by transfemoral catheter maneuvers, snaring, or wire-assisted long-loop snaring. Primary endpoint was successful repositioning. Safety endpoints included port-damage or procedure-related complications. Follow-up encompassed routine clinical and radiological controls, including chest X-ray or computed tomography for 12.9 ± 17.9 (range 1–81) months.
Results
Clinical signs of port-dysfunction due to dislocation of port-catheters included difficult aspiration in 23 (62.2 %), resistance or inability to inject in 17 (46.0 %), and pain during injection in 2 (5.4 %) patients. Primary technical success for repositioning displaced port-catheters was 97.3 % (36/37 patients). In 1 (2.7 %) patient, repositioning failed due to complete embedding of the port-catheter in an extensive chronic jugular vein thrombosis (Paget-von-Schroetter syndrome) that prevented endovascular access to the port-catheter. Redisplacement occurred after initial successful repositioning: immediately in two patients due to a too short port-catheter (two-tailed Fisher's exact-test, p = 0.0101), and in two patients with appropriate catheter-length after 5, resp. 7 months. No procedure-associated complications, e.g., port-catheter disconnection or disruption, occurred.
Conclusions
Repositioning of dysfunctional displaced central-venous port-catheters with appropriate catheter-length is safe and effective. Even challenging conditions, e.g., wall-adherent port-catheter tip or a thrombosed catheter-bearing vein are feasible. Repositioning of too short port-catheters is ineffective.
This is a preview of subscription content, log in to check access.
Access options
Buy single article
Instant unlimited access to the full article PDF.
US$ 39.95
Price includes VAT for USA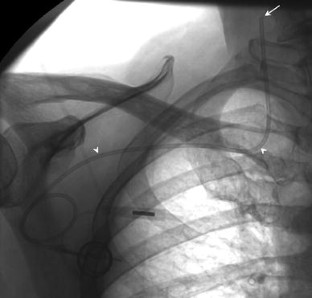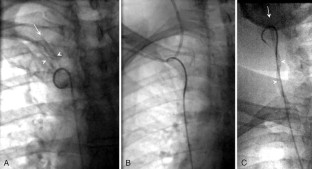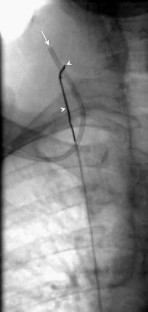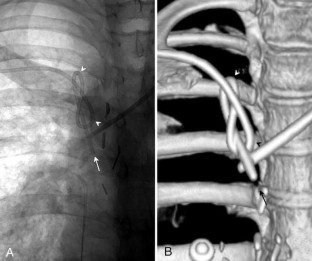 References
1.

Lewis CA, Allen TE, Burke DR, Cardella JF, Citron SJ, Cole PE, et al. Quality improvement guidelines for central venous access. J Vasc Interv Radiol. 2003;14(9 Pt 2):S231–5.

2.

Thomopoulos T, Meyer J, Staszewicz W, Bagetakos I, Scheffler M, Lomessy A, et al. Routine chest X-ray is not mandatory after fluoroscopy-guided totally implantable venous access device insertion. Ann Vasc Surg. 2014;28(2):345–50.

3.

Kulkarni S, Wu O, Kasthuri R, Moss JG. Centrally inserted external catheters and totally implantable ports for the delivery of chemotherapy: a systematic review and meta-analysis of device-related complications. Cardiovasc Intervent Radiol. 2014;37(4):990–1008. doi:10.1007/s00270-013-0771-3.

4.

Vazquez RM, Brodski EG. Primary and secondary malposition of silicone central venous catheters. Acta Anaesthesiol Scand Suppl. 1985;81:22–6.

5.

Pikwer A, Bååth L, Davidson B, Perstoft I, Akeson J. The incidence and risk of central venous catheter malpositioning: a prospective cohort study in 1619 patients. Anaesth Intensive Care. 2008;36(1):30–7.

6.

Kowalski CM, Kaufman JA, Rivitz SM, Geller SC, Waltman AC. Migration of central venous catheters: implications for initial catheter tip positioning. J Vasc Interv Radiol. 1997;8(3):443–7.

7.

Rutherford JS, Merry AF, Occleshaw CJ. Depth of central venous catheterization: an audit of practice in a cardiac surgical unit. Anaesth Intensive Care. 1994;22(3):267–71.

8.

Nazarian GK, Bjarnason H, Dietz CA Jr, Bernadas CA, Hunter DW. Changes in tunneled catheter tip position when a patient is upright. J Vasc Interv Radiol. 1997;8(3):437–41.

9.

Forauer AR, Alonzo M. Change in peripherally inserted central catheter tip position with abduction and adduction of the upper extremity. J Vasc Interv Radiol. 2000;11(10):1315–8.

10.

Vesely TM. Central venous catheter tip position: a continuing controversy. J Vasc Interv Radiol. 2003;14(5):527–34.

11.

Schutz JCL, Patel AA, Clark TWI, Solomon JA, Freiman DB, Tuite CM, et al. Relationship between chest port catheter tip position and port malfunction after interventional radiologic placement. J Vasc Interv Radiol. 2004;15(6):581–7.

12.

Caers J, Fontaine C, Vinh-Hung V, De Mey J, Ponnet G, Oost C, et al. Catheter tip position as a risk factor for thrombosis associated with the use of subcutaneous infusion ports. Support Care Cancer. 2005;13(5):325–31.

13.

Massmann A, Jagoda P, Kranzhoefer N, Buecker A. Local low-dose thrombolysis for safe and effective treatment of venous port-catheter thrombosis. Ann Surg Oncol. 2015;22(5):1593–7. doi:10.1245/s10434-014-4129-0.

14.

Hawkins IF Jr., Paige RM. Redirection of malpositioned central venous catheters. AJR Am J Roentgenol. 1983;140(2):393–4.

15.

Lois JF, Gomes AS, Pusey E. Nonsurgical repositioning of central venous catheters. Radiology. 1987;165(2):329–33.

16.

Hartnell GG, Gates J, Suojanen JN, Clouse ME. Transfemoral repositioning of malpositioned central venous catheters. Cardiovasc Intervent Radiol. 1996;19(5):329–31.

17.

Gebauer B, Teichgräber UK, Podrabsky P, Werk M, Hänninen EL, Felix R. Radiological interventions for correction of central venous port catheter migrations. Cardiovasc Intervent Radiol. 2007;30(4):668–74.
Conflict of interest
All authors have nothing to disclose.
Electronic supplementary material
Below is the link to the electronic supplementary material.
Supplementary material 1 Video 1: The displaced port-catheter is hooked by a 100 cm 5F-pigtail-catheter and then gently pulled down for repositioning of the port-catheter into the superior vena cava. (MOV 3558 kb)
Supplementary material 8 Video 8: Upper extremity ab- and adduction combined with Valsalva-manoeuver and forceful coughing is used to verify a stable position of the corrected port-catheter. (MOV 1616 kb)
About this article
Cite this article
Massmann, A., Jagoda, P., Kranzhoefer, N. et al. Percutaneous Re-positioning of Dislocated Port-Catheters in Patients with Dysfunctional Central-Vein Port-Systems. Ann Surg Oncol 22, 4124–4129 (2015). https://doi.org/10.1245/s10434-015-4549-5
Received:

Published:

Issue Date:
Keywords
Superior Vena Cava

Brachiocephalic Vein

Primary Technical Success

Endovascular Access

Ipsilateral Internal Jugular Vein