Medullary Colorectal Carcinoma Revisited: A Clinical and Pathological Study of 102 Cases
Abstract
Aim
Medullary carcinoma is a recently described subtype of mismatch repair deficient (MMRd) colorectal carcinoma (CRC) which, despite being poorly differentiated by traditional morphological criteria, has been reported to have a good prognosis. We investigated the pathological and clinical features of medullary CRC in an unselected cohort of CRCs undergoing surgical resection.
Methods
All CRCs resected within a single health district database from 1998 to 2012 were categorized prospectively and underwent retrospective review to identify 91 medullary CRCs, with 11 additional cases from 2013 to 2014. Strict criteria were employed to diagnose medullary carcinoma requiring both MMRd and greater than 90 % of the tumor to demonstrate typical morphology, including solid growth. The demographic and pathological features, as well as all-cause survival, were compared with other CRCs, and specifically to other MMRd CRCs.
Results
From 1998 to 2012, 91 of 3,295 CRCs (2.8 %) were of the medullary type. Medullary CRC was more likely to arise in females than males (3.3:1; p < 0.0001), the elderly (mean age 77 vs. 71 years; p < 0.001), and the right colon (86 %; p < 0.0001). All medullary CRCs demonstrated MMR deficiency (considered an inclusion criteria) and 86 % were BRAFV600E-mutated (p < 0.0001). Thirty-day mortality after resection was higher in medullary CRC (4.6 vs. 1.7 %; p = 0.049). On univariate analysis, survival was not better than well-differentiated or other MMRd tumors. However, using a multivariate model, a medullary phenotype was protective (hazard ratio of death 0.54, 95 % CI 0.30–0.96; p = 0.037).
Conclusions
Medullary CRC is more common than previously reported, frequently presents with locally advanced disease, and may be associated with higher mortality at 30 days after resection. Despite this, when strict criteria are used for diagnosis, the overall survival is favorable when compared with CRCs with equivalent demographic and pathological characteristics.
Keywords
Lynch Syndrome 
BRAF Mutation 
Medullary Carcinoma 
BRAFV600E Mutation 
Lynch Syndrome Patient 
These keywords were added by machine and not by the authors. This process is experimental and the keywords may be updated as the learning algorithm improves.
Medullary colorectal carcinoma (CRC) is a recently described morphologic variant of CRC, first reported by Gibbs et al. in 19771 but only more widely recognized since the early 2000s. It is thought to be rare and the typical quoted prevalence is less than 0.1 % of CRCs.2, 3, 4 As this variant has only recently been recognized, it is possible that selection bias (i.e. a failure of reporting pathologists to recognize all cases of medullary CRC) may mean that the true incidence of medullary CRC is greater than previously reported.
Currently, the histopathological definition of medullary carcinoma is somewhat vague. According to the World Health Organization (WHO) 2010 classification of gastrointestinal neoplasia, the medullary variant is characterized by a solid rather than glandular architecture, coarse chromatin, and prominent eosinophilic cytoplasm, often associated with numerous intraepithelial lymphocytes.5 However, this and other guidelines do not indicate whether these features should be present throughout the tumor or only in the majority of malignant cells.5 Similarly, some authors consider the presence of mismatch repair deficiency (MMRd) necessary for the diagnosis of medullary CRC,6,7 whereas others note a very strong association between MMRd and medullary CRC of 60–99 % but accept that some medullary CRCs may not show MMRd.8, 9, 10, 11 Therefore, depending on the diagnostic criteria employed, medullary CRCs are either almost always or invariably associated with MMRd.
Most investigators have reported that medullary CRC has a significantly better prognosis than other CRCs.3,6,9,10,12, 13, 14, 15 This is despite the fact that using a traditional approach to histological grading, which is based on the degree of glandular differentiation, all medullary CRCs would be considered high grade, and that medullary CRCs commonly present at a higher T stage. The rate of locoregional nodal involvement and distant metastases may be lower in medullary CRC.3,12 Survival is improved when compared with poorly differentiated adenocarcinomas 3,9,10,12 and neuroendocrine carcinomas.12 However, most series are limited by the use of vague criteria for the pathological diagnosis of medullary carcinoma often without centralized pathological review, small numbers with limited duration of follow-up, and comparison with typical adenocarcinomas without comparison to MMRd CRCs.
We sought to define the true incidence and clinical significance of the diagnosis of medullary CRC by specifically reviewing the pathology of a large and unselected cohort of CRCs to identify all cases with medullary differentiation.
Methods
The computerized colorectal specimen database maintained by the Department of Anatomical Pathology at the Royal North Shore Hospital, Sydney, was searched to identify all cases of CRCs that underwent non-endoluminal resection. This database was current with all-cause survival data for the time period from June 1998 to December 2012. Concurrently, the departmental reporting system was also searched using the keywords 'medullary' and 'colon' to identify additional cases reported on through to April 2014. During this period, this department provided centralized surgical pathology services for four community hospitals and three tertiary referral centres (with specialist colorectal surgery units). Cases with histologies other than adenocarcinoma and its variants, as defined by the 4th edition of the WHO 2010 classification5 or arising primarily in the appendix, were excluded from analysis. All cases were staged according to the American Joint Committee on Cancer (AJCC) 7th edition staging system.16
Cases prospectively diagnosed as medullary CRC from pathology reports underwent review by a specialized gastrointestinal pathologist (AJG) to confirm the diagnosis. In addition, a previously constructed tissue microarray (TMA) comprising two 1-mm cores from every CRC, with material available in formalin-fixed paraffin embedded blocks, from June 1998 to 31 December 2011, was inspected. Hematoxylin and eosin (H&E)-stained sections from all cases in this TMA were reviewed to identify further cases with potential medullary differentiation which were not prospectively reported as such. If a case from the TMA demonstrated potential medullary differentiation, whole H&E-stained sections of the tumor were reviewed by the specialized gastrointestinal pathologist before a final diagnosis of medullary CRC was rendered. The data selection methods are summarized in Fig. 
1
.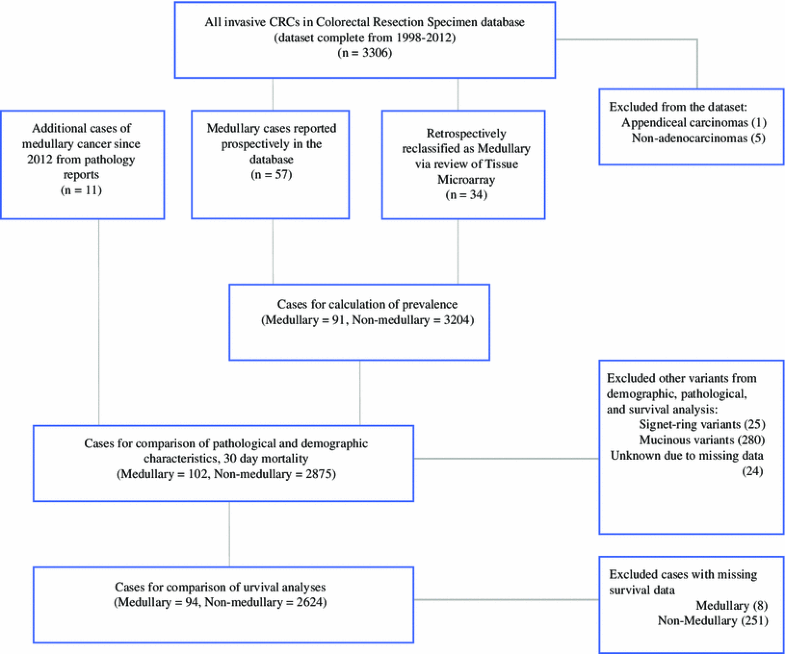 Morphological criteria for the diagnosis of medullary carcinoma were based on a very strict interpretation of those recommended in the 4th edition of the WHO Classification of Tumors of the Digestive System.5 Briefly, these guidelines state that the morphological diagnosis of medullary carcinoma should be rendered when a tumor shows little or no classic gland formation but is instead composed of sheets of malignant cells with vesicular nuclei, prominent nucleoli, and abundant eosinophilic cytoplasm usually associated with plentiful tumor infiltrating lymphocytes, but do not state how much of the tumor should show this morphology. For the purpose of inclusion, we required that the entire tumor (arbitrarily defined as more than 90 % of the invasive tumor) demonstrated this morphology, including the presence of a solid growth pattern (electronic supplementary Fig. S1). Furthermore, we considered the presence of MMRd by immunohistochemistry (IHC) to be an inclusion criteria for the diagnosis of medullary carcinoma. Therefore, cases with similar morphology to medullary carcinoma but MMR preserved (MMRp) by IHC were classified as poorly differentiated carcinoma and not medullary.
IHC for BRAFV600E was performed on the TMA slides using a commercially available mutation-specific mouse monoclonal anti-BRAFV600E antibody (clone VE1, available at Spring Bioscience, Pleasonton, CA, USA) using previously described methods.17, 18, 19 Immunohistochemical testing for the four MMR-associated proteins—MLH1, PMS2, MSH2, and MSH6—was also performed on the TMA for all cases using standard methods.20 If IHC was equivocal (for example if the tumor showed negative staining for one of the MMR proteins but there was no positive internal control in non-neoplastic cells) then staining was repeated on whole sections. IHC interpretation for both BRAFV600E and MMR proteins was undertaken by experienced surgical pathologists blinded to all clinical and other pathological data. Prior to the introduction of synoptic reporting in 2006, histological tumor characteristics such as pattern of growth at the margins, lymphovascular space invasion, and discontinuous extramural tumor nodules were inconsistently reported.
All-cause survival data in the database were derived from examination of hospital medical and pathology records, medical records from the surgeons' private rooms, and publically available death notices. Survival was calculated from the date of surgical resection to the last known date of contact or notification of death. Patients with mucinous, signet-ring cell, and neuroendocrine variants were excluded from the non-medullary control group of the survival analysis as well as comparisons of the demographic and histological characteristics of a total of 2,875 controls. The BRAF mutation status, MMR, MYC, ARID1A, ALK and ROS1 expression status of selected patients from this cohort have been previously reported.17,18,21, 22, 23
Statistical analysis was performed using SPSS software (SPSS 21 for OS X; IBM Corporation, Armonk, NY, USA), with Kaplan–Meier curves created using the Regression Modeling Strategies package24 in R (The R Project for Statistical Computing, version 3.1.1 for OSX; available at http://www.r-project.org). All reported p values are two-tailed. This study was approved by the Northern Sydney Local Health District Ethics Committee.
Results
A total of 3,295 cases of CRCs were resected during the period. Although 57 cases were prospectively reported as medullary according to initial pathology reports (the first case in 2004), two cases were excluded on pathological review on the basis of non-uniform morphology and lack of MMRd (in both cases). After review of all cases in the TMA format, including those not reported as medullary CRC, a total of 91 medullary CRCs were identified, indicating a prevalence of 2.8 % (95 % CI 2.5–3.1) from 1998 to 2012. Subsequent to this period, an 11 additional medullary tumors were identified from pathology reports and confirmed on pathological review. The proportion of medullary cancers differed significantly throughout the colon, comprising 5.7 % of tumors proximal to the splenic flexure, 1.2 % of distal colonic tumors, and 0.4 % of rectal tumors. Within the right colon, the cecum (30 %), ascending colon and hepatic flexure (29 %), and transverse colon (27 %) were equally commonly involved. No significant difference in the rate of synchronous tumors elsewhere in the colon was observed between groups. Cases were only prospectively reported as medullary CRC after 2004; however, on review there was a similar incidence of medullary CRC over the period from 1998 to 2014 (ranging from 1 to 4 % per year).
Demographic and Pathological Characteristics
Demographic and pathological features are detailed in Table 
1
. Briefly, the age at presentation for medullary CRC ranged from 50 to 95 years, with a mean of 76.8 years (95 % CI 74.7–78.8) compared with non-medullary variants at 70.7 years (95 % CI 70.3–71.2). There was a significant correlation of increasing prevalence of medullary carcinoma with advancing age—from 1.6 % in the 50–59 years age group to 5.1 % in the 90–99 years age group (spearman rho 0.143;
p
 = 0.02). Seventy-seven percent of cases occurred in females—sex ratio female:male 3.3:1 (
p
 < 0.001). There was a significant difference in stage at presentation due to a higher rate of T3 and T4 disease, with no significant difference in the proportion presenting with nodal or metastatic disease.
Table 1
Demographic and pathological characteristics
 

Medullary (n = 102)a

Non-medullary (n = 2,875)a

p value

Other MSI (n = 322)a

p value

Age (years)

76.8

70.7

<0.0001

73.4

0.006

Sex (male:female)

1:3.3

1:0.94

<0.0001

1:1.88

0.031

 Male

24

51.4

 

34.8

 

 Female

77

48.6

 

65.2

 

Site

 
 

<0.0001

 

0.53

 Right

86

43.5

 

82.1

 

 Left

11

29

 

14.1

 

 Rectum

3

27.5

 

3.8

 

Stage at presentation

 
 

<0.0001

 

0.008

 1

5.9

19.5

 

18.6

 

 2

46.5

35.1

 

47.5

 

  2a

32.7

28

 

40.7

 

  2b

7.9

5.6

 

4.3

 

  2c

5.9

1.5

 

2.5

 

 3

43.6

41.3

 

31.7

 

  3a

0

4.5

 

2.5

 

  3b

30.7

26.4

 

23

 

  3c

12.9

10.3

 

6.2

 

 4

4

4.1

 

2.2

 

  4a

1

2.7

 

1.9

 

  4b

3

1.4

 

0.3

 

Size (mm; mean)

64

41

<0.0001

49

<0.0001

Synchronous tumors

6.9

4.9

0.25

9

0.25

T4b disease

4

2.1

0.165

2.5

0.49

Differentiation

(n = 86)

(n = 2,484)

<0.0001

(n = 264)

<0.0001

 Well

0

49.5

 

40.5

 

 Moderate

0

33.4

 

27.7

 

 Poorly

100

17.1

 

31.8

 

Pattern of growth

(n = 76)

(n = 1,659)

0.001

(n = 169)

0.52

 Pushing infiltrative

72.4

53.6

 

67.5

 

 Infiltrative

27.6

46.4

 

32.5

 

Peritumoral lymphocytic response

(n = 76)

(n = 1,471)

<0.0001

(n = 152)

0.016

88.9

62.1

 

74.3

 

Thin walled vessel invasion

(n = 70)

(n = 1,431)

<0.0001

(n = 147)

<0.0001

62.9

36.5

 

33.3

 

Extramural venous permeation

(n = 73)

(n = 1,474)

0.19

(n = 150)

0.77

13.7

19.9

 

11.3

 

Discontinuous extramural tumor nodules

(n = 69)

(n = 1,463)

0.76

(n = 148)

0.36

18.8

20.4

 

14.2

 

Apical node involvement

(n = 89)

(n = 2,548)

0.57

(n = 290)

0.025

10.1

8.6

 

4.1

 

Total nodes resected (mean)

19

17

0.012

18

0.56

BRAF mutation status

(n = 90)

(n = 2,558)

 

(n = 322)

 
 

85.6

18.8

<0.0,001

69.3

0.001

MMR IHC

(n = 99)

(n = 2,460)

 
 
 
 

100

13.1

<0.0001

NA

 
Overall, 18.9 % of all MMRd tumors were of the medullary phenotype, with a stronger association with female sex and advanced age, but a similar distribution across the colon. Medullary CRCs were larger and more likely to present with stage 3 or 4 disease, and with a greater propensity for capillary/lymphatic invasion, apical node involvement, and BRAF mutation than other MMRd tumors.
Of the 18 patients with a confirmed diagnosis in the database, two cases (2.0 %) of medullary carcinoma occurred in patients with known Lynch syndrome. Thus, 11 % of our local cohort of known Lynch syndrome patients developed a medullary carcinoma.
Survival Analysis
Median follow-up was 3.9 years (46.7 months for non-medullary and 43.1 months for medullary). Five-year all-cause survival by Kaplan–Meier estimate was 64.6 % for non-medullary versus 67.5 % for medullary (
p
 = 0.53, log-rank). Survival by stage is shown in Table 
2
.
Table 2
Five-year all-cause survival estimates by Kaplan–Meier analysis
| Stage | Medullary [% (95 % CI)] | Non-medullary [% (95 % CI)]a |
| --- | --- | --- |
| 1 | 100 | 83.9.0 (80.2–87.8) |
| 2 | 79.4 (66.7–94.5) | 70.7 (67.3–74.3) |
| 3 | 52.6 (35.0–79.0) | 55.0 (51.5–58.6) |
| 4 | 33 (6.7–100)b | 17.1 (9.9–29.5) |
Thirty-day mortality after resection of a medullary cancer was 4.6 % (95 % CI 0.1–9.1) compared with 1.7 % (95 % CI 1.3–2.2) for other tumors (odds ratio 2.7; p = 0.049). No center contributed disproportionately to the proportion of medullary cases or to the mortality rate.
On non-stratified univariate analysis, a non-significant hazard ratio (HR) of death of 0.91 (95 % CI 0.61–1.35;
p
 = 0.62) was found for medullary CRC. When stratified by MMR status and grade, on univariate Kaplan–Meier analysis, the survival of medullary CRCs was improved compared with poorly differentiated tumors (
p
 = 0.005, log-rank method), but was equivalent to MMRd tumors (Fig. 
2
). When analyzed in a multivariate Cox proportional hazards model adjusted for age, sex, stage, tumor site, degree of differentiation, and BRAF and MMR status, medullary CRC was associated with markedly improved survival, with an HR of death 0.54 (95 % CI 0.30–0.96;
p
 = 0.037).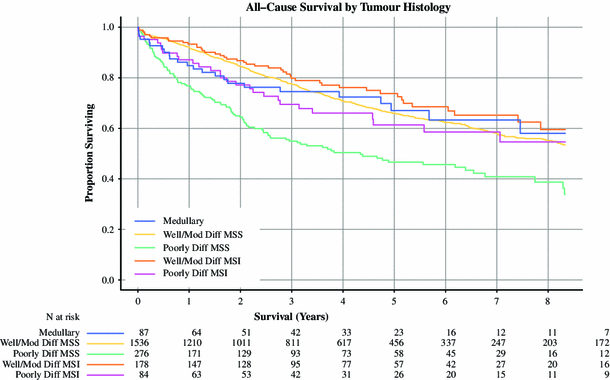 Discussion
Medullary CRC has only recently been recognized and much of the literature is based on small series from dispersed populations, presumably subject to a recognition bias, with short-term or rudimentary clinical follow-up (see Table 
3
). Further difficulty interpreting the literature lies in non-standardized terminology employed prior to acceptance of the medullary variant in diagnostic classifications and in relatively vague pathological criteria for the diagnosis of medullary carcinoma. The data from this study were drawn from a comprehensive centralized pathology database derived from a mixture of quaternary referral centres and community hospitals serving a large population base. Tumor data were collected both prospectively and from retrospective review of pathology slides in a specific attempt to identify all CRCs with medullary differentiation. All cases of medullary carcinoma were confirmed on independent pathological review of whole sections using very strict criteria which required a uniformly solid growth pattern (>90 %) and MMRd as inclusion criteria. Therefore selection bias has been minimized and this cohort is reflective of the CRC cases encountered in the Australian community as a whole.
Table 3
Previous literature regarding medullary colorectal carcinoma
Author (year)

No. of medullary cases

Data source

Time period

Incidence (as a proportion of all CRCs)

Survival data

Duration of followup

MSI frequency

Thirunavukarasu et al. (2010)3

50 (from a total of 74 since 1973)

SEER database of tumor registries, extracted using ICD-0-3 histological code

2004–2006

0.05–0.08 %

KM curves comparing poorly (p = 0.098) and undifferentiated (p = 0.049) adenocarcinomas with medullary carcinomas. Relative survival rates of MC vs. PDA at 1 year (92.7 vs. 70.5 %) and 2 years (73.8 vs. 58.4 %)

Up to 35 months

–

Wick et al. (2005)12

68

Retrospective review of poorly or undifferentiated adenocarcinomas. Four institutions across three US states

Not specified

–

40 % tumor-related mortality at 5 years compared with poorly differentiated adenocarcinomas (59 %) and neuroendocrine tumors (93 %; p < 0.001)

Not specified

–

Lanza et al. (1999)10

45

Retrospective review of 1,265 surgically resected CRCs at a single Italian institution

1986–1995

3.6, 8.9 % of proximal colonic tumors

KM comparison of overall survival of WDAs (approximately 55 %) and PDAs (approximately 30 %) with 39 medullary carcinomas (approximately 85 %)—confirmed favorable prognosis (p < 0.0001)

Up to 96 months

90 % (of 20 examined)

Arai et al. (2004)9

23

Single institution in Tokyo, serving patients > 65 years of age only

Not specified

–

20 % mortality rate vs. 71 % for poorly differentiated tumors (p = 0.03)

Not specified

69 %

Alexander et al. (2001)7

13

312 of the 516 stage II/III colon cancer specimens in a multicenter ECOG trial

1988–1992

4.3 %

NA

NA

99 %

Rüschoff et al. (1997)6

13

Three scattered hospitals in Germany

–

–

Disease-specific mortality of 1/20 (vs. 5/7 undifferetiated)

Carcinomas) p < 0.025

 

Uniform

Jessurun et al. (1999)13

11

Cases identified from scattered institutions (Minneapolis, Texas, Michigan, Mexico City)

1990–1999 (inferred)

NA

One cancer related death; one early postoperative death; one metastatic progression; three lost to follow-up

2–48 months

NA
Our data indicate that medullary CRC variants are more common than has been reported in many previous studies, and account for 2.8 % of all CRCs resected and 5 % of cancers in the right colon. In contrast, studies based on registry data or from populations which did not undergo pathological review, generally suggest a lower incidence. For example, a recent US-based analysis3 suggested a prevalence of 0.05–0.08 %, but derived from extrapolation of 3 years of diagnostic codes from a regional cancer database, from a time period where the variant was only beginning to be prospectively recognized. Of note, our study shows a comparable incidence to Lanza et al.10 and Alexander et al.7, who also reviewed the pathologic features of large cohorts specifically in search of medullary CRC, and suggested that 3.5–4.3 % of all CRCs (and 8.9 % of right-sided tumors) are of the medullary type.
Our study confirms previous reports that the overall survival of patients with medullary CRC is more favorable than the histological appearance would suggest, particularly compared with poorly differentiated carcinomas. However, contrary to previous reports,6,12 medullary carcinoma was no more or less likely to have nodal or metastatic disease at the time of resection. Nonetheless, a more advanced local stage at presentation is confirmed and the mean tumor size at presentation is approximately 50 % larger than non-medullary malignancies at any site in the colon or rectum regardless of MMR status.
MMRd is well-described as a favorable prognostic marker.25 Indeed, it has recently been proposed that all MMRd tumors should be categorized as low grade, regardless of their degree of histological differentiation.26 However, this is the first study in which the survival of medullary CRC has also been directly compared with other microsatellite instability (MSI) tumors. On univariate analysis, all-cause survival was similar to well-differentiated MSI tumors; however, when adjusted for the older age group, higher grade and stage of tumor observed with medullary CRC, this phenotype was confirmed to be a favorable prognostic variant even when compared with other MSI tumors.
Notably, there was higher 30-day mortality for resected medullary carcinomas than non-medullary variants (at a borderline level of statistical significance; p = 0.071). This may be a reflection of patients with medullary carcinoma being older, there being more locally advanced disease at presentation, and a more extensive surgical resection being required (three of the four mortalities had T4b disease), or possibly a greater propensity to emergency presentation. Due to the small sample size of this subgroup and a lack of differentiation by mode of presentation, multivariate analysis was not possible.
BRAFV600E mutation was significantly more common in medullary cancers compared with patients with non-medullary tumors and the MSI subpopulation. In fact, 86.4 % of medullary tumors were BRAF-mutated versus 68.9 % of other MMRd tumors. Also in keeping with previous reports, patients with carcinoma of the medullary type were overrepresented in Lynch syndrome.10,13 Despite these associations, patients in the cohort with known Lynch syndrome were all BRAF wild-type.17 Put another way, patients with medullary carcinoma who were also BRAF wild-type were at particularly high risk of Lynch syndrome, and this strong association should may be useful in triaging formal genetic testing for patients presenting with colon cancer.
This finding may have implications for the response to chemotherapy as the BRAF mutation has been shown to be an adverse prognostic marker in stage 3 colon cancer patients and has been shown to be associated with reduced response to chemotherapy.18,27 In the present study, data on chemotherapy were not available for the cohort as a whole, therefore we could not assess chemotherapy response.
There are some limitations to the data source for this study. Patients deemed unsuitable to undergo resection would not have been captured by this database, the mode and acuity of presentation was unknown, and endoscopically-treated carcinomas were excluded from the database. In addition, the presence or absence of metastases was assessed at presentation only. Thus, there is likely to be an underreporting in the database of patients with metastatic disease not undergoing primary resection, and subsequent metastatic progression cannot be assessed independently of overall survival; however, these variables were not primary outcome measures of the study. Incompleteness of survival data due to passive follow-up may be a source of bias; however, a similar proportion of cases was missing and was censored in each group.
Conclusions
Medullary carcinoma accounts for approximately 2.8 % of all CRCs in an unselected Australian cohort. Medullary CRCs are typically found in the right colon of elderly females, and are characteristically large T3–4 tumors with frequent vascular space invasion and BRAFV600E mutation. Medullary differentiation was associated with a higher 30-day mortality post-resection. In multivariate analysis, our study confirms that when strict criteria are used for diagnosis, medullary CRC represents a favorable prognostic group, even when compared with other MMRd tumors.
Notes
Disclosure
Robert D. Knox, Nathan Luey, Loretta Sioson, Andrew Kedziora, Adele Clarkson, Nicole Watson, Christopher W. Toon, Carmen Cussigh, Stuart Pincott, Stephen Pillinger, Yasser Salama, Justin Evans, John Percy, Margaret Schnitzler, Alexander Engel, and Anthony J. Gill report no conflict of interest.
Funding support
This study was supported by funding from the Cancer Institute NSW as part of a translational research center grant.
Copyright information
© Society of Surgical Oncology 2015