Abstract
Background
The role of ultrasound examination in detection of postprocedure complications from totally implantable venous access devices (TIVAD) placement is still uncertain. In a cohort of 665 cancer outpatients, we assessed a quick ultrasound examination protocol in early detection of mechanical complications of catheterization.
Methods
Immediately after TIVAD placement, an ultrasound examination and chest radiography were performed to detect hemothorax, pneumothorax, and catheter malposition. The two methods were compared.
Results
Of the 668 catheters inserted, 628 were placed into axillary veins and 40 into internal jugular veins. The ultrasound examination took 2.5 ± 1.1 min. No hemothorax was detected, and neither pneumothorax nor catheter malposition was evident among the 40 internal jugular vein cannulations. Ultrasound and chest radiography examinations of the 628 axillary vein cannulations detected five and four instances of pneumothorax, respectively. Ultrasound detected all six catheter malpositions into the internal jugular vein. However, ultrasound failed to detect two out of three malpositions in the contralateral brachiocephalic vein and one kinking inside the superior vena cava. Without revision surgery, the operating time was 34.1 ± 15.6 min. With revision surgery, the operating time was shorter when ultrasound detected catheter malposition than when chest radiography was used (96.8 ± 12.9 vs. 188.8 ± 10.3 min, p < 0.001).
Conclusions
Postprocedure ultrasound examination is a quick and sensitive method to detect TIVAD-related pneumothorax. It also precisely detects catheter malposition to internal jugular vein thus reduces time needed for revision surgery while chest radiography remains necessary to confirm catheter final position.
This is a preview of subscription content, log in to check access.
Access options
Buy single article
Instant unlimited access to the full article PDF.
US$ 39.95
Price includes VAT for USA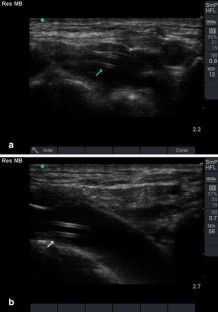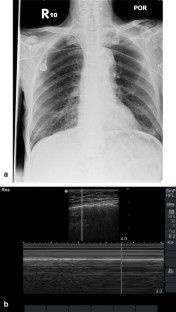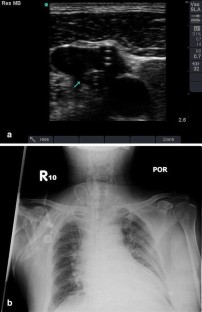 References
1.

Biffi R, Toro A, Pozzi S, Di Carlo I. Totally implantable vascular access devices 30 years after the first procedure. What has changed and what is still unsolved? Support Care Cancer. In press.

2.

Troianos CA, Hartman GS, Glas KE, et al. Special articles: guidelines for performing ultrasound guided vascular cannulation: recommendations of the American Society of Echocardiography and the Society of Cardiovascular Anesthesiologists. Anesth Analg. 2012;114:46–72.

3.

Rupp SM, Apfelbaum JL, Blitt C, et al. Practice guidelines for central venous access: a report by the American Society of Anesthesiologists Task Force on Central Venous Access. Anesthesiology. 2012;116:539–73.

4.

Lamperti M, Bodenham AR, Pittiruti M, et al. International evidence-based recommendations on ultrasound-guided vascular access. Intens Care Med. 2012;38:1105–17.

5.

Sekiguchi H, Tokita JE, Minami T, Eisen LA, Mayo PH, Narasimhan M. A prerotational, simulation-based workshop improves the safety of central venous catheter insertion: results of a successful internal medicine house staff training program. Chest. 2011;140:652–8.

6.

Froehlich CD, Rigby MR, Rosenberg ES, et al. Ultrasound-guided central venous catheter placement decreases complications and decreases placement attempts compared with the landmark technique in patients in a pediatric intensive care unit. Crit Care Med. 2009;37:1090–6.

7.

Milling TJ, Jr., Rose J, Briggs WM, et al. Randomized, controlled clinical trial of point-of-care limited ultrasonography assistance of central venous cannulation: the Third Sonography Outcomes Assessment Program (SOAP-3) trial. Crit Care Med. 2005;33:1764–9.

8.

Wu SY, Ling Q, Cao LH, Wang J, Xu MX, Zeng WA. Real-time two-dimensional ultrasound guidance for central venous cannulation: a meta-analysis. Anesthesiology. 2013;118:361–75.

9.

Lin CP, Wang YC, Lin FS, Huang CH, Sun WZ. Ultrasound-assisted percutaneous catheterization of the axillary vein for totally implantable venous access device. Eur J Surg Oncol. 2011;37:448–51.

10.

Piette E, Daoust R, Denault A. Basic concepts in the use of thoracic and lung ultrasound. Curr Opin Anaesthesiol. 2013;26:20–30.

11.

Orci LA, Meier RP, Morel P, Staszewicz W, Toso C. Systematic review and meta-analysis of percutaneous subclavian vein puncture versus surgical venous cutdown for the insertion of a totally implantable venous access device. Br J Surg. 2014;101:8–16.

12.

Duszak R Jr, Bilal N, Picus D, Hughes DR, Xu BJ. Central venous access: evolving roles of radiology and other specialties nationally over two decades. J Am Coll Radiol. 2013;10:603–12.

13.

Wilkerson RG, Stone MB. Sensitivity of bedside ultrasound and supine anteroposterior chest radiographs for the identification of pneumothorax after blunt trauma. Acad Emerg Med. 2010;17:11–7.

14.

Ueda K, Ahmed W, Ross AF. Intraoperative pneumothorax identified with transthoracic ultrasound. Anesthesiology. 2011;115:653–5.

15.

Pikwer A, Baath L, Davidson B, Perstoft I, Akeson J. The incidence and risk of central venous catheter malpositioning: a prospective cohort study in 1619 patients. Anaesth Intensive Care. 2008;36:30–7.

16.

Pawlik MT, Kutz N, Keyl C, Lemberger P, Hansen E. Central venous catheter placement: comparison of the intravascular guidewire and the fluid column electrocardiograms. Eur J Anaesthesiol. 2004;21:594–9.

17.

Stas M, Mulier S, Pattyn P, Vijgen J, De Wever I. Peroperative intravasal electrographic control of catheter tip position in access ports placed by venous cut-down technique. Eur J Surg Oncol. 2001;27:316–20.

18.

Matsushima K, Frankel HL. Bedside ultrasound can safely eliminate the need for chest radiographs after central venous catheter placement: CVC sono in the surgical ICU (SICU). J Surg Res. 2010;163:155–61.

19.

Maury E, Guglielminotti J, Alzieu M, Guidet B, Offenstadt G. Ultrasonic examination: an alternative to chest radiography after central venous catheter insertion? Am J Respir Crit Care Med. 2001;164:403–5.

20.

Vezzani A, Brusasco C, Palermo S, Launo C, Mergoni M, Corradi F. Ultrasound localization of central vein catheter and detection of postprocedural pneumothorax: an alternative to chest radiography. Crit Care Med. 2010;38:533–8.

21.

Schutz JC, Patel AA, Clark TW, et al. Relationship between chest port catheter tip position and port malfunction after interventional radiologic placement. J Vasc Interv Radiol. 2004;15:581–7.

22.

Vesely TM. Central venous catheter tip position: a continuing controversy. J Vasc Interv Radiol. 2003;14:527–34.

23.

Mandolfo S, Galli F, Costa S, Ravani P, Gaggia P, Imbasciati E. Factors influencing permanent catheter performance. J Vasc Access. 2001;2:106–9.

24.

Reynolds N, McCulloch AS, Pennington CR, MacFadyen RJ. Assessment of distal tip position of long-term central venous feeding catheters using transesophageal echocardiology. JPEN . 2001;25:39–41.

25.

Moore CL, Copel JA. Point-of-care ultrasonography. N Engl J Med. 2011;364:749–57.
Acknowledgment
Financially supported by Department of Anesthesiology, National Taiwan University Hospital.
Disclosure
The authors declare no conflict of interest.
Electronic supplementary material
Below is the link to the electronic supplementary material.
Supplemental Video 1. Trace the catheter from subclavian vein to brachiocephalic vein and observe the catheter travel toward mediastinum (AVI 592 kb)
Supplemental Video 2. Trace from internal jugular vein to brachiocephalic vein to document that there is no catheter malposition (AVI 659 kb)
Supplemental Video 3. Document a catheter malposition to internal jugular vein (AVI 557 kb)
About this article
Cite this article
Wu, C., Lin, F., Wang, Y. et al. Fast Track Ultrasound Protocol to Detect Acute Complications After Totally Implantable Venous Access Device Placement. Ann Surg Oncol 22, 1943–1949 (2015). https://doi.org/10.1245/s10434-014-4222-4
Received:

Published:

Issue Date:
Keywords
Pneumothorax

Ultrasound Examination

Internal Jugular Vein

Superior Vena Cava

Brachiocephalic Vein