Abstract
Background
Adrenocortical carcinoma (ACC) is a rare malignancy that carries a poor prognosis. There has yet to be a large Australian series that documents the characteristics of ACC and there are a paucity of data on management and the long-term outcomes. We sought to provide a unique insight into the management of ACC in Australia as well as to identify factors associated with prognosis and survival.
Methods
A multivariate analysis of a cohort of patients identified with ACC between 1998 and 2013 was undertaken. Recurrence-free survival (RFS) and overall survival (OS) were assessed as the main outcome measures and correlated with multiple clinical variables in order to identify prognostic markers.
Results
Of the 104 patients identified, a total of 98 patients with complete clinical and outcome data were included in the study. Median OS was 56 months, with the 5-year survival being 48 % (95 % confidence interval 36–59). On multivariate analysis, age ≥50 years, metastases at presentation, and evidence of extra-adrenal invasion were found to be statistically associated with reduced OS. RFS was analyzed in patients without metastases. On multivariate analysis, extra-adrenal invasion and no preoperative endocrine investigations were found to be statistically significant poor prognostic factors, with a non-significant trend for higher individual surgeon volume to be associated with improved resection margins and RFS.
Conclusions
We present clinical outcomes and prognostic factors for patients with ACC in a landmark Australian series. We suggest that management in a specialized tertiary endocrine and/or surgical oncology unit is more likely to lead to improved outcomes.
This is a preview of subscription content, log in to check access.
Access options
Buy single article
Instant access to the full article PDF.
US$ 39.95
Price includes VAT for USA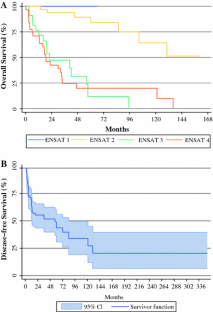 References
1.

Fassnacht M, Kroiss M, Allolio B. Update in adrenocortical carcinoma. J Clin Endocrinol Metab. 2013;98(12):4551–4564.

2.

Allolio B, Fassnacht M. Clinical review. Adrenocortical carcinoma: clinical update. J Clin Endocrinol Metab. 2006;91(6):2027–2037.

3.

Sidhu S, Sywak M, Robinson B, Delbridge L. Adrenocortical cancer: recent clinical and molecular advances. Curr Opin Oncol. 2004;16(1):13–18.

4.

Assie G, Jouinot A, Bertherat J. The 'omics' of adrenocortical tumours for personalized medicine. Nat Rev Endocrinol. 2014;10(4):215–228.

5.

Schulick RDR, Brennan MFM. Long-term survival after complete resection and repeat resection in patients with adrenocortical carcinoma. Ann Surg Oncol. 1999;6(8):719–726.

6.

Abiven G. Clinical and biological features in the prognosis of adrenocortical cancer: poor outcome of cortisol-secreting tumors in a series of 202 consecutive patients. J Clin Endocrinol Metab. 2006;91(7):2650–2655.

7.

Icard P, Goudet P, Charpenay C, et al. Adrenocortical carcinomas: surgical trends and results of a 253-patient series from the French Association of Endocrine Surgeons study group. World J Surg. 2001;25(7):891–897.

8.

Vassilopoulou-Sellin R, Schultz PN. Adrenocortical carcinoma. Clinical outcome at the end of the 20th century. Cancer. 2001;92(5):1113–1121.

9.

Ayala-Ramirez M, Jasim S, Feng L, et al. Adrenocortical carcinoma: clinical outcomes and prognosis of 330 patients at a tertiary care center. Eur J Endocrinol. 2013;169(6):891–899.

10.

Paton BL, Novitsky YW, Zerey M, et al. Outcomes of adrenal cortical carcinoma in the United States. Surgery. 2006;140(6):914–20; discussion 919–20.

11.

Lughezzani G, Sun M, Perrotte P, et al. The European Network for the Study of Adrenal Tumors staging system is prognostically superior to the international union against cancer-staging system: a North American validation. Eur J Cancer. 2010;46(4):713–719.

12.

Fassnacht M, Johanssen S, Quinkler M, et al. Limited prognostic value of the 2004 International Union Against Cancer staging classification for adrenocortical carcinoma: proposal for a revised TNM classification. Cancer. 2009;115(2):243–250.

13.

Bertagna C, Orth DN. Clinical and laboratory findings and results of therapy in 58 patients with adrenocortical tumors admitted to a single medical center (1951 to 1978). Am J Med. 1981;71(5):855–875.

14.

Fassnacht M, Libe R, Kroiss M, Allolio B. Adrenocortical carcinoma: a clinician's update. Nat Rev Endocrinol. 2011;7(6):323–335.

15.

Brix D, Allolio B, Fenske W, et al. Laparoscopic versus open adrenalectomy for adrenocortical carcinoma: surgical and oncologic outcome in 152 patients. Eur Urol. 2010;58(4):609–615.

16.

Porpiglia FF, Miller BSB, Manfredi MM, Fiori CC, Doherty GMG. A debate on laparoscopic versus open adrenalectomy for adrenocortical carcinoma. Horm Cancer. 2011;2(6):372–377.

17.

Miller BS, Ammori JB, Gauger PG, Broome JT, Hammer GD, Doherty GM. Laparoscopic resection is inappropriate in patients with known or suspected adrenocortical carcinoma. World J Surg. 2010;34(6):1380–1385.

18.

Stojadinovic A, Ghossein RA, Hoos A, et al. Adrenocortical carcinoma: clinical, morphologic, and molecular characterization. J Clin Oncol. 2002;20(4):941–950.

19.

Terzolo M, Berruti A. Adjunctive treatment of adrenocortical carcinoma. Curr Opin Endocrinol Diabetes Obes. 2008;15(3):221–226.

20.

Schteingart DE, Doherty GM, Gauger PG, et al. Management of patients with adrenal cancer: recommendations of an international consensus conference. Endocr Relat Cancer. 2005;12(3):667–680.

21.

Lombardi CP, Raffaelli M, Boniardi M, et al. Adrenocortical carcinoma: effect of hospital volume on patient outcome. Langenbecks Arch Surg. 2012;397(2):201–207.

22.

Arlt W, Biehl M, Taylor AE, et al. Urine steroid metabolomics as a biomarker tool for detecting malignancy in adrenal tumors. J Clin Endocrinol Metab. 2011;96(12):3775–3784.

23.

Berruti A, Fassnacht M, Baudin E, et al. Adjuvant therapy in patients with adrenocortical carcinoma: a position of an international panel. J Clin Oncol. 2010;28(23):e401–e402.

24.

Fassnacht M, Allolio B. Clinical management of adrenocortical carcinoma. Best Pract Res Clin Endocrinol Metab. 2009;23(2):273–289.

25.

University of Turin, Italy. Efficacy of Adjuvant Mitotane Treatment (ADIUVO) Available at: http://clinicaltrials.gov/show/NCT00777244. Accessed 2 Apr 2014.
Acknowledgment
Julian Ip is an RACS Foundation for Surgery Richard Jepson Research Scholar. Stan Sidhu is a University of Sydney Medical School Foundation Fellow. The authors wish to acknowledge the clinicians who have kindly provided access to their patients' medical records, which has made this study possible.
Disclosures
Julian C.Y. Ip, Tony C.Y. Pang, Anthony R. Glover, Patsy Soon, Stephen Clarke, Arthur Richardson, Peter Campbell, Bruce G. Robinson, and Stan B. Sidhu have no conflicts of interests to declare.
About this article
Cite this article
Ip, J.C., Pang, T.C., Glover, A.R. et al. Improving Outcomes in Adrenocortical Cancer: An Australian Perspective. Ann Surg Oncol 22, 2309–2316 (2015). https://doi.org/10.1245/s10434-014-4133-4
Received:

Published:

Issue Date:
Keywords
Overall Survival

Adrenocortical Carcinoma

Mitotane

Benign Adrenal Tumor

Significant Poor Prognostic Factor