Abstract
Background
Available tools in liver surgery planning rely on the future remnant liver (FRL) volume. Inappropriate decision might be made since the same FRL volume might represent different liver functions depending on the severity of underlying liver damage. This study developed an alternative system to estimate FRL function and to predict the risk of postoperative liver failure.
Methods
Current study recruited 71 prehepatectomy patients and 71 healthy volunteers. A technetium-99-labelled asialoglycoproteins was given to participants and SPECT was used to capture the intensity of the signal, represented by uptake index (UI). The agreement between preoperative UI values, liver function tests, and Child scores were evaluated. Linear regression was used to evaluate the agreement between predicted UI for FRL and postoperative UI values. Area under the receiver operating characteristic (AUC) curve was used to evaluate the discriminative performance of UI in differentiating patient with high risk of liver failure.
Results
Preoperative UIs are highly correlated with Child score (P < 0.0001), especially to identify patients with ascites and elevated bilirubin. The predicted UIs were in close agreement with the actual postoperative UI values (r = 0.95 P < 0.001). The AUC analysis indicated that UI values had a high accuracy in predicting the risk of liver failure (AUC = 0.95, P < 0.0001). The best cut-off point was 0.9 and the corresponding sensitivity was 100 % and specificity was 92 %.
Conclusions
The new methodology reliably estimates FRL function and predicts the risk of liver failure. It provides a visual aid for liver surgeon in surgery planning and risk assessment.
This is a preview of subscription content, log in to check access.
Access options
Buy single article
Instant unlimited access to the full article PDF.
US$ 39.95
Price includes VAT for USA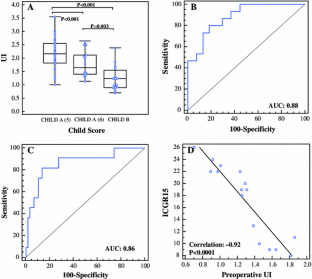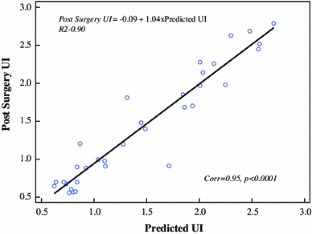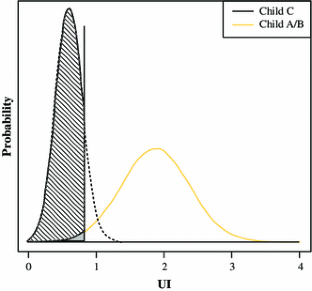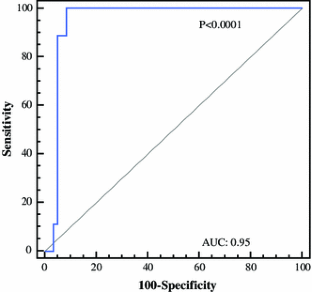 References
1.

Parkin DM, Bray F, Ferlay J, Pisani P. Global cancer statistics, 2002. CA Cancer J Clin. 2005;55:74–108.

2.

Byam J, Millis M. Liver transplantation for hepatocellular carcinoma. Hepatobiliary Surg Nutr. 2013;2:22–30.

3.

Chen JG, Zhang SW. Liver cancer epidemic in China: past, present and future. Semin Cancer Biol. 2011;21:59–69.

4.

O'Connor S, Ward J, M Watson, B Momin, LC Richardson. Hepatocellular carcinoma—United States, 2001–2006. MMWR Morbidity and Mortality Weekly Report. 2010; 59:4.

5.

Ascha MS, Hanouneh IA, Lopez R, Tamimi TA, Feldstein AF, Zein NN. The incidence and risk factors of hepatocellular carcinoma in patients with nonalcoholic steatohepatitis. Hepatology. 2010;51:1972–8.

6.

Hassan MM, Curley SA, Li D, Kaseb A, Davila M, Abdalla EK, Javle M, Moghazy DM, Lozano RD, Abbruzzese JL, Vauthey JN. Association of diabetes duration and diabetes treatment with the risk of hepatocellular carcinoma. Cancer. 2010;116:1938–46.

7.

Llovet JM. Updated treatment approach to hepatocellular carcinoma. J Gastroenterol. 2005;40:225–35.

8.

Kohn GP, Nikfarjam M. The effect of surgical volume and the provision of residency and fellowship training on complications of major hepatic resection. J Gastrointest Surg. 2010;14:1981–9.

9.

Sato M, Tateishi R, Yasunaga H, Horiguchi H, Yoshida H, Matsuda S, Koike K. Mortality and morbidity of hepatectomy, radiofrequency ablation, and embolization for hepatocellular carcinoma: a national survey of 54,145 patients. J Gastroenterol. 2012;47:1125–33.

10.

10.Imamura H, Seyama Y, Kokudo N, Maema A, Sugawara Y, Sano K, Takayama T, Makuuchi M. One thousand fifty-six hepatectomies without mortality in 8 years. Arch Surg. 2003;138:1198–206; discussion 1206

11.

Schneider PD. Preoperative assessment of liver function. Surg Clin North Am. 2004;84:355–73.

12.

Hoekstra LT, de Graaf W, Nibourg GA, Heger M, Bennink RJ, Stieger B, van Gulik TM. Physiological and biochemical basis of clinical liver function tests: a review. Ann Surg. 2013;257:27–36.

13.

Sawamura T, Nakada H, Hazama H, Shiozaki Y, Sameshima Y, Tashiro Y. Hyperasialoglycoproteinemia in patients with chronic liver diseases and/or liver cell carcinoma. Asialoglycoprotein receptor in cirrhosis and liver cell carcinoma. Gastroenterology. 1984;87:1217–21.

14.

Akaki S, Mitsumori A, Kanazawa S, Togami I, Takeda Y, Joja I, Hiraki Y. Technetium-99m-DTPA-galactosyl human serum albumin liver scintigraphy evaluation of regional CT/MRI attenuation/signal intensity differences. J Nucl Med. 1998;39:529–32.

15.

Miki K, Kubota K, Inoue Y, Vera DR, Makuuchi M. Receptor measurements via Tc-GSA kinetic modeling are proportional to functional hepatocellular mass. J Nucl Med. 2001;42:733–7.

16.

Virgolini I, Muller C, Klepetko W, Angelberger P, Bergmann H, O'Grady J, Sinzinger H. Decreased hepatic function in patients with hepatoma or liver metastasis monitored by a hepatocyte specific galactosylated radioligand. Br J Cancer. 1990;61:937–41.

17.

Du S, Mao Y, Tong J, Li F, Che L, Li S, Yang H, Ba J, Hu N, Xing H, Lu X, Sang X, Zhang X, Wang X, Zhong S. A novel liver function evaluation system using radiopharmacokinetic modeling of technetium-99m-DTPA-galactosyl human serum albumin. Nucl Med Commun. 2013;34:893–9.

19.

van den Broek MA, Olde Damink SW, Dejong CH, Lang H, Malago M, Jalan R, Saner FH. Liver failure after partial hepatic resection: definition, pathophysiology, risk factors and treatment. Liver Int. 2008;28:767–80.

20.

Imamura H, Sano K, Sugawara Y, Kokudo N, Makuuchi M. Assessment of hepatic reserve for indication of hepatic resection: decision tree incorporating indocyanine green test. J Hepatobiliary Pancreat Surg. 2005;12:16–22.

21.

Lee CF, Yu MC, Kuo LM, Chan KM, Jan YY, Chen MF, Lee WC. Using indocyanine green test to avoid post-hepatectomy liver dysfunction. Chang Gung Med J. 2007;30:333–8.

22.

Kishi Y, Kopetz S, Chun YS, Palavecino M, Abdalla EK, Vauthey JN. Blood neutrophil-to-lymphocyte ratio predicts survival in patients with colorectal liver metastases treated with systemic chemotherapy. Ann Surg Oncol. 2009;16:614–22.

23.

Ribero D, Abdalla EK, Madoff DC, Donadon M, Loyer EM, Vauthey JN. Portal vein embolization before major hepatectomy and its effects on regeneration, resectability and outcome. Br J Surg. 2007;94:1386–94.

24.

Shirabe K, Shimada M, Gion T, Hasegawa H, Takenaka K, Utsunomiya T, Sugimachi K. Postoperative liver failure after major hepatic resection for hepatocellular carcinoma in the modern era with special reference to remnant liver volume. J Am Coll Surg. 1999;188:304–9.

25.

Vauthey JN, Chaoui A, Do KA, Bilimoria MM, Fenstermacher MJ, Charnsangavej C, Hicks M, Alsfasser G, Lauwers G, Hawkins IF, Caridi J. Standardized measurement of the future liver remnant prior to extended liver resection: methodology and clinical associations. Surgery. 2000;127:512–9.

26.

de Graaf W, Bennink RJ, Vetelainen R, van Gulik TM. Nuclear imaging techniques for the assessment of hepatic function in liver surgery and transplantation. J Nucl Med. 2010;51:742–52.

27.

Ha-Kawa SK, Tanaka Y. A quantitative model of technetium-99m-DTPA-galactosyl-HSA for the assessment of hepatic blood flow and hepatic binding receptor. J Nucl Med. 1991;32:2233–40.

28.

Iimuro Y, Kashiwagi T, Yamanaka J, Hirano T, Saito S, Sugimoto T, Watanabe S, Kuroda N, Okada T, Asano Y, Uyama N, Fujimoto J. Preoperative estimation of asialoglycoprotein receptor expression in the remnant liver from CT/99mTc-GSA SPECT fusion images correlates well with postoperative liver function parameters. J Hepatobiliary Pancreat Sci. 2010;17:673–81.

29.

Sasaki N, Shiomi S, Iwata Y, Nishiguchi S, Kuroki T, Kawabe J, Ochi H. Clinical usefulness of scintigraphy with 99mTc-galactosyl-human serum albumin for prognosis of cirrhosis of the liver. J Nucl Med. 1999;40:1652–6.
Acknowledgment
The authors thank EDDA Technique Corp, Ltd. for their collaboration and assistance in the computerization and image development of our system. This work was supported by the China Medical Board of New York (CMB) (06-837 and 11-045), National Natural Science Foundation of China (30901453 and 81201566) and National Key Technology Research and Development Program of China (BAI06B01).
Disclosure
All authors declared: no financial relationships with any organizations that might have an interest in the submitted work; no other relationships or activities have influenced the submitted work.
Additional information
Yilei Mao, Shunda Du and Jiantao Ba contribute equally to the paper.
Trial Registration
ClinicalTrials.gov Identifier NCT01350726.
Electronic supplementary material
Below is the link to the electronic supplementary material.
Supplementary material 1 (MP4 7685 kb)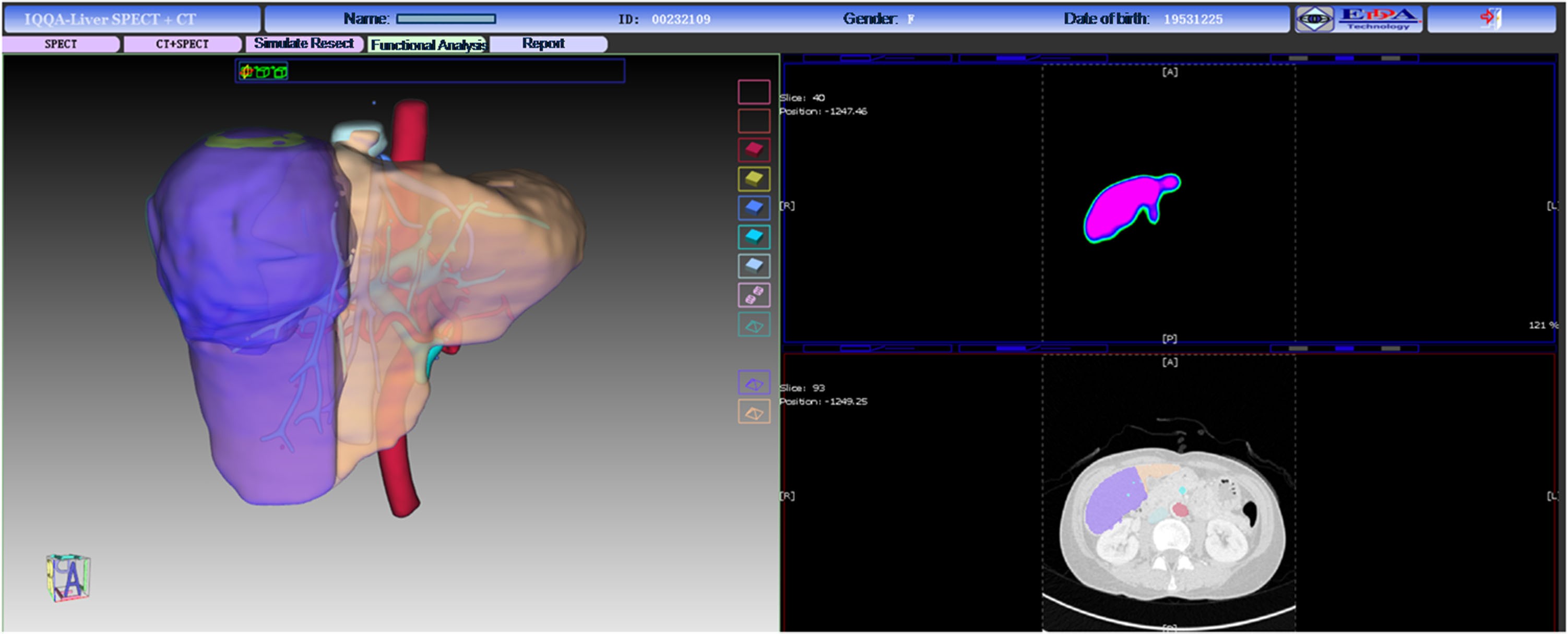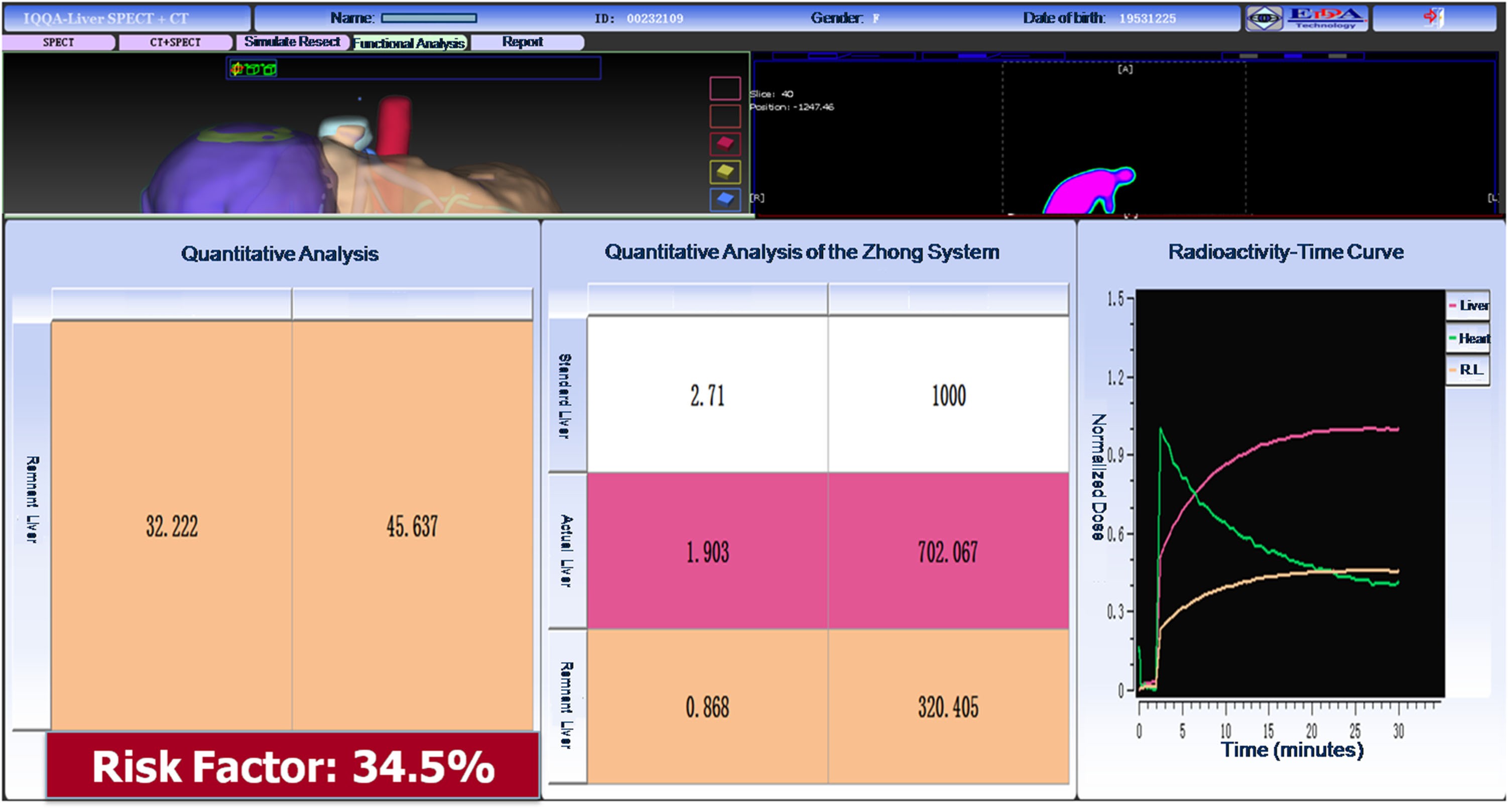 About this article
Cite this article
Mao, Y., Du, S., Ba, J. et al. Using Dynamic 99mTc-GSA SPECT/CT Fusion Images for Hepatectomy Planning and Postoperative Liver Failure Prediction. Ann Surg Oncol 22, 1301–1307 (2015). https://doi.org/10.1245/s10434-014-4117-4
Received:

Published:

Issue Date:
Keywords
Liver Failure

Receiver Operating Characteristic Analysis

Future Remnant Liver

Peking Union Medical College

Postoperative Liver Failure