Abstract
Purpose
The aim of this study was to evaluate the feasibility of a needlescopic resection for small and superficial pulmonary nodules after dual localization with radiotracer and hookwire.
Methods
Computed tomography (CT) fluoroscopy-guided dual marking with hookwire and 99mTc-phytate was performed on 36 small and superficial pulmonary nodules of 34 patients, just before the needlescopic procedure. This method was carried out through one introducer needle, after an initial single puncture. After detection of the hookwire-marked site through needlescopy, the precise lesion was confirmed using a thoracoscopic gamma probe by calculating the highest radioactivity. The pulmonary nodule was resected and diagnosed by pathologic examination.
Results
The mean size of the nodules was 12.5 ± 5.4 mm (range 3–20), and their mean distance from the pleural surface was 5.6 ± 5.8 mm (range 0–18.7). The time of the dual localization procedure was 10.8 ± 3.6 min (range 5–18). Pneumothorax was developed in 6 of 34 patients (17.6 %) after preoperative localization, but did not require any treatment. Seven hookwires dislodged during the operation. Nevertheless, radiotracer markings detected on a gamma probe guided a successful wedge resection without difficulty in all seven cases. All nodules were successfully resected under needlescopy, except conversion to the 5-mm-sized thoracoscopy in four patients due to pleural adhesion.
Conclusions
Dual marking with radiotracer and hookwire under CT fluoroscopy is a safe and not time-consuming procedure, and has made needlescopy-assisted lung resection for small and superficial nodules or ground-glass opacity lesions easier, more convenient, and less hazardous.
This is a preview of subscription content, log in to check access.
Access options
Buy single article
Instant unlimited access to the full article PDF.
US$ 39.95
Price includes VAT for USA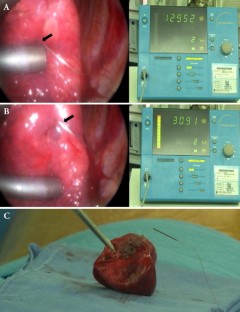 References
1.

Yeow KM, Tsay PK, Cheung YC, Lui KW, Pan KT, Chou AS. Factors affecting diagnostic accuracy of CT-guided coaxial cutting needle lung biopsy: retrospective analysis of 631 procedures. J Vasc Interv Radiol. 2003;14(5):581–8.

2.

Ikeda Y, Miyoshi S, Seki N, Kobayashi S, Umezu H, Tamura M. Needlescopic operation for partial lung resection. Ann Thorac Surg. 2003;75(2):599–601.

3.

Kim HK, Jo WM, Jung JH, et al. Needlescopic lung biopsy for interstitial lung disease and indeterminate pulmonary nodules: a report on 65 cases. Ann Thorac Surg. 2008;86(4):1098–103.

4.

Chen YR, Yeow KM, Lee JY, et al. CT-guided hook wire localization of subpleural lung lesions for video-assisted thoracoscopic surgery (VATS). J Formos Med Assoc. 2007;106(11):911–8.

5.

Nomori H, Horio H, Naruke T, Suemasu K. Fluoroscopy-assisted thoracoscopic resection of lung nodules marked with lipiodol. Ann Thorac Surg. 2002;74(1):170–3.

6.

Sugi K, Kaneda Y, Hirasawa K, Kunitani N. Radioisotope marking under CT guidance and localization using a handheld gamma probe for small or indistinct pulmonary lesions. Chest. 2003;124(1):155–8.

7.

Mayo JR, Clifton JC, Powell TI, et al. Lung nodules: CT-guided placement of microcoils to direct video-assisted thoracoscopic surgical resection. Radiology. 2009;250(2):576–85.

8.

Magistrelli P, D'Ambra L, Berti S, Feleppa C, Stefanini T, Falco E. Use of India ink during preoperative computed tomography localization of small peripheral undiagnosed pulmonary nodules for thoracoscopic resection. World J Surg. 2009;33(7):1421–4.

9.

Partik BL, Leung AN, Müller MR, et al. Using a dedicated lung-marker system for localization of pulmonary nodules before thoracoscopic surgery. AJR Am J Roentgenol. 2003;180(3):805–9.

10.

Gonfiotti A, Davini F, Vaggelli L, et al. Thoracoscopic localization techniques for patients with solitary pulmonary nodule: hookwire versus radio-guided surgery. Eur J Cardiothorac Surg. 2007;32(6):843–7.

11.

Kang DY, Kim HK, Kim YK, Yong HS, Kang EY, Choi YH. Needlescopy-assisted resection of pulmonary nodule after dual localisation. Eur Respir J. 2011;37(1):13–7.

12.

Stiles BM, Altes TA, Jones DR, et al. Clinical experience with radiotracer-guided thoracoscopic biopsy of small, indeterminate lung nodules. Ann Thorac Surg. 2006;82(4):1191–6.

13.

Grogan EL, Jones DR, Kozower BD, Simmons WD, Daniel TM. Identification of small lung nodules: technique of radiotracer-guided thoracoscopic biopsy. Ann Thorac Surg. 2008;85(2):S772–7.

14.

Kim H, Park CM, Koh JM, Lee SM, Goo JM. Pulmonary subsolid nodules: what radiologists need to know about the imaging features and management strategy. Diagn Interv Radiol. 2014;20(1):47–57.

15.

Goldstein NS, Ferkowicz M, Kestin L, Chmielewski GW, Welsh RJ. Wedge resection margin distances and residual adenocarcinoma in lobectomy specimens. Am J Clin Pathol. 2003;120(5):720–4.

16.

Suzuki K, Nagai K, Yoshida J, et al. Video-assisted thoracoscopic surgery for small indeterminate pulmonary nodules: indications for preoperative marking. Chest. 1999;115(2):563–8.

17.

Gagner M, Garcia-Ruiz A. Technical aspects of minimally invasive abdominal surgery performed with needlescopic instruments. Surg Laparosc Endosc. 1998;8(3):171–9.

18.

d'Alessandro AA. Microthoracoscopy: at the cutting edge of thoracic surgery. J Laparoendosc Adv Surg Tech A. 1997;7(5):313–8.

19.

Yamamoto H, Kanehira A, Kawamura M, Okada M, Ohkita Y. Needlescopic surgery for palmar hyperhidrosis. J Thorac Cardiovasc Surg. 2000;120(2):276–9.

20.

Kim H, Kim HK, Kang DY, Lee DK, Choi YH, Lim SH. A comparative study of two- versus one-lung ventilation for needlescopic bleb resection. Eur Respir J. 2011;37(5):1183–8.

21.

Stratmann SL, McCarty TM, Kuhn JA. Radiation safety with breast sentinel node biopsy. Am J Surg. 1999;178(6):454–7.

22.

Singer G. Occupational radiation exposure to the surgeon. J Am Acad Orthop Surg. 2005;13(1):69–76.

23.

Kim S, Kim HK, Kang DY, Jeong JM, Choi YH. Intra-operative sentinel lymph node identification using a novel receptor-binding agent (technetium-99m neomannosyl human serum albumin, 99mTc-MSA) in stage I non-small cell lung cancer. Eur J Cardiothorac Surg. 2010;37(6):1450–6.

24.

Kim HK, Kim S, Sung HK, Lee YS, Jeong JM, Choi YH. Comparison between preoperative versus intraoperative injection of technetium-99m neomannosyl human serum albumin for sentinel lymph node identification in early stage lung cancer. Ann Surg Oncol. 2012;19(4):1343–9.
Acknowledgment
This work was supported by a Grant from the Korean Health Technology R&D Project, Ministry of Health & Welfare, Republic of Korea (No. A121074), and a National Research Foundation of Korea grant funded by the Ministry of Education, Science and Technology (No. 2012012166).
Disclosure
Kyung Won Doo, Hwan Seok Yong, Hyun Koo Kim, Sungeun Kim, Eun-Young Kang, and Young Ho Choi have nothing to disclose with regard to commercial support.
Additional information
Kyung Won Doo and Hwan Seok Yong have contributed equally to this work.
Electronic supplementary material
Below is the link to the electronic supplementary material.
Operative video of needlescopic resection of small and superficial pulmonary nodule after computed tomographic fluoroscopy-guided dual localization with radiotracer and hookwire (WMV 94362 kb)
About this article
Cite this article
Doo, K.W., Yong, H.S., Kim, H.K. et al. Needlescopic Resection of Small and Superficial Pulmonary Nodule After Computed Tomographic Fluoroscopy-Guided Dual Localization with Radiotracer and Hookwire. Ann Surg Oncol 22, 331–337 (2015) doi:10.1245/s10434-014-3884-2
Received:

Published:

Issue Date:
Keywords
Pulmonary Nodule

Preoperative Localization

Pleural Surface

Dual Localization

Compute Tomography Fluoroscopy